Join us today as we briefly review the 5 best USB C headphones in 2023, with a wide selection out there we often overlook a set of USB C headphones, but the reality is they are an absolute must-have for a large number of devices, especially smart products.
Despite USB C having all the potential for a better connection, early products released soon after the concept were rather lacking, with few living up to their hype. This quickly earned them a reputation as an inferior choice.
There is often call for their requirements though, with many devices opting to go without a 3.5mm mini jack for headphones, and when your hand is forced you better know what to look out for in a decent set.
Though they are generally considered less capable there are a number on the market which have great properties and importantly allow you to ditch those irritating dongles once and for all.
At a glance:

Our top 3 picks
Our team's top 3 recommendations
Best Overall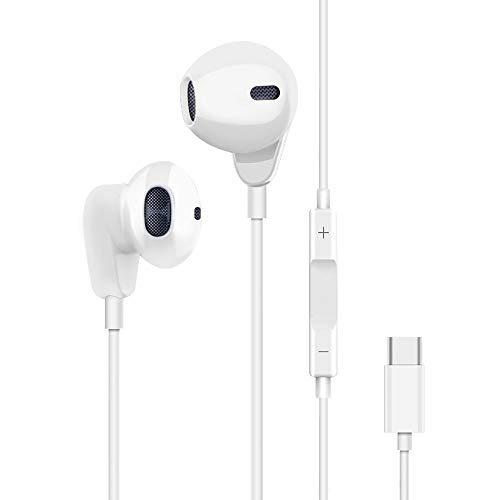 KUPOISHE USB C Digital Earphones. Pixel 2

Wide range of compatibility.
Integrated mic.
Rich high-res mix.
Comfy.
Premium Quality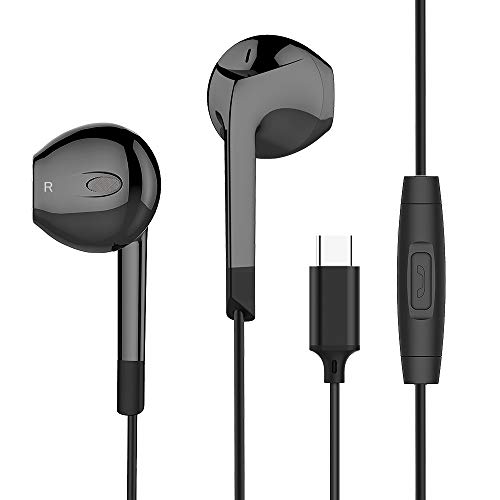 Mijiaer USB Type C Earbuds

Wide range of compatibility.
Integrated mic.
Rich high-res mix.
Comfy.
Great value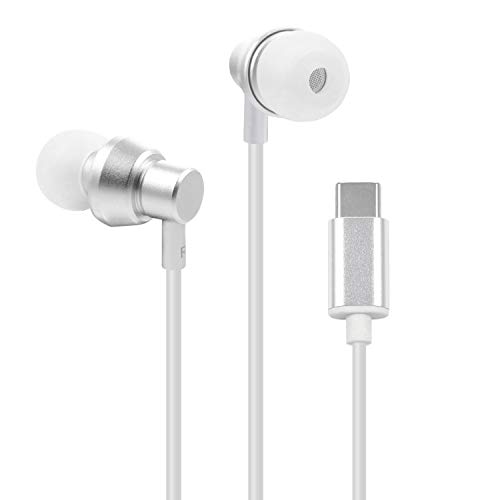 Mindorlen USB C Digital Earphones. Type C

Wide range of compatibility.
Integrated mic.
Rich high-res mix.
Comfy.
View The Best USB C Headphones Below
1. KUPOISHE USB C Digital Earphones. Pixel 2
The first set we settled on with a USB C connection and reliable compatibility with the majority of android devices is this digital set developed for use in conjunction with Pixel 2.
They are reasonably priced, have a good frequency response to cover a decent range and provide full stereo sound.
They feature their own all-important digital-to-analog converter (DAC) and support high-resolution sound. They accurately respond, and the bass has some presence which keeps the mix rich.
They have an integrated microphone and feature in-line controls for convenient operation.
They are well-made from a thermoplastic polymer which is ergonomically streamlined for a comfier fit.
Pros:
+ Wide range of compatibility.
+ Integrated mic.
+ Rich high-res mix.
+ Comfy.
Why We Liked It - They seem genuinely cross platform compatible, they are well-manufactured and the sound is better than most.
One of the best ways to preserve your USB C headphones set is to practice proper cord care. When not in use, keep your headphones off of the floor and keep the cord untangled. At the very least, keep the USB C connector or the end tip of your headphones as straight as possible to preserve its connection over time.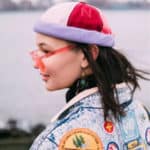 2. Mijiaer USB Type C Earbuds
Another affordable alternative with merits would be this set of earbuds by Mijiaer. They are once again widely compatible, accommodating for a number of popular android products, which really is key with many of us using multiple devices as we go about our day.
The buds are very lightweight and crafted from skin-friendly materials and once again, feature an ergonomically shaped tip.
The combination drivers produce hi-fidelity audio with highs and lows dynamically working to create a proportionately balanced blend.
The bass has been enhanced with attenuation geared slightly towards the lower response. They feature a current DAC chip enabling them to provide truer signal clarity.
They feature a simple multi-functional in-line control for easy command.
Pros:
+ Affordable.
+ High fidelity stereo sound.
+ Wide compatibility.
+ No audio loss.
Why We Liked It - They are a set which provide the loss-less signal boasted by USB C products.
3. Mindorlen USB C Digital Earphones. Type C
This next set have competitively priced a buck below the average so far. They are once again a no-frills set of earbuds which sit comfortably inside the mouth of your ear canal directing sound in a more isolated manner, but safely, thanks to their miniature directional grilles.
They support high-resolution sound and have a good frequency response and provide balanced audio which has good depth and clear highs.
The driver performance is impressive, the components work efficiently and they are all housed in a durable alloy shell.
They feature their own DAC and sport easy to use in-line controls which allow for voice cal activation at the touch of a button via their built-in mic.
Pros:
+ High res audio.
+ Deep bass.
+ Durable shell.
+ Universal compatibility.
Why We Liked It - They are well-made, the sound is pretty decent as earbud options under twenty bucks go. The brand go as far as deeming themselves universally compatible and we are yet to find a problematic device.
Sound Quality - One of the most important things to consider is what type of sound quality you're looking for. Are you a bass head hoping for some boosted low-end frequencies? Do you need a set of objective studio headphones for an accurate portrayal of the signal? Consult the manufacturer's audio frequency response graph to fully understand how your headphones adjust a signal.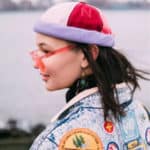 4. Aukey B60 Wireless Earbuds
We have reserved the last two spots for a set of convertible headphones which serve as an awesome solution to the entire USB C debacle.
First up is the B60 model from the Audio Key series which present some fantastic mod-cons. They are compact in-ear buds which are magnetically attracted, and when snapped together (stored around your neck) they automatically switch off, and when separated engage.
They are ergonomically designed and feature in-ear sport hook-like tension lock, which help it sit within the auricle of the ear and stay in place throughout high pace activities.
They are waterproofed to an IPX-6 level of certification and very well made from hypoallergenic materials.
The sound is colorful, the drivers are capable of high-performance, they are bestowed with Bluetooth 5.90 connectivity making them very versatile, most importantly they have a DAC chip and come with a USB C cord which can be connected easily via a concealed terminal.
Pros:
+ Tension locks.
+ Comfort fit.
+ IPX-6 certified.
+ Better audio.
+ Sports model.
Why We Liked It - They provide a great cheeky alternative to the dongle, and a better sound than the majority of sole USB C sets on the market.
5. Aukey B80 Wireless Headphones
This second set from Aukeys amazing series we will probably leave quite short and sweet as they are bestowed with essentially the same advantageous assets as the pair reviewed above.
Where they differ is actually in design and headphone style only. They forgo the magnetic snap on-off system as a security measure for if they slip and instead incorporate sturdy but pliable over ear hooks to make them better suited for more rigorous activities.
They have the same up to date DAC chip and multi-functionality needed for USB C use with their hybrid drivers, they are very comfy to wear and well-manufactured.
Pros:
+ Heavy duty sports option.
+ Great audio.
+ Hybrid drivers.
+ Fab audio.
+ USB compatibility.
Why We Liked It - They sum up everything to look for in a set of earbud headphones if you are going to opt for a hybrid driver option.
 USB C Headphones Buyers Guide
What Are USB C Headphones?
USB C headphones are a fairly recent progression in the audio electronics field, though many see them as more of a step back than an advancement.
They were created with the best of intentions, and theoretically should be more capable than their jack wielding predecessors.
This is because they function using their own independent DAC and amp, meaning that they can bypass the majority of a smartphone's internal components resulting in clearer electric signals for your headphone to respond to.
Ultimately this means there will be less audio interference by and large. The trouble is many of the sets manufactured to cater to the USB C connection are produced by mobile phone brands, with little experience in audio itself.
So for some time since their recent debut they just haven't cut the mustard comparably to the plethora of 3.5mm pairs already available.
Do I need a USB C Headphones?
Shortly after Google announced its Pixel 2 would be eliminating the headphone jack connection, other companies followed suit.
There are a number of sensible reasons why, firstly a smartphone can instantly recognize a headphone with a USB connection and better understand its functionality, secondly and unfortunately largely it is more profitable for the companies to have exclusive connections.
It also allowed them to usher users towards the wireless Google Pixel earbuds and Apple Air pods they were trying to push onto the market, which isn't on par with the level of audio quality wired headphones to provide.
For those who still wanted to keep their wired headphones, the companies began releasing an army of dreaded dongle connectors which warranted their own storage case.
So whilst the majority of us feel a little coerced into the realms of USB C headphones they do help streamline and are far more convenient than carrying a cocktail of adapters about your person.
They are better than the majority of affordable wireless options buzzing about and a good set can technically provide faster data transfers, better power management, and delivery of a crystal clear signal.
What To Look For When Buying USB C Headphones?
Your key concern should be wide compatibility, there are many sets which are exclusive to the device they are intended for, or solely for products manufactured by a specific brand which is no good.
The onboard DAC chips should be very current as in their short history the tech has been tweaked and updated frequently.
Next, you need to select your preferred style of headphone, in-ear or over-ear, with hooks or without, which is purely subjective and essentially down to personal comfort.
The driver capabilities at these tiny proportions actually very very little from product to product and it is only by direct comparison they differ at all.
Ultimately you should look for a set with the best audio delivery your budget can allow for.
Conclusion
Though it's been foisted upon us somewhat, accepting that a USB C set is a necessity is the first step in finding a sensible solution.
They are actually capable of more efficient workloads and we are on the brink of the technology finally beginning to outperform its jacked up and wireless competitors.
There are many options out there on the market but with the smaller space available in a headphone for diaphragms dimensions you will want to source a high performance set of drivers with an up to date chip that supports high-resolution audio.
We hope our reviews and detailed buyers guide will have filled you in on all the relevant info needed to source an awesome set of USB C headphones so you can kiss your dongles goodbye.
Expert Tip
If you don't want to sacrifice on sound or want an option better suited to outdoor pursuits we say find yourself a pair with more bells and whistles like the Aukey sets we have highlighted that are capable of USB-connection.
Did you Know
The 3.5mm jack that USB C models usurped are known as a tip, ring, sleeve - or TRS – connections. They are a smaller version of the industry standard quarter-inch jack first employed for switch board operation in the early 1900's and the original design dates back as early as 1878.
If you've enjoyed this review by Music Critic, please leave a positive rating:
[vc_separator