If you're the sort of music fan who can't live without listening to your favorite tunes, whether you're out jogging or on your way to work, then you've come to the right place. In this article, we're going to be looking at the 10 best in-ear headphones in 2023.
We've selected a wide range of products, which will appeal to an equally broad range of buyers. You'll find the hottest headphones in both the lower and upper price categories, which will offer you superb value for money, regardless of how much you spend. Of course, we've ensured that each product on our list delivers exceptional sound quality, supreme comfort, and long-lasting durability.
In-ear models are extremely popular because they're lightweight, compact, and portable. They can fit inside your pocket when you're not listening to them, and when they're in your ears, you don't need to worry about becoming overheated or uncomfortable, as they're light as a feather.
In the past, the only drawback to these sleek earphones was that the sound quality couldn't compare with larger, over-ear headphones. Fortunately, technology has advanced to such a degree that high-quality drivers can now be integrated into earphones, and that translates into pristine, powerful audio that you can enjoy while you're on the go.
After our reviews, you'll find a useful buying guide that will answer all the cruical questions you might have about this product. By the time you've finished this article, you'll be in the perfect position to spend your hard-earned bucks on an excellent product.
At a glance:

Our top 3 picks
Our team's top 3 recommendations
Best Overall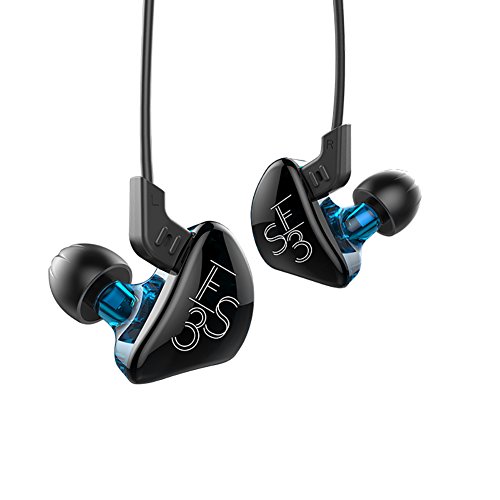 Panasonic ErgoFit In-Ear Earbud Headphones

Ergonomic design
Choice of tip sizes
Bright and balanced sound
Premium Quality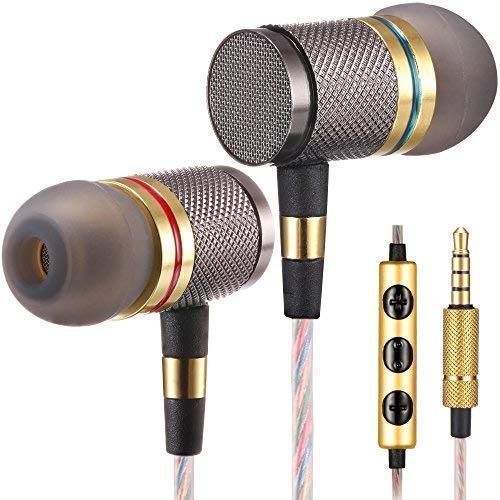 Betron YSM1000 Headphones

Ergonomic design
Choice of tip sizes
Bright and balanced sound
Great value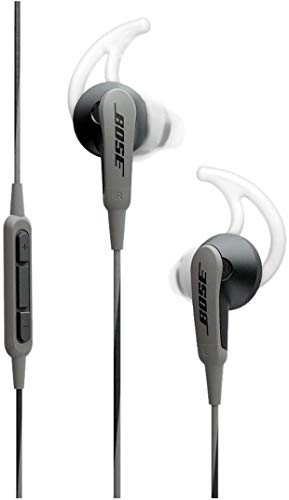 Bose SoundSport in-ear headphones

Ergonomic design
Choice of tip sizes
Bright and balanced sound
View The Best In Ear Headphones Below
1.Panasonic ErgoFit In-Ear Earbud Headphones
Top of our list is this affordable product from Panasonic. It features an ergonomic design that ensures a comfy, secure fit at all times. The slimline earbuds are designed to sit snugly inside your ear canals. Not only does this contribute to comfort, but it also ensures that external noise is isolated, so you can simply focus on listening to music.
These earphones come with three sizes of ear tips, with a small, medium, and large option to choose from. The tips are made from premium, ultra-soft foam and they adapt to the wearer's ear canals to ensure optimal comfort.
Each earbud contains a 9mm driver with neodymium magnets. These components combine perfectly to deliver full-range sound with a wide frequency range. We found the audio to be bright and well-balanced, making it ideal for a broad range of musical genres, as well as for podcasts and audiobooks.
The wire is 3.6m long, and it has a 3.5mm jack for lots of connectivity options. The cable is designed to allow the wearer to have better freedom of movement. It also doesn't tangle easily either.
You can get this product in fifteen different colors, so you'll easily be able to find one that suits your style. Not only is this an exceptional product, but it is also extremely cheap, so if you're after a bargain, then we can highly recommend these earbuds.
Pros:
+ Ergonomic design
+ Choice of tip sizes
+ Bright and balanced sound
Why We Liked It - This product is a wonderful budget pick that delivers well-balanced, bright sound quality, which we love. The ergonomic design ensures a comfy, secure fit, and the cable contributes to durability. Considering just how cheap these earphones are, they're a low-risk, budget pick, which we can highly recommend.
2. Betron YSM1000 Headphones
Next on our list is this superb product from Betron. We love how well-made it is, with the solid construction ensuring that these earphones will perform for a long period without any breakages.
Each earbud features a metallic construction, which we think looks stylish and modern. The connectors are reinforced so that you get extra resilience in the areas that need it. The connectors are also gold-plated, which doesn't just look good, it also helps to increase the accuracy and quality of the signal transmissions.
The components integrated into this product are high-grade. There are 9.2mm drivers with sensitive diaphragms that help to deliver crisp highs and punchy lows. We found them to offer a broad frequency response and a lot of power.
For voice calls, there is an in-built, noise-isolating microphone. It delivers crystal-clear vocals when you speak through it. You can also use it to operate a voice assistant on your smartphone.
There are three sets of silicone earbuds included in the package. There is also one set of memory foam earbuds, which will adapt to the shape and size of your ear canals. You're certain to find a pair that fits you perfectly. This product also comes with a soft carry case. The wires are all designed to ensure that there are never any pesky tangles either.
Pros:
+ Durable design
+ 9.2mm drivers
+ Range of tips to choose from
Why We Liked It - They look good, sound good, and are designed to last. There's little to fault this flawless product that's made by a reliable brand. The noise-canceling microphone is a useful extra that adds to the great value that this product delivers.
3. Bose SoundSport in-ear headphones
Of course, we don't need to tell you just how good Bose audio equipment is. Its name is synonymous with quality. And that's exactly what these earphones are.
They feature StayHere tips that Bose has developed to ensure the most secure in-ear fit around. The design of these Bose headphones incorporates a flexible, auricle fin that helps to ensure the earbuds cannot fall out. This makes them suitable for a wide range of sporting activities.
The sound quality is simply stunning. If you're an audiophile, then look no further than this product, in our opinion. The high-end components, sophisticated circuitry, and TriTech technology, all combine to effectively produce flawless audio. It's a pleasure to listen to music with this product.
They have an integrated microphone that benefits from the most cutting-edge active noise cancellation technology. You can operate the mic and adjust audio output via the easy-to-navigate in-line controls.
The electrical components are completely protected through a sealed construction. This means that these earphones are sweat-resistant and weatherproof. The cord is strong and durable. This product also comes with an excellent, matching carrying case.
Pros:
+ Exclusive StayHere tips
+ Sweat proof
+ Unmatched audio quality
Why We Liked It - It's an outstanding product made a brand that can always be counted on for quality. Across the board, you're delivered that high-level of quality. The StayHere tips ensure a secure fit at all times, even when you're exercising. It's no surprise that this product was recently featured in our best workout headphones article. Above all else, our favorite feature has to be the sensational sound quality.
4. In Ear Headphones SDFLAYER E97 Pro Earphones
The next in-ear headphones on the list provide powerful, dynamic sound quality that's rich with clarity and definition. Why? Because they feature hybrid, symphonic drivers. They offer an extensive frequency response that's full-range and can be compared to a stereo system.
This product is also ruggedly built thanks to metallic earbuds. The tips are ergonomically designed for a snug fit. They also come with a range of tips and fins so that you can be sure to find the securest fit.
They feature custom, twisted cords which are less likely to tangle thanks to the design. The doubled twist also maximizes their tensile strength making the cord far more sturdy than a standard wire. The wire is also further strengthened by the oxide-free, copper-wrapped Kevlar fiber construction.
Pros:
+ Exceptionally well-built
+ Highly durable wire
+ Deep bass
Why We Liked It - This product is designed to last. We like the cord above all else, as its build quality is sure to provide durability. The sound quality is also very good, with this product delivering a powerful amount of bass. A great product, we think.
We're big fans of these Mpow Flame earphones, which our team has previously rated highly in other reviews. It's a newly upgraded product that includes adjustable, over-ear hooks to help keep the buds securely in place.
They retail at a reasonable price and benefit from up-to-date Bluetooth technology. There is a lot to like about this product. Let's have a look at some of the key features.
The ear tips are made from memory foam. They will adapt to the shape and size of your ear canals so that you're ensured an excellent fit. Not only is the fit secure, but it is also comfy, which is ideal for long listening sessions. The earbuds feature a hard shell that enhances their durability. They won't break if you accidentally drop them. They've also got a lot of advanced technology integrated into them, which is a surprising feature considering they cost less than fifty bucks.
If you're looking to use them for a gym session or a long jog, then you'll appreciate the IPX7 water resistance certification. This means that your sweat won't break them, nor will the rain if you're caught in it while running.
The audio quality far outperforms the low-price tag. They have an array design that ensures crisp highs and warm lows. We like how much of a punch that these in-ear headphones deliver in terms of sound.
Pros:
+ New foam tips and over-ear hooks
+ Punchy sound
+ Enhanced bass
+ Waterproof Bluetooth model
Why We Liked It - This product features advanced technology for an affordable price. The sound quality is powerful and rich. They also offer a very secure fit due to the ear hooks. They're ideal for for wearing during a work out. Their waterproof nature also makes them ideal for jogging in the great outdoors. A great value for money pick, in our opinion.
6. Samsung Level U Bluetooth
This next set from Samsung is affordably priced and includes the largest drivers in today's bunch. Their diaphragms measure 12mm, which produce a wonderfully rich and powerful sound that music fans will adore, in our opinion.
These in-ear headphones are wireless but come attached to a strong but comfortable collar which provides added support and allows them to be worn around the neck when not in use. The ear tips are magnetically attracted to one another, so they connect and form a necklace. They've got WingEar gel ear tips, which means they are ergonomically designed to stay in place.
The collar has flexible urethane joints, which move with the user, to keep it as comfy as possible. It's a handy feature for people who listen to music on the go. You can simply remove the earphones when necessary without needing to worry about holding them or storing them somewhere. If you're prone to losing earphones, then it's also a great feature.
This product has an in-built microphone that includes innovative, echo cancellation technology, as well as dual-level noise reduction. This technology translates into crisp, clear voice calls without any echo or external noise ruining the clarity of your voice.
They feature the latest Bluetooth technology to ensure a stable, secure wireless connection. The battery life is also impressive. You get 11 hours of playtime from a single charge. You can also leave them on standby for 500 hours without the battery running flat.
Pros:
+ Large, 12mm drivers
+ Convenient collar and magnetic buds
+ Great microphone
+ Good battery life
Why We Liked It - It's a superb choice for anyone wanting a secure fit and powerful sound quality. The 12mm drivers are much larger than most similar products, so if you like to listen to your music loud, then these are the earphones for you. We were also impressed by the substantial battery life and cutting-edge Bluetooth technology.
7. Sony MDRXB510AS/B Extra Bass Wired Headphones
This Sony product features 'arc' fins that keep the earbuds in place, even while you're moving around vigorously. That's why they're marketed as a sports model, so make sure to read on if you're looking for earphones to use while working out.
The arcs are manufactured from a hardened silicone composite which gives them just enough rigidity to hold them in an optimal position. They're also pliable and soft so that they don't cause discomfort.
Comfort is one of the biggest advantages of this Sony headphone set. They come with four types of tips to choose from, as well as three arcs. The choice allows you to customize the earphones to deliver the most comfortable fit. A handy drawstring pouch is also provided to keep the parts and the headphones in.
They are wired with an extended Y-cord that helps to prevent them from pulling and snagging. As they feature a cable, then they can't be used wirelessly, but they can be used for hands-free calling, as there is an excellent microphone built into them. There is also an in-line remote for controlling phone calls, so you can answer or end calls without needing to get your device from your pocket.
They feature a bass booster function that enhances the low-end frequencies and gives them a better presence. This is thanks to a finely tuned, pre-set equalization, filtering technique.
This product has received an IPX5 certification. That means that sweat won't short them, and also a small amount of water shouldn't break them either. This is another advantage for anyone who likes to listen to music while exercising.
Pros:
+ Range of comfort tips and arcs provided
+ Excellent drivers
+ IPX-5 certified
+ Bass-boosting, ExtraBass technology
Why We Liked It - The arcs provide the wearer with a supreme amount of comfort, as well as securing them inside your ears, which makes them perfect for exercise. We were big fans of the ExtraBass feature that boosts the low end and makes them a great choice for bass fans. Overall, they're affordable earphones that are superb for exercise.
8. TaoTronics Active Noise Canceling Headphones
This is another in-ear model that features a thoughtful design to ensure that the earphones remain secured in position at all times, even when during motion. They achieve this through semi-circular ear hooks, which are made from skin-friendly, hardened silicone.
The price is hard to argue with, especially when their quality is considered. They deliver awesome sound, in our opinion. We also love the high-quality, integrated microphone that features noise cancelation technology for crystal clear phone calls.
They are wired and feature easy-to-use, in-line controls with three simple buttons. There's also a sliding activator for the on-board ANC. They provide 15 hours of playtime from a full, 2-hour charge, which we think is very efficient.
Another great feature of this product is its AwareMode. This reduces the audio isolation of the earphones, meaning that you can become more aware of the sounds around you. This is ideal if you wear your headphones whilst you travel on public transport, as it ensures the listener won't miss important announcements while you're listening to music or making a call.
Pros:
+ Stay in place due to comfortable ear hooks.
+ AwareMode
+ MEMS active noise cancelation
Why We Liked It - This product is loaded with lots of useful technology, including noise cancelation and the AwareMode. We found it to offer good sound quality too. And it's also very comfortable to wear.
9. RODE PSA1 Swivel Mount Studio Mic Arm
The penultimate entry on our top ten list is this affordable product that should be considered by any bargain hunters. Despite being cheap, it includes lots of unique design features, which we loved.
They've been hand-crafted from wood, which creates a more natural sound quality thanks to the acoustic nature of this material. It also dampens unwanted resonance, so that the sound is more smooth. The wood has allowed the manufacturers to include powerful bass drivers that perform perfectly without any distortion.
They are also open back which allows for air intake, and this cools the high-frequency signals so that you're provided with more accurate and crisp highs. The result is a detailed sound that performs well across the whole frequency range.
They come with small, medium, and large ergonomic ear tips, which make it easy to find a secure fit that suits you. They are available in six colors, so you can also choose a set that fits your style.
Pros:
+ Handmade
+ Wooden
+ Open backed
+ Wired
+ High-definition audio
+ Great bass performance
Why We Liked It - This is a unique product that is available for a surprisingly low price. The sound quality matches the incredible looks, while they're also very comfy to wear. Overall, it's an excellent product for anyone who wants premium quality for a budget price.
10. True Wireless Earbuds, SOAIY T2 in-Ear
Now for a set of true wireless earbuds which essentially means you get just the physical buds nothing to string them together no-cord, collar, or neck-brace.
Now for a set of true wireless earbuds. This term means that they're composed of just the earbuds without anything to string them together. There's no cord, collar, or neck-brace.
For a true wireless option, they come at a very affordable price. They also include the latest 5.0 Bluetooth technology, which ensures a good connection without interference or drop-outs. They come with a carry case that doubles a battery pack. You can use it to charge the earbuds when you're out and about. This is a handy feature, as it means you won't get caught with a flat battery when you need your earbuds. They're perfect for traveling as they take up little space.
Each bud includes a 6mm driver that delivers full-range audio. There's also an in-built microphone that can be used for voice calls or a voice assistant, such as Siri or Alexa. They're also simple to control thanks to the touch sensors.
You get a secure fit with this product. To ensure it suits your ear canals, then there are three sets of gel, silicone ear tips. The product has an IPX5 water resistance certification, so sweat isn't an issue for them, nor is a small amount of water if you get caught in the rain.
Pros:
+ True wireless design
+ Bluetooth 5.0 technology
+ Portable, charging carry case
+ Extremely compact
+ Affordable price
Why We Liked It – If you're looking for a true wireless product that doesn't break the bank, then this is the ideal one for you. The extra features, such as the mic and touch sensors, also add to the quality it delivers. We were also impressed by how powerful the audio was.
In-Ear Headphones Buyers Guide
What Are In-Ear Headphones?
In-ear headphones are known by several other names, including earphones and earbuds. It's one of the most common types of personal audio equipment.
It's quite a simple product. Basically, they are earbuds that have small drivers inside them that are used for reproducing audio. These earbuds will either connect to a smartphone or music player via a cable or through wireless technology, such as Bluetooth.
Why Choose In-Ear Headphones?
In the past, in-ear headphones were not as popular as they are today, as they were seen as being cumbersome and uncomfortable. Fortunately, there have been lots of technological advancements that have meant new earphones are comfortable to wear, offer excellent sound quality, and remain secure in your ears, even when you're exercising.
Many active people love this product because earphones are compact, lightweight, and portable. Often, they will include a microphone, which also allows people to make hands-free phone calls while on-the-go. Perhaps another top feature of this product is the price. You can find a set of in-ear headphones for a fraction of the price of over-ear models.
What To Look For When Buying In-Ear Headphones?
A key element of this product is the ear tips. It's essential as they are made from a soft, pliable material, as this will ensure better comfort. Silicone or memory foam are two quality materials that many manufacturers use.
Many companies opt for removable tips and provide a range of sizes. If you've found earphones to be uncomfortable in the past, then choosing a product with several ear tips is a good option, as it will be more likely you'll be able to select ear tips that suit your ear canals better.
Many active people choose this product because of its lightweight nature and easy portability. If you want to use them for exercise, then it is critical that they're designed to stay in place during vigorous movement.
There are a few different concepts for keeping them in place. The most common method, however, is by the incorporation of fins and hooks. Some models have innovative solutions such as magnetic tips which snap together to form a necklace when not in use, or collars that sit comfortably on the back of your neck suspending the buds between use.
One feature that will also appeal to people who exercise is the ability to connect wirelessly to the earbuds. This means that there's no cable that can be caught or snagged while you're pumping your arms when running.
If you're keen on a wireless model, then just make sure that it features the latest version of Bluetooth technology, so that you can be assured a stable connection.
For anyone who wants the option to make or answer phone calls, then ensuring the earphones include a quality microphone is crucial. You should opt for a mic that has noise-canceling technology so that the people you speak to will be able to hear you loud and clear, without external noise or the wind making you incoherent.
The only downside to wireless earphones is that the sound quality can be inferior to a wired model. You also need to consider battery life, which isn't an issue with a wired product.
If you want a wired version, then you just need to be aware that wires can break if they haven't been designed with rugged use in mind. Many of the models on our list feature thoughtful designs that counteract the problems that lead to breakages. For example, if you pick a model with a tangle-free cord, then this means it will likely offer an improved long-term durability. It's also a good idea to check if the connectors have been reinforced, as this will also lengthen its lifespan.
The two most important features to look out for are sound quality and build quality. It's critical that both of these characteristics are delivered by the product. Of course, you will be limited by your budget, as cheaper products won't deliver the same quality as more expensive models.
The key component for sound quality is the driver. You want to pick a model that features drivers that are at least 9mm or 10mm in size. Any smaller than that, and you could find the sound to be tinny and weak. It's also important to check the frequency response, as the wider it is, the more dynamic and detailed the sound will be.
Conclusion
There we have it. Now you've seen ten awesome products that will appeal to consumers who have a range of requirements. There's something for everyone on our list, with budget models at one end of the spectrum and in-ear headphones for audiophiles at the other end.
The key to choosing the right product is to first define your budget. Once you know how much you're willing to spend, then you can isolate your time and energy on products that are in the right price range.
Next, you should decide if you want a wired or wireless model.
After that, you can then focus on the key characteristics, such as sound quality, durability, and battery life, if it's wireless. You should also ensure that the product has received good reviews in terms of comfort. A secure fit is also important, and choosing earphones with several ear tips will make this more likely.
We hope that you've found this article useful. Enjoy listening to your favorite tunes with your new earphones!
Expert Tip
If you are specifically looking for a sports model, then you might find our 10 best headphones for running in 2023 article a very interesting read.
Did you Know
Skullcandy was one of the first companies to make in-ear buds as opposed to the traditional large circular earbuds that were common at the time. Skullcandy was also one of the first to integrate mics into its earphones.
If you've enjoyed this review by Music Critic, please leave a positive rating:
[vc_separator