Running is one of the best ways to stay healthy and fit, and it has been proven to do miracles both for the human body and mind. The problem is often motivation and convincing yourself to tie on those running shoes and head out for a workout.
Music and audio can be a great motivator, but for this to be effective, you need to make sure you're listening to your favorite songs in a way that does not distract from the run.
By using the best running Bluetooth headphones, you set yourself up for success, as you won't have to worry about the earplugs falling out of your ears or traffic noise draining the sound of your favorite singer's voice - especially if you have active noise cancellation.
But what are the best earphones for running, whether they're true wireless or not? Below are a few of the best options for those who love to run, and for people who are thinking about engaging in a new and healthier life style.
At a glance:

Our top 3 picks
Our team's top 3 recommendations
Best Overall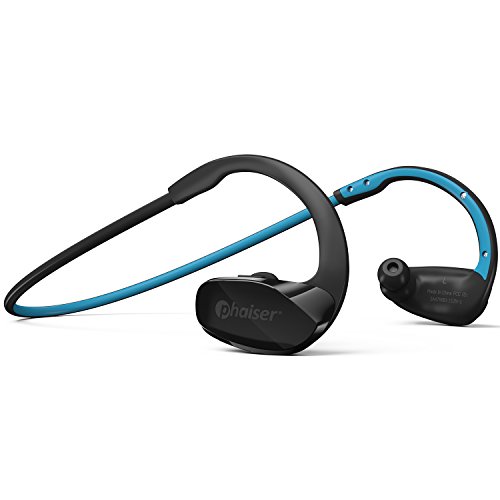 Phaiser BHS-530

10mm speakers for HD sound and audio
Build-in microphone for calls
Flexible behind-the-head memory wire
Lifetime sweatproof warranty
Premium Quality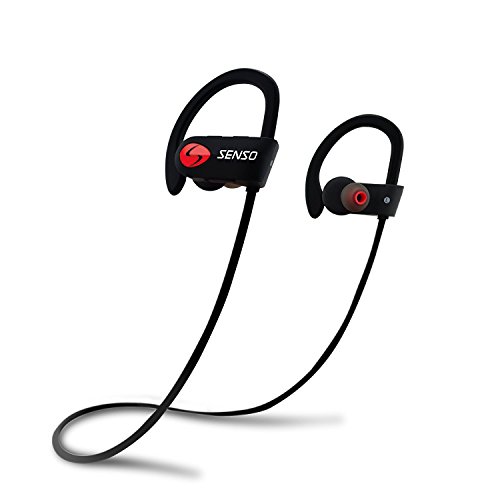 SENSO Bluetooth

10mm speakers for HD sound and audio
Build-in microphone for calls
Flexible behind-the-head memory wire
Lifetime sweatproof warranty
Great value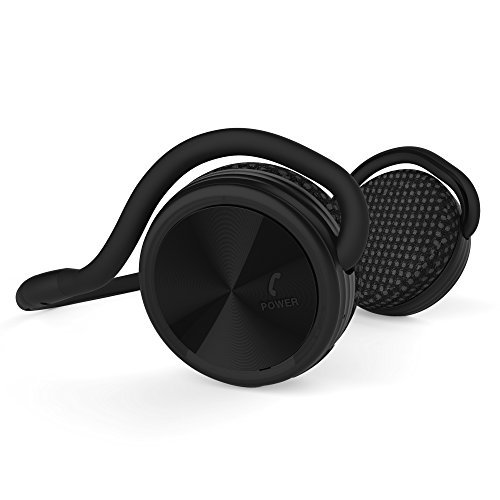 Besign SH03 Bluetooth 4.1 Headphones

10mm speakers for HD sound and audio
Build-in microphone for calls
Flexible behind-the-head memory wire
Lifetime sweatproof warranty
View The Best Bluetooth Running Headphones Below
You can't be on the hunt for the best running headphones without having a look at these affordable sport headphones! The HD sound has a powerful base, Bluetooth 4.1, and tips made with revolutionary Comply T-400 memory foam that adapts to your ear.
The fit is so comfortable and customized that it shuts out most other noise. You'll have no more distractions from your sound, whether you're listening to music or any other audio. The waterproof material of these best working out headphones makes it safe to go for a run in the rain. You could even accidentally drop the running earphones down the toilet and the audio would still work. They are also sweatproof, and the company is so sure of this that their products come with a lifetime promise of replacement headphones if the sound is ever damaged by sweat.
Pros:
+ 10mm speakers for HD sound and audio
+ Build-in microphone for calls
+ Flexible behind-the-head memory wire
+ Lifetime sweatproof warranty
Why We Liked It - These are possibly the best Bluetooth sport headphones as they're lightweight, they stay in place while you're moving and they shape themselves to the inside of your ear for a secure fit!
Style, comfort and durability are three words that perfectly describe these Bluetooth running headphones. They are a great option for anyone who is searching for the best sport wireless headphones out there without compromising on sound and audio.
The Bluetooth 4.1 CSR technology sets the bar high in terms of sound quality. The flexible ear hooks give a secure fit, keeping these running headphones in place even during intense workout sessions. You'll never have to sacrifice your audio or sound again.
It connects with any Bluetooth device located up to 30 feet away, which is quite impressive considering their small and practical size. The noise suppression technology allows you to listen to any sound without distractions. You can even take a call as you jog! There's a reason why these are some of the best headphones for workouts.
Pros:
+ Crystal clear treble and deep bass
+ CVC 6.0 noise suppression technology
+ With gel flex silicon earbuds for a secure fit
+ Long-lasting rechargeable battery
Why We Liked It - The best headphones for running and exercise will stay in place, last a long time without having to be recharged, and keep exterior noise out for a satisfying sound experience. That's exactly what these do, making them some of the best headphones to work out with.
3. Besign SH03 Bluetooth 4.1 Headphones
Listen to music for 25 hours straight without having to recharge the battery, or enjoy up to 600 hours of standby time when this true wireless headset is not in use. This gives these truly wireless pair of headphones the best battery life on this list. Also, the battery life level can be tracked on an iOS device, making it easy to know when you need to charge your true wireless earphones. You never have to worry about running out of juice just as you are listening to your favorite training motivation song or the next chapter of your audio book.
With a truly wireless design, these headphones for running are comfortable to wear for long time periods, have a built-in microphone, noise cancellation technology, balanced sound and – check this out – they come with a protective travel pouch so that you can take them with you no matter where you go. This makes them some of the best truly wireless earphones.
Pros:
+ Track battery level with iOS devices
+ 25 hours of continuous battery time
+ Noise cancellation mic for phone calls
+ Truly wireless and free travel pouch included
Why We Liked It - For those who prefer over the ear Bluetooth headphones for running – this is a product worth considering! Superior comfort and sound quality at a very affordable price.
A unique feature of this Bluetooth headset for running is that it comes in different sizes, so that you can choose one that perfectly sits on your ear and head for the best fit. This makes exercise more fun and less of a hassle, as the perfect fit means you won't have to worry about these wireless earplugs falling out or causing discomfort.
The sweat-proof technology helps combat corrosion, which could otherwise occur due to sweat, keeping your jogging earbuds with Bluetooth looking and sounding their best for a long time to come.
It's no secret that Anker is up there in terms of quality with other brands and products such as the Bose Soundsport, Jaybird Vista, Jaybird Tarah, and Jabra Elite Active 75t. By getting the best wireless earbuds for running, you don't only get an impressive sound quality experience, but also a product that will make your workouts both easier and more motivational.
Pros:
+ Anti-corrosion sweatproof technology
+ High-octane sound with lush mids
+ Precision tuning and 10 mm drivers
+ With 18-month warranty
Why We Liked It - These wireless Bluetooth headphones for running, exercise and other activities have a well-balanced sound that's so clear, you can have an important phone call in the middle of a noisy gym - and the sound quality won't be impacted. The fit adapts perfectly to your ear and ear canal, thanks to the various size options.
Self-proclaimed as the best Bluetooth headphones for running – this product does not disappoint! With V4.1+Edr for stereo sound and impressive bass, these running earbuds stand out when it comes to function, design and sound quality.
They are earphones for running that don't fall out. These buds are sweatproof and water-resistant, with voice notifications for incoming calls, a comfortable ear-hook for a great fit, up to 8 hours of interrupted battery life, and much more.
The sporty exterior makes you want to pop them straight into your ears and head out for a run. Also, once you hear how clear the sound is, you won't ever want to stop running. Motivation comes in many shapes and forms, and, with their easy fit and wireless design, these are perhaps the best running headphones for someone who needs that little extra push.
Pros:
+ Sporty and functional design
+ 8 hours of battery life
+ Sweatproof and water-resistant
+ Stereo sound and deep bass
Why We Liked It - Finding the best wireless earbuds for running can feel tricky at first, as there is a large selection available online, but you can't go wrong with a pair of these lightweight and sound superior wireless sport earbuds.
Are you ready for a long-lasting sound experience, with these wireless running earphones? The long battery life on these buds allow you to listen to music for up to 8 hours. The active noise cancellation means you can take calls without having street noise interfere with your conversation. A rainy day is not an issue with these quality wireless earphones, since they are sweat and waterproof. You'll definitely want to have a look at these pair of wireless buds.
It's not just all about the sound. Get these headphones in the color of your choice, with the ear tip size of your choice. The comfortable fit means you can easily enjoy the best sport Bluetooth headphones available. These are some of the best wireless headphones on the market - move over Bose Soundsport Wireless!
Pros:
+ Waterproof and Nano-coated
+ Best HD stereo sound and active noise cancellation
+ Three different ear tip sizes for the best fit
+ Fully charges in 2 hours for a long battery life
Why We Liked It - When you commit to running, you often want to be able to do it no matter the weather. These pair of headphones are the perfect product, considering they're waterproof. The fit means they stay in the ear canal even when you sweat.
7. Plantronics BackBeat FIT
The on-ear controls for music and calls makes these some of the best headphones to workout for people on the go. The P2i Nano-coating protects these wireless earbuds from the elements, such as rain and mist. These buds are also sweat proof which makes them some of the best running headphones for hot weather runs.
These buds even meet the IP57 rating, meaning that they can withstand water down to 1 meter, for 30 minutes! That's quality equal to the Jabra Elite Active 75st, The 15-minute quick-charge feature allows you to charge to an hour of listening time fast, which can save your run at times when you have forgotten to charge up your jogging headphones. You never have to forget your sound on a workout, whether that's music or an audio book. There's no need to charge these wireless buds for ages to achieve high battery life (which is over 5 hours), making them the best buy. In terms of the best wireless earbuds, these features rival even the Airpods Pro.
Pros:
+ On-the-ear volume, call, and music controls for epic sound
+ IP75 rated for water resistance
+ With durable Nano coating
+ 15-minute quick battery life charge feature
Why We Liked It - Not having to worry about your earphones when exercising is a huge plus, especially if your music device – such as a phone – is also waterproof the way these are. Run in the rain or go for a quick dip in the lake! These are the best Bluetooth running headphones for exercise enthusiasts who don't want to be held back by a low battery life.
With high-fidelity acoustics, these wireless Bluetooth headphones' sound and audio constantly rank high in the best true wireless earbuds reviews! This makes them some of the best. These true wireless buds are comfortable to wear, even for long-term use, and they're great for any sport-related activity where you need your earbuds to stay firmly in place. Also, they offer a secure fit.
Let these true wireless earbuds impress you with their ability to connect with devices over 30 ft away, without this affecting the earbuds' impeccable sound quality. The IPX7 waterproof casing and the active sound cancellation technology means that you can listen to your music and take phone calls anywhere, without having to worry about rain or interruptions to your audio.
A long run with the best sound quality and audio can make you feel incredibly free, and these truly wireless earbuds ensure that your headphones won't get in the way of that. There's a reason why these true wireless buds are one of our top picks.
Pros:
+ True wireless design offers a 30 ft connecting range
+ Voice prompt capacity
+ Waterproof IPX7 casing
+ Durable li-ion battery
Why We Liked It - Easy to use, true wireless, long-lasting battery time and the headphones have waterproof casing which make these the best wireless earbuds in the opinions of many. It's not hard to see why. Finding the best true wireless earbuds for running can take some time, but you can't go wrong with this durable and stylish looking option.
These wireless earbuds are small and elegant. They're resistant to movement, sweat, and the elements, and the price is very affordable. Also, you can connect these wireless earbuds for running to most devices and cell phones. They're compatible with both Android, iOS and other operative systems, which makes them some of the best for versitility.
It only takes 1-2 hours to charge these earbuds to a full battery life, which is a lot less than many of its competitors. This type of quality can give the Airpods Pro and Jaybird Tarah a run for their money, making them the best buy. Make sure that you never go for a run without the best workout audio and sound.
The oblique angle of the buds provides an ergonomic, comfortable, and secure fit. Although they're wireless earbuds, these headphones aren't truly wireless, as they have a connecting wire. This is unlike other headphones (such as the Airpods Pro) that don't come with any wire. However, the fact that they're not true wireless isn't a bad thing. On the contrary, the magnetic feature makes it possible to put the two earbuds together and wear them like a necklace when they are not being used. This is a feature you don't get with truly wireless earbuds.
Pros:
+ Magnetic wireless buds feature
+ Connect to two devices simultaneously
+ Compatible with iOS and Android
+ Built-in lithium batteries
Why We Liked It - You don't always have pockets on your exercise gear, and there might not be room even for the best sport's headphones where you keep your phone.
This product has solved the issue by adding magnets to their earbuds, which is something you don't get with truly wireless earbuds. This means you can wear these buds as a necklace when you don't want them to fit in your ear.
10. LETSCOM IPX7 Waterproof
Say goodbye to tangled cables and poor audio and sound quality with these buds! These sports' earbuds combine a sleek design with high-quality audio and high-fidelity sound, along with CVC noise cancelation, a built-in mic and a deep bass for the ultimate sound experience. Control the headphones' sound with the buttons on the side and enjoy up to 8 hours of music or calls before having to recharge the battery life. This battery life is standard for most headphones on this list, which is an excellent feature for wireless earbuds.
The silicone ear-hooks are soft and provide a comfortable fit. They adjust nicely to the size of your ear. The Nano-coating keeps the music flowing even when it rains. Just wipe the buds off when you get home to keep them in top shape. You never have to worry about water damage affecting the sound quality, which is why they're one of our top picks, making them one of the best wireless options.
Pros:
+ CVS noise cancellation
+ 8 hours on one single charge
+ Comfortable silicone ear-hooks
+ Rich sound and impressive bass
Why We Liked It - Running enthusiasts often go on about these headphones. They're very easy to carry with you, they fit comfortably in and around the ear. These earbuds come in several different colors so that everyone gets to choose their favorite.
Bluetooth Headphones for Running Buyers Guide
It's easy to get overwhelmed when starting to browse through products on the internet, regardless of what you're looking for! There are so many products available, and how can you know which option is right for you? The search for the best headphones is no exception. The market is saturated by them, from the Apple Airpods, to the Jaybird Vista, and the Bose Soundsport Wireless. But don't worry, there are good alternatives in every price class, as long as you have an idea of what you're hoping to find.
In-Ear vs. Over-Ear
The first thing to decide is what style you prefer. Do you prefer over-the-ear headphones or buds that go inside the ear? This depends mostly on your personal preferences. For sports like running, an in-ear buds design is by far the most common. This is due to commodity and also how much better they tend to stay in their place. Buds tend to have the best fit. Imagine running with the chunky headphones you use for computer games! Would your music sound great? Yes! But would they stay on? Probably not. Instead, you need to aim for headphones made for sports, as these have taken this little detail into consideration when making the buds. It's not all about the sound.
If opting for an in-ear headset, you want to consider size and design. Not all ear tips and ear hooks are the same size. If you know that most in-ear headphones usually make you feel uncomfortable or if the fit even hurts you, look for a product that has size options and chooses a smaller size for the tip. This will ensure a comfortable and secure fit. The standard earbud fit is too big for many people, but most put up with it, not knowing there are smaller sizes. Choose the right size for you for the best and most secure fit. Then you can enjoy your sound with no discomfort.
Despite the bulky fit, over-ear headphones can be very comfortable. There are a few models made for running and other sports. If this is more your thing, then you should take a moment to find the products that will stay on your ear even when you're running, bouncing and – who knows – perhaps even swimming, to avoid a distraction while you're trying to run. The fit should be considered no matter what headphones you're going for, whether that's true wireless or not. Our top picks ensure the best fit.
Waterproof
Did you know that some headphones are waterproof? This is because many people exercise even in bad weather, but also because people sweat. Exercise headphones need to be able to deal with that. The fewer distractions when exercising the better, and with waterproof headphones, you save yourself a lot of trouble. Look for products with IPX7 casing or products that are coated with Nano. This usually means that they are waterproof, or can at least withstand water and rain.
It's always recommended that you read the product description carefully before purchasing, to make sure you're not using a product that's not made for what you need it for. There is also a significant difference between a product said to be "waterproof" and one that is water-resistant, so also keep this in mind so you don't confuse the two. Just because your new buds can take light rain while you are jogging, it doesn't necessarily mean that they will survive an accidental dip in the fish tank or go with you for a swim.
Wireless
If it's important to you not to have to deal with wires, and if a Bluetooth headset is what you want, make sure this is specified in the product specifications of the item you intend to buy. This is a new and innovative technology that allows you to listen to music and take calls without having to physically connect your earphones or buds to a device. This is instead done with Bluetooth, and it's extra useful for people practicing sports on both hobby and professional levels.
Bluetooth lets your buds interact with your phone or music device so that you can run and exercise without getting tangled up in wires. You just sync it to your device the first time, and then it will usually auto-sync to the same device the next time you use it, making it quick and simple to get the music flowing. It even allows you to share one headphone with a friend as you work out, as long as your friend stays close enough for the Bluetooth signal to reach your phone or whatever another device you use to listen to music.
Keep in mind that true wireless earphones won't come with any wires - just the earbuds. If you opt for headphones that connect to each other with a wire and create a necklace, these are not truly wireless. Don't count them out, however - non truly wireless earphones are just as good and comfortable to wear as true wireless headphones. True, or truly wireless, buds may even be the best option for you, depending on your needs.
Consider charging, too. You will have to charge wireless buds up, whether they're truly wireless, true wireless, or not. Some true wireless buds come with a charging case. Getting a charging case for your truly wireless earphones can save the hassle of plugging them in, especially when you want to listen to your sound out and about.
Best running earbuds?
The impressive reach and sound quality of the 'SENSO Bluetooth Headphones' make them the best choice both for experienced runners and for those who are just starting out.
However, there are other headphones that are the best for running but haven't been mentioned on our list. Also consider the Apple Airpods Pro, the Jaybird Tarah, Jaybird Vista, Jabra Elite Active 75t, and the Aftershokz Trekz. All of these some of the best products, as well as the ones on our list. Check out if they're truly wireless to find the best pair for you. However, as mentioned above, truly wireless isn't the be-all and end-all.
Best headphones for running in hot weather?
The 'Phaiser BHS-530 Bluetooth Headphones' have a lifetime sweatproof warranty, meaning there's no risk of you having to throw away your earbuds due to sweating too much! They're best for people who really go for it when they're working out and want the best sound.
Best headphones for running in the rain?
The 'Plantronics BackBeat FIT Wireless Bluetooth' can be submerged in water for up to 30 minutes. You won't find a better product if you're worried about getting your headphones wet and ruining the sound when running through the rain.
Conclusion
Headphones differ a lot in both quality, durability, and price. While you can go with the cheapest option and hope that they last, they probably won't unless you know which cheap headphones make the best running earbuds. This is why it's important to read reviews, but also to take into consideration what you need them for, and how you plan to use them. If you tend to work out whether there's a lot of noise, then active noise cancellation will be a good feature to have, as it won't disrupt your audio and sound.
Also consider battery life, as this will be important regardless of whether the earphones are truly wireless or not. A good battery life, as you've seen from our list, is 8 hours. This type of long battery life is not only good for workouts, but also for commuting. However, if you only intend to use the earphones for workouts, a shorter battery life - such as 5 hours - won't do you any harm.
Bluetooth earphones for running need to stay in place also when you're moving, or they will end up being more of a hassle for you than a source of motivation, so always consider the best fit. A lot of earphones will come with different tip sizes to ensure a good fit, no matter what. They should also be resistant to moisture and sweat, as this is something that inevitably tends to come with working out, or you could end up having to buy new headphones after every workout session. It is not about price – it is all about audio and sound, design, and function.
Expert Tip:
Whether you're looking at the Bose Soundsport, Jaybird Vista, or the Anker earphones, choose a size that will fit your ear the best. If you have small ears and find most regular earbuds uncomfortable, then look for a product that offers different tip sizes. Earbuds with a fit that's too big will either make your ears hurt, or they will fall out as you run. The best wireless option will fit just right.
Did You Know?
The concept of "Bluetooth" is named after a Viking (Blåtand) in the book 'The Long Ships', written by Frans G. Bengtsson.
If you've enjoyed this review by Music Critic, please leave a positive rating:
[vc_separator