Are you an avid swimmer? If so, you have probably wondered what it would be like to have your favorite music playing while you do your laps. One of the great headphone innovations available these days is waterproof headphones. These often come with or have a built-in MP3 player. Now you can not only listen to music while you exercise, but you can have the music right in your ears as you submerge and paddle on. Whether you're a swimmer, surfer, or need some tunes in the shower, headphones for swimming are a real treat to use.
Being able to listen to music in the water is great and all, but where do you start? If you've never owned a pair of underwater headphones or an underwater MP3 player before, you're going to need a little bit of information in order to make an informed buying decision. Here we outline the top 5 underwater headphones and MP3 players in 2023, along with a bit of extra info of things you should be looking out for when buying.
At a glance:

Our top 3 picks
Our team's top 3 recommendations
Best Overall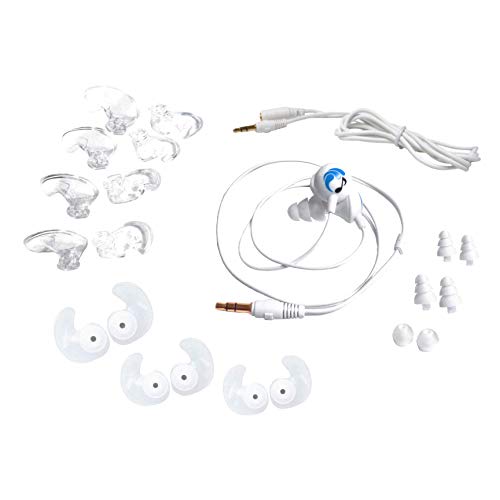 Swimbuds SPORT Waterproof Headphones

IPX8 Waterproof
4 ear tips
Durably built
Maximum comfort
Hydrobeat TM sound
Premium Quality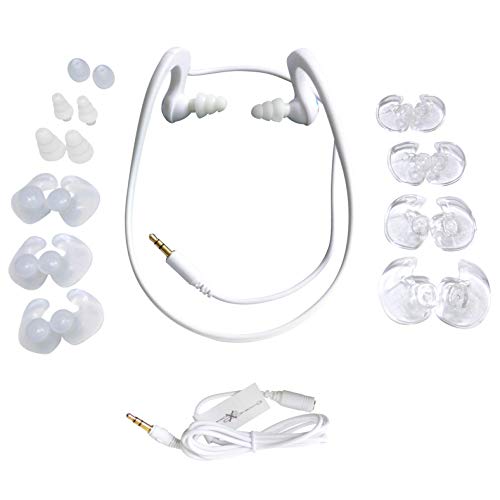 HydroActive Short-Cord Waterproof Headphones

IPX8 Waterproof
4 ear tips
Durably built
Maximum comfort
Hydrobeat TM sound
Great value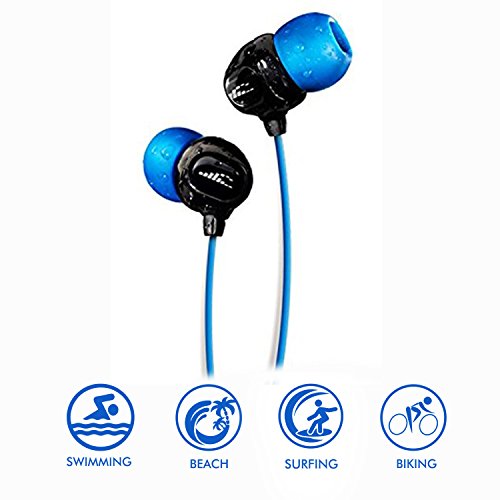 H2O Audio Waterproof Headphones for Swimming

IPX8 Waterproof
4 ear tips
Durably built
Maximum comfort
Hydrobeat TM sound
View The Best Headphones For Swimming Below
1. Swimbuds SPORT Waterproof Headphones
These sport headphones have been designed for swimmers who are seeking out the maximum level of comfort while in the pool. One of the biggest complaints in headphones, especially swimming headphones, is how uncomfortable they are. When you're putting in your laps, you need headphones or your MP3 player to fit well and stay in place.
The design is rugged with strong wires and a third-generation Hydrobeat TM sound. Four different types of ear tips are included so you can choose which is the most fitting and comfortable for you. With an IPX8 waterproof rating, you will be able to go up to 3.6 meters deep without risking damaging your earbuds.
Pros:
+ IPX8 Waterproof
+ 4 ear tips
+ Durably built
+ Maximum comfort
+ Hydrobeat TM sound
Why We Liked It - Comfort is one of the most sought after qualities when it comes to swimming headphones. Swimsport has found a way to bring the highest level of comfort to the consumer without sacrificing sound quality and durability.
2. HydroActive Short-Cord Waterproof Headphones
If you're looking forbetter sound quality in your swimming headphones, then the Hydroactive Short-Cord Waterproof Headphones may be for you. They are outfitted with multiple protection chambers which make them one of the most watertight underwater headphones available. That means they will last longer and give off better sound than many of their counterparts.
These waterproof earbuds come in a wrap-around design to keep tightly to the head without interfering with the headgear. Three different styles of multi-sized tips will make them extra comfortable, and they will be great for any water-based activity, including swimming, kayaking, and surfing.
Pros:
+ Multiple protection chambers
+ Multiple ear tips
+ Exceptional sound
+ Wrap-around design
+ Versatile usage
Why We Liked It - The sound is truly superior with the multi-protection chamber design. They are completely watertight and will last a long time without the sound flaking out.
3. H2O Audio Waterproof Headphones for Swimming
Sometimes you need a little extra bass to keep you going through the laps. H20 Audio has created a set of underwater headphones that will offer a really bassy tone under the water. These workout headphones boast an IPX8 waterproof rating which is good for 3.6 meters worth of depth. Designed by athletes who know how headphones are meant to feel, they are extra comfortable and will stay right in place.
The short cord design will keep them tight and out of the way of any headgear you may need to wear. Multiple ear tip sizes will give you flexibility on fit, and the waterproof MP3 player is attachable via a short cord that sits easily on the back of the head. These earphones and MP3 player are great for swimming and many other water-based listening activities.
Pros:
+ IPX8 Waterproof
+ Comfortable
+ Multiple ear tips
+ Short-cord design
+ Bassy sound
+ MP3 player
Why We Liked It - These fit so snugly to your head that you don't ever have to worry about them coming off. You can really tell that they were designed with athletes in mind During the most rigorous workout, they stay right in place and sound great time after time. You can attach the MP3 player to your headphones.
This swimming MP3 player has a built-in 8G of memory for you to keep all your favorite songs on.
These are bone conduction earphones, which means that rather than sit in your ears, they sit against the ears. Bone conduction is a great choice for people who are concerned about their hearing - or for those with hearing loss.
AS they're bone conduction earphones, they have a trekz titanium headband for flexibility, so you can get a lightweight and comfortable fit. The materials are also salt resistant and waterproof to a grade of 8, so you can wear them for hours in the water. They player is not just great for swimming; wear these earphones when running, skiing, rowing, surfing, diving, and more.
Pros:
+ IPX8 waterproof
+ MP3 8 GB memory
+ Comfortable design
+ Bone conduction
+ Great sound
Why We Liked It - These earphones and MP3 player are great for people who workout outside of the pool but also like to get them wet every once in a while. The bone conduction technology is a great plus for those who like to still hear what's going on around them.
5. Swimbuds 100% Waterproof Headphones
Swimbuds Sport has designed a pair of earphones specifically for flip turns. Many swimmers know that flip turns are absolutely essential to swimming technique and flip turns come right along with it. These waterproof headphones come with flanged ear tips to help keep them fully sealed in the ears while swimming.
The short-cord design will keep the wire out of the way when placing them under your cap, and a cable extension comes along with it for the times you just need a pair for running or casual listening. The IPX8 waterproof rating gives you the ability to submerge totally for hours without ruining the waterproof earphones. They also come with customizable ear tips to give you just the right fit.
Pros:
+ IPX8 Waterproof
+ Fully water-tight
+ Great sound
+ Customizable
+ Useful accessories included
Why We Liked It -It's great to have the peace of mind that your headphones will be watertight while swimming. Whenever flipping and turning through the water, they stay right where they're supposed to and sound great all the while. This makes them one of the best waterproof headphones for the water.
 Headphones For Swimming Buyers Guide
What to look for when buying headphones for swimming
Whether you're a newbie, or a seasoned veteran looking for under water headphones, it can be useful to brush up on some necessary information before buying. A few different factors come into play that will make your earphones better suited for certain purposes. Fit, sound-quality, waterproofing, and durability are all factors that you need to consider.
Here is a short buyer's guide to help you gain a little more confidence before making your swimming headphone purchase.
Sound Quality
Sound quality will determine a lot when it comes to the level of satisfaction you get out of your headphones. It's possible to have music sounding as good as it does out of the water, so there's no need to sacrifice sound quality. Of course, your main listening activity will be swimming, but you will also be listening at other times as well. You want to be sure you're getting warm bass and clear highs when you're sweating through your workout.
Durability
Water is hard on components. When you're swimming through chlorine and salt-water, scaling can build up and cause long term damage to your waterproof earphones. You want to ensure that your swimming headphones are built to last and won't need to be replaced after a few laps around the pool. When you're finished in the water, always make sure to give your earbuds a little bit of TLC, so they last a little longer as well.
Fit
Swimming with headphones and having them not fall out might seem like an impossible task. The fit is more important with an underwater and waterproof headphone than it is with regular use headphones. Because you need a watertight seal, they need to be able to match your ear size perfectly. Luckily, most headphones come with multiple sized ear tips so you can fit them directly into your ears without having them fall out. Also, think of what type of gear you're going to be wearing along with the headphones. Do you need to tuck a wire underneath a swimming cap, goggles, or hat? If so, make sure you get a pair with a short-cord or no cord at all. The last thing you want is to lose your headphones to the bottom of the pool or ocean while you're putting in your exercise.
Waterproofing
The highest level of waterproofing is extremely important with headphones and underwater MP3 players. You need to be able to fully submerge in the water without ruining your technology. With an IPX8 waterproof rating, you can submerge up to 3.6 meters before they start to feel the pressure. 3.6 meters is a lot, and you usually won't be swimming that deep, but it's nice to know you can. When they have the ability to go that deep, you know they'll be able to stand up to a lesser depth worth of pressure with no issues.
Is it safe to use headphones under water?
We all know to keep our electronics away from the water. That's why when it comes to headphones, swimming may be out of the question - or so you think. But with the best waterproof headphones, you don't need to worry about that. They are designed to properly keep out moisture and water and will not cause shocking or shorts when you're using them. It's important, however, to make sure that you're getting waterproof headphones and not water-resistant ones.
Water-resistant headphones are generally not meant to be submerged and will likely not work after spending too much time in the depths. Waterproof headphones with a high rating are no problem, though. The best waterproof headphones will work in the water until the battery life wears out.
In terms of battery life, choose something that lasts a long time. You'll want to know that the battery life will never run out, no matter how long you're in the water.
Conclusion
With this information, you should be ready to go and get your new pair of headphones and hit the water. Now you can get your KMs in with your favorite music in your ears. Happy listening.
If you've enjoyed this review by Music Critic, please leave a positive rating:
[vc_separator