In this article we are going to get a good look at the 10 best headphones for working out in 2023. You might be surprised to know there are a large number of products on the market which specifically cater to the audio requirements of those with sporty hobbies and practices. With many manufacturers producing a work-out models as a part of their line, or an entire series of headphones dedicated to athletic pursuits, and there are even companies which solely fabricate headphones for sports.
We have said time and again that a saturated market can make it harder to spot the best of the lot, so we are going to review 10 which offer the idyllic characteristics needed in a great set of headphones for working out. We are looking at both wired and wireless options but if you are specifically looking for a Bluetooth capable set you might also find our recent 10 Best Wireless headphones for Working out in 2023 article of use.
At a glance:

Our top 3 picks
Our team's top 3 recommendations
Best Overall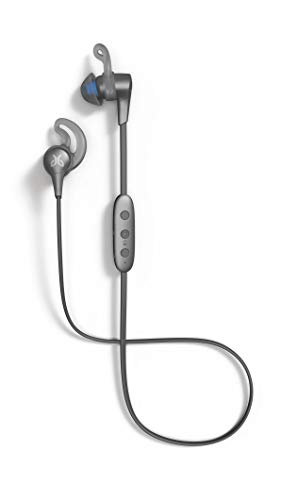 Jaybird X4 Wireless Bluetooth Headphones for Sport

Super heavy duty build.
Premium parts.
IPX7 waterproof.
8 hours battery life.
Premium Quality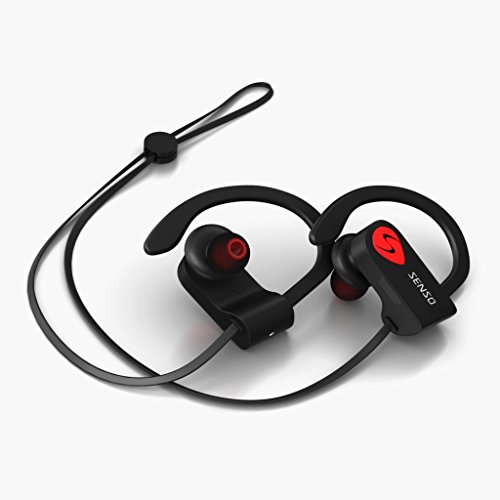 SENSO Bluetooth Headphones, Best Wireless Sports Earphones

Super heavy duty build.
Premium parts.
IPX7 waterproof.
8 hours battery life.
Great value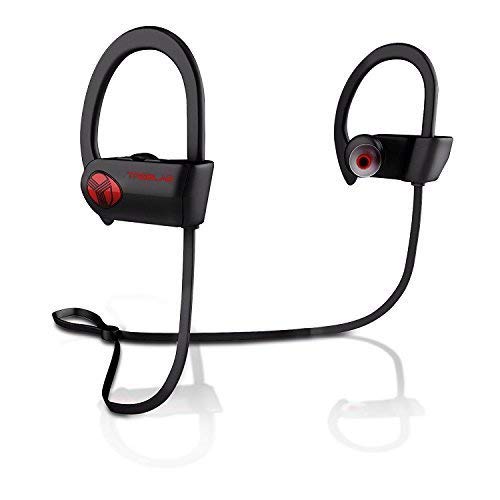 TREBLAB XR500 Bluetooth Headphones

Super heavy duty build.
Premium parts.
IPX7 waterproof.
8 hours battery life.
View The Best Headphones For Working Out Below
1. Jaybird X4 Wireless Bluetooth Headphones for Sport
Commencing our reviews today Is a heavy-duty high end set from Jaybird. They feature their 'Sport-Fit Plus' design which has curved fin shaped earbud attachments that sit within the inner auricle of your ear and help the buds to stay in the ear canal.
The earbuds come with a range of different sized, proprietary Comply Ultra Foam tips which are thermo-reactive and conform to the individual's ear. They are connected by a flexible strap which sits over the top of the ear. They are a one size fits all length and come with a clip to pin back the excess, shortening them.
The X4 set is finely fabricated to provide one of the most protected products on the market. They are exceptionally well built and hold an IPX7 certification making them adept in all weather conditions. The components are created from high-end materials, which are painstakingly scrutinized as they are sourced and other composites which have been innovative in-house inventions.
The Jaybird company was bought by Logitech, who make some fantastic PC peripherals and know a thing or two about audio arrays. Their experts have been shrunken down to enhance the original Jaybird model. The driver design is incredibly efficient so they provide high output audio which is unbiased towards either end of the frequency spectrum and ultimately a better blend.
The circuitry on board is pretty advanced allowing for much more definition in the sound and overall depth which is spatially rich. They can be equalized to a high degree utilizing the Jaybird iOS App.
They Serve up around 8 hours of listening for every full charging session. They have current Bluetooth connectivity and can be used for voice calls.
Pros:
+ Super heavy duty build.
+ Premium parts.
+ IPX7 waterproof.
+ 8 hours battery life.
Why We Liked It - They are a premium pair of wireless headphones, for hard core outdoor users.
2. SENSO Bluetooth Headphones, Best Wireless Sports Earphones
If you have been following any of our articles this January you may recognize this next set of SENSO Bluetooth headphones. This accessibly priced full over-ear hook earbuds model have actually earned them selves a spot in our Best Bluetooth headphones article as well as our Best Wireless headphones for working out in 2023.
The over-ear hook design, generally speaking, add sufficient stability to support a wider range of motion. This makes them a great choice for use during workouts. The hooks are ergonomically designed and lightweight, they are made from a flexible comfortable rubber composite.
The driver array is pretty impressive for a cheaper option, it performs well at high-outputs and delivers rich dynamics. The bass frequencies have been enhanced and the diaphragms are a little larger than typical to better cope with the low ends so you can burn to the beat. They have an IPX7 certification and the nano-coated electronics can actually survive a quick accidental dunk.
They too provide 8 hours battery life between charges and have an in-call noise canceling feature for clearer conversations.
Pros:
+ Secure and comfy over ear hooks.
+ Built-in noise canceling.
+ Bass enhancement.
+ IPX 7 level waterproofing.
Why We Liked It -They are very well-made, competitively priced and they outperform many Bluetooth headphone models on the market in their respective region.
3. TREBLAB XR500 Bluetooth Headphones
Another similarly priced option are these terrific TRELAB headphones.  The XR500 Bluetooth set serve up the same full over-ear hook design concept that gives users the liberty to move freely whilst keeping their earbuds in prime listening position.
They are manufactured from a high graft soft rubber and are incredibly lightweight and comfortable to wear.  The earbuds themselves are formed from an expandable foam wit silicone tips and again a variety of sizes have been provided free of charge.
They feature advanced active noise cancellation to maintain line clarity during voice calls.  The drivers feature the latest technological components and perform extremely capable.  They produce natural sounding audio with a smooth blending of frequencies, which delivers a well-defined sound with deep lows and crisp highs.
They are well put together, have up to date Bluetooth connectivity and a modern CSR chip, they are IPX7 certified so at least your mind can relax whilst the rest of you is working up a sweat.  They offer slightly more battery life, providing power for around 9 hours at a time.
Pros:
+ Accessible price.
+ Silicone tips.
+ IPX7 certified.
+ High definition sound.
Why We Liked It - They have some superb specs for a pair priced below the $30 mark.
4. Phaiser BHS-530 Bluetooth Headphones
This fine pair from Phaiser are placed in the ear with a tiny twist-lock motion.  The buds feature soft, molded silicone inner ear-hook fin which eliminates the need for an over hear hook or head band.
They are again very competitively priced and offer up pretty similar specs to many of the others we have compared within the price region.  They are donned with typically sized 8mm high-output drivers.
Their circuitry is on-par with the best in the relatively priced class, the circuitry boasts all the latest Apt-X tech and CSR chip to match competitors.  They are solidly constructed out of great quality components and are highly durable.  They are relatively waterproof, and their sweat-proof and skin-friendly make-up mean they reduce discomfort from sweating.
One of their best features is their automatic equalization which kicks in adjusting as it goes between audio tracks and voice calls, offering noise cancellation as well as EQ optimized to the best settings for spoken word when calls are answered, keeping calls crisp and clear.
Pros:
+ Skin-friendly inner-ear hooks.
+ Quality components.
+ Auto EQ for clearer calls.
Why We Liked It - They are very well made, and offer additional features in comparison to come and just manage to undercut similarly matched sets, making them good value for money.
5. Best Wireless Sport Earphones, Mic - IPX7
An alternative over-ear hook set to consider is this pair of Bluetooth capable headphones from ELZU They are priced slightly higher than the rest but that is unsurprising given that they come with one of the batteries in their class which capable provide up to 12 hours playing time.  They are one regular size but can be fully adjusted and stay in place really rather well, despite even the most rigorous workout.
They come equipped with the same Apt-X technology that set the new industry standard for superior sound in a small package, serving up the high definition.  They also incorporate the latest CVC noise canceling technology which helps keep your voice calls distinguishable from the background noise of the outside world.
It is an upgraded model which features a stable Bluetooth 4.0 connection that pairs easily in one-step to the majority of recognized devices within a 10-meter range.  They are very well fabricated from good quality parts and each component is coated or encased making it fully waterproof carrying an IPX rating of 7.
Pros:
+ Longer battery life than others (12 hours).
+ Great quality.
+ One step pairing.
+ IPX 7 certified.
Why We Liked It - It is another great over-ear hook option, we like that is has a longer battery life than some and still provides noise cancellation which typically hogs the juice a little.
6. Mucro Sports Earhook Headphones Sweatproof
Next up we have a low priced pair which are a wired set that actually offer the best of both worlds.  They provide a regular set of typical in-ear buds which have additional over-ear hooks that attach for additional stability on the go or working out, and detach for general leisurely use.
The design concept is great, it gives them a little more versatility than some sets.  The hooks are ultra-lightweight, they are made from silicone and have been ergonomically designed to secure behind the ear without any discomfort.  The earbuds, themselves provide further comfort as they actually feature a slightly shallower in-ear depth which actually makes them safer for longer periods.
They are as previously mentioned a cheaper set, but they are still donned with good quality dynamic driver arrays which help provide cross-spectrum audio which has distinct details within.
Despite the lack of wireless abilities, they provide a sensible solution, they are well-built they stay in place when running and they feature the latest cutting edge composites that render them safe from sweating and getting caught in the rain.
Pros:
+ Sweat-proof.
+ Cheap and cheerful.
+ Wired option.
Why We Liked It - If you are looking for a more traditional wired set of headphones you really needn't spend too much, this set have versatile use with their hooks to help when you're working out that detach for lounging about in.
7. ROVKING Running Headphones Over Ear in Ear Noise
If your workout headphones finally give up on you and are seriously in a pinch then perhaps you are looking for something with a price tag even lower than the set reviewed above.  ROVKING have you covered with this wired, bare bones set.
They feature pliable over ear wires with stability enough to replace your typical hooks, this adds to their appeal as they are smaller, as well as lighter by comparison.  They essentially give a better fit as you can bend them to fit your ear, this makes them especially suitable for smaller ears and ensures they stay on even during the most energetic of workouts.
They provide perfectly adequate audio and are equipped with sufficient drivers which have the same design and very similar components to many others on the market.  The quality is comparable to the cheaper Bluetooth sets in terms of driver capability, overall audio balance, and texture.
They are fitted with a mic to provide voice call capabilities and the wire has a handy clip to pin to your clothes to keep it out of the way.
Pros:
+ Wired option.
+ Pliable wire hooks.
+ Hands free abilities.
+ Handy wire clip.
+ Low price.
Why We Liked It - They are the cheapest pair we are reviewing in this article, they have a very lightweight and uniquely adjustable wire hook method to keep them in the correct position for optimal listening whilst countering motion and they provide ample audio and hands free versatility too.
8. BOOMPH Bluetooth Headphones
Now over to our lowest priced Bluetooth ready headphone set.  This pair from BOOMPH are your average over-ear coated plastic hook design, which is ideal for sports as it provides the much needed stability to keep the earbuds in place as you work up a pace.  They are IPX7 certified as sweat, and water-proof.
They are decked out with a decent driver array and include industry standard components.  They appear well put together so should keep up with the general demands put upon them from even the most serious of users.
They feature a built-in Clear-Com mic which effectively noise cancels to ensure an audible line.  It has the latest Bluetooth on board that works within 45 feet proximity, which is a little further afield than others (average of 30ft).
They provide high definition audio with a focus on better bass presence, hence the boom in BOOMPH.
Pros:
+ Budget Bluetooth set.
+ Widened transmission.
+ Noise cancellation.
+ IPX7 certified.
Why We Liked It - It is a great budget item it offers great bass in the mix and stably connects from a further distance away which gives additional freedom of movement during your workouts.
9. Phaiser BHS-730 Bluetooth Headphones
Back to Phaiser for another impressive set.  The BHS 730 pair feature a magnetic snap-to design.  This magnetic action means that your earbuds easily store on your person around your neck when not in use.
They are a fantastic pair of stereo headphones they serve up great quality audio at a nice comfortable price.  They feature Swiss engineered 8mm speakers which have great bass.
They benefit from current Bluetooth and CVC 6.0 technology which totally isolates the audio signals.  They feature the same audio enhancing capabilities as the other sets but just manage to shave a few dollars off to tempt you in.
They are certified as IPX7 making them perfectly suited to wearing for high endurance activities.  They feature tiny in-line volume controls and a built-in microphone for voice calling.
Pros:
+ Bass enhancement
+ Certified as IPX7
+ Magnetic necklace design
Why We Liked It - We think they are a well designed set, the bass is pretty neat - you can't beat the engineering on the speaker array, and at this price level they are nigh-on unbeatable.
10. Diginex Bluetooth Earbuds Wireless Magnetic Headset Sport Earphones
We are rounding up with another competitively priced pair.  These tiny little guys are incredibly lightweight and their presence is understated so you are less aware you are even wearing a set of headphones.
They have a great design concept and nifty magnetized earbuds which snap together so they have less chance of getting lost.
They are blessed with Bluetooth 4.1 connectivity and CVC 6.0 noise reduction technology.  They are very flexible as they offer 3 pairs of interchangeable ear hooks (small medium large) as well as 3 interchangeable earbud tips.
They work at a long distance from devices between 40-50 feet, which we have to say, is very impressive at this price level.  They provide 8/9 hours peak playtime for every 1-1.5 hours of charge dependent on volume levels.  They are IPX7 certified once again and they come with a zippered carry case too.
Pros:
+ Very lightweight.
+ Long distance stable transmission.
+ Magnetized tips.
Why We Liked It - We love the magnetic tip necklace transformation it is a real convenient way to store and carry them in transit.
Headphones for Working Out Buyers Guide
Complementing your regular workout with a perfectly planned playlist to keep your pace is a fantastic tool to utilize.  Music is a great motivator and listening to your favorite songs can keep your mind off of the more grueling parts of a routine and how you power through to the end of the tune.
Having a set of headphones is essential for personal listening, however many of us have found them to be less than suitable in the past, sliding about as we sweated and falling out of ear canals completely during energetic exercises.
Thankfully modern manufacturers understand just what we need from a decent set of headphones for working out and they have filled the gap in the market admirably well.
What to Look For in a Set of Headphones For Working Out?
If you are looking for a set of headphones to workout in you will find you really are spoiled in terms of choice.  Many of them are also very accessibly priced well below the $50 mark too, though within each respective region they don't differ dramatically from one another in terms of drivers and components.  Luckily this narrows down the factors to think about before you buy considerably and in essence, it all boils down to personal preferences.
Wired V's Wireless?
The modern era allows for some pretty astounding abilities among even the lower end of the market and products are jam-packed with advanced features such as waterproofing, and even wireless integration, which ultimately provides a great audio solution for the athletically inclined.
This is largely due to the development of the CSR chip which saw the production costs of building in Bluetooth plummet to a level everyone could get on-board with.
Whilst eliminating wires is a superb solution for keeping them out of your way altogether whilst you work out some prefer older devices, and some aren't impressed with the stability of the connections so we have reviewed other options as well.
If you are opting for wireless it is advisable to choose a fairly up-to-date version of Bluetooth, and if you want to be able to use it to answer calls or speak to Siri you are going to need a built-in mic and some noise canceling capabilities.
What headphone type is best for working out?
It is widely accepted by athletic types that an in-ear headphone is the only viable solution as over-head/over-ear sets are too big.
For this reason, we have chosen earbud options in today's reviews however they have a reputation for falling out of ears if they are ill-fitting.  There are a variety of design concepts with solutions to keep them in place which we have examined and none stand out as necessarily 'better' than the rest, the way in which you wear them really is just down to your taste.
Conclusion
Countless companies have really jumped on the sports headphone bandwagon in recent years noticing a niche in the market that was perhaps once overlooked and under-catered to efficiently.
Nowadays there are some very innovative solutions for work out ready audio wear.  The benefits of utilizing music hand in hand with your regiments speak for themselves and it really is a buyers market so there is no excuse not to go ahead and try a set.
The key factor other than your budget which will affect the set you settle on is actually your preferred headphone style, but hopefully, today's buyer's guide will have helped to lay out the options available to you.
The majority of those we have looked at today are in a similar price bracket and don't differ heavily from one another with the exception of the high-end set we opened today's reviews with which serve up superior quality audio and build, but will inevitably set you back at least 3x as much.
Expert Tip
It is wise to go for a high waterproof certification if you are often outdoors as well as if your routines are very high energy.
Did you Know
Some IPX8 rated products can be fully submerged for around 30 minutes up to an hour at a time at depths of around 2-3 meters so you can actually swim in them.
[vc_separator