In the past few years, Treblab has become a popular brand, building its reputation for creating earbuds that are expertly designed and have great sound quality. With Treblab, you can get excellent quality earbuds without the premium price tag.
Their earbuds are designed for people that have an active lifestyle and are always on the go. We've heard great things about Treblab XR500 Wireless Earbuds, and we decided to put them to the test.
Fit
These Treblab earbuds fit snugly into your ear and come with 3 fitting options to find the right size to suit you. Although the three bud sizes only have a few millimeters difference, you'll feel it straight away if the bud is too big or small for your ear. The buds are flexible and squishy and are easy to change between sizes.
Once snug, hook the curved edge over your ear and make sure the wire is sitting behind your neck. The earbuds should be a comfortable fit and are perfect for working out, running, or going to the gym. Treblab has created these earbuds to stay in place while you're exercising, and you can rely on them to do just that.
Design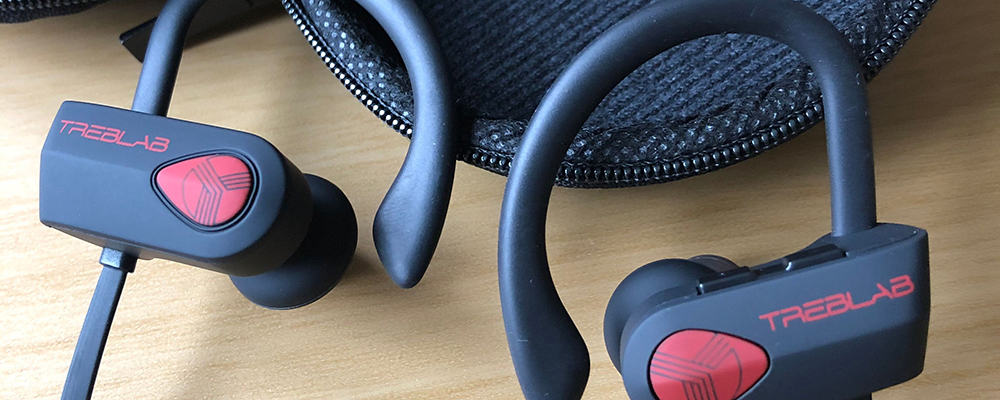 The Treblab earbud design is one we've seen many times, especially with exercising in mind. The design includes ear hooks that keep the earbud in place and soft rubber earbuds that fit your ears. The Treblab design has sleek lines, simple black, and red colors and a classic design that works. These earbuds are also available in different colors, including pink, purple, and white.
We tested these earbuds on a 5K run and gym workout - we had a snug fit throughout, and the earbuds didn't budge. Even if they had fallen out, the wire makes sure you can't lose one headphone and always keeps them together.
Our Verdict: Treblab has created a great set of earbuds perfect for those on the go, with a snug fit.
Sound Quality
For most people, earbuds are the best way to listen to music or podcasts while exercising. And when you're exercising, there are a lot of background noise - feet pounding the pavement, weights clinking, or pedestrians chatting. High sound quality is not an essential aspect for many people looking for earbuds as most people use them for exercise, but still, you'll be looking for clear and crisp sound.
Treblab has crafted these earbuds to have great sound for such a tiny headphone. It's especially crisp in picking up vocals and keynotes, great for pop music or podcasts. The earbuds don't offer much in terms of bass or low notes, but that's to be expected with style. Overall, they have good sound quality and are great value for money.
Passive Voice Cancellation
Treblab has built-in passive voice cancellation to these earbuds, on top of the natural sound-blocking that comes from the snug earbud fit. This helps to eliminate voices that may be on the local paths or in the gym, allowing you to focus more on your run or workout.
Our Verdict: Treblab XR500 is a brilliant earbud set with great sound quality for runners and workouts.
Controls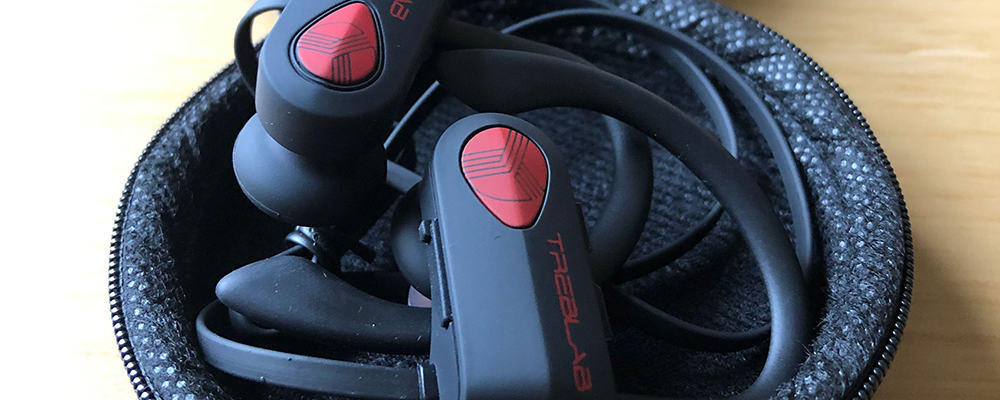 Treblab has designed the XR500 earbuds to have 3 easy controls. This keeps it simple and makes sure you're not mistakenly pressing buttons while running and accidentally skip your favorite song. The three controls are Power / Pause Play, Volume Up, and Volume Down - easy! The power button is large, red, and on the side of the earbud. The Volume buttons are on the top and easy to access. Treblab also lets you answer incoming calls with the built-in mic to pick up calls on the go.
Furthermore, you can skip to the next track and previous track by holding the volume buttons for 2 seconds, allowing you easy control over your playlist, and helping you to get the most motivation from your music.
Our Verdict: The XR500 buttons are easy to use and give control over your music, even while exercising.
Portable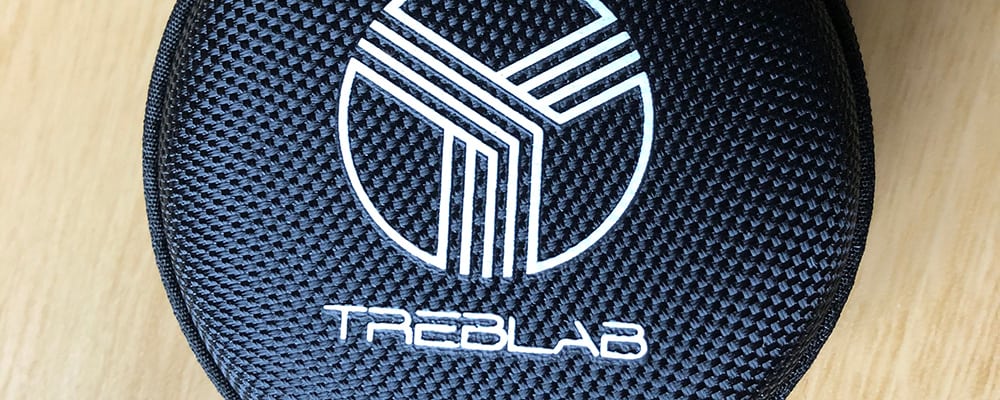 These small headphones fit nicely into their portable case, which is an easy-to-grab 5cm circle. The case is a black, hard case covered in soft material inside and out. The Treblab case can easily be tossed into your gym bag or handbag without worrying about damaging your earbuds.
Battery
The battery life is a little shorter than some other Treblab headsets due to these buds' small size, but they do have up to 8 hours of battery life. These buds will need charging once a week and will charge up within one hour for most people. Included with the earbuds is a charging cable, type C, which fits into the top of the right earbud.
Connectivity
Treblab XR500 is wireless in the sense that they connect to your phone or device through Bluetooth. They do have one wire that links the two buds together, which sits behind your neck. The connectivity is quick and easy, and has a good range of 5 meters, so as long as your device nearby, you shouldn't have any problems.
Our Verdict: These earbuds deliver on battery life, are easy to charge, and won't let you down mid-run.
Summary
Overall, we recommend Treblab XR500 as a great set of earbuds for running or working out. These earbuds offer a comfortable fit, with three cushioned buds in separate sizes for you to choose from. This enables you to get the very best fit and make sure the buds will not fall out while exercising.
Treblab XR500 earbuds' sound quality is fantastic and comfortably limits noises from treadmills, weights, or pedestrians, thanks to the passive voice cancellation and snug fit. Furthermore, the ear hooks and main wire help these earbuds stay in place and make sure you don't lose a bud in transit. The controls are easy to use with just 3 simple buttons, and allow you to change your music and get the most motivation from your playlists.
Treblab XR500 is a great choice of earbuds, especially for people who want to listen to music or podcasts while exercising.
If you liked the article, please leave your feedback.