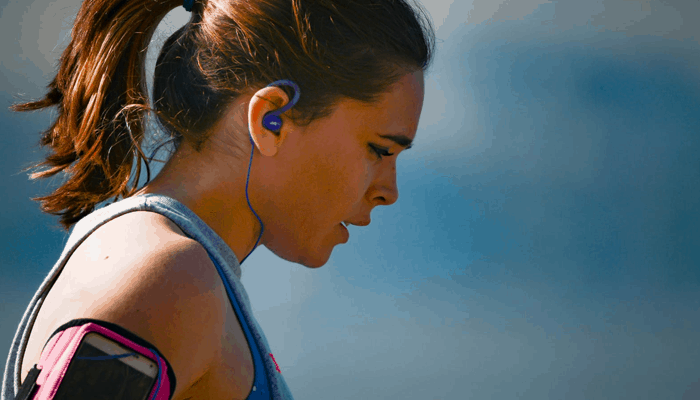 Running is one of those sports that just feels amazing when you can really get into the zone. Whether you're sprinting and pushing yourself to your absolute limit in terms of speed, or you're going for distance and testing your endurance, there's a type of running for everyone.
However, when it comes to getting focused and losing yourself to the run, there's no better companion than music. While you've probably spent a solid amount of time creating the perfect playlist, the experience isn't complete without the perfect set of headphones.
With this in mind, today we're going to detail our top ten recommendations for the best headphones out there designed with exercising in mind, ultimately giving you everything you need to perform your best. We'll even share our complete buying guide so you can get the headphones that are best for you!
1. Otium Bluetooth Headphones
Kicking off our list today, we're drawing our attention to the Otium wireless headphones. These sleek-looking true wireless earbuds are designed specifically with sports in mind and work very well when helping you push your limits.
The main feature here is how lightweight the wireless earbuds are, coupled with the secure fit ear tips design. This means you can ensure your running headphones are going to stay exactly where you need them to be, no matter how vigorously you're training.
All the essential features are covered here with these true wireless earphones, including an 8-hour battery life, a quick charging time, music button controls built into the device, a handy neckband, a microphone, and leading Bluetooth 4.1V technology, making this one of the most complete sound experiences you'll find!
Pros:
+ Wireless and can last up to eight hours on a single charge
+ Boasts a secure fit ear tips design to keep your true wireless earbuds in place
+ Comes loaded with Bluetooth 4.1V technology for a stable and reliable connection
+ Has integrated controls for your music or making/taking phone calls
Cons:
- Cannot be charged using a car port or fast charger
Why We Liked It - Despite being an affordable pair of headphones, the sound quality is great. You'll be able to hear both the high and low end of your music, and the bass is simply fantastic. Enjoy your favorite playlists like never before!
2. LETSCOM Bluetooth Headphones
LETSCOM never disappoints when it comes to their audio products, and this set of truly wireless headphones, designed specifically for exercising, is no exception to the rule. This pair comes loaded with a powerful 11mm neodymium driver in each ear that provides the outstanding sound quality these earbuds are loved for.
And we mean loved. There are literally nearly 13,000 five-star reviews from customers and audiophiles from around the world, detailing just how amazing these true wireless headphones are. And who can blame them with such an array of features?
With leading wireless Bluetooth technology, flawless music, and phone controls, eight hours of battery life and only two hours of charging, an integrated microphone, noise suppression technology, and eight unique designs to choose from, there's no denying these true wireless headphones are everything you'll need and more!
Pros:
+ Comes with a CVC noise cancellation microphone
+ Control your music and calls with the integrated buttons
+ Super long battery life with super-fast charging capabilities
+ Comes in a variety of styles and designs, so you can find one you love
Why We Liked It - When sprinting outside or inside, your headphones are going to come into contact with moisture, whether that's rain or sweat. Fortunately, you won't have to worry about them breaking, since these have a waterproof rating of IPX7!
3. ROVKING Wired Sweatproof
If you're looking for a more traditional pair of headphones that aren't wireless and are super-friendly for any budget, look no further than the ROVKING wired set. These wired earbuds are specifically designed with sports in mind and ensure a snug and comfortable fit that allows you to focus on your training.
Thanks to this snug design, you'll be able to enjoy all the benefits of noise-isolation technology that helps minimize the interference of outside sounds, and weighing in at only 16g, you will never have to worry about these running headphones holding you back.
There's also no chance your music connection will play up since you won't have to worry about the problems associated with wireless running headphones. Furthermore, there's no chance of a battery dying, because there isn't one, and no chance of the signal cutting out!
Pros:
+ Control your phone's voice assistant directly
+ Compatible with all music devices using the standard 3.5mm headphone port
+ Comfortable in-ear design that helps block out external sounds
+ So comfortable you can wear for long periods of time without any problems!
Cons:
- No volume controls built in
Why We Liked It - Being able to control your phone for calls or music is essential while sprinting or jogging, and thankfully this pair allows for full control without having to actually use the phone itself. All play, pause, skip, rewind, hang up, and answer controls are on the cable of the headphones. You can even use Samsung Talk and Siri directly from the headphones!
Mprow is hand's down one of the most popular running headphones brands, and their wireless Flame addition is one of the most prestigious. If you're a runner or a workout fanatic, these are one wireless pair you're not going to want to miss.
These powerful wireless running headphones have an outstanding sound quality, thanks to their punchy 11mm drivers that cover the highest and lowest ranges and tones and sound with absolute clarity. Every playlist sounds amazing. When you couple this with between 7-9 hours of battery life, you know you're going to get an amazing experience every time.
Of course, all your audio and phone controls are included as standard, and the specially designed CVC noise-canceling microphone means everyone can hear you correctly. These wireless options are waterproof to the standard IPX7 rating and available with four different bud sizes to ensure the perfect fit and secure fit. What more could you need?
Pros:
+ Contain 11mm drivers that give out a powerful amount of sound
+ Water resistance to a standard rating of IPX7
+ Has a nine-hour battery life on a single charge
+ Comes with a built-in CVC noise-canceling microphone
Cons:
- None! These wireless ones are some of the best!
Why We Liked It - The reliability of the experience you'll get from the Mpow wireless headphones is simply unparalleled, and there's no way you can deny the quality here, with excellent sound and a nine hour battery life. There are literally tens of thousands of people who have enjoyed these true wireless earphones, making these one of the best running headphones, and some of the most popular!
5. TREBLAB XR500 Bluetooth
Another hugely popular model of true wireless earbuds, that have been designed specifically with running in mind, come from Treblab. These secure and comfortable fit earbuds are ideal whether you're running in the gym or outside and come with all the features you'll need.
The prime feature here is the XDrop ear-hook design. This ensures the true wireless earbuds stay on your head with zero risks of falling off, but remain comfortable, so you won't even notice they're there.
There are also all those essential features, including optimized Bluetooth connectivity that connects to devices in less than five seconds, the classic IPX7 sweatproof rating, and an eight-hour battery life that keeps you pushing to your limits.
Pros:
+ Sports an impressive eight-hour battery life that keeps on giving
+ Powerful Bluetooth technology that connects in under five seconds
+ CD-quality stereo sound thanks to powerful drivers
+ Available in four unique colors and styles
Cons:
- Integrated buttons are positioned a little differently to traditional versions
Why We Liked It - What is there not to like about the Treblab true wireless earbuds? Every feature is enhanced to provide you with the very best experience possible, so that's less time focusing on your equipment and more time focusing on being the best you can be when it comes to running.
6. PASONOMI Bluetooth Earbuds Wireless
There's no denying the true wireless headphones market has come a long way over the last few years, especially with the advances that technology has made. To encapsulate this perfectly, the PASONOMI headphones are a fantastic showcase of what can be achieved at the highest level.
These quality earphones pride themselves on their HD rendering technology that offers flawless sound quality, no matter what tracks you're listening too. This is backed by the powerful 2220mAh battery that can last up to four hours on a continuous charge, all rechargeable through the handy carry and charging case, which is one of the best components, meaning you'll never run out of battery life.
Another step into modern technology you'll find here is the fast pairing feature. This allows you to connect to any Bluetooth enabled device in just seconds. This means you can set up, get connected, and concentrate on your run in no time at all!
You can even use each headphone separately!
Pros:
+ Waterproof to a rating of IPX7 (sweatproof and splash-proof)
+ Comes with a portable charging case and protective bag - no need to worry about battery life!
+ Has a 12-month warranty so you know you're protected for the next year
+ Provides gorgeous HD stereo sound with outstanding quality
Why We Liked It - What we mentioned in line with the above is the fact the carry case is also a portable charging case with a fully rechargeable battery built into the device - no need to worry about battery life! This means you can charge your headphones no matter where you are, and you'll never have to worry about running without music!
7. ROVKING Over Ear in Ear Noise
The trick with finding the best running headphones is making sure the earbuds are not only comfortable but also manage to stay on your head. When you're running through any kind of terrain or at any speed, traditional headphones are simply going to fly off.
However, with the ROVKING headphones, you'll have the ability to take advantage of their simple yet effective over-ear design. This is lightweight but gives you the stability of completely over-ear headphones. It's compact like an in-ear bud.
Pros:
+ A professional over-ear side with different earbud sizes for maximum comfort
+ Thousands of positive five-star reviews proving how great they are
+ Can be used to listen to music and for managing phone calls while on the move
+ Four unique colors and designs to choose from
Cons:
- It doesn't block out external sound completely but does a good job of reducing it!
Why We Liked It - This is where these headphones exceed, so if you've been plagued by uncomfortable headphones that just get in the way, these are for you. All over features are similar to the leading brands, so you know you're not missing out!
Symphonized has raised the bar when it comes to the best running headphones and earbuds, offering a premium experience that pushes the limits of the industry, all the while giving you all the features you'll ever want or need for the most powerful and most premium experience possible.
There are plenty of deluxe features here, including volume control, a built-in microphone, play and pause capabilities, and even voice control for making calls and using your phone assistant.
Furthermore, the sound quality of these best running headphones is simply outstanding. The noise isolation technology means all external sounds are kept out, and the state-of-the-art acoustic technology means the vibrations of your sounds are optimized to the highest degree.
Pros:
+ Available in six different color options and designs to suit your own style
+ Made out of the highest quality wooden materials for the best quality
+ Packed with a smart inline microphone which provides call management and voice control
Cons:
- While made to last, not as durable as other pairs
Why We Liked It - Unlike other headphones on the market, what makes these headphones special is the fact they're made out of wood. This only enhances the acoustics of the headphones and makes them even more durable than your typical pair and creates a better sound experience!
9. TREBLAB XR100 Bluetooth
Another one of the best earbuds out there to help you get in the zone while you're running comes from TREBLAB. Available in four gorgeous colors and designs, the TREBLAB true wireless earbuds have many of the running-positive features you're going to need.
Some of these include the handy hook design that makes for a secure fit, superior noise reduction technology that ensures outside sounds are minimized and you can focus on your music, and a powerful eight-hour battery life that's going to keep on running as long as you do!
Of course, life doesn't have to stop if you don't need it to, since full voice control, call management, and audio control is all built into the earbuds. Plug in, put your phone in your pocket, and get on with it!
Pros:
+ It only takes two hours to fully charge from flat!
+ Comes with a 100% satisfaction guarantee
+ Earbuds never fall out thanks to the handy design and secure fit
Cons:
- Only four colors and designs to choose from
Why We Liked It - The 100% satisfaction guarantee that comes with this device is one of the highlight features that its thousands of customers love. If you're not happy, you get your money back, no questions asked, and an addition one-year warranty and 30-day return period!
10. TREBLAB XR800 - Premium
The final pair of earbuds we're going to focus on today comes from TREBLAB once again. This time, one of their more premium options. Designed with running, and all kinds of other sports in mind, these stereo true wireless earbuds are one of the best.
This is all thanks to the premium-quality sound equipment, which offers full HD sound, where you'll be able to enjoy every note in complete clarity. Backed by noise cancelation technology, this is a sound experience like no other.
Thanks to the cordless technology, you'll also be able to move freely without having to worry about snagging cables and distracting yourself halfway through your workout. Just put them in and be the best you can be! That's all there is to it.
Pros:
+ Water resistance to an industry standard of IPX7
+ State-of-the-art Bluetooth connectivity for a stable connection
+ Cordless design that allows you to move freely
+ 100% happiness and satisfaction guarantee
Cons:
- Slightly more pricey than other truly wireless models
Why We Liked It - There are plenty of hidden functions here that only optimize the experience you're having. For example, unlike other headphones, these have a built-in bass boosting option for when you really want to grind out the miles!
Running Earbuds Buyers Guide
Now that we've explored our top ten recommendations, we're sure you're going to find a pair you like. However, there's a lot of choices out there, and making sure you spend your money in the right place can be a tough choice.
To help you make the right investment for you, here's our complete buying guide, which will detail everything you need to know about the best running headphones!
Connectivity
The first thing you'll want to think about is what device you're using to play music, and how you're going to connect. While many headphones, especially traditional ones, will come with cords you can plug into the standard 3.5mm headphone, the best headphones will come with Bluetooth.
We'll talk about this later, but when it comes to choosing a Bluetooth pair, make sure you're choosing a minimum of version 4.1V or above. These versions offer the best stability and reliability with your connection, and you'll be able to hear your music the clearest.
Sound Quality
You're not going to want to listen to your music if the quality of them is bad and muffled. Always look for ones that offer HD music quality so you can actually enjoy your music while you're running.
If you want to take things a little further, always look at the best running headphones that come with noise reduction or cancelation technology. These features aim to massively reduce the amount of external sound around you that you can hear, meaning you can solely focus on your music and running.
Cordless or Wires?
As we spoke about above, one big decision you'll need to make is whether your earbuds are true wireless or corded. The big problem here is if you use wired, they can pull your earphones out while you're moving, or they can become tangled. However, wired options don't require any batteries, and won't ever need charging.
On the other hand, true wireless headphones allow you to move freely. It really doesn't matter whether your phone or music player is in your pocket, bag, or strapped somewhere on you, you know your true wireless earbuds are going to work. It's completely up to you and what best suits you.
Call Controls
Sometimes when running, life can't stop, and you're going to need to stay connected. While many of us use running as an escape and as a break from life, sometimes it's unavoidable, and we need to stay in touch.
If this sounds like you, you're going to want to look for a pair of true wireless earbuds or wired earbuds that come with call controls. This means answering and hanging up calls, and preferably some kind of volume control, although this isn't always possible.
Audio Control
Hand in hand with the consideration above, you're going to want audio controls. These are typically the same as call controls, and you'll want to be able to play, pause, and skip tracks. This is a nice bonus to a pair of headphones, and well worth looking into.
Battery Life
The final consideration you'll want to think about is the battery life. If you're running a marathon or special event, you're not going to want your earphones to die halfway through, leaving you unfocused and unmotivated to the rest of the run.
Typically, the best running headphones will have a batter life of six and nine hours, and you'll always want to look for charging times to make sure you can charge them quickly. Avoid ones with a battery life of less than 5 hours. Of course, if you're only running for an hour in the gym, this might not be as important, and 5 hours might be all you need. Some products come with a charging case with additionally charges stored in the charging case.
Summary
And that concludes our guide today on the best true wireless running headphones out there! With everything you need to know in mind, you can now go out while preparing yourself to take your running experiences to a whole new level!
If you've enjoyed this review by Music Critic, please leave a positive rating: