Treblab E3 - Wireless Noise Canceling Stereo Headset
Treblab has become a popular brand in recent years with an excellent reputation for sound quality and excellent design. Treblab prides itself on creating headphones of excellent quality without the premium price tag. Their headphones are designed for people that have an active lifestyle and are always on the go. We've heard great things about Treblab E3, and we decided to put them to the test.
Fit
These over-ear headphones are expertly crafted with plush ear cushions and a padded headband, providing good comfort. The ear cushions are shaped on the inside, like an upside-down egg, these really fit your ears' shape and surround them with sound, rather than round cushions that can be uncomfortable or put pressure on your ears.
Treblab E3 headphones are a great fit for most people, with large ear coverings and an adjustable headband. The headphones also rotate 180 degrees to get an excellent position around your ears and a good grip on your head. A secure, comfortable fit also helps to eliminate outside sounds and keep your music in.
If, however, you know you have a particularly small or narrow head, you may find these too chunky. They may sit too low on your head and not provide a comfortable fit over your ears. And as always with over-ear headphones, these are not a great fit for people that wear glasses!
Design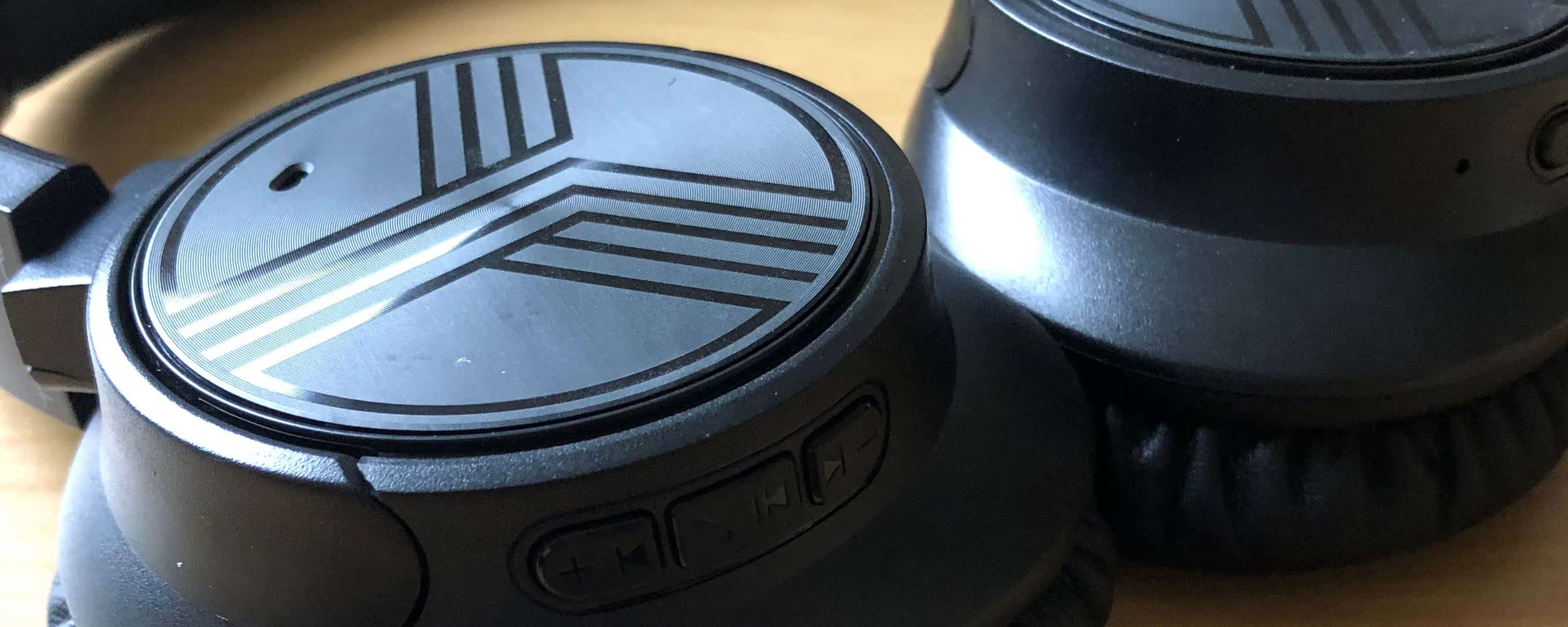 These headphones look amazing, with sleek black lines across the ear pads' headband and soft cushion. The cups also have the Treblab embossed, adding to the modern and stylish overall design.
Our Verdict: Treblab has created a high-quality fit that is soft and comfortable.
Sound Quality
Immediately when you start using Treblab E3, you notice the great sound, especially in the bass and low notes. Rediscover your favorite music with this new perspective and get the most from radio and podcasts.
These headphones are good for a wide range of music, bassy undertones creep through, and enhanced vocals. Treblab E3 meets the expectations of a high-quality headphone, and are marketed at a bargain price.
Noise Cancelling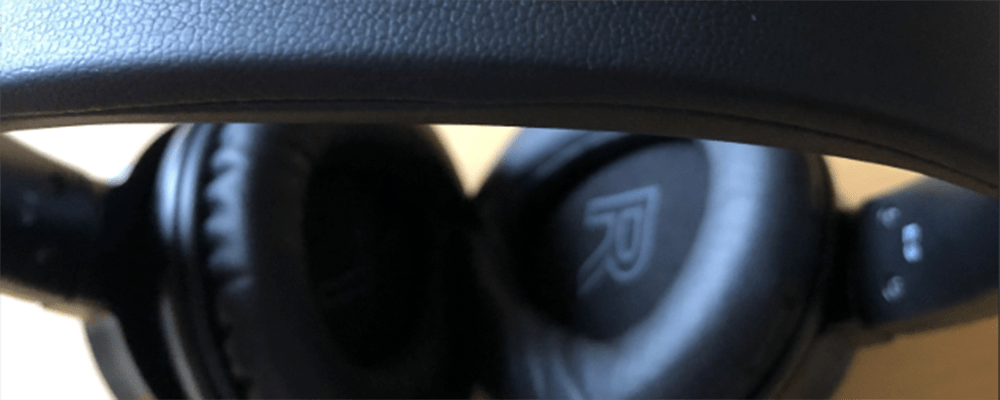 Treblab has build 3 noise-canceling settings into their E3 headphones to give you lots of choices depending on the environment you're in. You may not need noise-canceling around the house, yard, or on a local walk as the ear cushions block out a good amount of sound.
ANC (Active Noise Cancellation) Off - This is your standard headphone function, with no additional settings.
Environmental Mode - This mode is a fine balance between the two that increase some sound frequencies to allow you to hear voices, but not that squeaky chair.
ANC (Active Noise Cancellation) On - In this mode, the headphones will decrease the surrounding noise and block it from your ears. Great for working in loud environments or to use while traveling.
You don't need to be listening to music to use the ANC functions and may find them useful when working in the office or using public transport.
Our Verdict: Treblab E3 has excellent sound quality, enhanced with ANC features for smooth sounds and peaceful headspace.
Controls
Each ear cup has a range of buttons that control the volume, track, ANC, and also connecting to your voice assistant.
The buttons are a good size, easy to find when you're wearing the headphones, and have a soft press. On the right side of the headphones, you'll find play/pause and volume controls. These are simple enough to use, with a quick press to raise or lower the volume and pause your music. The pause button doubles as a phone answer button, if you have an incoming call.
The volume buttons also control your song choice; you can skip forward a song with the volume up button, and skip back a song with the volume down. Just hold the button for 1 second. Also, there are small buttons to control power, and on the left side, you'll find the ANC controls.
Our Verdict: The buttons are easy to use and give control over your music.
Portable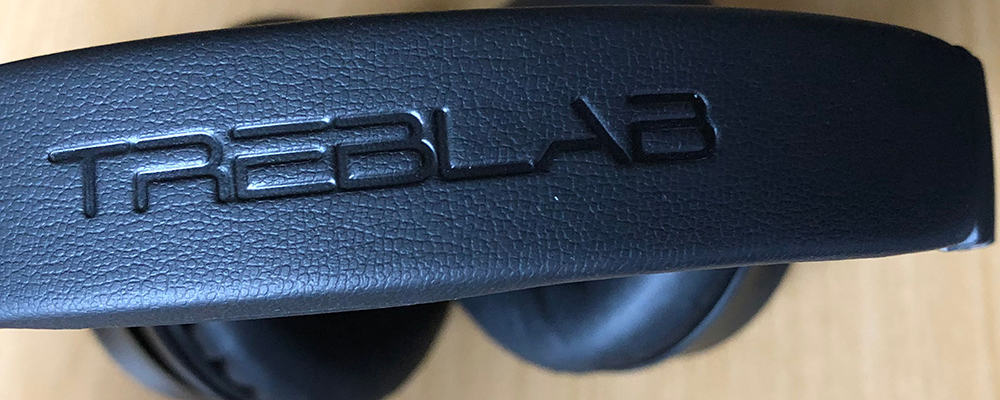 Treblab E3 headphones come in a large protective case that is well designed, compact, and takes good care of your headphones. The foam insert perfectly secures the headphones or can be removed if you prefer a lighter load. The case is fitted with a netted pocket on one side, to keep your charging wires safe and secure. Furthermore, there's a short carry strap, wrap-around zip, and small carabiner.
Battery
Long battery life is an essential aspect of great headphones, and you want yours to last all day without needing a top up charge. Treblab E3 can comfortably run for up to 48 hours, and if you're using ANC, this lowers slightly to 35 hours. Excellent battery life provides you with care-free listening wherever you are. You can also check the battery level by briefly pressing the Power Button. You'll have high, moderate, or low battery remaining.
These Treblab E3 headphones are quick to charge in just over 1 hour, using a USB C cable included in the box.
Connectivity
As these are wireless headphones, they connect to your phone or device through Bluetooth. The connection is easy to make and pretty secure, with no interruptions, unless you move your phone more than 10 meters away.
Our Verdict: An excellent battery life puts these headphones above the rest and a steal for the pricing.
Summary
Overall, we highly recommend Treblab E3 if you're looking for a pair of high-quality over-ear headphones. Treblab has created a perfect blend of sound, comfort, and simplicity, without compromising on price.
These headphones are usually priced between $70 - $90, a bargain for the high-quality sound they deliver. Although the materials used are strong plastics, rather than some more expensive brands that use aluminum and leather, the E3 still has a sleek and comfortable design. With Treblab E3, you'll get the same high quality, at a much lower cost.
Another advantage of using Treblab E3 is the noise-canceling settings, giving you 3 options to block out surrounding noise depending on your environment. Furthermore, the quick charging time and long battery life enable you to listen care-free and top up on power under an hour.
If you liked the article, please leave your feedback.