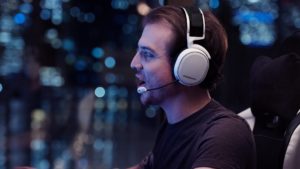 Review of the SteelSeries Arctis 7 Headset

Serious gamers will be familiar with SteelSeries as a company that's a leader when it comes to gaming headsets. This Danish manufacturer of gaming headphones has won countless plaudits for its products over the past twenty years since it was founded. Some of the most famous e-sports athletes have been sponsored at some point by SteelSeries, including the legendary WC3 player, Manuel 'Grubby' Schenkhuizen. Its products have also been the choice of some of the most successful gaming teams around, such as FaZe Clan and Alliance. It's needless to say, but SteelSeries is a company you can rely on when it comes to headsets for gaming.
Price
The Arctis 7 is an affordably priced headset that includes lots of premium features. The standout feature has to be its boom, bidirectional microphone, which offers impressive noise handling, as well as crystal clear recording quality. It's important to note that the mic has been received Discord certification, which is essential for modern gaming. SteelSeries' ClearCast mics are known to be up there with the best on the market. They offer excellent noise cancelation, even if you're in a loud environment, and truly sound professional-grade when used for recording or streaming. The mic also can be retracted, which is handy when you don't need it while gaming. 
Gaming
This headset also includes SteelSeries' ChatMix technology. We think this is a great feature for gamers who like to play while chatting to friends or fellow gamers. It allows you to mix your gaming audio and your chatting audio so that you can find comfortable volume levels for both. The controls for this feature are found on the headset. We found them to be tactile and easy to operate too. 
Sound Quality
For an immersive gaming experience, it's also important that a headset delivers when it comes to sound quality. The Arctis 7 impresses in this regard too. It offers good clarity across the whole sound spectrum, performing particularly well on the low end, which is down to a boosted bass. There can be times where subtle details are slightly lost, but this headset makes up for that with power. This is also a DTS headset, which means that it offers surround sound, which is essential for immersing yourself in your game. 
Specifications
The key specifications when it comes to sound quality are the following. This headset features two 40mm, S1, neodymium drivers, which is where the power comes from. It offers a frequency range of between 20Hz and 20,000Hz. There's a sensitivity rating of 98 decibels, while the impedance is 32 Ohms. For the price, these are all impressive features, in our opinion.
Comfort
Comfort always needs to be considered for a gaming headset. After all, there's a good chance that you'll be spending many hours at a time with the headphones on, and you don't want your gaming sessions to be interrupted by fatigue or over-heating. The Arctis 7 features an innovative headband that's similar to what you'd wear for skiing. This means that you get a secure fit that won't move even if you like to move around a lot while gaming. There's a significant amount of padding for your ears. The earpads are both breathable and soft, which is exactly what you want for a long gaming session. The unit weighs just 0.77lbs too. 
Wireless Connectivity
The Arctis 7 headset can be used either wirelessly or wired. If you use it wirelessly, then you can get twenty-four hours of battery life from a single charge. That's more than enough for most gamers, we think. The range is 40ft, which is sufficient for the majority of gamers too. Connectivity isn't an issue for almost all consoles. It comes with a USB stick that allows the headset to be paired with a PC, Mac, PS4, and PS5. You can also use it with a Switch when it's either docked or undocked, but wireless connectivity is only possible with a docked Switch. For mobile and Xbox One users, then you'll have to use the 3.5mm cable that comes with it. 
SteelSeries has a great reputation when it comes to the longevity of its products. That's because of its keenness to use high-grade materials and to construct its products flawlessly. This is the case with the Arctis 7, which is certainly built to last. The headband is very sturdy, while the earcups are also durable, which means that you don't need to worry about it breaking if it's dropped on the floor or even thrown on the floor, which can happen during intense gaming sessions. As we've mentioned, the earpads are thick, and they are durable enough for long-term use, in our opinion.
One area where this headset is slightly lacking is in terms of controls. It's not possible to answer or end phone calls directly on the headset. You do, however, have the ability to adjust the volume, mix channels, mute the mic, and turn off the headset with the controls on each ear cup. Each of the controls is simple enough to use. The volume control – as well as the ChatMix control – are both wheels, which many gamers like as it's easier to be precise with the levels and it's also quicker to use them as opposed to buttons.
If you've already used the previous version of Arctis 7, then you also might be wondering what the differences are between that model and the more up-to-date one. Quite simply, this headset is an improved version. There have been minor tweaks, which SteelSeries say have been made thanks to input from gamers who used the previous model. One major improvement is in terms of comfort. The fit tends to be better now for people with larger heads, which was something lacking in the last version of the Arctis 7. Of course, the sound quality has also been improved as a more recent version of DTS surround sound has been integrated into this model.
It might not be the most important feature of a gaming headset, but we were also impressed by the aesthetics of this product. It isn't overly showy – which can be a downside of some gaming headphones – and instead features a simple, classy design. It's available in either white or black. There can be a tendency with gaming headset manufacturers to overdo it when designing their products, often by putting LED lights on them or brash pictures. That's not the case with the Arctis 7. It's a simple, understated-looking headset that's more preoccupied with performance.
Overall, the Arctis 7 has almost everything that a gamer would want from a reasonably priced set of headphones. It delivers exceptional sound quality, thanks to the DTS technology that offers surround sound, as well as the power that the 40mm drivers produce. The microphone is one of the best around too, offering you professional-grade recording capabilities, and excellent noise cancelation. You can connect to most consoles easily and wirelessly, while also having a significant amount of battery life from a single charge. The Arctis 7 can be worn for long periods while remaining comfortable too. It's a highly recommended product for gamers who don't want to break the bank but do want a durable, comfortable, and well-performing headset.
Summary
The Arctis 7 headset is a high-quality product that's made by the leading gaming headphone brand, SteelSeries. It features a ClearCast, noise-canceling, Discord-certified microphone that offers exceptional recording capabilities. Immersing gaming is possible due to DTS, 7.1 surround sound, and powerful 40mm, neodymium drivers. Comfort is assured thanks to well-padded earcups, an innovative, ski-band headband, and a lightweight construction.
This headset has been designed with gamers in mind, and it has lots of features that will appeal to anyone who takes gaming seriously. These features include easy-to-use controls on the earcups, including a ChatMix control that allows you to mix two different audio inputs, such as one for your game and one for chatting. The headset can be operated with a 3.5mm wire or it can be used wirelessly at a range of 40ft for 24 hours from a single charge. You can easily connect to a range of consoles – including PS4 and PS5 – with ultra-low latency. 
Pros
+ The ClearCast, bidirectional microphone is one of the best around, delivering crystal-clear voice recording and noise-canceling technology
+ ChatMix control so that you can adjust the volume of two audio inputs, such as for gaming and chatting
+ Extremely comfortable design with lots of padding and an innovative ski-band headband
+ Very reasonable price tag for an advanced gaming headset
+ Made by a leading manufacturer of gaming headsets 
+ 7.1 surround sound thanks to DTS technology
+ Easy-to-use controls on the side of the earcups
Cons
- There's no active noise-canceling technology but the passive noise isolation is impressive
Conclusion
There is so much to like about the Arctis 7 from SteelSeries. It's comfortable, durable, and is compatible with a range of consoles. The 7.1 surround sound allows you to truly immerse yourself in your gaming experience. 
The standout feature, however, has to be the ClearCast mic. It's an exceptional component that can be used for recording professional-grade audio. The ability to control two audio inputs through the ChatMix function is another top feature, in our opinion. 
Overall, it's quite simply an excellent gaming headset that also offers superb value for money.
If you liked the article, please leave your feedback.