Though the majority of your studio work is going to need to be done via an ace set of monitoring speakers, for the tedious task of running and re-running takes there is no better tool in your arsenal than a closed back set of headphones, but they can be pricey so join us as we discuss the 6 best closed back headphones under $200.
Given that you will also require an open or semi-open set the costs can rack-up pretty quickly and a closed-back set will be used more sporadically you will want to make a sound investment which doesn't break the bank so we have rounded up some great affordable candidates.
At a glance:

Our top 3 picks
Our team's top 3 recommendations
Best Overall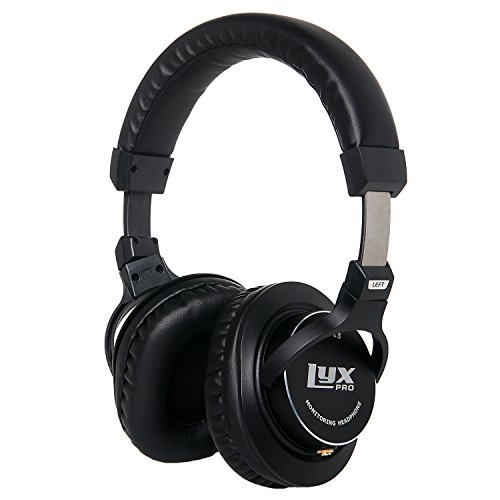 LyxPro HAS-15 Studio Headphones Closed-back

Hardy design.
Comfortable cushioning.
Detachable cable.
Premium Quality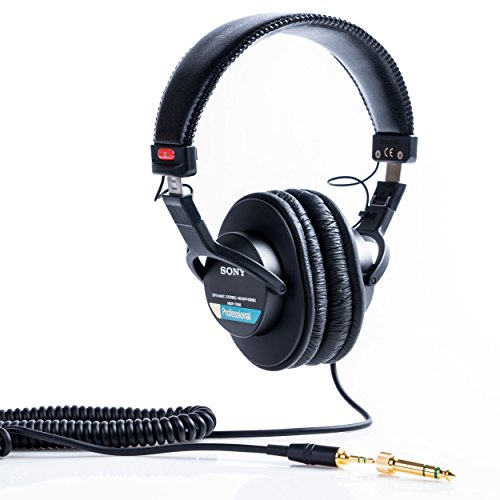 Sony MDR7506 Professional Large

Hardy design.
Comfortable cushioning.
Detachable cable.
Great value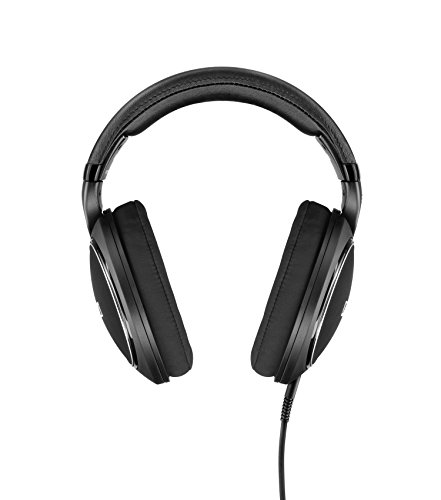 Sennheiser HD 598 CS Closed

Hardy design.
Comfortable cushioning.
Detachable cable.
View The Best Closed Back Headphones Under $200 Below
1. LyxPro HAS-15 Studio Headphones Closed-back
First off we have a great budget-friendly option ideal for live monitoring use and perfect for sticking in the recording booth.
They are a well-made closed-back set with a robust sliding headband design that has good adjust-ability and a comfortable leatherette padding to prevent headache.
The ear-ups are also cushioned with the same padding to keep them comfortable and are strongly mounted with reinforced arms that again allow for natural adjustment and single-ear monitoring when required.
They harbor 45mm drivers which have the latest neodymium magnets within. They have a great frequency response and are well-tuned. They provide dynamically balanced audio with richly detailed soundscapes.
They benefit from a detachable cable system which strengthens the entry point making them a hardier option.
Pros:
+ Hardy design.
+ Comfortable cushioning.
+ Detachable cable.
Why We Liked It - They are well-manufactured and provide a good level of detail and are ideal for isolation work in a studio setting.
2. Sony MDR7506 Professional Large
We have looked at the MDR series set from Sony on a handful of occasions because they are a great go-to low-cost monitoring set.
They feature a high-quality build and are again a sturdy over-head steel sliding circumaural option. They are beautifully cushioned and though they have slightly smaller aperture drivers contained within their housing, they trump the majority of their competition in terms of clarity.
They have rugged ear-cup arms and fold compactly making them suitable for smaller set-ups.
The drivers feature PET diaphragms which are highly responsive and they reproduce audio with great definition. They do a fantastic job at passively reducing background noise and isolating the audio you need to concentrate on.
They are fitted with a single-sided entry cable that is coiled for durability and tangle resistance, it comes with a uni-adapter for switching between applications.
Pros:
+ Quality audio.
+ Rugged construction.
+ Coiled cable.
Why We Liked It -It is another affordable choice that makes for a durable workhorse.
3. Sennheiser HD 598 CS Closed
The HD 598 Cs set from Sennheiser is astonishingly well-manufactured with a solid design. They make for a robust lightweight closed-back monitoring set.
They feature a top-quality leatherette headband with reinforced sliders that adjust to fit. They benefit from an intelligent Ergonomic Acoustic Refinement (EAR) design. They are essentially angled ergonomically distributing the weight for less cranial pressure and the cups are oval-shaped for better directional sound channeling. All external features are cushioned for long-term comfort.
They are engineered impeccably, the drivers are very capable and provide well-isolated, natural-sounding audio with gratuitous detail and refined dynamics.
They benefit from an extended low-frequency response which enhances their bass performance capabilities and have an integrated mic which gives them a versatile range of functions in and outside of the studio environment.
They have a plug-in/pull-out cable to help reduce wear and tear.
Pros:
+ Premium components.
+ Ergonomic design.
+ Excellent engineering.
+ Plug-in cable.
Why We Liked It - They are a very high-quality set, comfort is at the heart of their design, and the sound is top-notch.
4. OneOdio Adapter-Free Closed Back
The OneOdio Studio monitor headphone set is yet again a fab low-cost solution. It combines comfort and audio quality in an inexpensive package and the company have employed some intelligent design decisions that give it an edge over similarly priced sets.
It harbors extra-large 50 mm drivers that are suitably engineered to deliver clear bass registers with dynamic impact. The audio has great fidelity for a low end set and the middles are well-defined rendering vocals very clear.
These closed-back headphones feature a flexible headband that can stretch and self-adjust. It is pretty robust, and more importantly, is comfortable enough for long periods of use.
They are padded generously with high-quality materials and the cups themselves are swivel-mounted to support single-ear monitoring.
They come with a 9.8-foot cord which completely detaches. Both a 6.3mm plug and a 3.5mm plug are included for wider applicability.
Pros:
+ Suitably comfortable.
+ Large aperture drivers.
+ Versatile pair.
Why We Liked It - They are another bench setting budget option which does a great job in a low-cost home studio set-up.
5. Audio-Technica ATH-M50x Professional
The ATH-M50X headphones from Audio Technica are a very well-designed set which have been critically acclaimed for their audio quality. They sport comfortably padded ear-cups which are swivel-mounted to provide a better fit, naturally adjusting and allowing for single-ear monitoring.
The swivel mounts are very durably constructed to survive rough-handling and the headband has a reinforced slider design. It too is covered in premium-quality cushioning like the ear-cups to keep them comfy whilst worn.
Inside they are equipped with 45mm large-surface speaker units which are driven by neodymium. They have an extended bass frequency response and benefit from Audio Technica's signature over-sized copper-clad voice coils.
The premium parts optimize their audio reproduction enabling them to deliver the impeccable audio quality, the sound is beautifully clear with great depth and very accurate dynamic response free of low-end distortion.
They again function with a detachable cord system, thoughtfully providing both a straight and a coiled option.
Pros:
+ Studio quality.
+ Large-aperture drivers.
+ Extended frequency response
Why We Liked It - They are a top contender for the best closed-back set out there, the audio has an accurate response and the bass has far greater depth.
6. Sennheiser HD 569 Closed Back
We are finishing with a set from the more premium ends of the Sennheiser range which make for a superior step-up from the budget 598 model which we have included in today's top six picks.
It is a newly remastered set which features the brands well-received, Ergonomic Acoustic Refinement (E.A.R) design which helps serve-up better comfort as well as channel the audio in a better isolating manner.
The cups of the EAR design are oval which creates a better seal and reduce the pressure at the same time.
The audio delivered is powerfully loud without having precarious sound pressure levels and the quality of the reproduction is some of the best in its class.
They are equipped with one of Sennheiser's premium transducer technology which employs aluminum voice coils. It has a broadened frequency response for better accuracy and natural audio with exceptional dynamics with zero bass distortion.
They are a premium comfort set too as they are decked with plush velour cushioning. They are also pretty versatile as they come with two separate cable options, one which features in-line controls, and an integrated mic remote for calls.
Pros:
+ Premium audio.
+ High-end construction.
+ Suited to a range of applications.
Why We Liked It - They are a great high impedance set with exemplary engineering, the drivers serve up superior audio-quality and they are comfortably cushioned with an ergonomic design.
Closed Back Headphones under $200 Buyers Guide
Todays buyers guide is a little more on the compendious side as we have delved into the advantages and disadvantages of closed-back headphone sets on many occasions and you can see our archived headphone articles for a more in-depth look.
What to Look For in a Set Of Closed-Back Headphones Under $200?
What to prioritize before you buy is largely down to the intended use. Closed-back headphones are ideal for personal listening because their design feeds the audio far more directly and blocks the external world around you.
For casual everyday use, you will want to think about the portability and maybe opt for an enhanced audio driver to make your playlists shine. You might want to consider a fold-up set for easy storage whilst you are out and about and possibly even get a wireless set for the modern convenience they offer especially if you are playing from a mobile device.
For studio applications, you need to consider a lot more and a little more carefully.
A studio reference set will generally be open-backed as opposed to closed as it better replicates the audio experience via speakers. Generally, most studio work will be done out loud on a dedicated studio monitor but sometimes a closed-back set is required to isolate signals especially if you are problem-solving.
When recording lives in a booth closed-back is the only solution, you don't want to record via a microphone with the audio playback being re-captured. A decent closed-back set keeps the audio at the listener's ears with none spilling into the outside environment.
In these cases, you will need a low-latency set so you have no lagging issues as timing is of greater importance in a recording situation.
The impedance will have to match the capabilities of the rest of your set-up and you will probably need a choice of cables for different applications.
The drivers will need to be sophisticated, ideally giving a flattened tuning so you get a better picture of the inputs.
As studio sessions can be a real graft, you need to think about the practicality and comfort and if it is to be anything more than a hobby you must find a durable set, built to last.
You won't find anything particularly audiophile quality below the $250 mark but there are a few low-end sets that do a good job if your budget is restricted.
Conclusion
There are many functions, a closed-back set of headphones can serve both in and out of a studio environment.
Their passively noise-canceling capabilities render them perfect for isolating what you need to focus on the most.
There are a plethora out there to choose from and although many premium sets are going to cost a little extra there are a few inexpensive options for those on a lower budget that will suffice.
We hope you find today's selections and buyers guide of some use whilst you pick your next pair.
Expert Tip
If you need to critically listen within a studio environment you might want to seek out a semi-open-backed set as they give a better gauge of how the audio really sounds and are typically free of any custom enhancements that can give a misleading audio reproduction.
Did you Know
Beyerdynamic make some fantastic premium closed-back options and they have entry-level models which benefit from the same cutting-edge developmental components so you might find our Beyerdynamic headphones article invaluable.
If you've enjoyed this review by Music Critic, please leave a positive rating:
[vc_separator