When you're monitoring music, the headphones you're using are perhaps one of the most essential pieces of equipment in your inventory. If you can't accurately hear the sounds you're working with, or you can't hear them with the proper level of detail required, you're going to miss so much.
With the right pair of headphones, you're giving yourself the capability to zero in on what your sounds are like, thus giving you the potential for you to adjust and tweak so your creation exactly how you want it to be. This is why Sennheiser created the HD 280s.
Wearing these headphones while you're mixing allows you to hear absolutely everything going on within your tracks, your productions, or your DJ sets. Every note and response range is crystal clear and includes rich and significant low sounds, clean and crisp mids, and highs that resonate and focus you with clarity like no other pair of headphones can provide.
If you know anything about music and audio equipment, even if you've completed some fundamental research when starting out, you'll notice just how quickly you'll come across Sennheiser, and that's simply because of the company's reputation.
The brand has been in operation for decades. Over time, they have built up a loyal following, thanks to their high-quality products and audio solutions that are like nothing the world has seen before. These headphones alone are backed by hundreds of five-star reviews from satisfied listeners worldwide while catering to all experience levels.
With an expansive frequency response range of 8Hz to 25,000Hz, these headphones are bass-heavy, a classic Sennheiser attribute. It means that no matter what music you're mixing or mastering, you can hear all the details to ensure your levels are perfect for the experience you're trying to create.
Now, the frequency response range, while extensive, is also pretty flat, but this is ideal since you don't get too much juice from one range; it allows you to make much more accurate EQ changes that will only enhance the quality of your mix.
Last, but certainly not least, we're just going to want to focus on the comfort experience of these headphones. This is so important if you're working with your headphones for both short and long periods, and you don't want to hurt your head or cause any irritation.
Fortunately, Sennheiser has taken all of this into account by designing incredibly lightweight headphones, which is insane considering how powerful they are. Some statements claim that they feel like they disappear after a while, allowing you to mix and record uninhibited.
Sennheiser Hd 280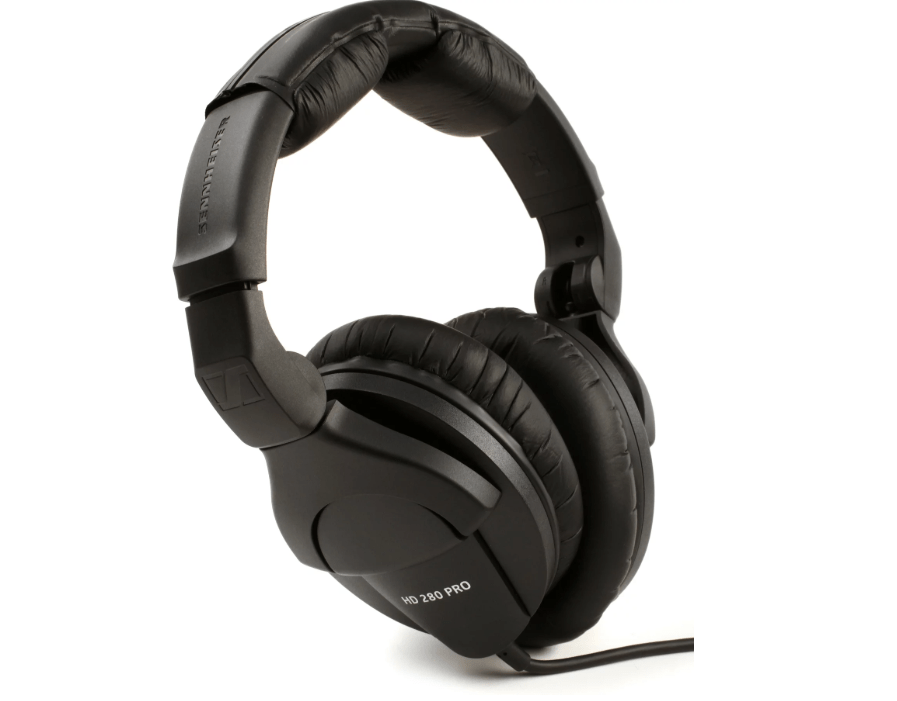 Summary
Sennheiser has pushed the boat out with these closed-back headphones. It's incredible what they have been able to achieve. No matter what experience level you are, the HD 280s are sure to exceed all expectations and blow you away.
Pros
+ These headphones contain noise isolation technology, which actively reduces and blocks out up to 32dB of sound to stop interference with your mixing.
+ They are designed to be extremely comfortable; they'll feel like you're not wearing headphones at all.
+ These headphones can be folded away and stored in the protective case to ensure they last and are no hassle to transport around with you wherever you go.
+ They offer a fantastic frequency response range that allows you to hear all the sounds you're listening too with complete clarity and absolute precision and accuracy.
+ They're enjoyed by thousands of people around the world, and are easily one of the most popular and most highly rated monitor headphones available right now.
+ The headphones are produced by a company with over 40 years' worth of experience, meaning you can enjoy the benefits that come with such an iconic reputation.
Cons
- None! Really, none. Of course, when choosing headphones, it's all about personal preference and finding what works for you, but technically speaking and design-wise, there are no faults to be found here!
Why We Like It
Not being able to hear external sounds is imperative when it comes to studio headphones, and Sennheiser has ensured this is one of their top priorities. The superior sound isolation technology actively blocks out up to 32dB of external sound thanks to the physical design of the headphones,
This is why these headphones are used in all audio applications around the world. Whether you're working in a studio or even performing live on stage, there's no need to worry about disruptive sounds interfering with your listening experience.
Of course, if you're listening to music with these headphones casually, you get to enjoy these benefits of blocking out the distractions of the outside world and instead focusing on the music that moves you!
If you liked the article, please leave your feedback.