Treblab is well known for crafting a small range of earphones, headphones, and speakers that are high in sound quality, stylish, and durable. One of their latest designs - the X5 Wireless Earphones, have a similar design to AirPods, but with the classic Treblab features. We tested Treblab X5 Wireless Earphones to see how good they really are.
Find Lowest Price
Fit
Treblab products are designed with active people in mind, so all of their earbuds fit snugly into your ear. The fit of the Treblab X5 has two parts to it, firstly the earbud that sits inside your ear, close to the drum, and emits sound. Included with the headphones are three different sizes of earbuds - small, medium, and large - to help you find a snug fit that is right for you.
Secondly, the Treblab X5 has a curved rubber section that runs around the outer part of your ear to keep the earbuds' angle in place. Treblab calls these 'fins'. Again, there are three sizes available to help you find the perfect fit! These earbuds are an excellent option for walking, running, or working out, and although some may find them a bit bulky, they are a great alternative to AirPods and fit securely in your ear for many people.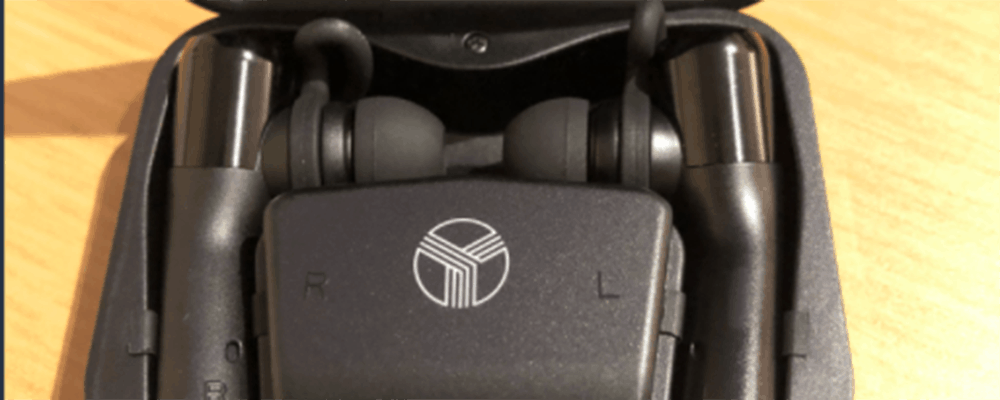 Design
Treblab has designed a longer earphone that sits like a bud but extends below in a straight line. This style has been popular for many years, but most recently by AirPods. The extended earbud design also gives you more control over your music, as you can pause, play, and skip. A larger earbud design is also brilliant for people concerned about losing small buds or prefer to handle a bigger earphone.
These earphones have the classic Treblab design, sleek lines crafted with style, with black matt and gloss elements to give it a stylish shine. We love the design of these earbuds - they look great in the gym!
Treblab design all their products with active people in mind, so we tested the Treblab X5 with a gym work out and 5K run, and they delivered excellently. The earphones are a good fit. Thanks to the 'fins' that nest inside your ear, they didn't move much at all. As the earphones are quite long, we did have to make sure we weren't knocking them during the workout, but this is the same for over-ear headphones.
Another great feature of the Treblab X5 is that they are sweat and water-resistant. This means that a little bit of rain of sweat during a workout won't impact the earphones or their functionality. You can use them without worrying about damage! This is a brilliant feature for people that are active and aren't too precious with their tech.
Our Verdict: These are brilliantly designed headphones for people who like a larger earphone, with classic Treblab colors and style that looks awesome in any light.
Sound Quality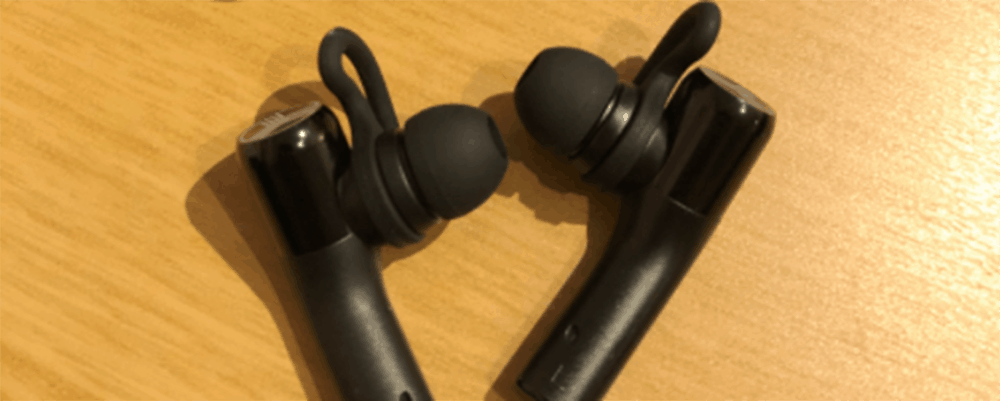 Arguably, one of the most important features of an earphone is the sound, which is an important element for people when listening to music or podcasts as they exercise.
And the Treblab X5 doesn't let you down. Treblab has a great reputation for sound quality, and this earphone is no different. The sound is clear and works well for pop music, radio and podcasts. As with most earbuds, the bass is usually not the best element, but overall these earphones give excellent sound. Thanks to the snug fit, they also block out most background noises, including conversations and gym music.
Our Verdict: Great sound quality for the design, and blocks out most surrounding noise.
Controls
The design of the Treblab X5 allows for more controls than the standard earbud, and way more so than the AirPod. These include On/Off, Volume controls, Play/Pause, Skip forwards and backward, and the ability to take calls! Also, you can activate your voice-activated assistant!
These buttons are small but spaced so that you can identify each one. Once you get the hang of it and remember where each button is, they are simple to use and give you great control over your device.
Our Verdict: The X5 earphones have a great range of controls that give you flexibility.
Portable

Treblab has extended its sleek design to the case for these earbuds so that you can travel in style. The case for the X5 is small, thin, and just big enough to fit the earbuds in snugly. Again its a mixture of matt and gloss black, and it has a magnetic snap-shut mechanism.
This case is stylish and really well designed. It's small and easily fits in the palm of your hand or pocket.
Battery
Treblab X5 has a brilliant battery life, with a standard running time of 7 hours. They have also been designed to charge within the case, which provides up to 35 hours of battery life. This is an ideal way to keep your earbuds charged up in between sessions without worrying about plugging them in.
Connectivity
The Treblab X5 works with a Bluetooth connection and is entirely wireless. The earbuds connected quickly to our device and had a great range of a few meters. The earbuds connect automatically with no need to press additional buttons, and the automated voice confirms the connection.
Summary
Treblab has once again designed an excellent earphone that is well-balanced fits nicely in the ear and looks fantastic. The X5 is a long sleek design that provides high-quality sound and doesn't compromise on style.
The earbuds have passive noise cancellation, and easily block out background noises, such as conversations or music, so that you can focus on your workout. The design of these earphones is only complimented by the case, which is slick, smooth, and stylish.
Treblab X5 is a brilliant option for those looking for a large earbud, excellent sound quality, and reliable battery life. These headphones are particularly useful for those who exercise regularly and have been designed to accommodate an active lifestyle.
If you liked the article, please leave your feedback.