Looking through all of the best cheap earbuds available can be overwhelming. Plenty of companies cut corners to reduce costs, but that's not always good for the customer. You don't want to end up with a fragile pair of earbuds that breaks after a few uses.
On the other hand, you shouldn't have to spend all of your money just to listen to high-quality music. We found a happy medium after searching the market.
Dozens of review websites and unboxing videos led us to find the best of the best earbuds for your money. No more wondering how long they'll last. We put together a group of essential features with durability and comfort at the top of the list.
When you're ready to upgrade to a new pair of the best budget earbuds, check out our collection of best recommendations below.
Whether you're searching for the best earphones to listen to podcasts or highy rated buds to hear your favorite music, we've got you covered. Enjoy the selection and check out the buyer's guide afterward!
At a glance:

Our top 3 picks
Our team's top 3 recommendations
Best Overall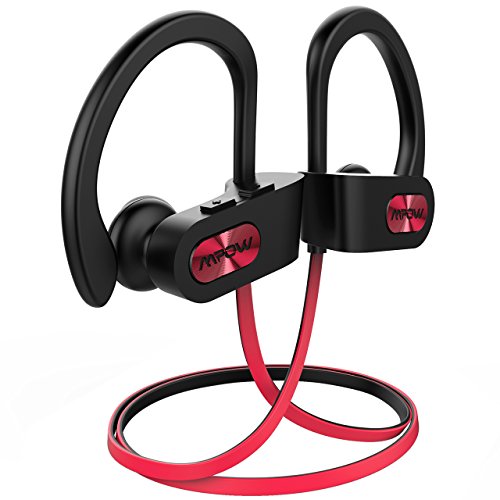 Mpow Flame Bluetooth Headphones Waterproof IPX7

Tons of colors to choose from
Connected together but not to your playing device
Cheap but good earbuds for anyone
Premium Quality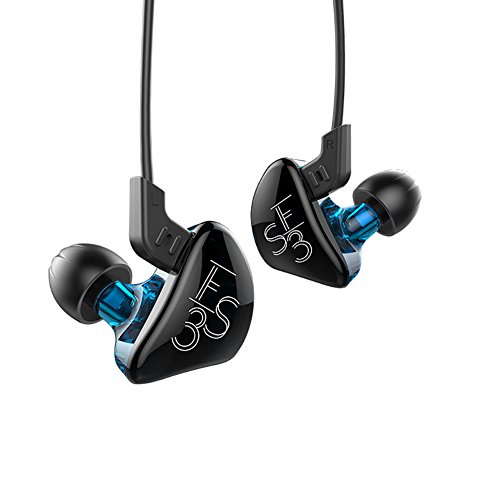 Panasonic ErgoFit In-Ear Headphones

Tons of colors to choose from
Connected together but not to your playing device
Cheap but good earbuds for anyone
Great value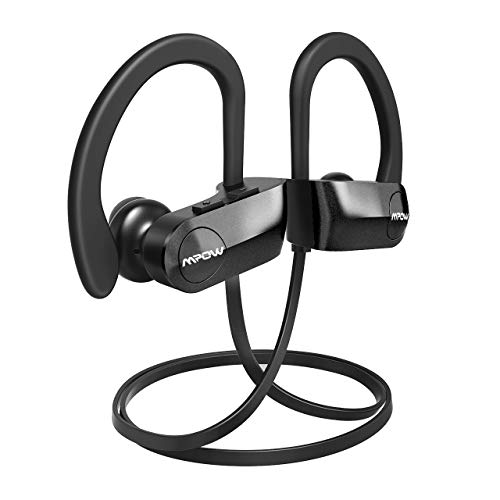 Mpow D7 [Upgraded] Bluetooth

Tons of colors to choose from
Connected together but not to your playing device
Cheap but good earbuds for anyone
View The Best Cheap Earbuds Below
1. Mpow Flame Bluetooth Headphones Waterproof IPX7
Wireless earbuds have been the biggest recent trend in technology. You can finally leave cords behind; these top rated earphones are hands-free and cord-free. The Mpow Flame Bluetooth Headphones are water proof, and you don't need anything but a Bluetooth connection to power them up. These best in ear headphones wrap right around your ear for an ergonomic fitting and noise isolation.
If you're into style, then you'll be relieved to see the color choices, and these might be the best for you. Choose from colors like Red, Gold, Pink & Black, Green & Grey, and plenty of others. Match the headphone up to your wardrobe or pick a bold color to stand out from the crowd. Everything from the buds themselves, to the cable that connects them to each other, is colored.
One of the biggest concerns that people have about wireless headphones is losing them. If one drops and goes missing, what's the point of having the other? The good news is that these inexpensive earbuds have a connecting cable that keeps them together as a pair. No more losing them or forgetting where they are!
Pros:
+ Tons of colors to choose from
+ Connected together but not to your playing device
+ Cheap but good earbuds for anyone
Why We Liked It - These are some of the best earbud headphones for people who don't want a wire in their way. Choose your color and jam out to your favorite music!
Uses - While you may not use these earbuds to mix or produce your tracks, they certainly have their purpose. Cheap earbuds can be great for trips to the gym or just casual listening. These are great to have around so that you can preserve more expensive sets of headphones or earbuds for more specialized use cases.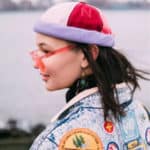 2. Panasonic ErgoFit In-Ear Headphones
Panasonic is one of the best rating brands in the audio and sound industry, producing some of the best rating sound speakers and earbuds that we could find. The Panasonic ErgoFit In-Ear Headphones come at an incredibly low price for such a high rating company. They include a long wire to let you move around without being bound too close to your device.
When you're ready to pick out a color, you'll have quite a decent selection. This collection includes options like Blue, Matte Black, Red, Violet, and all sorts of others. You can also choose to buy them with or without a microphone. The microphone option barely adds much money at all, remaining within a budget-friendly price.
If you don't want to spend too much money, then these might be the best earphone pair with a mic on the list. Tiny 'R' and 'L' labels on either earphone indicates which side goes in which ear. Other than that, each headphone is simple in design and easy to use. The sound also works with any device that has a jack port.
Pros:
+ Tons of colors to look through
+ Made by a well-known brand
+ Choose to buy with or without a mic
Why We Liked It - These earbuds were a shock at such a low price. Panasonic included top-notch audio in these affordable headphones.
3. Mpow D7 [Upgraded] Bluetooth
The Mpow D7 [Upgraded] Bluetooth Earbuds are some of the most stylish earbuds on the market. The deep black color pairs well with the green lighting that comes up when they're powered up. Top-notch sound and audio quality with a great appearance makes for some of the best inexpensive earbuds that we could find.
While appearance is important, we had many more criteria to go through. Fortunately, the 50-foot radius and the in-ear comfort was well-worth investigating. The buds and ear tips are designed to fit ergonomically in the ear for the best sound. Not only is this relaxing, but it also prevents them from falling out of your ear when you're moving.
When you buy these headphones, they have three different sizes, letting you switch them up. Find out which one works for you and try out their duo mode with a partner. With up to 12 hours of playing time and excellent rating sound quality, you can listen to music, podcasts, and movies all day long.
Pros:
+ Stylish appearance and build quality, and ergonomic fit
+ Best deep bass for the budget
+ Great cheap earphones with a 50-foot range
Why We Liked It - These are some of the top affordable earbuds for people who want to listen with a friend. Try out duo or single mode for adjustable audio.
Basic Maintenance - While these earbuds are super affordable, you'll still want to take good care of them to ensure their longevity. Be sure to remove any ear inserts from the headphones itself whenever they need to be cleaned. In addition, keep your cord untangled as much as possible to ensure that your connection stays strong over time.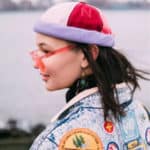 4. BYZ Earbuds Ear Buds Sport
For another great sound set with a unique appearance, The BYZ Earbuds Sport Edition could be best. Red and black always make for a stylish combination, which is exactly what this headphone set uses. They're shaped to fit right into your ear, but they won't get stuck as others might. The base of each earbud is flat to help you easily remove or place them.
You can adjust the sound on the cord with a quick click of a button. There are a plus and a minus side, giving a clear indication for these easy sound adjustments. You can also use the microphone for phone calls, voice commands to your device or gaming. The deal even includes a clip to help you reduce the tangling.
Another great addition to this good rating, cheap sports earbuds is the audio-bleeding. Nobody wants to hear other people blasting music! That's the whole point of having headphones. However, these particular earbuds have a sound bleed feature to optimize the number of sound waves that leave them. You don't have to worry about everyone around you listening in too!
Pros:
+ Comes with a microphone
+ Best ergonomic design for your ear
+ Adjust the volume with a button
Why We Liked It - Being able to adjust the volume, use a mic, and clip the cord together is something we didn't expect in a cheap pair of headphones. This pair blew expectations out of the water!
5. PALOVUE Earflow in-Ear Lightning Headphones
Apple has a new USB port that most other sound devices don't use. This can make finding the best pair of headphones or a headset a real challenge. However, the PALOVUE Earflow In-Ear Lightning Headphones match up perfectly with the latest models. Listen to your favorite sound clips without needing an adapter whatsoever.
If you choose this pair, you'll have several colors to pick from. These colors are Black, Classic Black, Silver, and Red. They correspond to the most common Apple iPhone colors. You'll also get a sound and volume adjuster built-in with the cord. It even has a microphone for phone calls and other vocal necessities.
The sound quality of the bass with this pair of earbuds is one of its best features. Customers love the depth of it, giving you an immersive experience. It also has similar dynamic audio bleeding features to the previous entry on the list. If you want something that delivers the best sound and audio within your price range and you don't want to break the bank on official brand-name headphones, this might be your best bet.
Pros:
+ Fits lightning cable ports
+ Perfect for iPhone users
+ Comes with a sound and volume adjuster and mic
Why We Liked It - These are some of the best earphones for the value. If you own a new-age iPhone, these are almost a complete necessity.
6. FOCUSPOWER F10 Mini Bluetooth Earbuds
As the name states, the FOCUSPOWER F10 Mini Bluetooth Earbuds are smaller than the average pair. This is perfect for people who have small ears, but it's also nice to reduce ear clutter. Having massive headphones is annoying for some people. This set sits perfectly inside of your ear canal.
Setting up the Bluetooth features on these earbuds is super easy. They have a button on the side to pair up, instantly powering on. The ear tips are even angled to keep them from sliding out of your ear and for a comfortable fit. They work as far as 30+ feet away from the device they're connected to, giving them a high level of sound range compared to others.
Charging these true wireless earbuds takes only a couple of hours, and they allow up to 8 hours of battery life. This is much longer than the battery life for more expensive, traditional Bluetooth headphones on the market. Adjust the volume of sound easily to save power or connect them to two separate devices at once. For such a great price, it's no surprise that so many customers love these earbuds.
Pros:
+ Ergonomic angled fit
+ Stays connected up to 30 feet away
+ Can connect to two devices at once
Why We Liked It - We like these earbuds because they're some of the most comfortable options around.
If you want a durable pair of headphones that'll last you for years to come, then the Betron BS10 Earphones are a great choice. They're known to remain with the same audio quality for an incredibly long time. The dark grey cable pairs well with the black earbuds, giving a stylish sleek appearance.
The flat back of both headphones might look nice, but it serves a better purpose. Since sound waves bounce off of flat surfaces, it keeps the audio in your ears for enhanced sound quality. This provides an immersive experience, but it also keeps the audio from leaving your headphones. They also manage to look like a DJ record player, which is always cool!
When you're done using these headphones, there's a connector that slides to keep them bunched together. This prevents them from tangling when they're not in use. It takes seconds to bundle or undo them, keeping you from wasting too much time. With three different sizes, you'll be able to change them like a pro whenever you want.
Pros:
+ Keeps the audio in your ears
+ Top-notch audio for the price range
+ Sliding connector to prevent tangling
Why We Liked It - These earbuds were some of the quickest to review. They have so many high-quality features that made them easy to add to the list.
8. Symphonized NRG 3.0 Earbuds
If you're after a unique appearance, it doesn't get any better than these headphones. The Symphonized NRG 3.0 Earbuds use a wooden build quality to stand out from the rest of the competition. However, the looks are just the tip of the iceberg. From nearly perfect audio to three additional sizes per package, they're a steal for the money.
Choose from Black, Blue, Orange, and several others to get your order started. When they arrive on your doorstep, you'll receive them in a storage pouch. The angled headphone jack keeps it from getting squished. It also prevents the cord from breaking open and revealing the wires, which happens far too often with cheap earbuds.
These headphones continue to have even more impressive features. You can adjust the sound volume or click to start talking with the mic. The silicone earbuds are comfortable last for years to come. Forget about having earaches after using knock-off brands for too long! Those are a thing of the past.
Pros:
+ Comes with several colors and a unique wooden appearance
+ Adjust the volume of sound and use the built-in mic
+ Includes a carrying pouch
Why We Liked It - These are the best earbuds headphones for people who want a unique appearance. Combined with a mic and volume adjuster, it's hard to find anything better.
Buying name-brand products can cost an arm and a leg. However, you don't have to buy the official headphones to get top-notch sound quality. The BYZ Wired Earbuds look similar to the Apple iPhone headphones, and many customers claim that they sound the same too. Why not save money and get the same sound quality.
One of the few differences between the two is the volume adjuster. The BYZ Wired Earbuds use a lever to move the volume higher or lower for balanced sound quality. A simple flip of the lever changes the volume instantly. They even come with a built-in microphone for calls, voice commands, and other voice-activated features.
The striated cable is lined to prevent it from tangling. We've all dealt with an annoying bunch of tangles on headphones. There's even a small adjustable tab to prevent this from happening. The earbuds themselves slide right into your ear canal for a secure fit and stay there thanks to the unique angle.
Pros:
+ Look and work in-line with professional headphones
+ Adjust the volume and use the mic on a single clicker
+ Unique design prevents tangling
Why We Liked It - These headphones are simple, but they have every feature we were looking for. If you want a straight-to-the-point set of cheap earbuds, this should be your new go-to.
10. Zhicity Earphones Earbuds
Another set of headphones that use an anti-tangling cord is the Zhicity Earphones/Earbuds. They also have the classic red and black appearance that many people love. While they're super stylish, they also have quite a few built-in features for such a cheap pair of headphones.
The HD quality is something that you can't pass up! With a built-in mic and a volume adjust in the middle of the cable, you can control everything on the go. The microphone can be turned on and off on the back of the headphone, preventing you from clicking the wrong button. These earbuds themselves also use a noise reduction feature to prevent audio from leaving and create noise isolation.
The angled design helps them sit right in your ear. No more worrying about them dropping out when you're sitting up or jogging. They're going nowhere unless you take them out yourself. All of the features from the sound adjuster to the headphone jack are bulky as well. This is something that a lot of people found easier to access.
Pros:
+ Comes with a volume slider and a built-in mic
+ Bulky features make it easier to handle
+ Anti-tangle cord
Why We Liked It - We like these headphones because they're the best budget-friendly and they can do just about anything as a pair twice the cost.
Adapter Needs -Keep in mind that you may need to budget for an adapter depending on your listening device and earbuds of choice. Alternatively, you can look for earbuds that have Bluetooth connectivity. However, note that Bluetooth earbuds and headphones will require power so you'll need to charge them on a fairly regular basis.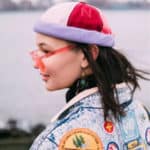 Cheap Earbuds Buyer's Guide
Cheap earbuds are definitely not few and far between, but the sound quality of them is. Instead of settling for any type of wired earbuds at your local gas station, the list above will hook you up with a solid selection. If you have any other questions about finding the best cheap earbuds around, consult the FAQ below for some clarity!
What should you look for when buying cheap earbuds?
The main two features that you should look for when buying cheap buds are comfort and longevity. You don't want to walk around feeling like you have a rock in your ear! Small buds and ear tips will fix this. They also need to last you for a long time. Most cheap headphones don't even last a year, which is why we had to search extra hard to find headphones with a high rating that lasted for a lot of years.
Another feature that you should consider is whether you want them to be wired or wireless. Wired headphones have the benefit of never losing connection unless they're damaged. They're also not as easy to misplace as wireless headphones. However, not having to worry about tangling cords is always a huge bonus if you want wireless earbuds.
You should also think about if you want a built-in mic, volume adjusters, and if the appearance matters. With so many options listed above, there's no doubt that you'll find a top-quality pair that you'll love for years to come.
How do you prevent wired headphones from tangling?
We've all had to deal with bunched up, tangled cords that somehow form from nothing. You definitely didn't tangle them yourself, so how did they end up that way? While many people believe it's from the electrical current moving them around, there's no way to tell. All you can do is take a couple of steps to prevent it from happening.
Start off by bringing the headphone jack up to the same level as the earbuds. This should cut the size in half. Next, grab the bottom of the loop you formed and bring it up to the same level as the earbuds. Continue to do this until you have a circle or loop about the size of your wrist. You can then tie them together with a clip, rubber bands, or pipe cleaners to prevent them from tangling.
These tips ensure the next time you use them, they're going to be tangle-free! It takes about 10 seconds and saves you the annoying headache of untangling your buds to listen to your music.
How far away can Bluetooth headphones stay connected?
The connection range of Bluetooth headphones varies. Some earbuds range up to 50 feet, while others only work within 10 feet. This should be another feature that you think about before picking out your new set.
Fortunately, all of the Bluetooth headphones on this list start off at around 30 feet. This is more than enough for most people. If you plan on going remote, either to the beach or walking away from your device at home, you might want the 50-foot reach. Keep in mind that walls and other obstacles can reduce or interrupt the connection of Bluetooth buds.
Expert Tip
Put a colored rubber band around your headphones whenever you take them off. Even if they're wireless, this will keep you from losing them. A bright red or neon blue rubber band sticks out almost anywhere!
Did You Know?
Listening to music through headphones has been proven to increase energy levels and happiness. The sound waves combined with the mood your music puts you in is something that very few other devices can compare to. The louder the music is, the higher the effect. Don't play it too loud though, because blown eardrums and hearing loss never made anyone happy!
If you've enjoyed this review by Music Critic, please leave a positive rating:
[vc_separator