From behind the confines of one of the loudest acoustic musical instruments in a band, it can get tough to play with your fellow musicians. This is why we are discussing the six best in-ear monitors for drummers to protect their hearing from their own drum set.
An in-ear monitor is a must-have for a gigging professional to make sure you have your feed as your drum kit creates a bit of noise. It's not always possible, especially with more significant stages to hear the in-ear monitor headphones like the rest of your band-mates because of their front-stage placement.
An in-ear monitor for hearing protection has several benefits which we will discuss in our buying guide. First, let's have a look at some of the wire or wireless in-ear monitors that drummers wanted us to try.
At a glance:

Our top 3 picks
Our team's top 3 recommendations
Best Overall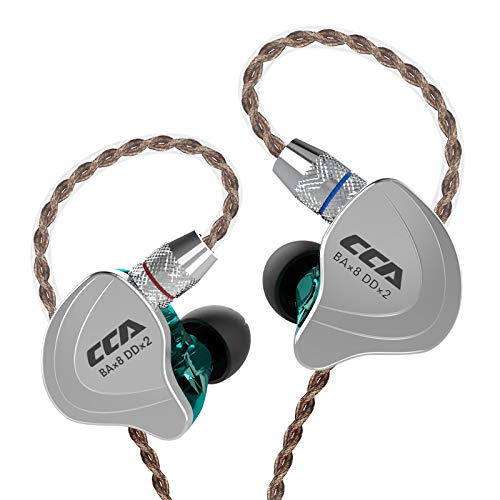 CCA C10 High-Performance in-Ear Monitor Headphones

Durable, ergonomic design.
MEMS noise cancellation.
10mm woofer 6mm tweeter combo.
Detachable cables
Premium Quality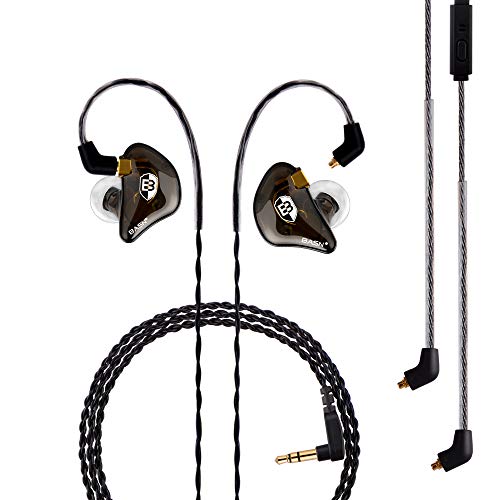 BASN Professional in-Ear Monitor Headphones

Durable, ergonomic design.
MEMS noise cancellation.
10mm woofer 6mm tweeter combo.
Detachable cables
Great value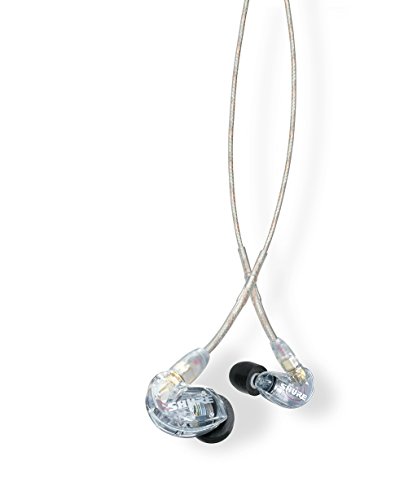 Shure SE215CL Sound Isolating Earphones with Single Dynamic Driver

Durable, ergonomic design.
MEMS noise cancellation.
10mm woofer 6mm tweeter combo.
Detachable cables
View The Best In-Ear Monitor For Drummers Below
1. CCA C10 High-Performance in-Ear Monitor Headphones
For starters, we have selected a high performance set from CCS which provide advanced ergonomics for a premium fit in a non-costly design.
They are a lightweight set with a robust zinc alloy/resin shell. They are very reasonably priced considering their superb components; they feature C10 hybrid drivers that are decked with a titanium diaphragm tweeter as well as a woofer. Neodymium magnets drive both.
They also benefit from built-in MEMS noise cancellation and have a stay-put design which makes them ideal for the noisy and energetic nature of drumming.
They have a detachable design with low impedance braided wires that have gold plated connectors to keep signals pristine.
Pros:
+ Durable, ergonomic design.
+ MEMS noise cancellation.
+ 10mm woofer + 6mm tweeter combo.
+ Detachable cables
Why We Liked It - They serve-up excellent quality among their class, giving a proper audio resolution for a productive, dynamic listening experience.
2. BASN Professional in-Ear Monitor Headphones
Next, we have another fab offering, which is competitively priced to provide universal modeling.
This dual dynamic micro driver in-ear set is well-manufactured. With a similar memory wire style ear-hooks incorporated into the earpiece to help better keep its positioning within the ears. The hooks allow them to be customized to the individual for the best fit to help with comfort as well.
The BASN BSinger Professional in-Ear Monitor Headphones have ergonomically comfortable tips formed from high-grade silicon that create a decibel reducing seal for your ears. This allows for detailed ear monitoring and is ideal for a drummer with its reduction of around 20 dB.
They have a pleasant frequency range and response and provide well balanced dynamic audio thanks to their dual dynamic micro-drivers. These dual drivers have highly responsive PET and Copper diaphragm at the heart of their engineering.
The connector is a detachable MMCX rendering it incredibly versatile and perfect for live performance applications.
Pros:
+ Memory wire ear-hooks.
+ Soft silicone decibel reducing tips.
+ Great dual drivers.
+ Detachable cables.
+ Comfortably fits the ear
Why We Liked It - The BASN BSinger ear monitor for drummers provides a secure, comfortable fit, and the audio is excellent. They offer substantial hearing protection.
3. Shure SE215CL Sound Isolating Earphones with Single Dynamic Driver
The Shure SE215CL Sound Isolating Earphones rapidly became a popular pro audio solution for personal monitoring. They feature high-quality manufacturing that ensures a product shelf life worth the higher-end investment.
The Shure SE215CL Sound Isolating Earphone is a lightweight, low profile option in direct comparison to the first two we have highlighted. These in-ear earphones have a pliable wire to help keep them securely in place which is also aided by their funnel-shaped ear tip design. The ear tip design of the Shure SE215 earphones is even better for audio delivery, and it does a great job of isolating the listener from the surrounding environment.
The Shure SE215 monitor for drummers comfortably delivers a reduction of up to 37 dB of ambient noise. Three sizes are provided to choose from for a tailored fit.
These Shure SE215CL Sound Isolating Earphones are equipped with Shures beautifully engineered single dynamic driver which is tuned with an accurate sound and response that has exceptional attention to extended bass drum registers.
The versatile MMCX connector has gold-plating and an innovative lock-snap mechanism. This mechanism enables the cables to rotate a full 360-degrees, which makes sure that they don't inhibit the user. This feature also keeps them durable by slowing down wear and tear.
Pros:
+ Great dB reduction and noise isolation.
+ Well-engineered.
+ Optimized bass frequency range.
+ Single driver + Personal monitor system
Why We Liked It - These Shure SE215 sound isolating earphones are an industry entry-level standard pair which set the bar for a professional level of security over the ear supported in-ear monitors. Their single driver delivers excellent sound with an optimized low-end response.
4. Yinyoo KZ ZST Hybrid Banlance Armature with Dynamic In-ear Monitor Headphones
If the Shure above is a little out of your price range, we suggest this low-cost, high fidelity pair of in-ear monitor headphones from Yinyoo. They do appear pretty hardy despite their retail price.
They are hybrid balanced armature in-ear monitors which cope with a busy workload sorting the response ranges effectively and provide sound quality with good dynamic focus.
The hybrid drivers separate sounds allowing them to provide a pretty generous amount of detail in the mix.
They have comfy ear tips and benefit from detachable cables and noise-canceling properties, which makes them suitable as a cheap ear monitoring solution.
Pros:
+ Comfy ergonomic ear tips.
+ Hybrid drivers with a vast response range.
+ Budget-friendly audio equipment.
+ Noise-isolating in-ear monitors
Why We Liked It - While they are nothing to write home about, if you have had the pleasure of testing a few IEM system sets; they do a good job in regards to hearing protection. These monitors are a staple set.
5. Brainwavz Monitor Wired Earphones
Brainwavs monitors are an alternative balanced armature option with very well refined drivers. They produce a suitable level of clarity and detail and are reasonably priced for their premium composition.
This wired headphone option features a unique 3D printed shape which has low-profile, lightweight and provides the necessary durability to give the customer value for money.
They harbor some of the best in-ear audio reproduction on the market with a full response. This response enables them to create rich layers and crisp detail for accurate sound and ear monitoring.
They have comfortable ergonomic tips and have plug-in extra-strength braided cables for added longevity.
Pros:
+ Dynamic BA IEM system.
+ Durable set.
+ High sound quality.
+ Comfortably fits ear via ergonomic tips.
Why We Liked It - The sound quality is awe-inspiring, and they are well-designed and executed inside and out to be a valuable addition to your gig-bag.
6. MEE Audio M6 PRO Musicians' In-Ear Monitor Headphones
Last on our list as an affordable audio ear monitoring solution suitable for drummers is this pro-level model from MEE Audio.
These noise-isolating in-ear monitors are another set which adopts the flexible over the ear design which allows for free motion and positional maintenance.
These MEE Audio M6 PRO noise-isolating musicians in-ear monitors are ergonomically conscious and provide a secure but comfortable seal superb for noise isolation and background reduction.
They are durably constructed and feature top-notch drivers with high accuracy. The middle response has been recently refined for improved detail, and the bass has low sound pressure levels.
These in-ear studio monitors from MEE Audio have a detachable sweat-proof cable . They feature a built-in mic and controls, making them also suitable for everyday mobile device use.
Pros:
+ Ergonomic IEM system.
+ Strong build quality.
+ Well-engineered drivers.
+ Improved mid-range response accuracy.
+ Sweatprood, detachable cables
Why We Liked It - These MEE Audio M6 PRO noise isolating earphone monitors are another competitively priced set. The earphones come with a range of memory foam and silicone tips to choose from to ensure comfort at all times for a variety of different users.
In-Ear Monitors for Drummers Buyers Guide
Drums drive the band, set the tempo, and keep rendering them one of the essential musical instruments laying the foundations of the songs. But, they can drown out the rest of the band from a throne perspective. A decent set of IEM system sets can help you hear your band-mates.
Do I Need an In-Ear Monitor to Play Drums?
If you are playing at decent gig venues as part of a group, then it is a wise investment. When you are in a live performance situation, your audio gets fed forwards through a P.A in the direction of the audience, as it should be. This often creates a problem where those on stage can't hear what's going on. This is usually due to the sound that bounces around the venue and back to them.
In-ear monitors/ headphones are placed at the front of the stage to feed reproduction of the front audio to the players. However, given that the drums are typically at the back center of a stage, and they are a loud musical instrument without any amplification, things can get problematic.
An in-ear monitor has a fair few advantages. Firstly it enables you to have a selective feed with the levels you want specifically of each drum set. So, if you're going to want to hear the bass above all else you can. Likewise, if you are relying on a vocal line to know when to kick into the chorus, you can have a higher level from the vocalist coming in.
A quality in-ear monitor will also give you some decibel reduction acting as an earplug. We would stress this is also important for the majority of gigging musicians who are playing a large venue. See our earplug article and buyers guide for exactly why.
Even if you aren't in a band, a pair of in-ear monitors are a useful practice tool for jamming along to new songs in your potential set-lists. Filtering out the higher decibels of your drum kit and allowing you to listen without having to crank your device up to dangerous levels.
What to Look for in an In-Ear Monitor?
Aside from a decent audio reproduction, you really should have your primary focus on comfort and durability when shopping for in-ear live performance or in the studio monitors. The price can dictate this, but you shouldn't sacrifice comfort if you are going to be playing 2-3 sets regularly.
If you are shopping with very minimal funds, It would probably be better to get something cheap but ergonomic. Even though you will have to replace them sooner than something durably made that could be damaging to your ears.
Conclusion
Getting your hands on an in-ear monitor for drummers that won't break the bank is a pretty easy task with an abundance available.
Of course, the cheaper products are always going to be somewhat inferior, which is to be expected. But, you will find regardless of your budget there are some great deals to be had which make for sensible solutions.
The benefits of an in-ear monitor can make the difference between a small-time weekend drummer and a touring pro, and there is never a wrong time to start using one. We hope you've found this in-ear monitor buying guide for drummers useful.
Expert Tip
It is wise to invest in some high-quality cables for your in-ear monitoring, especially if you play larger venues with bigger stages.
Did you Know
In-ear monitors aren't exclusively for drummers many professional-level live performances will utilize an in-ear monitor for all members of the band as well as the crew.
If you've enjoyed this review by Music Critic, please leave a positive rating:
[vc_separator