Are you new to the world of neckband headphones? If you are, you'll need somewhere to start. What are neckband headphones, why are they necessary, and how do you distinguish between the different varieties available. If you're looking at purchasing your first pair of neckband headphones, you've come to the right place to have your questions answered.
Neckband headphones differ from conventional styles in the sense that the speakers are attached via a wire to a small, lightweight band that fits around the back of the neck. These neck bands generally have stronger battery capabilities, sound qualities tailored to voice clarity, and ergonomic comfort.
A wide range of styles available gives you freedom of choice in terms of how they will fit into your style. Some of the different versions are designed best for a long day at work, a rigorous workout, or all around use.
We have tried out many different types and styles of neckband headphones in order to filter through what's available. To help you narrow down what you should be looking for in a pair of neckband headphones, we have picked our 10 favorite models. Go through our picks to learn about the standout features to look for in the best neckband headphones.
At a glance:

Our top 3 picks
Our team's top 3 recommendations
Best Overall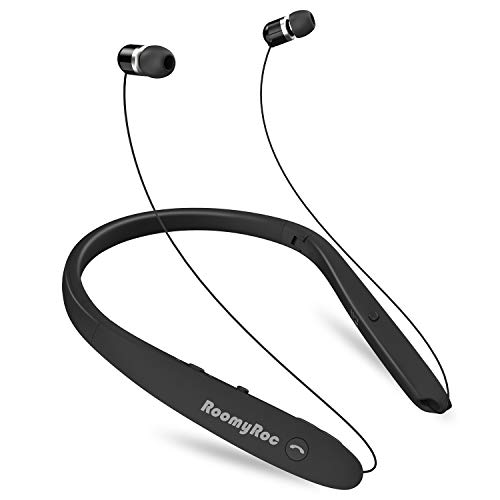 RoomyRoc Bluetooth Headphones

Comfortable neckband
Clear sound
12-16 hour battery life
Bluetooth v4.2
Ergonomic design
Premium Quality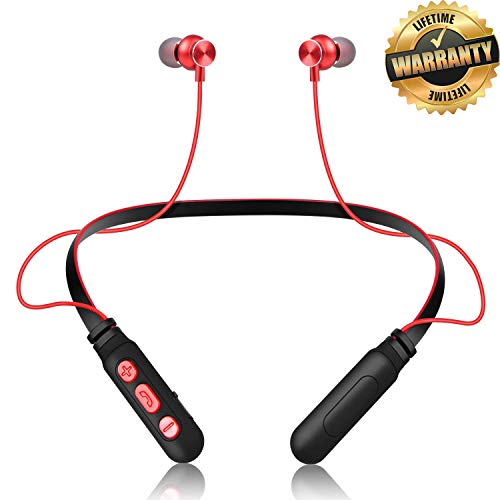 MPOW Jaws Gen 3

Comfortable neckband
Clear sound
12-16 hour battery life
Bluetooth v4.2
Ergonomic design
Great value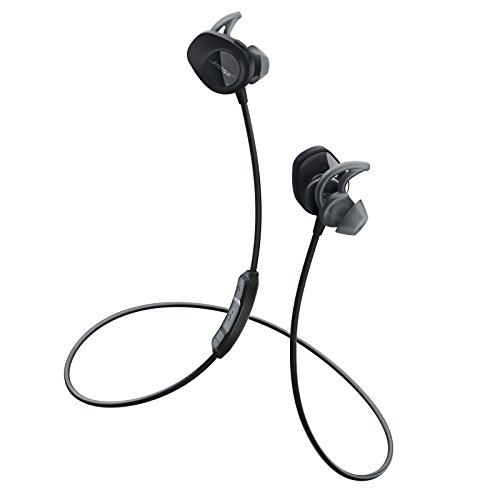 Bose Soundsport Wireless Headphones

Comfortable neckband
Clear sound
12-16 hour battery life
Bluetooth v4.2
Ergonomic design
View The Best Neckband Headphones Below
1. RoomyRoc Bluetooth Headphones
Are you the type of person who likes to listen for long periods of time while being relatively active? We love RoomyRoc headphones because they give you a comfortable range of motion with a good amount of comfort and stable sound quality.
They feature Bluetooth v4.2, advanced CSR8635 chips, HD/Hifi sound, noise-cancellation technology, and easy-pairing. You will enjoy the clarity of sound if you are taking calls, listening to audio-books, or music. The battery allows you to listen for 12 hours, talk for 16 hours, and standby for 180 hours.
That kind of convenience doesn't come with wireless headphones. When not in use, the headphones can rest easily on your neck. If a call comes in the neckband will vibrate to notify you of the call. Not needing to worry about the headphones falling out and getting tangled in anything is a nice bit of peace of mind.
Pros:
+ Comfortable neckband
+ Clear sound
+ 12-16 hour battery life
+ Bluetooth v4.2
+ Ergonomic design
Why We Liked It - As far as convenience for everyday use goes, the RoomyRoc Bluetooth headphones do the job. Taking calls and listening to music while on the move is made incredibly easy. They offer a good range of motion while sitting nicely between your shoulders. A great pair of all-around headphones that save the pain of having a wire, but still offer an enduring battery life.
Tip Options - One underrated aspect that varies between models of neckband headphones is the fit of the ear pod tip, from foam to silicone to rubber. Many neckband headphones come with a variety of tips to allow customers to choose which materials and sizes fit best, so if you want flexibility, shoot for a model that comes with more than one type of tip.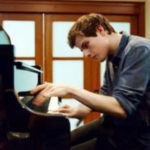 Mpow has created a pair of comfortable neckband headphones with great sound. Luckily you don't need to pay 100's of dollars for a reliable pair. These particular headphones are very durable. They are not the kind you need to be extremely careful with. Some of the features include HD/Hifi sound, CVC6.0 noise-cancellation technology, Bluetooth v4.1, and CSR8635 chips.
They have a magnet within the headphones to keep them from dangling freely when not in your ears. They have a carrying case to keep them safe and in place when not in use. A quick charge will give you 13 hours of battery life. The flexible and durable silicone neckband is 60% lighter than most other neckband headphones. As with any good set of headphones, they have vibration call notifications, one-touch button control, and a clear mic built in.
Pros:
+ 13-hour battery
+ Stable sound
+ Reliable Bluetooth signal
+ Sweatproof
+ Comfortable
Why We Liked It - The MPOW jaws Gen 3's are very easy to work with. They contain all of the necessary features that you'll want in a pair of neckband headphones. Listening to music, watching movies, or talking on the phone for extended periods of time is really easy. They are really comfortable and convenient. You'll never have to worry about breaking or losing them with the carrying case and the level of durability they come with.
3. Bose Soundsport Wireless Headphones
No need to agonize over a purchase for months on end. The Bose Soundsport wireless headphones are at the top of the list in terms of quality of sound. When you compare the sound quality to most other headphones in the same range, Bose knocks them out of the park. They are consistently balanced, easy to pair, sweat and weather resistant, and very comfortable. The battery life is a little shorter at 6 hours due to the fact that they do not have the bulkier neckband.
The headphones are simply attached by a thin wire around the back of the neck. You can still remove them from your ears and conveniently dangle them around your neck. The Bose Connect App makes it really easy to track certain attributes. You can track battery usage, call time, and even your heart rate. Perfect for anyone who likes to stay active and have the best sound in the market.
Pros:
+ Exceptional sound quality
+ Stay right where you want them
+ Very comfortable
+ Easy maneuverability
+ Lightweight
Why We Liked It - The sound quality is hands down the best you will get in this price range with in-ear headphones. Having music pulsing organically into your ears can really take you into a different state. They are simply a pleasure to listen to. Best for music lovers or sound effects in movies, or if you just need a little more bass to overcome outside noise.
In-ear vs. Earbuds - While many miss the nuance of this distinction, this is an important criterion to keep in mind when purchasing headphones. In-ear headphones are meant to fit inside your ear canal by way of a silicone, rubber, or foam tip, while earbuds are meant to sit in the space outside your ear canal.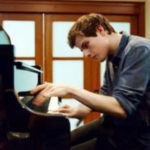 4. Amorno Foldable Wireless Headphones
Amorno makes an applaudable set of headphones with the Foldable wireless headphones. The bass is fantastic and you can even take them out of your ears and hear them hanging around your neck! The people you're on the phone with will enjoy the clarity you get from the mic. When you don't have them comfortable around your neck, you can fold them up, providing extra tidiness and convenience.
They are very light at 53g, have Hifi stereo sound, CSR8635 chips, and Bluetooth v4.1. They have retractable earbuds which keep the headphones from hanging loosely from your neck. The battery life gives you 10 hours of music, 12 hours of talk time, and 180 hours of standby time. The vibrating call notifications will let you know when a call is coming in while the neckband is resting on your shoulders.
Pros:
+ 10-12 hour battery life
+ Great bass
+ Lightweight and comfortable
+ Reliable Bluetooth
+ Foldable
Why We Liked It - Some neckband headphones can be interruptive by telling you the battery life continuously. This pair of headphones doesn't announce battery life unless you have just picked them up, or they're almost dead. Since the sound is great and they have really deep bass, the last thing you want is to have your flow interrupted by a battery announcement. They are a really comfortable and convenient set of headphones and are reliable.
5. MPOW Flame Bluetooth Headphones
Sometimes a pair of headphones that impress across the board can be hard to find. Mpow has nailed it on the head with this one. You get a little bit of everything with these headphones and it's really hard to find any stand out reason why you don't like them. They are sweatproof, comfortable, they stay in place, have reasonable sound, and 7-9 hours of battery life.
Best-suited for active users as they are designed to stay right in place. The sweatproof rating of IPX7 will not allow them to become ruined by any excess moisture or weather. In-line button control allows you to skip songs, go back to previous, raise/lower volume, and answer calls without picking up the phone. The connectivity is consistent and reliable. No more dropped calls or skipping music right before the beat drops.
Pros:
+ IPX7 sweatproof
+ 7-9 hour battery life
+ Comfortable and stay right in place
+ Good sound
+ Easy to use one-touch button control
Why We Liked It - An all-around pleasing set of headphones. They are comfortable and sound good. They are sweatproof and lightweight. The battery life is long enough to go on a few longer runs without needing to charge them. Best for people who are looking to be active as that's what they are most seamlessly designed for.
6. L-Bell Bluetooth Neckband Headset
When trying to drown out outside noise and really focus on what you're listening to. The L-Bell Neckband headset is a top pick. They have impressive noise-cancellation and sound which really allow you to be immersive. They fold up nicely and will not get in your way when you're not using them. The battery life is truly exceptional. You can expect 30-33 hours of listening/talking time and up to 600 hours of standby with a 3.5-hour charge.
The earphones are retractable for when you are not using them. You have a strong signal with Bluetooth v4.1 and Hifi stereo sound. They are easy to pair up and are compatible with most modern Bluetooth enabled devices. If you're on calls, the mic is very clear and you will be able to hear your friends and family clearly as well.
Pros:
+ Exceptional battery life
+ Clear sound
+ Lightweight and comfortable
+ Retractable earbuds
+ Foldable technology
Why We Liked It - The battery life is astounding. Almost so much that you would forget to charge them if not for the reminder. If you're talking on the phone or listening to music you'll get clear sound and strong wireless connection. They are very convenient and tidy and are a really good pick for anyone who is listening at work or around the house.
7. Legato Bluetooth Retractable Neckband Headphones
If you're the type of person who spends a lot of time on the phone with your headphones, then these might be the right ones for you. When you're on the move and closing deals you need lightweight design matched with clear sound quality. You'll need a battery life that lasts longer than the competition to keep from interrupting calls.
A 14mm driver gives you a really dynamic bass quality. The connectivity is notable at a 70ft range. You can choose between three different modes of EQ sound which allows you more control over the bass, treble, and mids. They have a subtle/stylish design along with the lightweight comfortability. Retractable earbuds will keep the neckband neat around your neck.
Pros:
+ 14mm driver
+ 10-hour playtime
+ Retractable earbuds
+ Lightweight
+ Clear sound quality
Why We Liked It - Pacing around the office with the commission of the next deal at the tip of your tongue will be seamless with these headphones. They are truly comfortable and hard to notice around your neck. Very conveniently retracting the ear-buds keeps them stylish and tidy. For calls, music, and movies, everything comes through clearly. They are a great choice for a business-person in action.
8. Sennheiser HD-1 In-ear Wireless Headphones
The Sennheiser HD-1's bring you the sound that will remind you it's now 2023. They sound is so delicately robust in the sense that you get almost unparalleled balance. The bass never overpowers the mids but sit perfectly amidst a rightful resting place. Bluetooth v4.1 gives you a great wireless range. A 1.5 hour USB charge will bring you 10 hours of continuous battery life.
The in-ear headphones give you the subtlety and comfort you are looking for. The neckband is ergonomically designed to bring users a very comfortable experience. They look great and will give you exceptional quality while listening or talking alike. Easy to switch volume with an external switch. They will fit nicely under your collar.
Pros:
+ Futuristic sound quality
+ 10-hour battery life
+ Stylish look
+ Comfortable to wear
Why We Liked It - Comparing these headphones to other current or past competitors is tough to do. The sound quality is such a standout. Really meant for people who are intent music listeners. If you're chasing amazing sound quality, then the Sennheisers will fit perfectly into your world.
9. Levin Bluetooth 4.1 Headphones
You'll be pleasantly surprised by the comfort of these over-ear headphones. You don't have the inconvenience of wired headphones but you still get the comfort and sound quality you want. CSR8635 chipsets, 4.1 Bluetooth, 33ft signal range, and comfortable design are all you're going to need. They have sweatproof technology to keep out any unwanted moisture.
You won't have to worry about ruining them while you are working up a sweat. These are great whether you are looking to be active or to simply keep your mind active while working on some more boring tasks. Battery life will give you 12 hours of play time and 13 hours of continuous talk time. That's with only a 2-hour charge. They have absolutely zero wires connected. Nothing to get tangled or blowing in the wind when out in public.
Pros:
+ 12-13 hour battery life
+ Strong Bluetooth signal
+ Reliable sound
+ Comfortable design
+ Sweatproof
Why We Liked It - These are great all-around. They will work for people who are looking to be active or just for a regular set of daily headphones. They are extremely reasonably priced. They will match up easily to any set of headphones in the same range, or even a little bit above.
10. Dudios Bluetooth Neckband Headphones
The Dudios Bluetooth neckband headphones are one of the most lightweight/comfortable sets of headphones you will wear. They have a very slickly designed neckband that is comfortable to have around your neck. The battery life is exceptional at 16 hours. A CSR8645 chipset gives you resonant bass and clear treble.
CVC 6.0 noise-cancellation keeps all unwanted noise out and your perfect harmonies where they belong. A stable Bluetooth connection is apparent with v4.1. For anyone who is always on the move, these headphones will be perfect for you. They are durable and will not be easy to ruin with sweat or accidental knocks.
Pros:
+ Comfortable
+ Great subtle design
+ Superior sound quality
+ Excellent battery life
+ Stable Bluetooth connection
Why We Liked It - They are great for being active. One of the more lightweight versions of neckband headphones on the market. They look really great and don't have a bulky neckband to speak of. Noise-cancellation is always a plus for when you don't want to have bleeding noise coming from the outside.
Microphone - Many neckband headphone models come with a microphone into which you can speak, which is useful for voice command features or audio recording. If this is not a priority for you, though, you can save money on your purchase by selecting a model that does not have a microphone feature.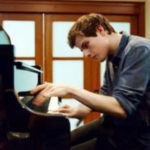 Neckband Headphones Buyers Guide
Neckband headphones are a little different from conventional headphones. Whether you are looking for over-ear headphones or in-ears, you'll need to know a little bit more about the style in order to make informed buying decisions. Some of the key differentiators are style, battery life, durability, purpose, and sound quality.
Neckband headphones are typically Bluetooth connected with housing that wraps comfortably around the back of the neck. This offers greater versatility in long term wear situations. You are able to take your earbuds out of your ears and allow them to dangle around your neck for easy access later. They are best suited for people who wear headphones for most of the day taking calls, listening to music and moving around. They are designed to be maneuverable and comfortable under working conditions. The sound quality is often high as there is more potential for higher-end technology in the neckband.
Since it can be tough to know what to look out for as a first-time buyer, We have put together a short guide to help sift through the options. Here are some of the key buying factors.
Purpose
In other words, what will you be using the headphones for? Are you highly active or do you spend most of your workday in a single space? There are designs more suited for sports and others for relaxing and listening. If you are going to be using them for workouts, make sure to get headphones with sweatproof ratings and a lightweight feel.
If you want to have them at home to watch movies, or at the office taking calls, a bulkier design will do just fine. Some of the headphones we picked have larger neckbands, which are designed to be comfortable. However, larger neck bands tend to be more comfortable in less active situations.
Sound Quality
What kind of sound quality do you require? Luckily if you're in a position where buying neckband headphones is an option, you are likely to find a set that will deliver stellar sound. Are you a music lover? A movie watcher? A high-pressure call-taker or a podcast listener? If you're a music lover then make sure to focus on sound quality. Music is engineered and created to sound a certain way.
When we allow music to engulf our minds and take us to a different place, we can really reach a steady flow state. This adds to more productivity and overall happiness. You won't want to settle for mediocre sound quality in that case. If you prefer to listen simply to podcasts around the house, you can afford to sacrifice a bit of sound quality. You won't need thumping bass or perfect balance. Only consider paying extra for the superb sound quality if it is essential to your enjoyment.
Durability
The level of durability necessary will vary greatly from person to person. Some people are very careful and meticulous, others are little more care-free. Of course, in any case, extra durability is great for peace of mind. If you are on the move a lot with your headphones and especially if you are overly active, durability will play an important role in the lifespan of your headphones.
That will save you money and unnecessary hassle in the long run. If you're more of a stay at home listener, then durability will play a smaller role, but present nonetheless. Be sure to accurately assess what level of strength your speakers are going to require.
Battery Life
Battery life is equivalent to convenience. The longer the battery life, the less often you will have calls, songs and movies interrupted. 40-hour battery life may not be totally necessary for most cases. However, if you need to have your phone calls on your headphones at any given time, the extra battery life could save a lot of headaches. For the occasional listener, more moderate battery life will do the trick.
In many cases, you won't need to have your headphones last longer than 2-3 hours if you're listening to a podcast or watching a movie. Most models these days boast battery lives at 5 hours minimum, so even the shortest battery life is longer than what a casual listener needs. With other factors in mind, decide for you what is the right expectation in terms of battery life.
Conclusion
Neckband headphones are great for many reasons. They carry greater sound capabilities, battery life, and comfort. They are specifically designed to stay on all day long. Any of the products on our list will be a good fit for your purpose, but some, better than others. Hopefully, you have found this guide helpful in your pursuit of high-quality neckband headphones.
Expert Tip
Retractable earbuds are an underrated feature. It makes a world of difference when you can pull the cord directly into your headphones. Without dangling cords, there is nothing to annoyingly swing around or get caught in anything.
Did you know?
The inventor of the first headphones was a man named Nathaniel Baldwin. His design was a modification of small speakers. Originally the design was called an improved telephonic earphone.
If you've enjoyed this review by Music Critic, please leave a positive rating:
[vc_separator