For day to day use, an in-ear option is quite often the only way to go, their pocket-sized portable nature makes them a convenient solution for a busy lifestyle so today we have gathered the top contenders for the 10 best earbud headphones in 2023 to inspire your next purchase.
The current market is literally littered with economical earbud options, some which are mass manufactured sporting unique branding but varying very little from one product to the next. We have done our best to collate a few of the better models from the best-seller rankings to examine and determine their capabilities.
We have hand selected a range of different earbud models, each suited for a range of different uses and hopefully will have chosen a good variety to cover your individual needs.
At a glance:

Our top 3 picks
Our team's top 3 recommendations
Best Overall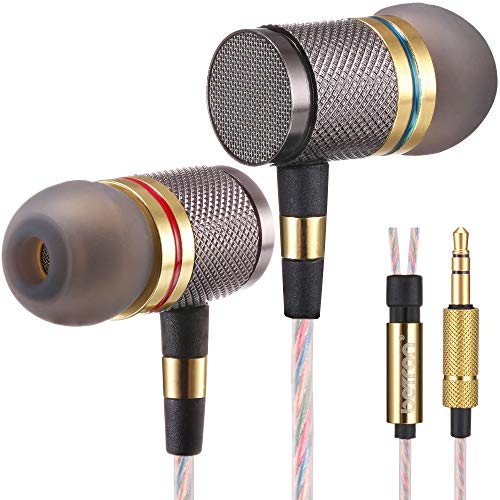 Betron YSM1000 Headphones, Earbuds

Metal housing.
Great drivers.
Integrated microphone with noise isolation.
Tangle-free wires.
Premium Quality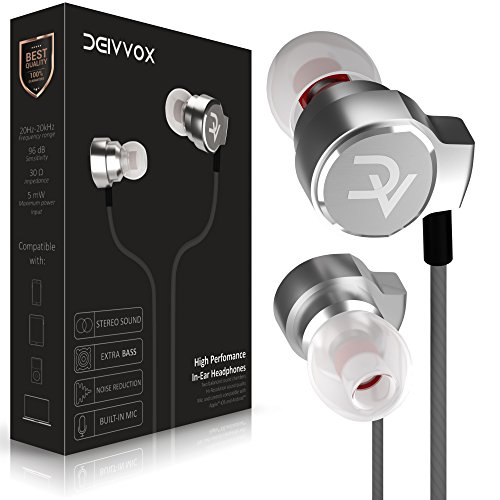 Earbuds - Wired Earbuds with Microphone Mic and Volume Control

Metal housing.
Great drivers.
Integrated microphone with noise isolation.
Tangle-free wires.
Great value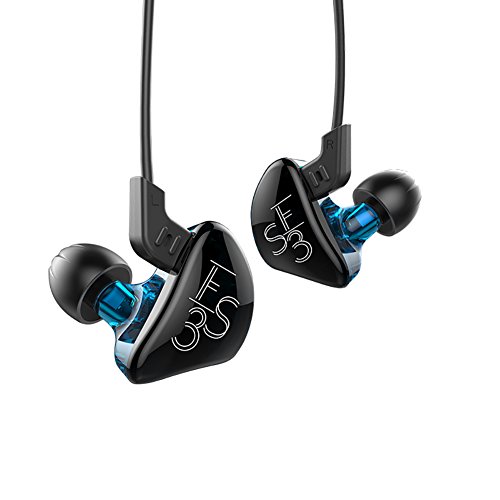 Panasonic ErgoFit In-Ear Earbud Headphones RP-HJE120-K

Metal housing.
Great drivers.
Integrated microphone with noise isolation.
Tangle-free wires.
View The Best Earbud Headphones Below
1. Betron YSM1000 Headphones, Earbuds
Kick-starting today's reviews is a beautifully manufactured, wired earbud set from Betron, which benefit from a very robust construction.
The housing is metallic with an industrial design all external components are well-designed and reinforced to provide strength. They feature slim-fit silicone earbud tips which come in 3 size options as well as one set of memory foam earbuds.
They harbor a 9.2mm bass driver, blessed with accurately sensitive diaphragms, they have a flawless, broad-range frequency response and deliver powerfully dynamic audio.
Their wires are created with tangle-free properties, for additional durability and their connectors have gold plating for better signal fidelity.
The integrated microphone is good quality and is blessed with noise isolation technology that helps maintain communication clarity. They come with a carry case to keep them and their accessories safely stored within.
Pros:
+ Metal housing.
+ Great drivers.
+ Integrated microphone with noise isolation.
+ Tangle-free wires.
Why We Liked It - They are well-engineered and benefit from effective signal isolation capabilities. They feature a durable and comfortable design and won't break the bank.
2. Earbuds - Wired Earbuds with Microphone Mic and Volume Control
This next set from Deivox make for another good wired alternative which provide much needed durable quality with an appealing retail price.
They feature snug-fitting earbud tips which are soft and conform to the wearer's ears making them more comfortable to wear and keeping them exactly where you want them. They are very lightweight and come with a range of sizes, 3 in silicone, and 3 in passively noise canceling memory foam.
They have a durable dual twisted wire which gives it double the tensile strength and prolongs the shelf life as the wires can often be a weak point.
The drivers are engineered pretty well for a low priced set and they have noise isolation capabilities which keep audio free of surrounding interference, reducing background sound by up to 90%.
They have a microphone and built-in multi-function button controls and come with a custom storage bag to keep all their accessories stored away safely inside.
Pros:
+ Durable construction.
+ Strong cords.
+ Extensive range of tip choices.
Why We Liked It - We like that they provide 6 tips to choose between offering more choice ultimately provides a more comfortable fit.
3. Panasonic ErgoFit In-Ear Earbud Headphones RP-HJE120-K
The ErgoFit model from Panasonic is a leading industry bare-essential wired model, which we have highlighted in many of our low-budget headphone articles because they provide a fantastic audio solution with great features and an accessible price-tag.
They feature a standard neodymium driven array and benefit from circuitry optimization that focuses on the low-frequency tuning and waves recognition to provide better bass management. The audio has better balance and punchy bass which is free of distortion even at high output.
They are kitted-out with premium earbud tips which are crafted from an ultra-soft foam that conforms to the ear canal of the individual. Panasonic's provide 3 complimentary sizes of their proprietary ComfortTips so that users can choose their idyllic fit.
The wiring is suitably durable and has an ample length of 3.6 ft, it is well-made and provides a good quality direct signal free of background hum.
Pros:
+ Premium ComfortTips.
+ Bass optimization.
+ Powerful audio reproduction.
Why We Liked It - They are low-priced and the quality of the audio wipes the competition out of the water, it has great depth and great treble clarity. The expandable foam tips compress to insert and provide a snug-fitting comfortable fit that stays in place.
4. Sony MDR-XB50AP/L Extra Bass Earbud Headset
This next set is from Sony's well-received extra bass series which we have examined a few products from in the past for their impressive low-frequency handling and extended low-frequency response.
These bass earbuds are a wired model which are well-manufactured and engineered to deliver powerful bass. 12Mm and utilize high-grade neodymium magnets. They have a tightly sealed bass duct design which also helps optimize the bass reproduction giving it better clarity and keeping it distortion free.
These cheap headphones are very well made and have comfortable hybrid silicone earbud tips which are ergonomically formed to provide a secure fit. The wires are flattened y-leads which are less prone to entanglement, they are 1.2 meters which give adequate freedom of movement.
The integrated mic is of very good quality and can be controlled via multi-function buttons and the headphones are idyllically compatible with smartphone playback controls.
Pros:
+ Extended frequency response.
+ Optimized bass.
+ Comfortable hybrid silicone tips.
+ Tangle-free flattened cords.
Why We Liked It - They are exceptionally well-designed and provide premium audio in an affordable package.
5. Betron ELR50 Earphones Earbuds Headphones
We have previously featured the ELR50 model from Betron in other in-ear headphone articles as they provide another exemplary option with quality manufacturing and a low price-tag.
They again feature a metallic casing which is far a more durable housing for their internal components. They have a lightweight nature as the enclosures feature sculpted air vents which are functional as well as aesthetic.
The venting helps to optimize the low-end frequency reproduction allowing them to provide better bass and it also optimizes the treble response as it helps keep the overworked components sufficiently cool.
Their drivers employ neodymium magnets and respond accurately, serving-up powerful full range stereo audio with notable dynamic details.
They feature innovative ear tip designs that ensure they stay securely in place and come with 3 variations to choose from to pick the most comfortable for the individual.
Pros:
+ Metallic build.
+ Sculpted air vents.
+ Good response.
+ Better bass handling.
Why We Liked It - They are well-engineered and feature great material choices and innovative design implements they have a good amount of headroom and the bass has a great impact on the mix.
6. Symphonized NRG 3.0 Wood Earbuds, In-Ear
This next set has some beautifully unique design elements that help it stand out in the overcrowded earbud market.
For starters, the manufacturers have opted to hand-craft each set from wood, a decision which gives them not only a personal touch but a far higher level of quality control in the fabrication processes.
Choosing wooden housing gives the earbuds an acoustically inert enclosure which has natural dampening abilities and provides an environment which can house more powerful drivers without the risk of distorted bass or muddied mid-range frequencies.
Secondly, they feature an open are also the open-back design which provides an air intake as the Betron vented set, helps to cool high-frequency motions ultimately delivering a better treble reproduction.
These design decisions grant them the ability to deal with an extensive frequency range allowing them to provide a broader range sound with a richer output and clearer overall definition.
They are beautifully-engineered and come with a choice of 3 custom-made ergonomic ear tips and are available in 6 different wood type/stains.
Pros:
+ Handmade.
+ Wooden.
+ Open-backed.
+ High definition.
Why We Liked It - They are aesthetically beautiful as well as functional, the design concept is solid from conception to completion and they are surprisingly low cost considering that they are a handmade set rather than a mass produced option.
7. Earbuds In-Ear Headphones/Earphones: Noise Isolating
Our next selection boasts an audiophile-pleasing level of audio quality and they are very well-manufactured with a great choice of components and materials within their solid construction.
The Ferro model features high-quality dual dynamic drivers which are typically found in models which retailer for twice as much cash investment. They have been fine-tuned to recognize a vaster incremental wave program which allows them to reproduce the signal far more accurately.
They have an extended frequency response and function on a broader range. They serve-up rich dynamic soundscape with great treble clarity.
They have powerful decibel levels and fantastic active noise cancellation are widely compatible. The tips are skin-friendly and have anti-slip properties, they form a fab seal within the ear canal and stay put.
Pros:
+ Premium parts for a less than premium price.
+ Broad-range stereo audio.
+ Great sounding set of earbuds.
Why We Liked It - They are crafted with premium quality parts and very well-engineered. We found they needed a small break-in period before they warmed and really impressed.
8. Mpow Flame Bluetooth Headphones Waterproof IPX7
The Mpow Flame edition Bluetooth earbuds should be a recognizable set if you have read any of our budget allocated headphone review articles because they have made several appearances for their generous spec to expenditure ratio.
They are an impressive pair of wireless earbuds linked via a strong flattened cord that sits around your neck and supported by strong but supple full over-ear hooks that lend them the perfect properties to be a good sports audio solution. They allow for a full range of motion.
The Bluetooth on board is a little older but we have no qualms with it as it provides a stable connection free of stutter and is widely recognized and supported by major devices.
They have a well-tuned bass driven array with a decent response and serve-up perfectly adequate well-balanced audio with good dynamic nuance.
They are nano-coated and have an IPX certification of 7 rendering them sweat-proof and moisture resistant enough for outdoor ventures.
Pros:
+ Full over-ear hooks sports model.
+ Good dynamically balanced audio.
+ IPX-7 rated.
+ Affordable model.
Why We Liked It - They are an accurate representation of the key capabilities you should look for in an inexpensive sports model on the current market. There are many similar products (probably from the same fabricating lines) and they provide good value for money.
9. ROVKING Running in Ear Noise Isolating Sweatproof Sport Headphones
Our penultimate pick is a streamlined sports headphone from ROVKING which have all the beneficial support of a full over-ear hook without the discomfort some full-sized hooks can bring with them.
When it comes to working out or going for a rigorous run, over-ear hooks are always the best way to go but some of us just can't get used to them no matter how flexible or lightweight. This set is specifically designed to provide a low-profile option for smaller ears. They rely on pliable memory were incorporated into the cord itself which lets users bend it into shape around their ears to securely keep the earbuds in place.
The earbuds sizes are also smaller and 4 different sized pieces are provided to ensure a comfortable fit. They are shaped to create a seal that helps to passively isolate the listener from background noise and deliver the audio more directly.
They have a good microphone for hands-free communication, operated by their in-line remote control. They are made from non-slip materials and are sweat-proof.
Pros:
+ Pliable memory wire over ear hooks.
+ 4 earbud tips.
+ Immersive sound seal.
Why We Liked It - They are well-designed and provide a slimmer over-ear hook with a lighter weight and superb stability.
10. Dkaile Magnetic Wireless in-Ear Earphones
We have one last wireless in-ear option to leave you with, an exceptionally low priced magnetic pair with merits from Dkaile.
They feature the companies patented 'Anti-drop' tips which are ergonomically angled and aided by a comfortably formed auricular wing support to help keep them locked in position. This extends the range of motion for the wearer, the magnetized backs allow them to clip into a low profile necklace between use and provide a convenient on-body storage solution.
They are well-constructed and the manufacturing matches many similarly styled sports models. Their drivers utilize good quality components and rely on neodymium to create their alternating polarity and produce sound waves. They are suitably responsive the audio has good balance and notable dynamics.
They are sweat-proof and have a flattened neck cord to prevent tangling and keep them durable. It features user-friendly in-line controls.
Pros:
+ Anti-drop tips with support wings.
+ Good quality.
+ Inexpensive option.
Why We Liked It - They offer good value for money, the audio reproduction is adequate for a low-budget set, the Bluetooth is 4.3 which is a little older but still widely compatible.
Earbud Headphones Buyers Guide
What are the benefits of an earbud model?
The benefits of an earbud model as briefly highlighted in our introduction is essentially their smaller size which enables them to be conveniently tucked away and taken with you whether you go.
They are one of the most popular headphone styles and whilst a larger over-ear model, arguably serves up superior audio an earbud trumps them for most tasks.
They allow users much more freedom in terms of what else they can do at the same time as wearing them and are almost always preferred for sports pursuits.
In the past, their main flaw was that they were circular and ill-fitting which led to them constantly fall out of ears.
Their other main shortcoming was their tendency to tangle-up but as you will have noticed from our reviews the marvel of modern manufacturing has found some innovative ways around these problems as it has developed and evolved over the years.
Their smaller sizes mean they have to harbor some very advanced array designs and whilst the majority on the market utilize very similar components (such as their neodymium magnets) not all perform in an equal manner. So to help shed some light we have compiled some tips in the section below to give you a list of factors to prioritize and features to keep an eye out for, but first, let's discuss earbud styles.
Earbud Styles
Firstly we have wired and wireless types and within each category, there are a few different styles out there other than your bog-standard left and right earbud option.
With wired models, we typically only see a difference in the way they stay in position, with sports aimed models featuring stronger support systems to keep them in place; such as full over-ear hooks.
Other support systems include wings hoops fins and inner-ear hooks. Occasionally we see neck-braces or collars to keep them in place.
With wireless options, we again see similar support systems but we have a bigger range of design style options such as those with magnetic tips which snap together around your neck enabling them to be worn like a necklace between use.
One of the main reasons to go wireless is for convenience and to rule out the wire entanglement issue altogether the smallest and most convenient style in recent years is a true wireless earbud which comes with its own storage case that doubles as a charging station carrying a spare charger for your buds.
What to look for when buying Earbud Headphones?
Regardless of the exact style, you end up choosing there are some very important things to consider. All in-ear models must provide a comfortable fit because they are worn inside the mouth of your ear canal and can cause abrasions and damage if they aren't ergonomically designed. This should be kept a high priority piece of criteria.
All of those we have examined in today's reviews feature an ergonomic design conducive for wearing within the ear.
Generally speaking, a modern earbud model will have a removable tip and a selection of sizes is typically provided in most, but not all cases. You should opt for a set with a good range to ensure you get a variety of choices and don't have to settle for anything unsuitable.
The earbud tips must be well-manufactured and fit the earbuds securely or they could accidentally work their way off of the device and become lodged in your ear which is a potential safety risk. Technically speaking you should update, change and replace your earbud tips regularly so that they don't become stretched out to prevent this from occurring.
They can stretch over-time as they usually are made from flexible materials. If they aren't flexible enough they aren't comfortable enough, but at the same time if they aren't rigid enough they won't stay put in the ear and can't provide a suitable audio seal, which means sound escapes to those around you and the quality of the audio you hear will potentially be sub-par. The materials chosen need to be skin-friendly to once again ensure suitable comfort levels.
The better portability which a set of earbuds provide over their larger over-ear counterparts is their saving grace and one of their biggest demographics tend to be those with an athletic nature, who are looking to complement their workout routine with their favorite playlist.
For sports, use is it imperative that they stay in your ear whilst you move around. This means you will have to look for strong support design like the sets discussed above with over ear/or inner ear hooks.
Earbuds obviously have smaller drivers, typically measuring between 8 and 10mm but there are a few models with slightly bigger ones. Their size limitations often mean they rely on accurate tuning or wave optimization to reproduce with better dynamics.
No matter your budget the durability of the manufacturing and the quality of the audio produced should be key factors to consider. All parts should be of the best grade your money can afford you, so be sure to browse.
When it comes to wireless make sure you source a set with up to date connectivity, but remember, you can save a few bucks with an older version as long as you make sure it isn't obsolete.
Conclusion
There is no doubt that a decent set of earbuds is a sensible solution for most everyday audio needs. The exact style you require is entirely dependent on their intended use.
The earbud headphone market is crawling with affordably priced models but some budget models can be a little deceptive with their specs and marketing.
Hopefully armed with the advice of our article and buyers guide you will be well on your way to spotting the gems among the garbage masquerading on the market.
Expert Tip
If you are looking for a more high-end earbud option we suggest the Bose SoundSport model for the athletically inclined and for the audiophiles out there try a high-resolution triple or quad-core set of earbuds.
Did You Know
If you are specifically looking for a set of wireless earbuds we have a whole host of headphone articles archived which are Bluetooth specific, we have even dedicated an entire article to True wireless earbud options.
If you've enjoyed this review by Music Critic, please leave a positive rating:
[vc_separator