Join us as we take an exclusive look at some of the current best-selling wireless in-ear options on the market, in an attempt to crown the 10 best Bluetooth earbud in 2023.
There are literally millions of models to consider as candidates and a best-seller isn't always an accurate representation of the best products available.
We are going to examine the specs, give the build-quality a check and determine what sets them apart from the rest.
Sometimes it can be tough to tell the difference between a well-marketed piece of junk and some of the better wireless models out there, so to help shed some light on what to look for, we have selected a variety to peruse and provided a buyers guide to give you all the necessary info you might need.
At a glance:

Our top 3 picks
Our team's top 3 recommendations
Best Overall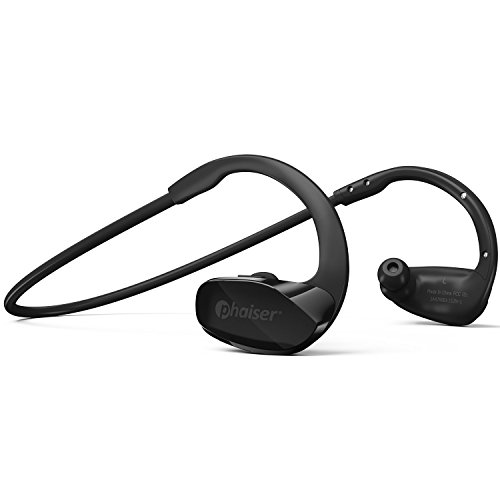 Phaiser BHS-530 Bluetooth Headphones

Sweatproof
Easy and quick to pair
Very secure fit
Memory foam tips
Great value for money
Premium Quality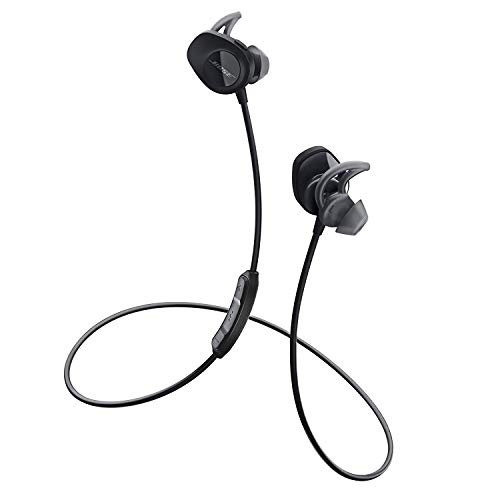 Bose SoundSport

Sweatproof
Easy and quick to pair
Very secure fit
Memory foam tips
Great value for money
Great value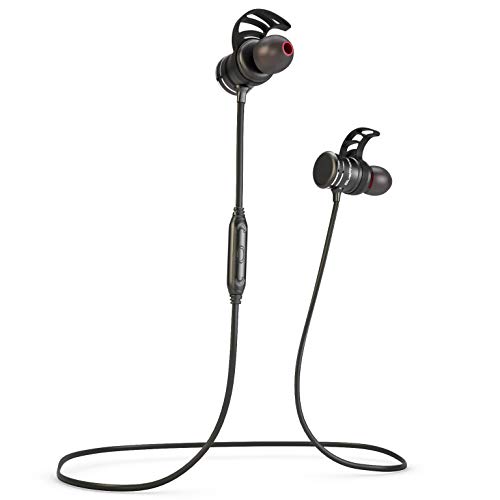 Bluephonic Magnetic

Sweatproof
Easy and quick to pair
Very secure fit
Memory foam tips
Great value for money
View The Best Bluetooth Earbuds Below
1. Phaiser BHS-530 Bluetooth Headphones
These Bluetooth headphones are ideal for exercise, thanks to the secure fit that you get from the over-ear hooks and the memory foam tips that will adjust to your ears. They come with a lifetime, sweatproof warranty, which offers you the assurance that the most vigorous workout won't break them.
Playtime from a full charge is approximately eleven hours, so they can be worn for more than just exercise. Bass fans will love the way that low-end tones sound through them. The Bluetooth 4.1 technology is functional and effective, and you can pair your devices to the Bluetooth headphones with ease.
Pros:
+ Sweatproof
+ Easy and quick to pair
+ Very secure fit
+ Memory foam tips
+ Great value for money
Why We Liked It - The anti-drop, secure fit, combined with long battery life, and proofing against sweat, make them the best Bluetooth headphones for both exercise and everyday use.
We have looked at the SoundSport headphones from Bose on a number of occasions because they literally epitomize exactly what you deserve from a premium pair of Bluetooth headphones for sports use.
They provide very high-quality audio in a functional low-profile design. We love their exclusive 'StayHere' tips, their ergonomic design truly helps the bud to maintain their position within the ear. The flexible nature of the fins is far more comfortable and they really do lock into place, latching inside of your inner auricle. This grants the wearer much more freedom and allows for rigorous movement.
They have a durable linking cord that enables them to dangle freely about the neck in-between listening.
The drivers feature premium quality components which deliver audio with detailed dynamics, they are well-engineered to Bose's proprietary tuning that keeps the audio blend consistently balanced as their active equalization works hard in real-time to optimally shape the sound.
The integrated microphone is good quality and provides a clear communication signal. They harbor an industry-leading noise cancellation chip which reduces the external noise and their battery musters up 6 hours of pristine listening between full charges.
Their internal electronics are well-sealed to keep moisture out.
Pros:
+ StayHere tips.
+ Premium quality product.
+ Active Equalization.
Why We Liked It - They are a well-engineered set with a design that is durable as well as comfortable the 'StayHere' tips do exactly what they say and the critically acclaimed audio quality that they offer to the wearer is truly exceptional, though they will set you back a fair amount for the privilege.
Here we have the WaveBeat model from Bluephonics range of wireless headphones, they are a beautifully manufactured set which is endowed with an advanced CSR chip which dons them with superior sound dynamics in comparison to the majority of other wireless Bluetooth earphones.
The audio is bass driven with great clarity and definition and free of distortion even at high outputs.
They feature auricle clips to help keep them in position whilst you walk, they are ergonomically comfortable and sweat-proof. They are made with rubberized ear-tips which fit snugly within the mouth of your ear canal and have anti-slip properties. They are nano-coated and the electronics are well protected, they have an IPX rating of 5.
They also harbor a CVC chip to provide exterior wave cancellation, suppressing background noise for a better listening experience. This works hand-in-hand with their naturally superior passive cancellation for a distraction-free travel audio solution.
The Bluetooth CSR chip is a little older than some models at version 4.1 but it provides stable, simple pairing to your device. They provide roughly 8 hours of streaming use with active noise cancellation and can fully recharge in under 2 hours.
Pros:
+ Advanced CSR chip for better wireless audio.
+ ANC capabilities.
+ Skin-friendly sweat-proof ear-tips.
Why We Liked It - Despite having an older Bluetooth version the sound is comparably better to many similarly priced sets.
We have previously highlighted older models from the TaoTronics range but this upgraded set makes for a fantastic choice.
They feature the familiar magnetic 'necklace-like' design we are familiar with from the brand (and others) that gives them somewhere to hang when they are not in use preventing them from getting lost or damaged in a pocket.
They are ultra-lightweight (weighing around 10% less than traditional earbuds) so their portability is pretty much as good as it gets. They feature flexible inner ear hooks to help keep them in your ears.
They have an updated Bluetooth version (5.0) with new and improved signal quality that provides a secure Bluetooth connection that is stutter-free and reliable with a good range.
The miniature arrays work very well to deliver well-balanced audio with energetic dynamics, crisp highs, and bass with powerful impact. The audio is immersively assisted by their noise-canceling chip which helps to tune the world around you out.
The microphone is good quality and allows users to effortlessly answer calls on the go via its in-line controls.
Pros:
+ Magnetic earbuds.
+ Great sound.
+ Bluetooth 5.0.
+ ANC.
+ Competitively priced.
Why We Liked It - They offer up some very desirable features for an affordable price, they are well made and should comfortably stay in place. Their magnetic necklace-like design means they can be worn discreetly.
5. Wireless Earbuds Headphones iTeknic
This next pair make for a good low-budget option, they have a similar design to the premium Bose SoundSport model, in the ergonomics department. They feature little rubber auricle wing tips to help ensure they stay in place.
They are made with a flexible, skin-friendly rubber that is water-resistant and therefore sweat-proof, and the company provides 3 different hooks and tips to customize the most comfortable fit.
They have built-in magnets and can be worn around the neck like a necklace similar to the Phaiser set.
They have a current Bluetooth 5.0 connection and a CVC 6.0 chip to tackle background noise. The audio is good quality, full-range stereo sound and they work for about 25 hours at a time.
Pros:
+ Magnetic model.
+ Support wings
+ Budget option.
Why We Liked It - They are a good low price version which incorporates 2 thoughtful design elements from some impressive premium models, with its wings and magnetism.
Next-up another option which you can wear around your neck, this time featuring a heavy duty neck collar that harbors sensitive noise rejection mics to assist the noise cancellation chips installed within for a listening experience free from external distractions.
They are well-made and affordably priced once again the technology onboard is a little outdated but not so much so that they are useless. Their active noise cancellation is highly effective reducing background decibel levels by 95%
They are fabricated with good quality materials and the driver components function seamlessly to provide full-range audio with a good dynamic definition.
They are sweat and water resistant, with a rating of IPX-4 which means they can handle light rain and are ideal for a workout.
They feature Everplay-X technology which allows users to continue using them for calls and audio after the noise cancellation battery runs out.
One of our favorite features that the neckband brings to the table is its vibrating notification signals which alert the wearer to incoming calls as well as indicating when you have stepped out of the transmission range which is decidedly useful.
Pros:
+ Robust neckband option.
+ Everplay-X tech.
+ Vibration notifications.
Why We Liked It - It encapsulates everything users with a busy lifestyle require from a set of earbuds, the collar is sturdy and keeps your buds dangling for easy insertion between other tasks.
This next set feature an alternative full over-ear hook supported design style. The earbuds function wirelessly but are coupled together via a linking cord, which incorporates a high-quality memory-wire which you can bend without breaking, allowing users to mold it into a comfortable behind ear position for a fit better-tailored to the individual.
The memory-wire is super-thin making it more discreet and much less cumbersome than some full-over ear hooks. Its additional flexibility and the ability to be adjusted closer to the ear means it does a great job at keeping the actual earbuds in place for you allowing for a more rigorous range of motion.
The Bluetooth on-board is version 4.1 technology, it is aided by the (now) industry standard AptX audio codec and Multipoint tech to help it accurately reproduce audio transmitted wirelessly for an authentic playback true to the original signal.
It features a liquid repellent coating 'LIQUIPEL' which helps keep it water-safe and sweat-proof. It has a decent quality built-in microphone which can be easily controlled with its mini inline remote. The battery provides around 8 hours of continuous use.
Pros:
+ Ultra-thin full over-ear hook memory wire.
+ Apt-X tech for better streaming.
+ Liquid repellent coating.
Why We Liked It - It features a very strong design, which may be a suitable solution for those who require full over ear support for sportier pursuits that just can't get to grips with a traditional hook.
8. LG HBS-910 Tone Infinim
The Tone Infinim model has a neck collar support system similar to the Phiaton set we examined but their neckband actually incorporates an innovative retractable earbud design to take care of wire management. They function wirelessly using an advanced audio distribution feature over a Bluetooth connection, but help prevent entanglement and provide a more durable solution than a traditional neckband headset.
The buds feature comfortable skin-friendly gel tips which fit snugly in the ears. They rely on an advanced quad-layer speaker system which ensures the driver arrays work optimally to serve up top-quality full-range stereo audio with a rich soundscape, providing the signature Harman Kardon sound.
It has dual micro-electro-mechanical system (MEMS) microphones which are highly sensitive and formed from silicone.
The battery is very efficient, it provides 16 hours of call-time, 10 hours of music streaming and has a standby of about 22 days! It recharges fully in around 2 hours.
Pros:
+ Heavy-duty collar with retractable earbuds.
+ Gel tips.
+ Dual MEMS microphones.
+ Efficient battery which charges quickly.
Why We Liked It - They are a premium set with a modern design which focuses on functionality.
Now for an entry from Anker which is an immersive lightweight set supported by flexible inner-ear auricle hooks that help the buds stay in prime position during a workout.
The SoundBuds Slim+, as the name suggests is a slimline set which is ergonomically designed for a non-intrusive ear canal fit. They have shallow depth and come with different sized custom accessories to choose from.
They are well manufactured and have robust metallic housing to keep their internal electronics sufficiently protected. The buds are strung-together with a cord that keeps them linked and allows them to dangle freely about your neck.
They harbor some of the industries leading technologies to help them function seamlessly over a Bluetooth connection and provide accurate audio reproduction with signal clarity free of any stuttering. The sound has great fidelity, good balance, and powerful bass.
The battery adequately provides 7 hours of use and charges in just 1.5 which is a pretty fair trade-off. They are IPX-5 certified and will survive getting caught out in the rain as well as heavy perspiration. They come with a robust storage case.
Pros:
+ Great audio.
+ Flexible auricle hooks.
+ IPX-5 certified
Why We Liked It - They have very comfortable flexible inner-ear hooks and provide world renowned Anker audio quality.
Last on our list but only numerically speaking is a superb set from Sony which offers up another neckband style design which conveniently is capable of folding away for a more compact storage solution. It is low profile and flexible as well as lightweight which means it can be worn hidden beneath the collar of a shirt.
This renders them idyllic for taking out and about on the go as they are lightweight and highly portable but prevent the linking cord that runs between the left and right earbuds from tangling when not in use.
They feature larger than average 12mm drivers which provide a little extra surface area to reproduce audio signals with. The sound is well-defined with good dynamical nuance.
The earbud tips are silicone based and slimline with a snug-fitting ergonomic shallow-protrusion that keeps them very comfortable for long periods.
They operate seamlessly over a reliable Bluetooth connection and capably deliver 9 hours of use between charges.
Pros:
+ Low profile, flexible, folding neckband.
+ Refined audio.
+ Competitive price.
Why We Liked It - Their larger drivers provide superior sound when compared to an average 9mm set.
Bluetooth Earbuds Buyers Guide
Which Bluetooth Earbuds for Working Out?
There are a number of impressive sports headphones available with manufacturing honing in on the niche in the market. The best models typically feature a support system of some sort, be it in-ear or over ear hooks, wings, tips, or fins to help keep the buds from slipping out as you move around.
It is imperative that they are skin-friendly and non-slip and of course ergonomically shaped so that they don't cause any damage to your ears.
When you workout you tend to sweat, so the IPX certification is also of importance. We have reviewed a plethora of sports models over the years so be sure to check them out and see our expert tip below for a link.
From those we have reviewed in today's article, we would highly recommend the Bose SoundSport model, though they are a little pricier.
See more wireless headphones for working out here.
How to Connect Bluetooth Earbuds to PC?
Whilst it varies a little from one operating system to another, it is a fairly simple process to pair your earbuds to a PC, providing it has a built-in Bluetooth receiver or a plug-in Bluetooth receiver.
First, you need to make sure that it is switched on and that your volume levels on the PC (or Mac) are suitably adjusted. You should begin pairing it from a distance of about 1 meter despite many being capable of transmitting far further afield it helps to eliminate reception distance if you are problem-solving when syncing a device.
Some headphones require specific Bluetooth drivers most of which are available online for a free download so you may need to have your internet/ WiFi connected to initially get the software which will help your computer recognize the earbuds.
You will need to make sure that your computer supports the audio distribution profile as many vary in their specs.
Once these steps are followed it should be relatively easy to select your buds and start streaming to them.
Related; PC Headphones Review
How to Wear Bluetooth Earbuds?
How to wear a set of earbuds is actually a little dependent on the earbud style itself, as some have proprietary lock-in methods which require them to be twisted a little upon insertion, but generally speaking, you place them comfortably within the mouth of your ear canal.
The depth they enter into the canal itself varies from model to model and some people prefer a shallower tip, though a longer tip can help them stay in place better as there is more for your ear to retain and keep hold of.
The comfort of the tip length is subject to individual preference, though many models come with a range of tip sizes so make sure you try each and choose the pair which suit you best on a personal level.
What's the difference between earbuds and earphones?
An earbud technically speaking has a more protruding tip and whilst both sit at the mouth or opening, some protrude a little further to help them keep an established in place. An earphone generally sits on the ear but not always.
How do you charge Bluetooth earbuds?
Some Bluetooth earbuds come with their own docking stations usually they charge via bus power with a USB connection allowing you to charge from your PC or laptop, sometimes this can be plugged directly into an outlet with a plug adapter.
Truly wireless earbuds often come with a storage case to keep them safe whilst traveling that also doubles up as a charging device, storing away power for a recharge later. Again these are usually USB or micro-USB.
Some headphones benefit from a rapid recharge function which provides a few hours of listening in exchange for just a few minutes of charging which can be beneficial if you have a busy lifestyle and aren't home for very long.
Conclusion
The wireless capabilities that many earbud models offer along with their smaller profiles make them a useful travel companion. Their compact portability and the conveniences they have to offer, allow them to naturally fit in with our modern lifestyles.
The evolution of modern CSR chips has brought Bluetooth stability to the masses and it is now reliable and versatile even in the budget regions of the market.
Finding a set is not too difficult if you know what you are looking for, the audio capabilities vary from one set to the next but the differences are nominal unless you are comparing a budget set with a high-end pair.
Of course your budget with set the bar in terms of the audio quality you can afford but with such a jam-packed market and the constant product development in the audio electronics industry you are sure to come across a set that will impress no matter your cash investment.
Did You Know?
The earliest wireless headphones were created during the 1960's they operated on radio frequencies receiving wave signals through a radio transmitter, they were an important stepping
If you've enjoyed this review by Music Critic, please leave a positive rating:
[vc_separator