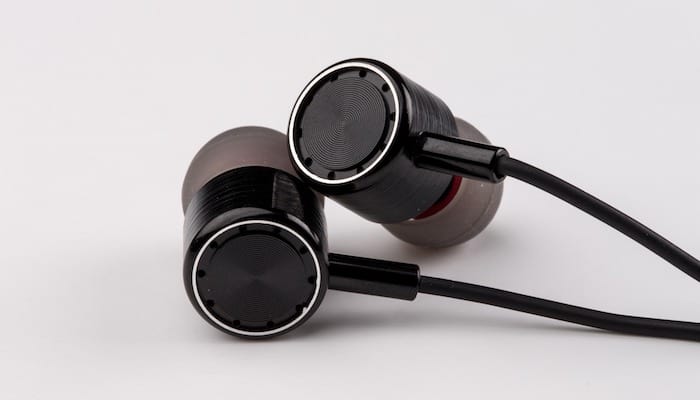 We all like to break a sweat every once in a while. When you do, you want to have the motivation of some great music in your ear. It has been proven that listening to music can increase your stamina by 15% during exercise. With some great features such as heart-rate monitors, in-line navigation, and virtual personal trainers, we now have some helpful technology beating our eardrums. The headphones you use every day may not be the best wireless workout headphones. It's important to pick the right gadgets for your specific purpose.
We have test-driven some of the latest sports headphones available. In order to help you decide which headphones best suit your needs, we have outlined the 10 best sports headphones.
At a glance: Our top 3 picks
Your shortcut to our team's top 3 recommendations
View The Best Sport Headphones Below
1. MPOW Flame Bluetooth Headphones
You don't want to worry about ruining your workout headphones with a little extra sweat. These headphones come with an IPX7 sweatproof rating which will give you some peace of mind. The sound is impressive as they carry a tuned driver, CSR chip and Bluetooth 4.1. The resounding bass is sure to keep your rhythm in check. The mid to high-range frequencies will glisten in your ear. The quality of the sound will surprise you.
MPOW Flame has designed these running headphones with comfort and stability in mind. The ear-hooks and multiple sized memory foam ear tips. You can listen or talk for up to 9 Hours on a single charge thanks to a lithium polymer battery. Your remaining battery life can be viewed via your paired device so you know when to power up. With an attractive design, you will already be looking like a pro with these babies on.
Pros:
+ IPX7 Sweatproof Rating
+ Impressive sound
+ 9 Hour battery life
+ Cool design
Why We Liked It - The comfort level is pleasing to the ears. The sound is exceptional and it boasts a strong sweatproof rating. These are a great fit for any athletic music enthusiast.
2. Anker Soundbuds Curve Wireless Headphones
You'll get superior sound with Qualcomm aptx audio and cVc noise cancelation. Customizable ear tips and ear wings will grant you notable comfort. Extra soft ear-hooks will help keep them in place without any irritation. With a stronger battery, you'll get 14 hours of talk time and 12.5 hours of music listening.
A 10-minute charge keeps your headphones going for an hour. You can be confident going the extra-mile With these wireless earbuds. They sit inside a water-resistant case equipped with nano coating. In-line button control gives you control over volume, song changes and calls. You can navigate all your favorite workout songs without touching your phone.
Pros:
+ Superior sound
+ Enhanced comfort
+ Stylish design
+ 14-hour battery life
Why We Liked It - These are some of the best wireless headphones for running thanks to the ear hooks. The sound is great to keep you motivated and you can charge them up quickly for a short jog in just 10 minutes.
3. Senso Bluetooth Headphones
Why We Liked It
- The
Bluetooth technology is superior
and gives a pleasurable listening experience. The sound is really great with these headphones and it's nice that you can go up to 30ft away with no skips. This allows more freedom. No more worries about staying tethered to your device.
4. Anker Wireless Headphones
These headphones were designed with high octane sport in mind. They come equipped with an IPX7 sweatproof rating, 5.0 Bluetooth and a 12-hour battery life. You get professional grade sound with 10mm drivers and exclusive BassUp technology. Your bass will be just as deep as your love for fitness.
They've got some great customizable ear tips and gently comfortable ear-hooks. For added convenience, you can use the in-line button control to navigate calls and music. Tighten the wire around the back of your neck to keep them snug. Minimalist design will keep you looking and feeling sharp.
Pros:
+ 12-hour battery life
+ Deep bass sound
+ IPX7 Sweatproof
+ 5.0 Bluetooth
+ Enhanced comfort
Why We Liked It - The sound on these headphones truly makes them exceptional. 5.0 Bluetooth and BassUp technology offer a crisp and resounding sound. You can run for an extended period of time and have superior comfort along with a 12-hour battery life.
5. Phaiser BHS-530 Bluetooth Headphones
Phaiser gives you noise isolation, 4.1 Bluetooth, and bullet-shaped Comply T-400 M memory foam tips. Unique design with a memory wire helps keep your headphones around your neck. You can give your all to your workout without worry. These headphones will stay right where you want them to.
Phaiser BHS-530 headphones contain a nano-coating for sweatproof. Your headset will read out the number of a caller if someone is trying to reach you. When this happens, the music will automatically stop. When you're ready to end a call, the music will continue. You can navigate your controls without touch your phone. You can forget about the charger for a total of 11 hours of playback time. With the strengthened Bluetooth you can set your device down and get back to your workout uninterrupted.
Pros:
+ Unique comfort design
+ 11 hours of playback
+ 4.1 Bluetooth
+ Lifetime sweatproof warranty
+ In-line button control
Why We Liked It - These are exceptionally comfortable headphones. The memory wire at the back keeps them snugly in place. You don't have to worry about your headphones coming off during a workout.
6. Otium Bluetooth Headphones
The best wireless headphones for running should have good sound, excellent comfort, and lasting battery life. Otium has got all three. Bluetooth 4.1 offers next-level sound quality without interruptions. The noise isolation technology keeps you focused on what is important. The battery lasts 8 hours on a single charge and they come equipped with in-line button control. These features will make Otium Bluetooth headphones a great pick. They stay right in place for your entire workout and won't fall out. You can stay focused on what you need to without worrying about always re-adjusting your headphones.
Pros:
+ Superior comfort
+ 8-hour battery life
+ 4.1 Bluetooth
+ Sweatproof
+ Excellent customer service
Why We Liked It - When you're working out, you need your headphones to stay in place. These are great for comfortability and sound. You won't need to worry about them falling out as they are super secure. Along with the nice sound and ease of use, Otium is one of the best sports Bluetooth headphones.
7. LETSCOM Bluetooth Headphones
One of the most common issues with headphones is noise isolation. The last thing you want when your new headphones show up is poor sound quality. Though LETSCOM doesn't cost you an arm and a leg, the sound quality stands up to the competitors. An 11mm diaphragm and HIFI bass stereo sound will give you the boost you need. You can listen while working out at the gym and you can tune right into what you are doing. These headphones are comfortable, give you 8-hour battery life and stand up to water better than most other headphones.
Pros:
+ Superior water resistance
+ HIFI bass stereo sound
+ In-line button control
+ Automatic music pause upon calls
+ Heightened comfort
Why We Liked It - Unlike some lesser Bluetooth headphones, LETSCOM stands up to water and sweat better than most. Some users have been able to listen all day in the rain without having issues. When you have that added sense of comfort along with great sound and ease of use, you can be sure these are some of the best sport earbuds available.
8. POP Design Wireless Headphones
Lightweight, great sound, exceptional comfort. That's what we found with POP designs wireless headphones. You can customize the size of the ear tips as you receive 3 different sizes. These headphones will stay right in place. They are great for running, hiking, yoga or any strenuous workout. The sound is loud and clear and can drown out any unwanted noise. You'll find that the sound stands up to a more expensive generation of headphones. You get 30ft of range, 8 hours of battery time and compatibility with IOS and Android devices. You won't go wrong with these headphones.
Pros:
+ Exceptional sound
+ Customizable ear tips
+ 30ft range
+ 8-hour battery life
+ Reliably sweatproof
Why We Liked It - These headphones are so comfortable, you may forget they are there. If not for the amazing sound. You can wear these for any length of workout and you won't be distracted by discomfort. For any activity you need to fully focus on, POP Design wireless headphones will do exactly what you want.
9. SoundPEATS Bluetooth Headphones
SoundPEATS brings some of the best quality sound available in wireless headphones. They compete with headphones in the 200$ range with aptx codec and CSR8645 Bluetooth chipset. Along with the great sound, they are very comfortable. they have a built-in magnet to keep them securely around your neck when you're not using them. An IPX6 sweatproof rating will stand up to dripping sweat on your most rigorous workouts. You'll have 8 hours of uninterrupted talk time, customizable ear-tips, and in-line button control. For any fitness enthusiast, you'll love SoundPEATS Bluetooth headphones.
Pros:
+ Superior sound quality
+ IPX6 Sweatproof
+ Magnetic organization
+ Beautiful design
+ 8-hour battery
Why We Liked It - The biggest surprise when listening to SoundPEATS is sound quality. The best sport headphones have a good sweatproof rating, a comfortable design, and a decent battery life. Sound quality sets these headphones apart. They go over and above the competition in the arena of sound quality.
The Phaiser BHS-750 wireless headphones may boast the best sound quality on the list. A major positive aspect of these headphones is the deep resounding bass and crystal clear trebles. You can customize the ear tips for greatest comfort, and they will stay in place for your workouts. They are sweatproof and won't cut out once you reach your highest intensity level. You get 8 hours of battery life and a magnetic feature to keep them securely around your neck. That adds a bit of convenience when you are taking a break. With the noise isolating technology, outside noise won't be a problem.
Pros:
+ Premium sound
+ 8-hour battery
+ Customizable ear tips
+ Sound Isolation
+ Look great
Why We Liked It - The sound quality is outstanding on these small earbuds. You can run, hike, do yoga or lift in the gym and you'll be pleased with the low bass and clear mids and highs. Any music lover will have a great experience and love these headphones for every type of workout.
Sports Headphone Buyers Guide
Since you're looking for a specific type of headphones, we have decided to outline some of the things you should keep in mind. You'll want the best in-ear headphones for running, hiking, yoga, biking, or lifting. Whatever your sport is, tailor your choice to the ebbs and flows of that specific sport. Some things you'll want to pay attention to are style, durability, sweatproof rating, battery life, and sound quality.
Sound Quality
The number one factor to pay attention to is the quality of sound in your headphones. The sound quality will make or break your entire listening experience. Deep round bass mixed with shimmering treble allows you to lose yourself in the music. With better sound quality, you'll be able to hear everything more clearly. You can listen to music the way it was intended to. With better sound quality comes deep enjoyment of the music you are listening to. You will be able to fully concentrate on what you are doing with the best sound quality possible.
Comfort
The companies that create and design headphones for sport are aware of the comfort needs of consumers. You need to have a comfort level that almost makes your headphones unnoticeable. Most Bluetooth headphones come with a variety of ear-tip sizes to fit all ear models. With ear-hooks, it will be easier to keep your headphones in place. Without the proper level of comfort, you will be too focused on your dissatisfaction to be able to immerse yourself in your workout. Make sure your headphones are equipped to stay firmly on in your ear during intense exercise.
Style
Luckily, we can now choose from a wide variety of styles in our headphones. You can find the style that is right for you with many different slick designs available. Think about what type of activities you'll be doing and what will look good with your personal style. If you have fantastic sound, comfort, and you look great in the process, you'll be more satisfied with them. You can look like the color clad tennis player or the minimalist yoga enthusiast. Finding the right style for your look should be easy. Designs vary greatly and will allow you to express your style while on the run.
Battery Life
Battery life is a factor you may instinctively pass over as a little less important. But when it comes down to it, battery life equals convenience. The less often you need to charge your headphones, the easier it will be. If you remember to plug them in every night, the length of battery life may be less important. If however, you don't use your headphones 16 hours a day and you just like to head out on a whim, you will want longer battery life. The longer the battery life, the easier it is to grab your earbuds and go with the confidence that they'll still have enough juice to get you through.
The best headphones will have a battery life of 7-18 hours. Do your earbuds come with a charging cabin or do you need to plug them into a USB? Consider how and why you are using your headphones and decide how much battery life you need. Imagine you are half-way through your workout and your headphones die. With it, so will your motivation and enjoyment. If you prepare and find a pair with long battery life, you will be worry-free.
Durability
You're looking for a set of headphones that you will be able to be rough with. Your headphones need to be able to stand up to extra pressure. They need to be sweatproof and possibly water-proof depending on your specific needs. Anything can happen when we are being active. You can catch a rogue ball while warming up without forewarning.
If your wireless headphones are built to withstand a little bit of abuse, you won't have to worry about replacing them anytime they are banged up. Contact the manufacturer if you notice any defects. Companies are able to stand behind their products. Pay attention to warranties when you are buying. If you have any issues, you want to be able to resolve them easily.
Sweatproof Rating
A sweatproof rating is important for some sports. In most cases, exerting yourself will cause you to sweat at least a little bit. You'll want to be able to do so without worrying that your headphones will short circuit with a bit of moisture. You can be confident that most headphones these days are designed with this in mind. But it is important to check beforehand.
Will my regular headphones work for my workouts?
Your regular headphones are designed to work well under most circumstances. Headphones with wires or older technology will still work, but miss out on some of the benefits of headphones designed for sport. Certain Bluetooth headphones that are meant for rigorous activity. You get more freedom, convenience, durability, and comfort. With no cables attached, in-line button control and customizable ear tips, your new headphones will perform great.
Is sound isolation dangerous?
One worry about sound isolation or noise cancelation is that it can be dangerous while exercising. Headphones these days have ambient sound options. This means that if you choose to, you can shut out the sound around you. You can also enable ambient sound so you can be more aware of the sounds going on around you.
Conclusion
Wireless headphones are the new way to go. You have extra convenience without the cord. Great sound quality with the latest Bluetooth versions, comfort, and style. You can decide for yourself which is the right pick for you. We all have a different lifestyle these days, and the latest Bluetooth headphones have been designed with this in mind. There are headphones suited for the high-level entrepreneur who is hard at work, the early morning jogger, and the artistic music lover. Whatever you're looking for, you'll be able to find.
Expert Tip
Sweatproof may not mean totally waterproof. A nanocoating protects against everyday sweat, but don't expect to fully submerge yourself in the ocean for a couple of minutes. You may find they still work, but always check with the manufacturer.
Did you know?
Bluetooth is actually stronger and more reliable than wifi. That's because there tends to be much less interference between devices using Bluetooth.
If you've enjoyed this review by Music Critic, please leave a positive rating: