Here we go again with our regular round-up of the 10 best headphones, this time for music in 2023. When it comes to doing your favorite playlists justice there is actually a lot to consider.
A great pair of headphones for chilling to your tunes needs to perform dynamically, have an impressive balance and provide enough comfort for you to wear them as long as you like.
We have hand-selected a veritable variety of inspiring options which represent the best within their respective regions.
We are going to give an informative review of each paired with our complimentary buyers guide. This weeks Is a little more in-depth than usual to try to give a general overview of all of the key criteria and prioritize it clearly to cater to a range of different customer demographics.
At a glance:

Our top 3 picks
Our team's top 3 recommendations
Best Overall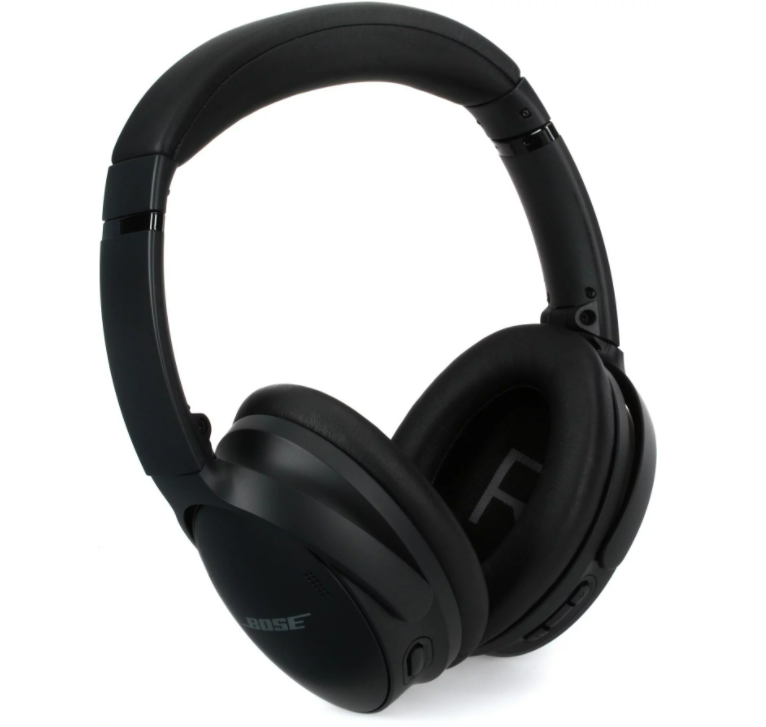 Bose QuietComfort 45

Features two noise-canceling modes
Excellent sound, no matter what volume.
24 hour listening time from a single charge.
Premium Quality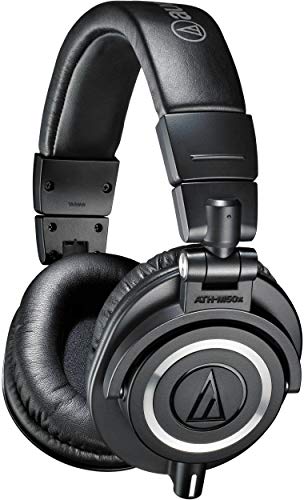 Audio-Technica ATH-M50x Professional Studio Monitor Headphones

Features two noise-canceling modes
Excellent sound, no matter what volume.
24 hour listening time from a single charge.
Great value
TREBLAB Z2 Over-Ear Workout Headphones With Microphone

Features two noise-canceling modes
Excellent sound, no matter what volume.
24 hour listening time from a single charge.
View The Best Headphones For Music Below
The Bose QuietComfort are perfect noise-canceling headphones for on the go. They feature two modes specifically for that use: Quite and Aware. The Quiet mode provides a full noise canceling experience, so you can go about your day-to-day without any interruptions. It's perfect for studying or quiet time. Aware mode does the opposite, ensuring you can hear the outside world around you, making these headphones a perfect choice for commuters who still need to be aware of their surroundings.
The sound provided by these headphones is crystal clear and dynamic, offering depth and fullness. They feature volume-optimized Active EQ, which ensures a balanced performance, no matter what volume you're listening at.
These over-ear headphones are comfortable and stylish, making them perfect for long-time wear. Not only that, but they will last a full 24 hours on a single charge! This means you can listen to your music all day without interruptions. If you forget to charge them, don't worry! A quick, 15-minute charge will provide three whole hours of listening time. This, combined with the strong Bluetooth connection, makes these Bose headphones a pair you can rely on.
Pros:
+ Features two noise-canceling modes
+ Excellent sound, no matter what volume.
+ 24 hour listening time from a single charge.
Why We Liked It - The stand-out features of these headphones are the two noise-canceling modes. You can get peace and quiet or become aware of your surroundings when you need to, all without interrupting your listening experience.
Noise Isolation vs Cancellation - There is a difference between noise isolation and cancellation. Any headphone set provides noise isolation to some degree by keeping out external sound. True noise cancellation is referred to as active noise cancellation where the headphone's system analyzes the frequencies in your environment and cancels out extraneous noise.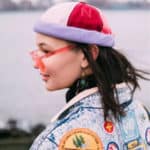 2. Audio-Technica ATH-M50x Professional Studio Monitor Headphones
Next in our sights, we have an affordable premium model which also boasts its own fair share of notable awards.
They serve up a professional listening experience with balanced full-range audio. home-studio monitoring.
They have larger than average 45mm drivers which provide a little extra surface area extending their frequency response and giving bass frequencies the space to reverberate without distorting. The large-aperture cones are driven by neodymium magnets and are very well engineered.
They have a traditional circumaural design with comfortably cushioned closed-back ear-cups that are free to rotate 90 degrees.
They have a detachable cord system which allows them to provide both a straight and a coiled option. they collapse into a more compact size for storage and transportation.
Pros:
+ Larger drivers.
+ Well engineered.
+ Collapsible pair.
+ Choice of cords.
Why We Liked It - They provide great audio quality outperforming many sets in their price region, the collapsible design is handy and durably executed.
3. TREBLAB Z2 Over-Ear Workout Headphones With Microphone
These versatile headphones from Treblab include T-Quiet noise-canceling technology, which is highly effective at eliminating external noise. This allows you to fully take advantage of the crystal clear, hyper-HD sound quality that will please the most discerning audiophiles. For fans of bass-heavy music, then the 'Focused Bass' tech will enhance the quality of the low-end of your favorite tracks.
Although these headphones are ideal for working out, we think that they're suitable for simply listening to music at home or on the go. On top of the spectacular sound quality that we've mentioned, they also deliver supreme comfort. The earpads are made from a super soft, high-end material that is also breathable, allowing you to wear them for long periods without any fatigue.
This product ticks all the right boxes when it comes to connectivity too. It's loaded with Bluetooth 5.0 technology so you get a seamless, lag-free connection. As these are wireless headphones, you'll need to charge them, but with a battery life of 35 hours from a single charge, then you won't need to charge them often. If you do get caught short, however, then you can take advantage of the 3-hour quick charge function.
Pros:
+ Superb Value
+ 35 Hours of Playtime From a Single Charge
+ Bluetooth 5.0 Technology
+ Extremely Comfortable
Why We Liked It - These headphones prove why Treblab is such a popular company with music fans. They offer exceptional sound quality, supreme comfort, and all for a very reasonable price.
Headphone Purpose - Determine your use case for the headphones before picking out the right set for you. Headphones used for mixing or music production should be as simple, accurate, and as comfortable as possible. On the contrary, headphones used purely for listening can have additional features like a boosted low-end, noise cancellation, or wireless connection.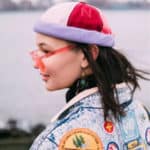 4. Bose SoundLink around-ear wireless headphones
We opened with a Bose QuietComfort set which make for an awesome benchmark and epitomize the series. Now we are heading over to their SoundLink series for a look at a front-running pair.
They are a wireless second-gen model which have been re-tweaked to provide highly accurate input signal output audio.
They have up to date stable Bluetooth compatibility and can be synced to 2 devices at once, transmitting over distances of up to 30 feet.
The drivers perform really well outshining a lot of their competition. They are assisted by TriPort technology for better audio balance and they automatically adjust the mix between the bass, mid, and treble frequencies in real-time thanks to their active equalization processing. This gives the audio natural dynamics.
The ear-cups are durably built and feature impact-resistant, the lightweight foam which gives them next level comfort.
Pros:
+ Upgraded circuitry and Bluetooth.
+ Active equalization.
+ Affordable price.
Why We Liked It - They provide very well balanced audio with great signal isolation from the on-board NFC, they feature some nice advancements to their circuitry from their previous incarnation.
5. Sony MDR7506 Professional Large Diaphragm Headphone
This next selection from Sony are a rather impressive reference set of headphones with very crisp, high definition audio reproduction. These Sony headphones provide a very detailed output rich with nuance making them ideally suited to critical listening.
Their combination drivers feature large 40mm PET diaphragms driven by neodymium magnets. They are stowed away inside comfort-cushioned closed back ear-cups which swivel from an equally padded headband. Their flexibility and headband concept allows for them to compactly fold-away for transit. They come with a free storage case too.
Their cord is coiled which gives it extra strength and longevity the connections are gold plated for a great fidelity, and they come with a free unimatch plug allowing them to switch between ¼" and 1/8" applications.
Pros:
+ Large diaphragm.
+ Reference set.
+ Comfortable ergonomic style.
+ Coiled wire.
Why We Liked It - They are a good entry level reference set of headphones with an attractive price-tag.
6. Avantree [Upgraded] Active Noise Canceling Wireless Headphones
Our sixth selection is this newly upgraded model from Avantree which provide on the go active noise cancellation. They can function wired or wirelessly and provide a good middle ground and the on-board AnC provides an outside decibel reduction of around 20-22dBls working with, or without the wire.
They are well-manufactured and have a fair amount of adjustment in their flexible, padded headband. They are of a closed back nature which naturally suppresses background noise in the first place too. The ear cups are comfortably cushioned and molded to the companies exclusive customized design, to provide a leisurely listening experience.
They are equipped with 2 large diaphragms driven by neodymium magnets which perform well under the pressure, providing great audio.
We previously looked an older model at the beginning of the year in place of the AptX tech this set are bestowed with FastStream tech to provide zero latency listening, ideal for live stream use.
They capably provide up to 28 hours of wireless use and many more when wired. They feature a built-in microphone and user-friendly media controls.
Pros:
+ Newly upgraded.
+ Capable drivers.
+ Zero latency.
+ Well made.
Why We Liked It - They have been given a great upgrade to tick all the boxes for best headphones for music in our minds.
7. Sony MDRXB50AP Extra Bass Earbud Headset
We have previously taken a nose at Sonys MDRXB510AS/B headphone set from their extra bass range. They are impressively engineered, so much so in fact that this set are the only in-ear headphones we have chosen to include in this weeks write up. As you'll learn in our buyers guide generally speaking the music quality is better from an over ear headphone but these little guys make a big impression.
They are well-manufactured from quality materials and they feature larger than average drivers for an in-ear model. The diameters measure in at 12mm (traditionally we see most models at 9-10mm) the extra size is what gives them the edge over similarly designed models.
The audio produced has far better dynamics and the bass is free of distortion thanks to the few extra millimeters provided. The actual buds are made with a hybrid silicone formula which is ergonomically formed to fit comfortably within your ear canal and stay in place during motion.
They are very lightweight, they have wired connectivity, and feature a handy integrated mic for hands-free functions operated by a simple one-button style in-line remote control.
The wires are made with a tangle-free Y-lead design to provide added durability and ultimately longevity to the product and they retail for a fair price-tag given their attributes.
Pros:
+ Premium build-quality.
+ Larger than typical drivers.
+ Ergonomic hybrid silicone tips.
Why We Liked It - As far as earbud models go they don't come much better than this below the $50 dollar mark.
8. Paww WaveSound 3 Bluetooth 5.0 Over-Ear Travel Headphones
Freshly upgraded and strutting it stuff straight out of Pawws WaveSound series is the this 3rd re-imaging priced comfortably and offering genuine value.
They are a wireless set of over-ear headphones which now provide Bluetooth 5.0 connectivity and also feature AptX tech, making them far lower latency outperforming most similarly priced Bluetooth models on the current market.
Their diaphragms measure 40mm in diameter and are driven by beryllium magnets, making them very high-performance. They have a far more accurate response which enhances the dynamics throughout.
They have a broad-range frequency response so can deliver audio with frivolous detail. Their onboard electronics have been custom tuned to the companies proprietary dynamic response patterns which optimize the audio production.
They actively noise cancel to keep signals clear. They are very comfortable to wear, the protein padded ear cups are once again swivel mounted allowing for better flexibility and adding to their overall durability.
Pros:
+ Beryllium magnets.
+ Bluetooth 5.0.
+ Low latency.
+ ANC.
Why We Liked It - They are a well manufactured set which have great electronic engineering and are suitably comfortable for long leisurely listening.
9. Sennheiser HD280PRO Headphone
We have reserved the penultimate position for this superb set from the pro's at Sennheiser. They are technically speaking not one the companies premium sets but they do borrow largely from the top end of the range and are exceptionally capable when compared directly to their competition below the $100 mark.
They have a very robust top-quality build, which offers comfort as well as functionality. The headband features double-hump cushioning which helps to alleviate cranial pressure rendering them extra-comfortable.
They are closed back and circumaural, they pivot freely and harbor some great engineering within their confines.
The dynamic drivers deliver accurate linear sound and attenuate over high-level background noise as you listen. They are very low latency and isolate beautifully for an exemplary listening experience. The audio is perfectly balanced and they showcase the subtleties with the musical textures really well.
They collapse in a unique durable manner and have a single strengthened wire.
Pros:
+ Robust design.
+ Pressure lowering comfort cushioning.
+ Low latency.
+ Aggressive noise isolation.
Why We Liked It - They are a shining example of Sennheisers extensive experience within the industry and a good heavy duty option in terms of durability.
10. TaoTronics Active Noise Canceling Bluetooth Headphones
Last on our list today is this fab addition from TaoTronics which have a durable fold-away design that grants them plenty of portability. They are low priced but very well-manufactured and incredibly lightweight but their engineering is where they truly shine.
Their drivers are 40mm and decked out with rare earth magnets and have a fantastic response. They deliver powerful bass, clear mid-range, and crisp highs. Their digital signal processing relies on an advanced waveguide development and their active noise cancellation isolates beautifully without leeching the life out of the batteries too unfairly.
They feature swivel-mounted ear cups which fold inwards, they are padded and lined to provide an idyllic comfort.
They capably run for around 30 hours between charges and they come with a robustly built storage case to carry them in.
Pros:
+ Solid fold-away concept.
+ Impressive bass.
+ 30 hours use.
Why We Liked It -The folding parts are well conceived and seems far sturdier than other models which employ sliding mechanics.
Wireless vs Wired - While wireless headphones can be nice, keep in mind that there is a degree of latency or feedback that comes with them. That means the music signal may be slightly delayed while the music is processed via bluetooth to your headphones. That being said, wireless options are probably not the best pick for producing or mixing music since they're not an accurate portrayal of the live sound.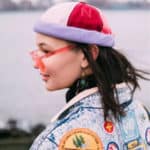 Headphones for Music Buyers Guide
What To Look For When Buying Headphones For Music?
When it comes to what to look for in a set of headphones for music, audio quality and comfort should be considered the 2 most important factors to examine before you buy. That being said with lower-priced models the manufacturers often have to sacrifice one or the other to provide a cheaper choice so it can be difficult to navigate the lower priced regions of the online market.
Generally speaking, larger diaphragms have a better response and performance especially when it comes to their low end. They provide a larger magnetic field to disturb and a larger cone to vibrate. So over ear, overhead models are essentially much more capable of providing better audio.
Just how effective their actual response depends on how well they are engineered. To be completely honest you aren't going to find anything particularly impressive until you are above the hundred dollar mark, though some of those we have highlighted which sit just comfortably below are on par with models retailing for much more.
Closed cup designs are also wise as they isolate the listener from their environment and are more private to listen with as the sound is directed to the user's ear and doesn't leak into the ears of those around you.
Wired or Wireless?
Though the pair you pick will ultimately be slightly dependent on the genres of music you prefer to listen to, the major thing to consider is how and where you like to listen. If it is out and about via mobile devices then you may feel more at ease with a wireless set of headphones.
They allow for more freedom of movement and wires can be cumbersome especially if you live the sort of lifestyle which will require you to put headphones on and off between activities or tasks.
The cords also tend to be the most problematic areas in terms of durability as they are subjected to the most wear and tear during everyday casual use, this is pretty much unavoidable so if you are looking for a wired set to wear out and about it is advisable to opt for a set which has reinforced entry and exit points.
Some models actually come with detachable and even interchangeable cords (like the Avantree Active Noise Canceling) which lends them a longer shelf life, making them a valuable investment.
If you listen within the home then a wired set is a good way to go they actually provide a truer signal as they are direct which gives a more accurate digital reproduction. They are also interference free as some Bluetooth streaming can be a little more intermittent and leave listeners with audio that has a stuttered effect to it.
Over-Ear or In-Ear?
After you have settled on a wired or wireless design you need to look at the level of comfort each provides.
Given that over-ear or around the ear (sometimes referred to as circumaural) headphones are so immersive and direct the audio extremely well, they can be pretty exhaustive to your ears. The headband holds the speakers aside of your head cups provide a somewhat sealed environment about the wearer's ears which it is why it is imperative that the cups are sufficiently cushioned.
Wearing overhead headphones for long periods can become very uncomfortable if they don't have adequate flexibility and padding, likewise, they need to be fully adjustable to allow for the natural variations in people head circumferences and shapes.
If the fit isn't ergonomically generous enough then your ears could be subjected to unsafe sound pressure levels which can be damaging to your ears.
If you decide an in-ear model is more suitable for your individual needs then we recommend you head over to our 10 best earbuds article for the low down, though the Sony set we have included today represents one of the best sets under $30 on the current market in our opinion.
There are more styles and design concepts to consider as they are prone to falling out of ears if not supported somehow or ergonomically conceived.
As briefly mentioned the genre you prefer will likely weigh in as you narrow down your decision if you listen to bass heavy genres you will want to opt for a set with larger drivers and enhanced bass performance and broader low-end frequency response.
Conclusion
At the end of the day, the choice is yours, the headphone market is awash with products but we think we have found a few which surpass the rest in their class. Hopefully armed with the info from our buyers guide you will find the set that suit you best.
As with any audio electronic product, the budget you have will limit just what you can get your hands on when it comes to building and audio quality.
If you have audiophile tastes you will likely need to spend a lot more to suit your needs. If you have a very conservative amount of cash to spend we suggest you hold the manufacturing quality above the audio abilities because constantly replacing less durable models will rack up a lot more in the long run.
Expert Tip
Many companies go out of their way to provide products which can be worn for longer periods though it is advisable to rest your ears and take plenty of breaks. It is important to note that in-ear models are sometimes more dangerous to your ears as far as prolonged use is concerned and overexposure to any direct audio can cause irreversible long-term damage to your hearing.
Did you Know
Our 10 best Beyerdynamic headphones article lists some very promising products as one of the industries oldest and largest manufacturing giants they really have their formula for optimal audio
If you've enjoyed this review by Music Critic, please leave a positive rating:
[vc_separator