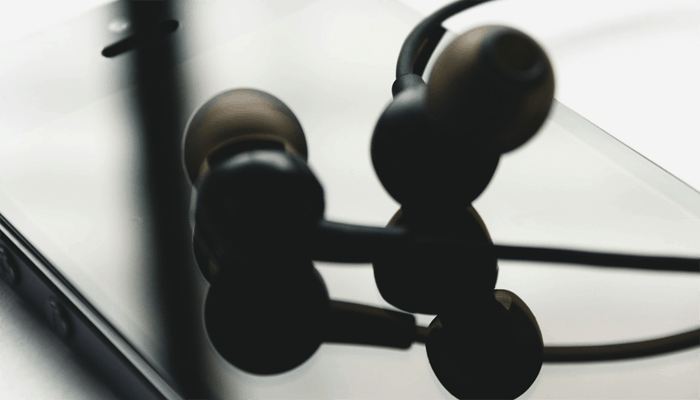 Are you looking for the best earbuds under $20? If so, then we're here to tell you that you don't need to break the bank to get awesome earbuds. Spending under $20 doesn't mean getting low-quality sounding, easily breakable earbuds like it used to.
Nowadays, manufacturers are offering the best earbuds under $20 that are comfortable to wear, offer premium quality sound, and often are loaded with extras like splash-proofing or waterproofing, so that you can wear them during exercise. A lot of the best in ear headphones under $20 will have a microphone too, so you can make high-quality calls, as well as listening to your favorite tunes or podcasts. How's that for such a low price?
There are a lot of earbud headphones for a cheap price on the market, so to make sure that you choose the very best, then consider this list of the top six earbuds under $20, as well as the buyer's guide and breakdown that follows it.
At a glance: Our top 3 picks
Your shortcut to our team's top 3 recommendations
View The Best Earbuds Under $20 Below
Basic Maintenance - Help your earbuds last longer by keeping them untangled and in a safe place when not in use. Keeping your earbud's cords as straight as possible can also help keep your audio connection stable making for a better listening experience.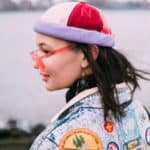 1. Mpow Flame Bluetooth Headphones Waterproof IPX7
If you want to spend under $20 on headphones, then you cannot go wrong with the Mpow Flame. They are fully waterproof. Instead of using a cable for connectivity, they use Bluetooth instead. They also have been designed to reduce wind noise. And they fit snugly inside the ear canal, with ear hooks for the ear tips, ensuring a secure fit.
Although this all makes them perfect for exercise, it's the sound that matters when it comes to earbuds. The rich, deep bass that they offer, as well as the clarity of mid and high tones, makes them one of the best sets of earbuds under $20 around.
Pros:
+ IPX7 Waterproofing
+ Ear hooks and snug-fitting buds
+ Bluetooth
+ Rich bass
+ Wind noise reduction
Why We Liked It - They are versatile earbuds, meaning they're perfect for wearing during a strenuous run, in the rain, or just at home while listening to your favorite tunes. This makes them an excellent choice for cheap, in-ear headphones.
2. Panasonic ErgoFit In-Ear
These Panasonic wired earphones are a bargain of a price, costing well under $20. They offer excellent quality sound due to the 9mm neodymium drivers. These headphones have an ergonomic design, which means they fit comfortably inside your ear, which is sometimes an issue with other earbuds in the under $20 price range.
The earpads are also incredibly soft, and you have a choice of three different sizes to find the right ones for your ears. The cord is 3.6ft long, so you can keep it in your bag or pocket without it snagging. You have a choice of 15 amazing colors too. All this for the best price.
Pros:
+ Ergonomic Fit
+ 9mm Neodymium Drivers
+ Extra-long cable
+ Soft earbuds
+ Choice of 15 colors
Why We Liked It - The sound that these earbuds offer is outstanding, especially considering that they're available for well under the $20 price point.
3. MuveAcoustics Drive Wired in-Ear
If music is important to you, then these in-ear headphones under $20 could be ideal. They have dynamic drivers installed in them, which give listeners incredibly powerful bass, as well as sparklingly clear high notes.
The ergonomic design also means that the earbuds fit snugly inside the ear, as well as offering passive noise isolation, so no annoying sounds can intrude on your enjoyment of the music. A microphone is part of the tangle-free cable, which also has a volume control button. They are the complete package.
Pros:
+ Passive noise cancelling
+ Snug fit
+ Booming bass
+ In-line microphone
+ Tangle-free cable
Why We Liked It - These passive noise cancelling in-ear buds have everything you want for under $20 because the sound is some of the best, the fit is comfortable, and they have extras like a microphone and a tangle-free cable.
Protect Your Ears - If you're a musician (or anyone for that matter), try not to listen at higher than 75% volume while listening with headphones. Doing so frequently could permanently damage your hearing, making it more difficult for you to create in the future. Some phones even have limits you can set in order to keep your listening experience safe.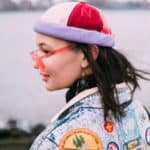 4. FOCUSPOWER F10 Mini Bluetooth Earbud
Unlike the other earbuds under $20 on this list, these are miniature earbuds that fit ergonomically inside the ear, making them unnoticeable to those around you. There are no cables at all, as they are connected to your device via Bluetooth.
They offer users six hours of battery life from a full charge. And you can get as far as thirty-three feet from your device and still be connected to it, which makes it ideal if you wander around your house or workplace, leaving your phone in one place. They use an inductive charging system, so you don't need to fiddle around with any cords at all.
Pros:
+ Mini size
+ Bluetooth connectivity
+ 6 hours of battery life
+ 33ft range
+ Microphone
Why We Liked It - They are tiny, fit directly inside the ear, and they offer some of the best sound quality, as well as including a microphone, making them some of the best earbuds headphones under $20.
With the 12mm drivers that are packed inside these little, cheap earbuds under $20, gives the listener very powerful bass, as well as crisp, clear mid and high tones. They also get incredibly loud due to the drivers. They are cabled, but they are also as light as a feather.
The connector is gold plated, which means that corrosion is very unlikely, and this reduces any chance of audio loss. The perfect fit inside your ears also helps to reduce any external noises, allowing the music to be isolated, so that's all you will be able to hear.
Pros:
+ Noise isolation
+ Lightweight
+ Powerful bass
+ Gold plated connector
+ Sleek design
Why We Liked It - These cheap earbuds may be very light, but they're durable too. They offer incredible volume, especially since their price is so affordable.
6. Skullcandy Ink'd 2.0 Wired Earbuds
Skullcandy is a great brand that is renowned for offering excellent audio equipment at affordable prices. These cheap earbuds under $20 are no exception. They incorporate Skullcandy's famous Supreme Sound technology, which means that every element of sound quality – bass, vocals, trebles – are given complete justice and are incredibly clear.
The rubber cable is 4.3ft long, which is more than you need. It doesn't tangle easily, and it has a remote for volume control as part of it, as well as an in-built microphone. They come in a wide range of colors, as well as including different-sized silicone ear tips, so you can find your perfect fit.
Pros:
+ Very long cable
+ Passive noise isolation
+ Supreme Sound technology
+ Wide range of colors
+ Microphone
Why We Liked It - If you're looking for the best headphone in ear, then these are on the list because the sound is outstanding, which is what you'd expect from Skullcandy's Supreme Sound technology.
Reference Output - While budget earbuds aren't going to last for a lifetime of music, these are great earbuds to have around for casual listening on the go or as reference listening devices. Remember, not everyone will be listening to your music on high quality earbuds, so it's worth having a wide range of playback devices around to adequately test your sound.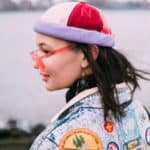 Earbuds Under $20 Buyers Guide
There's no doubt that there are some of the best headphones for a cheap price on the market. You can find yourself purchasing some of the best earbuds that are waterproof, fit snugly inside your ear, and also include a microphone for making crystal-clear phone calls.
But before you invest in your next pair of best earbuds, then consider this buyer's guide and breakdown, which will tell you what you should look out for.
Wired or Wireless
In the cheap price range, the first thing that you must consider is whether you want to choose headphones that come with a cable or if they are wireless. Of course, this depends on the purpose for wearing the headphones, and what activities you intend to do while wearing them.
Wired headphones can often be bought for less money than wireless ones, and you might find that you also get a bigger driver in them, meaning more powerful sound quality. You also don't need to worry about charging wired headphones, so you have unlimited playtime.
This isn't the case with wireless earbuds. They will connect to your device through Bluetooth, and you'll have to charge them regularly, depending on what the playtime is.
Wireless earbuds offer numerous advantages, though. No wires mean that there's no chance of a cable being snagged or pulled at, which can happen if you're exercising. There is also something more comfortable in your movement when you don't have a cable pulling at you each time you move your head.
Noise Isolation
Headphones under a cheap price point will often feature passive noise isolation. The aim of this is to reduce external noise, allowing you to focus your attention purely on what you're hearing through the earbuds, whether that's music, a podcast, an audiobook, or another person on the other end of the line.
Passive noise isolation relies upon in-ear headphones having an ergonomic, snug fit, which creates a seal for the ear canal, much like earplugs. It's a handy feature that works best if you're planning on listening to music in noisy environments. So if you like the sound of it, make sure the headphones you go for fit better than most.
Waterproof
Some cheap earbuds will be waterproof. To ensure that they are, they should have an IPX7 rating. This means that the sound will continue to work even when submerged underwater, something that splash-proof earbuds won't be able to do.
Waterproofing is created through a nano-coating. It's an important feature for anyone who intends to wear their earbuds while jogging or during exercise so that sweat doesn't short them.
Microphone
Not all earbuds under $20 will have a microphone integrated into them. But if you plan to use the earbuds for making calls then you'll need to make sure that they have one. Wireless earbuds will have the microphone integrated into the buds themselves.
Wired earbuds will have the microphone as part of the cable, also known as an in-line microphone. For ease-of-use, try to find earbuds where you can answer and end calls with a single push of a button on the earbuds or on the cable.
Ergonomic Fit
An ergonomic fit doesn't just help with noise isolation. It's also integral to comfort. Be sure to choose earbuds under $20 that have ergonomically designed earbuds, as then you won't find yourself wanting to remove them midway through your favorite tune.
Does the size of the driver make a difference to the sound and why?
Yes, it does make a difference to the sound. In the most basic terms, the bigger the driver, the louder the sound of the earbuds. But if the driver is bigger, then it can cope with some sounds better and create better sound quality. Although, the size of the driver is less important than the type of the driver itself.
A dynamic driver, for example, will offer the listener a more dynamic, varied sound. The more drivers that are incorporated into the earbuds or headphones will change the width of the frequency range. In earbuds, however, the size limits the type of drivers that can be installed in them.
Expert Tip
If you're looking for the best earbuds under $20 for exercising, then make sure that they're wireless, waterproof, and also offer a secure fit, perhaps with ear hooks or good ear tips, so that they don't fall out while you're in the middle of a hard cardio workout, while listening to some motivational music.
Did you know?
The reason why they're called earbuds is because the buds that fit inside your ear resemble the buds of flowers and plants. The ear part shouldn't need to be explained though...
Conclusion
There are some amazing affordable earbuds on the market, and we've offered you some of the best. The very best earbuds under $20 offer listeners outstanding sound quality, fit better comfortably and securely inside your ears, and they also include a microphone for making calls. Waterproofing is a handy extra. And for anyone who needs their arms free for exercise, then wireless is a must.
If you've enjoyed this review by Music Critic, please leave a positive rating: