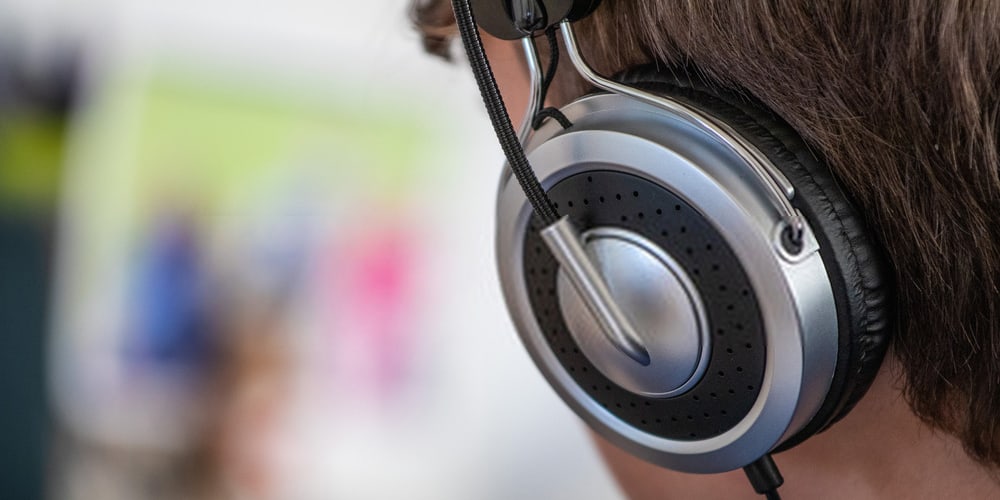 There are some excellent over-ear headphones on the market these days that can be bought for a very affordable price tag. With so many to choose from, it can be hard to know which ones are the best. It's always important to pick headphones that deliver exceptional sound quality, as there's no point having headphones that don't sound good.
You also want your headphones to offer a lot of comfort so that you can wear them for long periods. If they're wireless headphones, then it's best that they offer a long battery life, too. And if they're wired, then a tangle-free, long cable is a good idea too. You also want to make sure that they're built to last. If you pick headphones that tick all these boxes, then you'll be onto a winner.
To make sure that you buy the very best headphones for an affordable price, then consider this list of the ten best cheap over the ears headphones, as well as the buyer's guide that follows it.
At a glance: Our top 3 picks
Your shortcut to our team's top 3 recommendations
View The Best Cheap Over Ear Headphones Below
1. Audio-Technica ATH-M20x Professional Studio Monitor Headphones
These headphones offer outstanding overall quality for an affordable price tag. They include 40mm dynamic drivers and copper-clad, aluminum voice coils that combine perfectly to produce a well-balanced, full-bodied sound quality that's ideal for music fans of a range of genres. If you're a fan of bass-heavy tunes, then you'll love the ability to enhance the low-end, so that you can get head-bopping bass that really impressed.
Besides the exceptional sound quality, these affordable, Audio-Technica headphones are built to last, thanks to a rugged, robust design, and they also offer sound isolation, thanks to the circumaural ear cushions. The cable is 3m in length, which makes them a good choice for people working in a home studio or who use headphones to watch TV.
Pros:
+ Balanced Sound
+ Comfortable
+ Reasonable Price
+ Durable
+ Long Cable
Why We Liked It - These headphones are great all-rounders that perform above their price point, making them a solid investment when it comes to cheap headphones.
2. GRADO SR80e Prestige Series Wired Open-Back Stereo Headphones
Open-back headphones are the choice of audio engineers because they offer a more natural sound and unadulterated sound that is ideal for mixing. Usually, this type of headphones are extremely expensive, but Grado has managed to produce a very affordable version, which offers many of the benefits of the more expensive versions. The sound quality is very detailed, allowing you to hear subtle details in songs. And the bass response is noticeable, too. One of the reasons why they sound so good is because of the vented diaphragm, which is a premium feature. Indeed, they may not offer the same comfort as the more expensive open-back headphones, but that doesn't mean that they aren't comfy, and the exceptional sound that you get from them more than makes up for any minor issues elsewhere.
Pros:
+ Open-Back Design
+ Exceptional Audio Quality
+ Reasonable Price
+ 6ft Cable
+ 1/4" Adapter Included
Why We Liked It - They're premium, open-back headphones that are available at an extremely reasonable price. If you're looking for some cheap over-ear, studio headphones to use for mixing tracks, then they're perfect.
3. JLab Audio Neon Bluetooth Folding On-Ear Headphones
It's rare to find such excellent over-ear wireless headphones in this price range. They are loaded with fantastic features. For example, on one of the ear cups, you'll find controls so that you can easily skip tracks, pause tracks, and play tracks. You can also use these controls for phone calls, as these headphones include an excellent, in-built microphone.
Playtime is also a whopping 13 hours from a single charge. This pair of headphones also deliver a lot of comfort. The headband and the ear cushions are both made from a soft, breathable plush leather. You can easily adjust the headband to find a comfy fit, making them a good choice for people with larger heads.
As they have 40mm dynamic drivers inside them, then you don't need to worry about the quality of sound, as it's high-level. And they look stylish too. They wouldn't look out of place in the most fashionable neighborhoods in New York or LA.
Pros:
+ Great Looks
+ Very Cheap
+ Soft Ear Cushions
+ Padded, Adjustable Headband
+ 13 Battery Life
Why We Liked It - The combination of comfort, looks, and affordability makes these cheap wireless headphones a fantastic value-for-money choice.
4. JBL TUNE 500 - Wired On-Ear Headphones
BL is one of the best companies when it comes to affordable music equipment. You're always guaranteed a great sounding product when you purchase from JBL. And these wired, on-ear headphones are a perfect example of this guaranteed quality. They include 32mm drivers that produce powerful, bass-heavy sound that's as crisp and as detailed as you'd expect from JBL and its JBL Pure Bass technology.
The frequency range of 20Hz to 20,000Hz is proof of the breadth of sound that these headphones are capable of. The included mic is operated thanks to an in-line remote that's part of the excellent tangle-free cord. The frogskin polyurethane leather ear cushions provide comfort. And, as always with JBL, the build quality is high level, making them a very durable pair of headphones.
Pros:
+ JBL Quality
+ Big Bass Sound
+ Tangle-Free Cord
+ Microphone
+ Can Be Folded
Why We Liked It - There is so much to love about these wired, JBL headphones, and perhaps the best feature is just how they sound. They're a top choice for anyone who is a fan of bass-driven music.
5. Audio-Technica ATH-AVC200 SonicPro
Audio-Technica is another manufacturer that's got a stellar reputation for its headphones. With 40mm drivers - which Audio-Technica says have been recently designed - they produce a very powerful, full-bodied sound. These over-ear headphones offer comfort on top of the superb sound.
They've got contoured ear cushions that will mold to the shape of your head and ears, giving you a long-lasting comfy fit that will allow you to settle into all-night listening sessions. They've also got a large, adjustable headband, which simply adds to the comfort. Unlike wireless headphones, with wired over-ear headphones, there's no need to worry about having to recharge a battery, which is another plus for these excellent cheap headphones from Audio-Technica.
Pros:
+ Very Comfortable
+ Cheap Price
+ Outstanding Audio Quality
+ Lightweight
+ Durable
Why We Liked It - Audio-Technica headphones are known for their distinctive, detailed sound, and that's exactly what these comfortable, cheap headphones deliver.
6. JLab Audio JBuddies Studio Bluetooth Over-Ear Kids Headphones
If you're looking for a pair of over-ear, cheap wireless headphones for children, then this pair from JLab is a recommended choice. Why? There are many reasons. Firstly, they are wireless, which means that there's no cable to annoy your child while they're listening to music or watching a film. With 13 hours of battery life from a single charge, you don't need to worry about a flat battery ruining their fun either.
There's a volume limiter so you can make sure that your child's ears aren't damaged. Wireless headphones are also a better choice for children than true wireless earbuds. They're better for your child's ears, and there's a lot less chance of them accidentally getting lost. It's easy for your child to get a comfortable fit too, as the padded headband is adjustable, and the ear cushions are made from very soft plush material.
Pros:
+ Perfect for Kids
+ Very Comfortable
+ 13 Hours of Battery Life
+ Wireless
+ Affordable Price
Why We Liked It - These headphones are the best choice for children. They're wireless, comfortable, and have a volume limiter to keep a child's ears safe. The 13 hours of playtime from a single charge is a big plus, too.
7. Koss Porta Pro On-Ear Headphones
These over-ear headphones are some of the best on the market when it comes to sound quality. The main reason why they sound so good is that they have oxygen-free copper voice coils inside them. This helps to produce a very powerful, clear low-end, making them one of the best choices for fans of bass-heavy music. They might not be wireless, but the 4ft cable gives you a lot of room for maneuver.
Another good feature of these headphones is that they come with a carry case, which means that you can keep them safe when you put them in your backpack, for example, after you have collapsed their headband. They are certainly unique too. If you like to stand out from the crowd, then these might be your best option, as they don't look like standard headphones at all.
Pros:
+ Cheap
+ Bassy Heavy
+ Includes Carry Case
+ Comes With a Warranty
+ Secure Fit
Why We Liked It - They're simply one of the best cheap headphones on the market as they have unique looks, produce exceptional sound quality, and can be collapsed for portability.
8. Sony MDRZX110/BLK ZX Series Stereo Headphones
Sony is always a safe choice when it comes to headphones. If you've bought from Sony in the past and been happy with the quality - as you most likely have been - then it may be best for you to go with these wired headphones. Instead of packing them with wireless technology, which would only push up the price, Sony has instead focused on the quality of sound that these headphones offer.
They have 30mm dynamic drivers inside them, and this helps to create a superb sound that's versatile, so these headphones should be considered both by people who think classical is the best and people who think hip-hop is the best and everyone in between. The cable is 1.2m long, so the fact they aren't wireless shouldn't cause too many issues. This is long enough so that it doesn't get in the way or snag.
Pros:
+ Lightweight
+ Wired
+ 30mm Dynamic Drivers
+ Cheap Price
+ 1.2m Cable
Why We Liked It - If you pride functionality over unnecessary extra features, then these Sony headphones are the best option for you, as they're not only cheap, but they sound very good, too.
9. Taotronics TT-BH085 Active Noise Cancelling Headphones
These are quite simply the best cheap noise-cancelling headphones on the market. It's rare to find headphones with active noise cancellation in this price range, but that's exactly what these TaoTronics headphones have got. Besides the fantastic noise cancellation technology, they also are wireless, and they offer a whopping 40 hours of battery life from a single charge.
Impressively, if you do get caught short and forget to charge them, then there's a quick-charge function, which allows you to get two hours of battery life from a quick five-minute charge. They've also got a mic that will cut out external noises, allowing for crystal clear phone calls. They provide a huge amount of comfort, too, as they're lightweight, have an adjustable, padded headband, and the ear cushions are made from soft memory protein.
Pros:
+ ANC Technology
+ 40 Hours of Wireless Use From One Charge
+ Superb Quality For The Price
+ Comfortable
+ High-Quality Microphone
Why We Liked It - They're the best cheap headphones on the market when it comes to the breadth of features that they offer. They've got ANC technology, a comfortable fit, extra-long playtime, and they're wireless. A superb bargain choice.
10. Behringer BH470 Headphones
Everything about these Behringer headphones suggests that they should cost a much higher price than they actually do. The first thing that impresses about these over-ear headphones is their good looks. They look like professional studio headphones, even though you can buy them for a third of the price of professional headphones that audio engineers use. But their looks and price aren't the only good features.
They include 40mm dynamic drivers that produce a natural, detailed sound quality that's also comparable with much more expensive headphones. They're perfect for use in a home studio or for mixing and producing tracks because of the natural sound that they offer. Comfort is also a big plus for these headphones. They feature the best materials around for the price. And the padded headband is a pleasure to wear.
Pros:
+ Gorgeous Looks
+ Ideal For a Home Studio
+ Comfortable Headband
+ 40mm Dynamic Drivers
+ Cheap Price
Why We Liked It - They're almost as good as the type of headphones an audio engineer would wear, thanks to the large drivers and natural tuning. They're also very affordable, making them the best cheap headphones for budding record producers or people who love their music to sound natural.
Cheap Over-Ear Headphones Buyers Guide
Everyone wants to purchase the very best product for their money. That's no different when it comes to headphones. To make sure that you spend your money on the best headphones, then consider this buyer's guide. We'll explain the key features to look out for, as well as answer the most important questions you might ask before purchasing a new headphone set.
Wired or Wireless
It's a simple choice. You can go for a wired version or a wireless version.
If you go for wired, then you'll save money, as you won't need to charge them. You'll also find that they're cheaper upfront too, as they're not loaded with lots of fancy technology. There's the chance that your wire will get snagged as you're walking around or listening to music. Many cables these days are tangle-free, as well as being at least 1m long - and usually much longer - so you shouldn't have too many issues with it.
But wireless is definitely a more liberating option. Without any cables, your arms and neck can be completely free. Of course, you'll need to consider battery life, as all wireless models need to be charged. But it's possible these days to pick up a wireless headphone set that will offer you more than 40 hours of battery life from a single charge.
Quality of Sound
This is the most important feature for most people. You want them to sound good, above all else. The most important element to consider is the drivers that are fitted inside the ear cups. The larger the drivers, the more powerful the sound will be.
You also want to consider how they have been tuned. Some will have been tuned to enhance the low end. This is fine if you're a fan of bassy music, but if you're into classical music or you want to use them for watching movies or even mixing tracks, then it's better to choose a pair that has a natural tuning.
Comfort
Comfort is, of course, extremely important. You just need to ensure that they have soft earpads made from a memory protein, wrapped in a material like leatherette. The headband should also be padded. The lighter they are, the better, as this will allow you to wear them for longer. You also want them to have a high build quality, as then they'll be durable. If they're flimsy, they'll break, and then they won't be comfortable to wear.
Noise Isolation and Cancelation Technology
Noise isolation is created through design. It means that the earpads form a seal with your ears, and then this will block out external noises. ANC is the best way to block out external noise, but because it's the best, then it costs you a lot more. It's possible to find cheap headphones with ANC technology, though.
Are True Wireless Earbuds Better Than Wireless Over-Ear Headphones?
It's difficult to say which is the best as they're completely different in many ways. True wireless earbuds sit inside the canal of your ears, which is very different from headphones that go over your ears. True wireless earbuds are lightweight, and because they're true wireless, they don't have a cable.
But true wireless earbuds need to be charged. The best for you is entirely up to what you do while wearing them. If you like to relax and listen to music, then headphones are the better choice. You'll get better sound quality from them because they have larger drivers. If you want to exercise, then true wireless earbuds are a better option.
Expert Tip
While it might seem like a good idea to choose wireless headphones, you need to remember that they will require charging, which will also cost you money in electricity. If you want to keep things as cheap as possible, then go for wired over-ear headphones. As long as the wire is a decent length, then you shouldn't find it an issue.
Did you know?
The very first headphones that were ever created were made in 1910 by a man named Nathanial Baldwin. He worked very closely with the US Navy when making them.
Conclusion
These days, it's easy to find an excellent set of headphones for an affordable price, but you need to be careful that you don't spend your money on a sub-par product. It's best to focus on sound quality above all else, as you'll be using them to listen to audio, so you want it to sound good.
Next, you should consider comfort, making sure that the cushions are soft, and that the headband is padded. If you go for a wireless option, then you should also check how long the battery will last for a single charge. If you go for wired, then check its length and try to get a tangle-free one. Focus on all these things, and you'll grab yourself a bargain.
If you've enjoyed this review by Music Critic, please leave a positive rating: