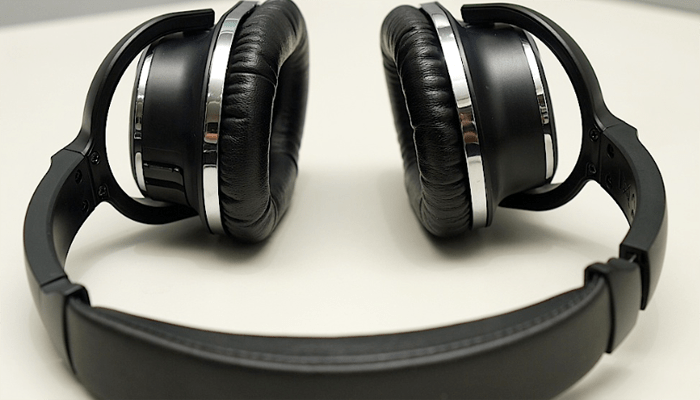 Are you wondering what the best active noise-cancelling headphones (or ANC) for a good price are? Here's the right place to discover what makes a great set of noise-cancelling headphones. There are some important features of the best noise-cancelling headphones that go beyond just the noise-cancelling technology - and you should look out for them.
After all, active noise cancelling headphones have to be very comfortable to wear, offer excellent sound quality, and give the user a good amount of playtime. It should also include a high-quality microphone that will also cancel out ambient noise, so you can make crystal clear phone calls.
To make sure that you invest your money wisely in the best noise cancelling headphones for your needs, and choose the option with the best price, then consult the following list, as well as the buyer's guide and the breakdown that follows it.
View The Best Noise Canceling Headphones
1. Sennheiser PXC 550 Wireless – NoiseGard
Without question, these are some of the best active noise cancellation wireless earphones on the market, which is what you expect from Sennheiser. This is due to Sennheiser's incomparable NoiseGard technology, which uses adaptive, noise cancellation that adapts to your environment.
The triple array microphone is world-class and perfect for businessmen to use for calls. Controlling the over-ear headphones is simple; the headphones contain an intuitive control system that also includes voice prompts. Since they are true wireless headphones, they need to be charged. But, with a playtime of 30-hours, then they'll be offering a premium quality sound for a good few long-haul flights, without needing to plug them into the mains.
Pros:
+ Adaptive noise cancellation
+ 30-hours playtime
+ Outstanding microphone
+ Superior sound quality
+ Rotating earcups
Why We Liked It - These pair of headphones are of the highest quality for a good price. Everything from the sound quality, to the microphone, to the comfort they offer, makes them some of the best headphones around.
2. Bose QuietComfort 35 II Wireless
We know that Bose makes the best noise cancelling headphones because it was this company that originally invented the technology. That world-famous technology is outstanding in the Bose QuietComfort 35 II. You can actually change the level of noise cancellation with these Bose noise cancelling headphones, too. These are very easy to connect wirelessly, and you have a choice between Bluetooth and NFC connectivity.
The battery gives you 20 hours of playtime once it's been fully charged. They're ideal for Alexa users, too, as they're enabled to control Alexa wherever you are. These Bose noise-cancelling headphones are light to wear, and the earpads are made from premium materials, including Alcantara and protein leather.
Pros:
+ Outstanding comfort
+ NFC and Bluetooth true wireless connectivity
+ 20-hours of playtime
+ Adjustable ANC
+ Alexa enabled
Why We Liked It - Bose does ANC better than most, and the QuietComfort 35 II is no exception. The ability to be able to adjust the level of noise cancellation make this Bose noise cancelling option one of the best on the market.
3. COWIN E7 Active Noise Canceling Headphones
Protein earpads make this pair very comfortable to wear, even for prolonged periods of time, two examples being when on a flight or while playing video games. You can connect these pair of headphones to your devices both through Bluetooth and NFC.
They have huge, 40mm large-aperture drivers inside them, which give profound power and crystal-clear sound quality, making them great for audiophiles. You'll get about 30 hours of battery life from a full charge, depending on how they are being used.
They've also got an excellent microphone built into them, which you can use for high-quality calls that can be started or ended with touch controls; just a push of a button. This makes them the best noise cancelling headphone if you tend to make a lot of calls.
Pros:
+ 40mm large-aperture drivers
+ 30-hours of battery life
+ Protein earpads
+ Easy-to-use, integrated controls
+ Bluetooth and NFC connectivity
Why We Liked It - Cowin offers the best headphone for noise cancelling at an affordable price. It offers the listeners the best noise cancellation you can get, eradicating all unwanted background noises, letting you focus on your music.
The Sony WH 1000XM3 noise cancelling headphones pride themselves as having industry-leading active noise cancelling technology. They claim that, whatever the noise levels of your enviroment, you'll still be able to hear ever noise coming from their drivers. That's a bold claim but, with a brand as established and trust-worthy as Sony, it's not hard to believe.
The WH 1000xm3 noise cancelling headphones are also Voice Assistant enabled, which means you have access to Alexa at the touch of a button.
In terms of battery life, they offer 30 hours of playtime. This is a great battery life, which makes the WH 1000xm3 noise cancelling headphones perfect if you commute but worry about your wireless headphones running out of battery life. Not only that, but a 10-minute charge will see you with five whole hours of battery life.
That's not all for the WH 1000xm3 noise cancelling headphones. You can also fold them and tuck them away when they're not in use, which is always a tick in the commuter's tick-box. Not to mention, you can block out all that background noise on the train!
Pros:
+ Industry leading noise-cancelling technology
+ Fluffy, soft earpads
+ Come with a carry case
+ 30-hours of battery life
Why We Liked It - The Sony WH 1000xm3 ANC earphones are some of the best headphones with noise cancellation. In terms of technology, their ANC is industry leading. But with a brand as reliable as Sony, what else did you expect?
5. TaoTronics Active Noise Canceling Headphones -
Like the previous options on this list, these noice cancelling headphones offer a lightning-quick charge. But these from TaoTronics only require 5 minutes to give you 2 hours of battery life. A full charge will give you 30 hours of battery life.
Bass heads will love what the 40mm large-aperture drivers pump out from these noise cancelling headphones. Not only is the bass pounding, but the sound is generally clear, and the vocals very precise. These ANC earphones are easy to fold up, and they come with a carry case, which makes them very convenient to be stored in your bag while you're not wearing them.
Pros:
+ Lightning charge
+ Thumping bass
+ Foldable
+ Includes carry case
+ 30-hours of battery life
+ ANC
Why We Liked It - The lightning charge function is extremely handy to have, as you'll never be caught short with these noise cancelling headphones. They're one of the best noise cancelling options if you commute, for that very reason.
6. Mpow H5 Bluetooth Headphones
Mpow is an excellent manufacturer of affordable, high-quality audio equipment. Durability is important when it comes to earphones, and this pair has been designed so that the bendable and twistable headband will be able to bend over 10,000 times without breaking.
They are comfortable, too, as they have professional protein earpads. The sound is unbeatable, which is what you'd expect from 40mm large-aperture drivers. They also have an excellent CVC 6.0 microphone built into them. The sound cancellation technology can be turned on and off with a simple press of a button.
Pros:
+ 40mm large-aperture drivers
+ Very durable
+ Easy to toggle the noise cancellation off and on
+ Comfy protein earpads
+ CVC 6.0 microphone
Why We Liked It - The durability of these ANC earphones means that you can be confident that you're investing your cash into something that won't break anytime soon.
Best Noise-Canceling Headphones Buyers Guide
If when you're looking for a pair of headphones or a headphone, noise-cancellation is a must, then we've got you covered. To make sure that you purchase the best pair for ANC, then you must consider a number of key features that will vary from one set to another.
The noise cancellation technology and its effectiveness is your number one priority, but sound quality and comfort shouldn't be forgotten, nor should battery life, and other handy features like a high-quality microphone. Consider this buyer's guide and breakdown to make sure you make the right choice.
Noise Canceling Technology
As you well know, this technology utilizes a phenomenon known as a destructive interference to help eradicate unwanted, irritating ambient sound, so that you're able to focus on your music instead of hearing the roar of an airplane engine, or the voices of your fellow subway passengers.
Each headphone manufacturer mentioned in his lift incorporates its own form of sound cancellation technology into its products. For example, Sennheiser uses NoiseGard. And Bose has its own world-famous noise cancellation technology that was the first-ever created.
When it comes to choosing headphones with noise-cancelling technology, the effectiveness of this technology is your first priority, and as long as the headphones have a good reputation, then you're in safe hands.
Comfort
If you've ever worn the complementary pair that are handed out by airlines, then you'll know just how uncomfortable bad headphones can be, and how they're actually unwearable for more than a few minutes. The best noise cancelling headphones, however, are so comfortable you don't want to take them off.
The earpads should always be made from a breathable, adaptive material. Protein leather is standard in a lot of the best noise-cancelling headphones. But the earpads are only one element of comfort, and you should make sure that the headband is padded with a soft material too.
The earcups need to swivel, so when you move your head, they also move and don't hinder your freedom of movement.
Microphone
A microphone isn't just useful for calls. A lot of modern headphones are enabled for connectivity with software like Alexa and Siri, so making sure your headphones have an in-built mic can make your life a lot easier, too.
The best headphone microphones will include clear voice technology so that your voice is isolated. The person you're talking to should hear your voice instead of the wind or the ambient sound around you. They should have high effectiveness when cancelling noise. Headphones that don't won't give you the best listening experience.
Battery Life
Noise-canceling headphones can use a lot of power, as they're not just pumping out your music, but are also cancelling ambient sound too through a complicated mechanism. You want to make sure that you're choosing ANC headphones that won't die midway through a long-haul flight or while you're making an important phone call.
Playtime or battery life can range from 20 hours up to 60 hours, but something in the middle should surely be enough time for prolonged use, without having anywhere to charge the headphones. A lot of the best headphones have some form of quick-charge technology, so you can actually get another 2 or 3 hours of battery life with only needing to plug them in for 5 or 10 minutes.
What's the difference between active and passive noise cancellation?
Active noise cancellation requires a mechanism to be built into the headphones, which will include a speaker, a microphone, a battery, and noise cancellation circuitry, and this will then recognize the frequency of the ambient noise, and create the same frequency, which will then cancel out the ambient sound.
Passive noise cancellation relies upon the material of the earpads, for example, so that they form a seal that blocks outside noise. Almost all headphones, noise-canceling or sound-isolating, will be designed to offer passive noise cancellation, too.
Expert Tip
Don't forget that this technology uses up a lot of battery, so when looking at the playtime of headphones, make sure to check whether the time is for normal usage or for active sound cancellation usage.
Did you know?
Noise cancellation, especially ANC, is an added bonus for travelers. By blocking out ambient sound, such as the roar of a jet engine, it actually reduces the traveler's stress levels, meaning that you will be less fatigued by the journey. If you're a commuter, pick up a pair of ANC earphones!
Conclusion
There are some outstanding noise-canceling headphones on the market. The best ones will have effective ANC that won't hamper your music's sound quality, which should be enhanced by large drivers. Your ANC earphones should also include a CVC 6.0 microphone, as well as being supremely comfortable to wear.
If you've enjoyed this review by Music Critic, please leave a positive rating: