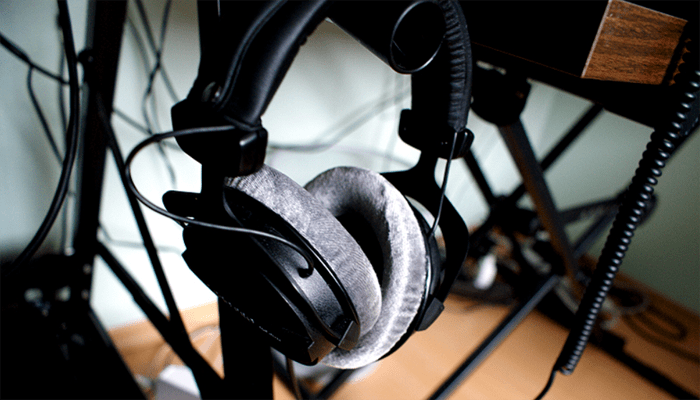 Whether you're an audiophile, DJ, producer, or simply love listening to music; you'll understand how much of a better experience you can have when you're looking with the right pair of headphones. Finding a great pair can be hard and expensive, but Beyerdynamic has a solution.
Renowned for being one of the most prestigious audio equipment brands in the world, their DT 990s make a fantastic choice when you want to enjoy music how it was intended to be listened to.
What makes these headphones so unique is their open-back design, which allows for three-dimensional listening. The sound will be mixed and balanced perfectly around your ears with whatever you're listening to; you'll be captivated by the sounds.
With an impressive frequency response range of 5Hz to 35,000Hz, a more significant range compared with a lot of headphones in this price bracket, and an impendence of 250ohms, these headphones ensure you'll be able to hear every single detail, note, and chord with absolute precision.
Every aspect of these headphones mirrors clarity. It doesn't matter what genre you're listening too. Every bassline will rumble deeply with a high level of richness, while every high note and treble will glisten. Whether you're using these headphones casually or in a professional environment, they're going to blow you away.
Of course, comfort is another critical point to consider when it comes to proper headphones, and Beyerdynamic has not held back. The low-pressure headband has been specifically designed to protect the top of your head, and the extra padding guarantees you won't feel irritated, even if you're using the headphones for excessive periods.
This level of comfort continues thanks to the soft padded earphones. Even if you wear these out over time and they lose their quality (which all earpads do eventually), you can easily detach and replace them.
All the connections here are standard, so you'll never have to worry about these headphones not working with any device. To clarify, this refers to the standard 3.5mm jack port, which has even been gold-plated to ensure your audio quality is retained from start to finish.
You can also shop these headphones safe in the knowledge that they are built to last. There are many reports out there of these headphones lasting an excess of ten years or more, especially since you can quickly service, upgrade, and replace all the parts to keep them running fresh. But more on that below.
The vast majority of reviews for this product, which you can find on sales pages and across the internet, hold these headphones in extremely high regard, averaging consistently at four and five-stars. With such a renowned reputation and a ton of quality features, you really can't go wrong.
Beyerdynamic Dt 990

Summary
If you're looking for a pair of fantastic sounding headphones that go above and beyond the call of duty when it comes to keeping you comfortable, and providing you with the best possible sound experience, you may not need to look further than what Beyerdynamic is offering here.
Pros
+ Each purchase comes with a standard 1/8" inch plug type with a ¼" adapter, so you never have to worry about not being able to plug these headphones into an audio source you may be using.
+ They boast an impressive frequency response range of 5Hz to 35kHz, which means you'll be able to hear every sound your music is making. Every note is crisp, and every type of sound is crystal clear.
+ All aspects of the headphones can be replaced when needed, so you never have to worry about getting a new pair of headphones when parts get old, ensuring your headphones always sound great, even in years to come.
+ These headphones are incredibly comfortable, priding themselves on plenty of comfortable features to ensure you never feel irritated or annoyed, especially when wearing the pair for long periods of time.
Cons
- Will need to break in by using them a couple of times, to make sure the drivers are working correctly, and the headphones sit comfortably on your head
Why We Like It
When you use your headphones a lot, they're going to get worn out over time, but this can be such a waste if you end up buying new headphones over and over again, especially if you're spending a lot of money on them.
To rid yourself of this problem, Beyerdynamic has created headphones with a design that allows you to change and service every single component. If you ever find a part breaks, you can easily change it up and keep your headphones working at the highest possible condition.
If you liked the article, please leave your feedback.