Over one hundred bucks can often be too expensive for some when buying consumer electronics, so today, in an effort to showcase what your money can get you, we have selected the 10 best headphones under $100, for comparative reviewing.
With the parameters being dictated by dollars, we have included a selection of over-ear and in-ear models, both wired and wireless, for your perusal. Each has their own assets and make for excellent choices, depending on your individual tastes and, of course, the manner in which you listen to your music.
The audio electronics industry is bursting at the seams with competitive products, and it can be a minefield to navigate. You need to work out what's important to you. Is it the sound? The bass? Noise cancelling technology? We will provide an in-depth complimentary guide to help give you the low down on all the factors to figure out before you buy to help you make a sensible decision that suits your needs.
On a tighter budget? Check out our favorite headphones under 50 dollars, or even these great headphones under $30.
At a glance:

Our top 3 picks
Our team's top 3 recommendations
Best Overall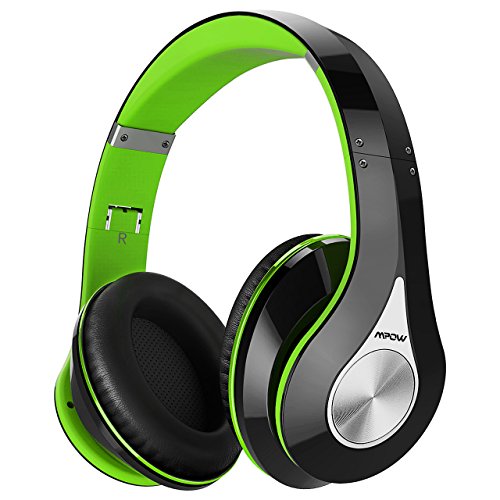 Mpow 059 Bluetooth Headphones Over Ear

Fold-up model.
Skin-friendly cushioning.
Optimized bass.
Bargain.
Premium Quality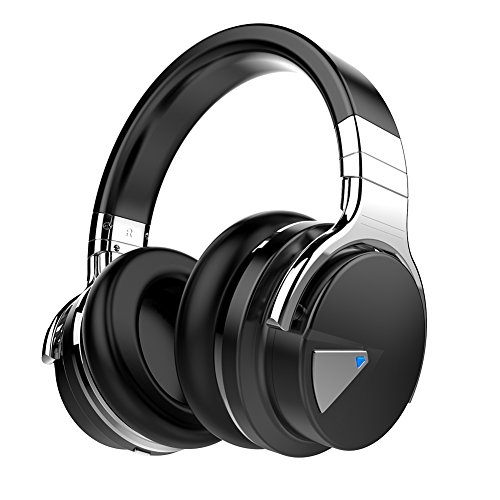 COWIN E7 Active Noise Canceling Headphones

Fold-up model.
Skin-friendly cushioning.
Optimized bass.
Bargain.
Great value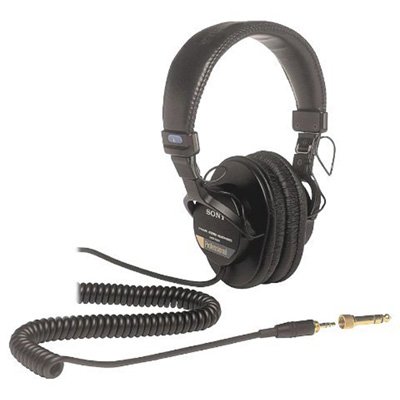 Sony MDR7506 Professional Large

Fold-up model.
Skin-friendly cushioning.
Optimized bass.
Bargain.
View The Best Headphones Under $100 Below
1. Mpow 059 Bluetooth Headphones Over Ear
Mpow are one of the highest ranked sets priced below $30, which make for an ideal budget set of headphones. The 059 model is a compact, fold-away set of over-ear headphones with wireless capabilities. These pair of headphones have made several appearances in our reviews in the past.The sound produced is genuinely comparable with a fifty dollar set, making them one of the best headphones under $100 in this list.
These headphones under $100 are well-made. They have a durable headband and comfortably cushioned ear-cups. The band features stainless steel sliders that are strong and reduce the size for a more portable solution. The band is cushioned with the same materials as the ear-cups. The memory foam is covered in a memory protein leather, which is skin-friendly, making it an excellent headphone.
Wireless, cheap, and good may sound too good to be true. But with this pair under $100, it's not. The user controls are located on the ear-cup itself. They have an optional cable, giving users the freedom to choose between wired or wireless functioning.
The drivers are very well built and optimized with a bias towards the lower frequencies - meaning great bass. The balanced sound quality is lavishly layered, and the bass punches through. They feature large diaphragms that respond well and perform at high output.
The built-in Bluetooth is a little older but still current enough - this is still great for a pair under $100. It's easy to pair and works with a wide range. They can work wired for up to 20 hours. They are passively noise cancelling, with no active isolation tech.
Pros:
+ Fold-up model.
+ Skin-friendly cushioning.
+ Optimized bass.
+ Bargain.
Why We Liked It - These wireless headphones under $100 feature a very convenient design concept with a strong, folding mechanism. They are a best-seller and the audio is on par with a more expensive model.
2. COWIN E7 Active Noise Canceling Headphones
This closed back set from Cowin is another affordably priced pair to consider. The E7 model can collapse to be more compact for storage like the set above, thanks to their flexible band and swivel-mounted cups.
They are actually a fairly matched product for the set we opened with, employing a similar memory foam protein for comfort. They boast active noise cancellation technology with a chip that's up to date.
These noise-canceling headphones under $100 have larger than average 45mm drivers, idyllic for better bass performance, and balanced sound quality with great depth and well-defined highs.
They feature an integrated mic for hands-free calls that sound great. They run for around 30 hours between charges, despite the NFC and ANC. This model has seen a price reduction as there is now a new edition offering a higher Bluetooth version. Either way, this is a great headphone pair for under $100.
Pros:
+ Noise canceling.
+ Integrated microphone.
+ 30 hours battery.
+ Closed back.
Why We Liked It - These closed back, over ear headphones have great sound and bass performance. They are well cushioned, and the on board noise cancellation is very efficient, making them a great pair for under $100.
3. Sony MDR7506 Professional Large
Third in our sights is this impressive wired set from Sony, which provides highly defined output, rendering them an aptly suited reference set of headphones.
This pair of headphones has crisp and rich audio reproduction with details. The large 40mm PET diaphragms are sensitive and accurately deliver the nuances of the sound.
The combinational array is driven by neodymium magnets. They are closed cup and beautifully cushioned for comfort. The immersive listening and the high-quality components, along with Sony's circuitry refinements, make them a good low-priced pair for critical listening.
Not only is the sound great. As these are over-ear headphones, the cups are swivel-mounted, and the headband is very flexible, allowing them to compactly fold-away like the two above.
They feature an extra strength coiled cord ideal for repetitive use, providing added longevity to the set. The connector itself is gold plated for better signal fidelity. They come with a free Unimatch plug, and sturdy storage case to protect them during transit. So if you like to listen to audio books, music, or podcasts as you commute, these could be the best headphones under $100 for you.
Pros:
+ Reference set.
+ Comfortable ergonomic style.
+ Excellent drivers.
+ Coiled wire.
Why We Liked It - They are an appealing entry level reference set of headphones which serve-up great quality audio. The sound is rich enough in detail for a more critical approach to audio. These could be the best headphones under $100 for commuters.
4. AILIHEN C8 Headphones with Microphone
Next, we have a tried and tested set with a very competitive price-tag, the C8 model from AILIHEN has been trialed under laboratory conditions for the durability of its fold-away design. The collapsible hinges were stressed and pressed over 20,000 times with unrelenting perseverance.
These over-ear headphones are once again a closed-back ear-cup design for an immersive audio experience, naturally isolating the listener from background ambiance. The cups are comfortably cushioned with a mock leather fabric that envelops foam support.
Despite being under $100, they harbor large aperture 40mm drivers which have a great response and deliver a well-blended stereo mix. They feature a newly integrated mic operated via in-line controls.
Their cord is braided to give it extra strength. It is equipped with a typical 3.5mm jack connection for versatile functionality. They come in a range of trendy color choices, so they're the best headphones under $100 if you like to listen in style.
Pros:
+ Durable moving parts.
+ Large drivers.
+ Well-cushioned.
+ Extra strength cord.
Why We Liked It - They are durably made, with balanced sound quality, and they have an appealingly low price under $100. As they come in a range of colors, you can pick the design that you'll love. They're the best headphones for someone who likes to listen in style.
5. OneOdio Adapter-Free Closed Back Over-Ear
This next pair of headphones are another affordable closed-back over-ear set which has earned themselves a fab reputation in a short amount of time.
The drivers are extra-large at 50mm in diameter; they serve up professional, dynamic sound quality with epic bass presence.
If the sound isn't enough, they are comfortable to wear for extended periods of time and feature a flexible folding design, which allows for natural size adjustment, as well as better portability between locations.
You can connect multiple headphone sets together, transmitting the audio via their onboard Shareport technology. This, along with their comfy ergonomic design, the portable nature lends them the idyllic characteristics for DJing, so it is no surprise that with their appealing price-tag, they have quickly shot to the number 1 spot on the bestsellers list.
They feature a jack lock system that keeps connections secure and lets the wearer move around freely.
They have dual duty cable (detachable 9.8 ft cord with 6.3mm and 3.5 mm jacks), which eliminate the need to carry around any adapters and provides a better signal in general.
They can also be paired with Bluetooth devices wirelessly.
Pros:
+ Shareport technology.
+ Multiple connection options.
+ Comfortable design.
+ Portable.
+ Closed back.
+ Excellent sound and bass.
Why We Liked It - These closed back, over-ear headphones are perfect for DJ use, they are pretty well-made and retail under $100 for their surprising stack of capabilities.
For those on a much tighter budget, our article on headphones under $20 may be more useful!
6. Otium Bluetooth Headphones, Best Wireless Earbuds
This next set are a very good quality, cheap sports earbud model which incorporate full over-ear hooks to help maintain an idyllic listening position within the ear. They direct the audio to the listener, utilizing an optimized angle within the design concept itself. These wireless earbuds are very lightweight and ensure the wearer can move uninhibited by wires and without fear that their earbuds will fall out.
As they're wireless, they operate via Bluetooth version 4.1, which, granted, is a little older now but still current enough to operate smoothly without interference and compatibility or connection issues. However, it's important to note that although his pair is wireless, they're not true wireless, as they have a connecting wire between the buds. A true wireless set wouldn't have that; it would just have the buds.
The drivers perform well with balanced sound quality and good bass presence and definition in the trebles. They provide 8 hours of continuous use between charges, and they come with a selection of tip sizes to provide a comfortable fit.
Pros:
+ Sports model with full over-ear hooks.
+ Durable build.
+ 8 hours battery.
+ Great sound and bass quality.
Why We Liked It - They are a good bare bones essential option and while the Bluetooth is a little older, they make a good cheap headphone choice. They are well made and the design is solid especially for a sports solution.
7. Bose SoundSport Wireless Headphones
Now for something a little more high end. This is a firm favorite for us from the Bose SoundSport series. They are expertly crafted from a thoroughly developed design. They feature top-quality materials.
The driver array works efficiently alongside their waveform recognition coding, engineered exclusively for the range. The processing is very advanced, the drivers respond accurately on a broader and more intricate spectrum. They deliver premium quality, dynamically balanced audio with a fantastic definition and great bass.
They are a wireless earbud option which utilizes Bose Engineering's ergonomically secure StayHere tips. The tips are attached to an inner auricle hook, dubbed a fin. It's flexible, and a simple twist ensures it stays in place withstanding energetic movement.
The earbuds are linked via a cord that sits loosely at the back of the wearer's neck. They feature an in-line mic with controls and are bestowed with an up to date, active noise-cancellation chip.
They are made with non-slip materials to combat moisture and sweat. The 6-hour battery life will last in between charges.
Pros:
+ Premium audio.
+ Impeccable drivers.
+ Expert engineering.
+ Exclusive StayHere tips.
+ 6 hours of battery life.
Why We Liked It - They serve up audio that is unparalleled in a similar sized earbud. The drivers are highly efficient and the manufacturing is top notch. With 6 hours of battery life, you can listen for a long time.
8. iJoy Matte Finish Premium Rechargeable Wireless Headphones
Next up another cheap and cheerful folding set of bluetooth headphones which deliver surprising audio and great convenience. The mechanics of how they fold away for storage and transit seem well-made, which is great because moving parts can become a weakness.
They are another closed-back set that can be used in a wired or wireless fashion, providing a good middle ground for anyone undecided, giving them a wider range of applications. The Bluetooth onboard provides a stable, stutter-free connection.
They serve-up adequate audio with good balance and wide response. The drivers are pretty good. They harbor neodymium magnets that perform well, giving the mix good, dynamic detail. The lower frequency response is extended to provide punchier bass.
These cheap wireless headphones have a built-in radio antenna so they can tune into broadcast frequencies without the need of any facilitating device. Another notable edge over their competitors is the inclusion of a mini-SD card reader, which allows you to take your playlists on the go without a device.
Pros:
+ Fold-up nature.
+ Great bass response and sound.
+ Micro SD card reader.
Why We Liked It - These are another affordable fold-away set, with great audio response. They can function independently too as a stand alone product.
9. Edifier H840 Audiophile Over-The-Ear Headphones
Securing a spot in penultimate place this week is an awesome entry from Edifier, whom we have a great deal of admiration for with regards to their speaker engineering and affordable audio electronics.
These audiophile headphones are very well built and feature a very efficient functioning design. They have closed-back monitoring cups. Their headband is made from reinforced steel, and the cable is extra strengthened also, to provide a durable solution.
The headband is ergonomically designed with comfortable leather headrest cushions. Their strong steel framework allows them to fold up, and they come with a case to keep them in.
They are expertly engineered by Phil Jones, who has tweaked the circuitry to command the driver units to respond accurately to an exclusively developed Wave-guide algorithm. The resulting performance is impressive. The 40mm diaphragms serve up stereo sound with dynamically rich soundscapes.
Pros:
+ Superb sound.
+ Ergonomic fit.
+ Expertly engineered.
+ Reinforced design.
Why We Liked It - They are an exemplary model and give excellent value for money. They are truly difficult to beat for under $50. This makes them one of the best earphones for any price range.
10. Behringer HPS3000 Studio Headphones
We're leaving you with a low-priced Behringer set, which provides a premium quality entry-level set of high definition headphones.
They are an inexpensive over-ear option that incorporates a high-efficiency cobalt capsule. It levels up the resolution of the audio to provide an ultra-wide dynamic range.
German engineering delivers exceptional sound reproduction. They feature a very heavy-duty build for their unbelievable low price, with hardy design implements in place to keep the areas most exposed well-supported and protected.
The headband is solid but comfortably fleshed-out to make them suitable for longer listening periods. The ear cups have strengthened swivel mounts. The cord is a single-sided entry, and it 's made with oxygen-free copper wires, which are tangle-resistant and highly durable. It comes with an adapter to make it suitable for switching between 6.3mm and 3.5mmm operations.
Pros:
+ Great audio.
+ Unbeatable value for money.
+ Impeccable build.
Why We Liked It - They are extremely well designed. They are a very robust option and they provide high resolution listening. This makes these the best headphones under $100 for more professional pursuits, as opposed to just every-day use.
Headphones Under $100 Buyers Guide
Getting the best headphone for cheap may seem impossible - especially with a good sound. However, we've proven above that getting the best headphones under $100 doesn't have to be. Given that the headphone industry is rapidly expanding, with many companies keen for a piece of the action, there are a plethora of products readily available to choose from.
The components and circuitry are essentially in a constant state of development as product improvements and upgrades are inventively created to outperform the competition.
With a competitive market, the buyer often has the upper hand. That is if they are able to see through the specifications and determine the facts from the filler.
When it comes to buying the best headphones tuner $100, what features to look for can be quite subjective to the user, as it relies mainly on their intended use as to the functionality requirements. For this reason, we have showcased a number of different solutions which represent idyllic options for a range of specific uses.
To narrow down what you need, you simply have to work out how you'll use them.
Which Headphone Style To Choose?
Generally speaking, over-ear models provide better audio quality as they have the capacity to house larger drivers that respond and perform with better definition and dynamics than what a smaller driver array is capable of.
So for production, engineering, critical listening, and at-home use, an over-head set is probably the way to go.
In-ear options make for some of the best headphones under $100. They're smaller and far more portable, making them a better everyday option. They are pocket-sized and can be literally taken everywhere, but the audio produced may not be high quality enough for some.
There are a number of overhead options on the market that aim to be more portable, ditching the wires for wireless operation and harboring innovative folding mechanisms. This makes them more compact than a traditional over-ear model.
In-ear models can often fall out of the ears if they are not effectively supported in some manner. This can be with the assistance of an in-ear hook (or auricle fin) or a partial/full over-ear hook. However, some companies opt for a neck or collar band instead.
If you are athletically inclined, a sports model is probably your answer. They are designed to maintain their position during motion more effectively, which is vital for use during a tough workout.
The final thing to think about is whether to choose wired or wireless connectivity. When it comes to a cheap headphone, wireless will still be more expensive than wired. A wired model typically processes the signals with truer fidelity. The signal is direct and cannot be interfered with, although some wires are better quality than others. Despite the good sound, wires can often be a weak point. If they are not durably connected, the strain can lead them to snap. They are also prone to tangling during transit, which is a pain. Once again, this weakens the product over long term use.
Going wireless eliminates these problems altogether. However, wireless signals can be less authentic (especially in models under $100). Sometimes, if you're watching visuals and listening wirelessly on a device, they can become out of sync with one another. But wireless options do offer up much more convenience and have a wider range of modern applications.
If you desire the uninhibited freedom and travel around every day, you might fancy considering a true wireless option. As mentioned above, as opposed to your average wireless set, a true wireless set of in-ear headphones won't have a connecting cable between the buds. It's perfectly possible to get a good true wireless set with a great sound for under $100.
However, you'll need to consider battery life. The battery life of a model under $100 will vary depending on whether you opt for in-ear or over-ear headphones. In-ear headphones will usually have a lot less battery life than over-over headphones. If an in-ear headphone has over 6 hours of battery life, then you're onto a winner. However, If the buds come with a charging case, you're looking at a 24-hour battery life, or even more. Over-ear headphones can go up to and sometimes even exceed a 40-hour battery life - even under the $100 range when it comes to headphones. Wireless, cheap headphones that are made with good materials should have a great battery life.
If you opt for a wired set, you should look for something reinforced and tangle-resistant. It's usually better to opt for a single entry point.
If you opt for something wireless, the Bluetooth should be at least version 4.0 or higher. However, with the cheapest headphones, Bluetooth might bump up the price. If cash is tight, then sometimes it's worth looking at an older Bluetooth version as some 5.0 models charge a lot more for the privilege of an update.
If you think that you would prefer a little more flexibility, then you'll be pleased to know there are a few versatile wireless models out there with optional detachable cables. These offer the freedom to operate with or without bridging the gap between the two.
What To Look For When Buying Headphones Under $100
The critical thing to look for, no matter what style of headphone you opt for is the quality and comfort of the product.
When shopping in the lower-priced regions, many manufacturers reduce the retail price by cutting production costs at their end. This can mean that the materials sourced, and the fabrication is sub-par in some cases.
If you're shelling-out the upper ends of the allocated budget, you should expect much more for your money.
Over-ear options should be suitably cushioned, ideally with something skin-friendly so your ears don't overheat.
Also, consider noise cancelling technology. A lot of the headphones on our list should have some form of noise cancelling ability, simply because they're over-ear and closed-back. This is known as passive noise cancelling. Active noise cancelling is also available, but that technology is more often found on higher-end products. Noise cancelling is a good feature to have when you don't want to turn your headphones all the way up to block out outside noise.
If you're not too bothered about noise cancelling, consider an open back design. An open back design generally has a better sound, as it allows air and pressure to escape. However, this is another feature found on more high-end models for authentic and amazing sound quality. Although the sound is great, an open back design means you can't properly block out sound, so there isn't any noise cancelling ability. Not only that, but open-back headphones also leak sound. So if you're a commuter, or you work in an office, an open back design might not be best for you. If you want to keep your listening habits private, opt for a closed-back option over an open back.
In-ear options should be ergonomically designed so they sit comfortably in your ears, and you should choose a pair that offer a range of sizes to try, as one size does not fit all.
Conclusion
A one-hundred-dollar cap in today's market actually leaves a lot of wiggle room to find a decent deal. With many manufacturers' low-cost ranges starting as low as just ten bucks, what the upper ends of the allocation provide is pretty impressive.
Many products sitting just below the limit are comparative to products sitting just above the threshold because the audio electronics industry (especially headphones) is super competitive. If a manufacturer has a large enough fabrication line, they will often shave off a few bucks to get their product to sit comfortably below the hundred marks to widen their demographics.
This means you, the buyer, really is in the driving seat. While real audio connoisseurs' tastes won't be catered to perfectly within this price region, there are many respectable over-ear sets with impressive audio quality to be found. If cash is particularly tight, but your expectations are realistic, then many of the low-end pairs we have chosen to include will be more than adequate for everyday use.
Expert Tip
If you're looking for an inexpensive sports model, then you might want to head over to our Workout Headphones review.
Did you Know
We recently ranked the top cheapest Wireless Headphones in 2023, which might be worth a look.
If you've enjoyed this review by Music Critic, please leave a positive rating:
[vc_separator