Most people can identify with the annoying experience of ill-fitting headphones, tangled cords, and unclear sound. Our goal is that this never will happen to you ever again!
Whether you're a casual music lover, an audiophile, or a musician we are sure you'll find the best headphones for you in this list! If you're looking for something smaller and more discrete, head over to our review on the top earbuds under $50.
We welcome you to dive right into the wonderful world of good sound. Even if it only saves your life one song at a time.
At a glance:

Our top 3 picks
Our team's top 3 recommendations
Best Overall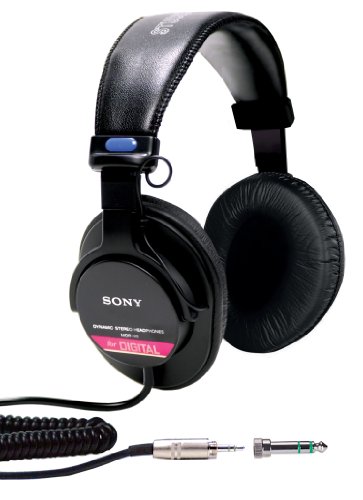 Sony MDRV6

Comfortable
Natural, clear sound
Foldable
Noise isolating
Premium Quality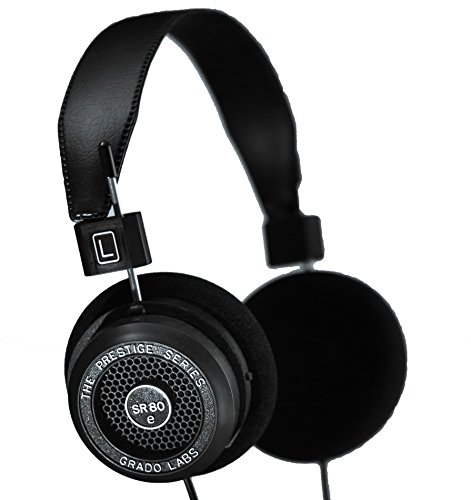 Grado SR80e Prestige Series

Comfortable
Natural, clear sound
Foldable
Noise isolating
Great value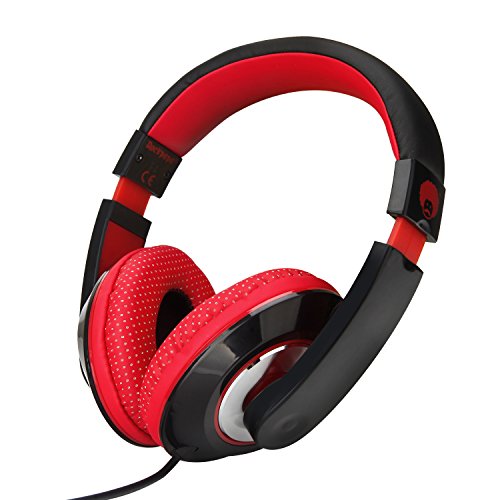 RockPapa

Comfortable
Natural, clear sound
Foldable
Noise isolating
View The Best Over Ear Headphones Under 100 Bucks:
These headphones are typical studio headphones that are extremely comfortable. These over-ear headphones are designed to be worn for hours and the headband reduces pressure well by distributing the weight evenly.
The sound they deliver is wonderfully clear and natural, they balance your treble, mids, and bass equally, so they are best for mixing and recording. For Bass headphones alone, you can follow our guide on the top headphones for Bass sound.
The ear-pads are oval-shaped in order to isolate the sound as much as possible and they have oxygen-free copper litz cords, which in other words, means that they minimize noise. They range between 5 Hz-30 kHz, which is all most people could ask for.
They come with a little pouch to store them in and are even foldable so that they are easier to bring with you and take up less space in a drawer.
All in all very dependable 'phones that are really good for the price and a safe choice for both musicians and music listeners.
Pros:
+ Comfortable
+ Natural, clear sound
+ Foldable
+ Noise isolating
Why We Liked It - To summon things up these headphones are well deserving of being number one on our list. They are super comfy and they deliver great sound, that is best for recording. The design is both nice looking and functional, since they are foldable and have oval ear-pads that isolate the sound well.
Comfort - Headphones can become very uncomfortable if you have to wear them over extended periods. One of the main reasons to buy over-ear headphones is that they are generally the most comfortable type. If you find a pair that aren't so comfortable, put them back and move on because they are falling at the first hurdle.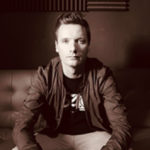 2. Grado SR80e Prestige Series
These headphones are open back headphones. This means that if you want to be able to perhaps hear what the members in your band are saying these are the best option. Otherwise, you may wish to look into our closed back headphones review.
This also means that the 'phones are leaking sound both ways, so they are probably best to use when this isn't a problem. Using these for example on an airplane would mean that you still hear a lot of noise from the engines and other travelers, who in their turn will hear your music blasting.
Even if that might seem like a con it doesn't have to be, especially if you're mostly listening to music at home. The sound is actually outstanding, so for this purpose, they are absolutely worth trying out. It's clear and equally good no matter the volume.
If you are going to use your 'phones in a studio it might be best to go for ones that provide more isolation.
We can't help but mention the design in this review, they look so good!
Pros:
+ Open design
+ Great, clear sound
+ Good-looking
Why We Liked It - The Grados are best for listening to music in environments with little background noise, or to use when playing with others to be able to communicate easily. They are comfortable with a modern, nice design. They're from Grado's Prestige Series and we totally understand why!
It's time to bring out your inner child. Well, at least if you want to go for these headphones. With a colorful design and funky logo they are guaranteed to put a smile on your face. They seem to be designed with children specifically in mind and are therefore best suited for small to medium sized heads.
They are very comfortably padded and cancel out noise pretty well, but still not well enough to block out everything. We're guessing that's actually a good thing if your kid is wearing them so that he'll hear when dinner is served or he should stop playing his game and go to bed. The volume doesn't get as high as many other headphones, which protects the user's hearing.
The cord is 1,5 meters long, which means that you can use them freely without thinking too much about the length.
These 'phones offer good sound quality for a low price and can be used by everybody in the family.
Pros:
+ Cool design
+ 1,5 m cord
+ Good everyday headphones
Why We Liked It - We're guessing it's probably best to buy a few of these if you're a big family, since everybody will want to use them. Whether you use them for watching movies, listening to podcasts or music these will be all you need.
Noise isolation - Another important feature of over-ear headphones is that they isolate noise very well compared to on-ear headphones. Noise isolation isn't just an issue when listening to music; it becomes more important if you are recording music and using your headphones for monitoring. If they don't deliver in this area, they probably aren't the ones.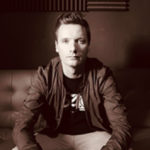 These over-ear bluetooth headphones are best for people constantly listening to music. They can be used both wireless using Bluetooth (click for Bluetooth headphones under $100) and wired and they are foldable, so they take up very little space in your bag. They are perfect for cleaning and doing housework without getting the cord in the way, and while going for a walk you don't have to figure out if the cord goes outside or inside your jacket. And you'll never have to worry about a tangled cord!
The sound is good, surprisingly good even when using the wireless headphones (click here for review). It blocks out a lot of noise, however not all. But that's a good thing if you'll be using it when other people might say something to you or an ambulance drives by.
The battery lasts for 13 hours and if it runs out there is of course a cord to plug in. One ear-pad has all the buttons you need to make your listening experience truly hands-free.
Pros:
+ Wireless with Bluetooth
+ Nice design
+ Foldable
Why We Liked It - These are the headphones that you always have needed without knowing about it. They make your day go smooth and filled with music without worrying about that irritating cord getting tangled up and they play your music and podcasts well. The foldable design makes them perfect on the go. A truly good product!
5. Audio-Technica ATH-M20x
The Audio-Technicas are best for music producers, podcasters and other people who do a bit of recording. They cover your ears well and provide good isolation, which is essential when it comes to recording. The sound is clear and even though they claim to have 'enhanced low frequency performance' (in other words, extra bass) the sound is quite flat and natural, best suited for mixing and hearing the music as it actually sounds when being recorded.
Another great thing about these is that the cord 3 meters long, so you can move about in the studio without thinking too much about wearing them.
They also look really professional which is always nice!
Pros:
+ Best for recording and mixing
+ Good isolation
+ 3 meters cord
Why We Liked It - If you are just starting out recording or mixing and building your studio these are the best option. You get everything you need in a couple of headphones without breaking the bank. You will have 3 meters cord at your disposal and look like a real pro!
Looking for an absolute bargain? Look no further! These AUSDOMs are a steal and a good one too! Sure, they might not be super advanced like some other models, but they offer good sound, comfortable fit and a nice design for a very reasonable price!
These would best suit the casual music listener who likes to have nice 'phones but doesn't want to spend more than necessary on them. Unless you're a proper audiophile these won't disappoint you!
Available in black, blue, green or black + red you're bound to find a color you like, and the more colorful options are great for kids.
They are very comfortable and lightweight, letting you enjoy music for hours. They also have a built-in microphone, perfect for gaming or calling your mom while washing the dishes.
Despite the price, the ear-cups are actually real leather and the quality is decent. A lot of headphones for little money!
Pros:
+ Cheap
+ Multiple colors
+ Built-in microphone
+ Real leather
Why We Liked It - We were looking for the best headphones under $100 because we know that not everybody wants to spend thousands on music equipment. Sometimes you want to spend as little as possible but get the best product possible. These 'phones are a perfect example of just that!
7. Liwithpro Active Noise Cancelling Bluetooth
'Active Noise Cancellation'- what's that? As indicated, the head phones do more than simply isolate noise - they fight it. The way they work is very much like a superhero fights a villain. They use the noise against itself by picking it up and reversing it. It works best for low pitches such as an airplane engine, but it can be quite nice to be able to hear if somebody is talking to you. For smaller variations, you can read our review on the best noise cancelling earbuds.
These budget noise-canceling headphones can be used wired or wireless using Bluetooth with a battery life of 15 hours. They also have a built-in microphone.
They are nice to wear with soft memory-protein earmuffs and can be worn for hours without getting uncomfortable. Still not sure? Liwithpro offers a 100% satisfaction guarantee, so should you find anything at all you don't like about them, just send them back for a full refund!
Pros:
+ Bluetooth
+ Active Noise Cancellation
+ Soft memory-protein earmuffs
Why We Liked It - These are the best 'phones for people who require silence when listening to music. Sure, it doesn't cancel everything out, you can still hear some blurry sounds when there's no music playing, but as soon as you start the music almost no other sound at all is noticeable. And with a 100% satisfaction guarantee there is really nothing to lose!
8. Lobkin Foldable Bluetooth
If you are looking to replace the earphones that came with your phone to something better, then these might be the 'phones for you! Even though they are very affordable they offer a good sound experience, they can be used wireless and they are comfortable. The ear cushions are made out of memory-protein, which simulates the human skin. This might sound weird, but it actually makes them very nice to wear.
The design is sleek and modern and they come in rose gold, orange or blue. They are foldable and easy to bring with you when you're on the go.
These headphones are most suited for somebody who wants to find something that looks good, is cheap, and still works well enough for everyday use.
Pros:
+ Cheap
+ Rose gold, orange or blue
+ Bluetooth wireless
+ Foldable
Why We Liked It - These are the kind of headphones that are ideal for running to the bus and listening to music on the way to school or work. There is no need to untangle a messy cord before you start your music, just put them on and play! When you've reached your final destination (and here comes the best part), be prepared for compliments on your good-looking 'phones!
9. Anker Soundcore Life Q20
These Anker Soundcore cheap over-ear headphones are perfect if you want to relax with music. With 40mm dynamic drivers, you can rest assured that they'll reproduce your favourite tunes with exceptional clarity and rich details. The hybrid active noise cancellation will block out the sound of traffic, engines, and airplanes. It'll just be you and your music.
If you make a lot of calls on the go, then these could be the headphones for you. With enhanced voice pick-up, your calls will be crystal clear on both ends.
The Soundcore Life Q20s are wireless and connect with Bluetooth 5. They're widely compatible with smartphones, laptops, tablets, and more, meaning you can connect to any device you possess. With 60 hours of playtime, the headphones' battery won't drain for a while, meaning you can take them with you on your commute. Don't have time to charge them? That's fine - a swift, 5-minute plug-in will ensure four hours of battery life.
Pros:
+ Quick charging time
+ Long battery life
+ Crystal clear calls
Why We Liked It - We love these headphones for a number of reasons; their quick charging time, their long battery life, and their crystal clear quality. They're the perfect pair for a commute.
10. BÖHM Noise Cancelling Bluetooth
To be honest, we didn't know that headphones could look this good! The design is the greatest on our list and the headphones feel really luxurious. They look like they could easily cost three times as much as they do and you can be sure to receive compliments and envious looks whenever you use them around people.
But what about the sound, does that match the design? We're thrilled to say that yes, it certainly does! We actually believe that it would be difficult to distinguish any difference between these and more expensive brands.
The headphones have Bluetooth so you can choose to use them with or without the cord and they have a remarkable battery life of up to 16 hours of music listening! They are fully charged within three hours!
The headphones offer active noise reduction which makes them perfect for traveling and blocks out low-pitched noise almost completely.
These headphones are the ideal option for any stylish music lover!
Pros:
+ Wireless
+ Beautiful design
+ Great sound
Why We Liked It - These headphones are last on our list, but definitely not least! They look expensive, they sound expensive but guess what the best part is? They're not that expensive! They also offer active noise reduction that makes sure your music sounds the greatest. They are wireless and can be used for up to 16 hours, and if they run out of battery you just plug them in. Good stuff!
Multi-purpose - Over-ear headphones are suitable for a number of situations and are often used as all-rounders. Before you buy over-ear headphones, you should check out how they perform in different situations to make sure they are flexible enough for you. Think about general listening, studio use, and other activities like running and fitness training.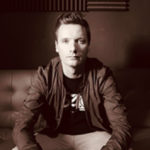 Over Ear Headphones Under $100 Buyers Guide
Top Pick: Sony MDRV6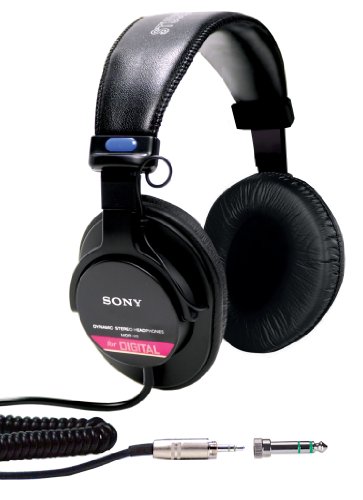 For our Top Pick we wanted to choose a pair of Sony headphones that are good both for normal music listening as well as music production. These will suit your every need. They are well balanced and perfect for mixing, the sound you hear in the headphones is what it actually sounded like when being recorded.
The headphones are super comfortable, letting you listen or work for hours without having to take them off. If sound is the most important thing to you, then these headphones are the top choice!
Premium Choice: Grado SR80e Prestige Series – B00L1LXOWS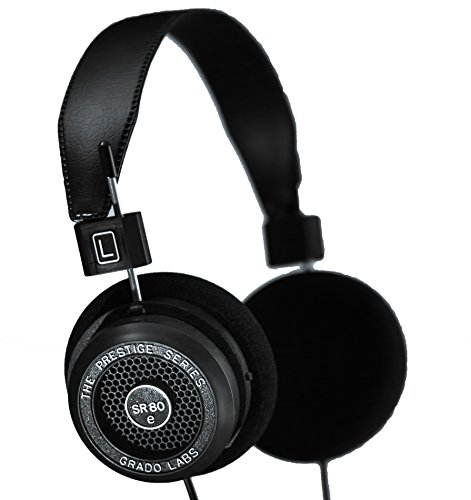 There is a reason why these headphones are in Grado's Prestige Series. They sound good, they look good and they feel good. In other words- they're the finest around!
These are best to use when you don't have to worry too much about noise since they are open back and tends to leak a little bit. This goes both ways, you will be able to hear people talking for example, and they will hear fragments of your music. The sound is wonderful though, meaning that this won't really bother you that much.
If you're looking for that premium feel then these are the headphones for you!
Great Value: RockPapa – B0144WJSE8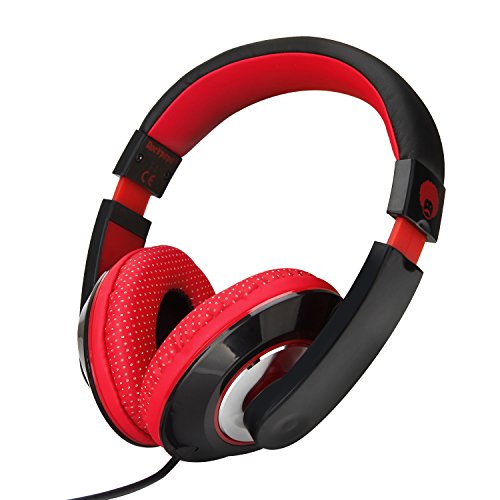 'RockPapa'… Just the name raises anticipation. You instantly think that these headphones must be fun. And they are! They have fun, funky colors, and a unique logo. The colors and the fact that they are ergonomic and that they're not loud enough to harm little ears make them excellent for both adults and kids.
The cord is long, 1,5 meters, which makes listening to music or tv-shows a lot easier. The sound is actually much better than we thought when we first saw them, they perform really well!
We always love a bargain and this seems to be the cheapest but one of the finest there is!
What are the most comfortable Over Ear Headphones?
The Liwithpro headphones you can find at number 7 on our list are definitely the top in this aspect, you can wear them for hours and chances are you might even be able to fall asleep wearing them!
What is the difference between On Ear and Over Ear Headphones?
The difference is simple and is revealed by the names of these two types of headphones. On ear headphones fit on top of your ear, and over ear headphones cover the whole ear, think music studio. Over ear headphones offer the greatest isolation.
An example scenario when many people just want to shut out background noise and listen to their music in peace is when being on an airplane, bus or train. If you're a frequent traveler you need to ask yourself which is most important: blocking out noise or having compact headphones that are easy to bring with you, since on ear headphones are usually smaller. Listening to music via headphones has been proven to activate the brain into paying more attention (read the study).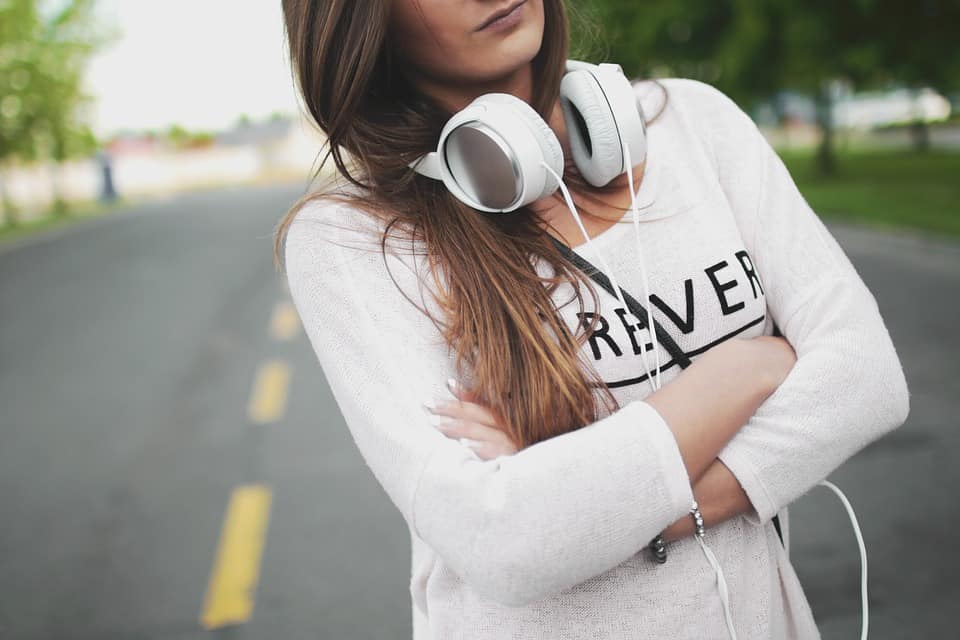 If you are using your headphones for recording music over ear headphones are awesome, since they don't leak any sound that your microphone can pick up. Over ear headphones tend to deliver bass as well, so depending on what kind of music you listen to this might be worth taking into consideration. Listening to music has been shown to improve productivity in some cases, here is the case study.
How to Wear Over Ear Headphones Properly?
Wearing over ear 'phones is a piece of cake! Before you put them on, however, look at the headphones and make sure that you match the one marked "R" with your right ear, and "L" with your left. This way they will fit as they were designed to, and sometimes the sound is supposed to come from either left or right, like if you're watching a movie and there is a car crashing to the left or a child laughing to the right.
Make sure that the ear cushions fit well around your ears and that they cover them entirely. Extend the headband if necessary.
What are the best Over Ear Headphones for Bass?
The best headphones for bass are without a doubt number 10 on the list, BÖHM Noise Cancelling (click for noise reduction study) Bluetooth. They feature enhanced bass and will not disappoint you!
For all of the different types of headphonesphones such as open back, in-ear, over ear, earbuds and more click here to read the study, and decide which is ideal for you!
If you liked this review by Music Critic, please leave a positive rating:
[vc_separator