Buying the best headphones for your kids will be a much different process than buying the best for an adult. You need to pay attention to many different aspects of kids' headphones. They should fit differently, have volume-limiting technology, and come in different styles.
You want to protect your kids' ears while also keeping yourself comfortable. Sometimes it's a little bit of a relief when you can have your little one plug their headphones in and listen silently, as opposed to having a children's songs blasting through the house or car. Kid-friendly headphones should come with volume restrictors because children's hearing is more sensitive and susceptible to damage than an adult's hearing.
Shopping for kids will be a little different than shopping for yourself. It can be difficult to know exactly what to look for. We've outlined the ten best kids headphones in 2023 and written a guide for what you should have in mind when picking them out. You'll be able to make the decision that works the best for you!
At a glance:

Our top 3 picks
Our team's top 3 recommendations
Best Overall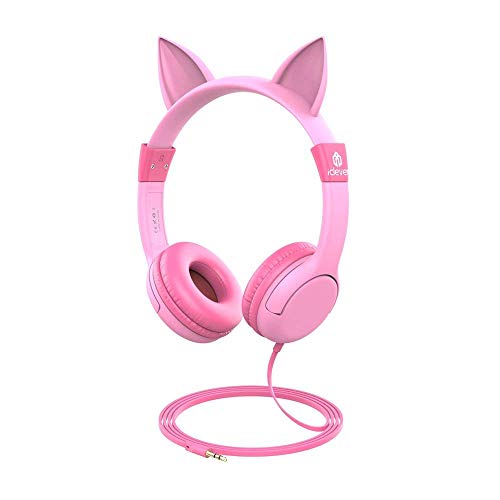 iClever Boostcare

Cute design
Child safe
Child environment durability
Volume restrictors
Premium Quality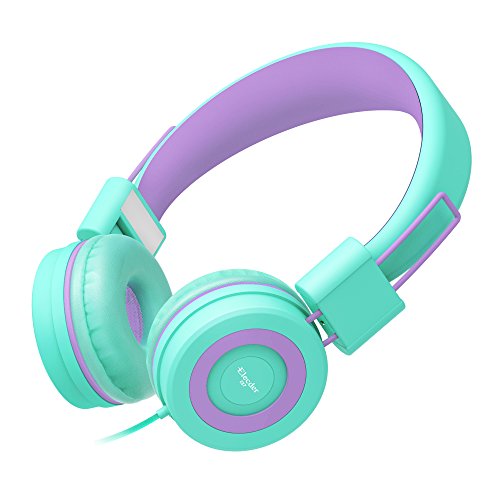 Elecder i37

Cute design
Child safe
Child environment durability
Volume restrictors
Great value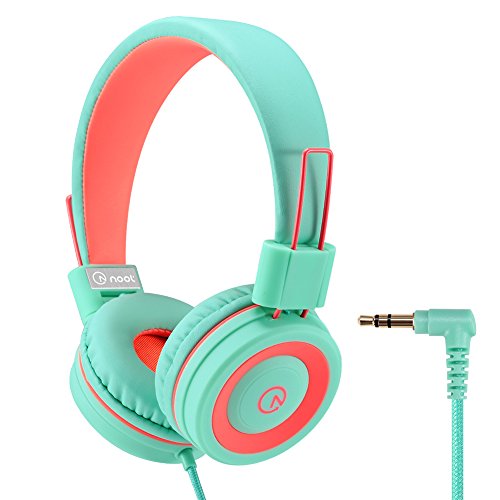 Noot K11 Kids Headphones

Cute design
Child safe
Child environment durability
Volume restrictors
View The Best Headphones For Kids Below
iClever headphones are great for young kids. They have a fun design with the cat ears on the top. Kids will love them. They are equipped with volume-limiting technology, which shuts the volume down at their max volume - 85db. This is a safe volume for children's ears.
These over-ear headphones are bendable and stretchable, made with food-grade material. With cushioned ear covers and a soft headband, they will be comfortable for any kid aged 3-12. They're compatible with most devices. You will love these headphones' style, and your kids will, too!
Pros:
+ Cute design
+ Child safe
+ Child environment durability
+ Volume restrictors
Why We Liked It - These are really safe and convenient for your kids to use. The sound quality is awesome and you don't have to worry about your kids blowing out their eardrums. The design is nice - parents everywhere will be asking where you got them. These wired headphones are the best way to keep the sound under control.
Elecder are some of the best kids' headphones for both girls and boys. They have a versatile design that will fit with any style. These wired headphones have a good stereo sound, which will give your kids good audio quality. They are built with child-friendly durability in mind and won't break easily.
The headband is adjustable to fit kids as they grow, so you won't need to always replace them. They fold up nicely to fit into a bag or suitcase when on the move. These over-ear headphones come in many different colors to fit your needs. They'll be really comfortable to wear with the padded ear covers and headband, which makes them one of the best kids' headphones.
Pros:
+ Adjustable headband
+ Foldable
+ Great sound
+ Versatile design
Why We Liked It - These headphones are really tough. They get shoved into the back of car seats and bags all the time and they still work perfectly. The sound is loud enough for kids to listen while in the car or anywhere else in public. They fit kids of many different ages, including young children, which is really convenient.
3. Noot K11 Kids Headphones
These are a really nice pair of headphones for both boys and girls over the age of 3. They don't come with volume limiting technology, which means the volume can go a little bit louder. The sound on the Noot K11's is impressive. They're easy to store and take with you as they have a foldable design. These wired headphones also come with a 5-foot long nylon cable, which is hard to tangle or trip over.
They are extremely comfortable and have extra padding around the ear covers and the headband. Multiple members of the family can wear them due to the adjustable headband. They're perfect for when kids want to watch their shows and listen to music around the house or on trips with the family.
Pros:
+ Adjustable
+ Very comfortable
+ Good sound quality
+ Foldable
Why We Liked It - These are the best kids headphones for any child, even if they're not fans of having headphones on their head. This is because they're really lightweight and comfortable. They are capable of blocking outside noise out so kids are able to focus a little more if they're watching educational videos or if they need some help focusing. We're very impressed with the K11s.
If you want some excellent audio quality for your kids, these may be the right pick for you. These headphones also have a great design. They come in a number of different colors, depending on your kid's favorite colors. They are really comfortable. They have padded ear covers and headband.
The headband is adjustable to fit kids with different sized heads. If you want to buy them for a number of different ages, they will work for you. They're really durable, and the cord will not tangle. The 4.9ft cloth cord is designed to stay safely untangled. They fold up as well and will fit into your bag. You won't have to worry about how to store them - they do that themselves, which makes them one of the best kids' headphones.
Pros:
+ Foldable
+ Great audio quality
+ Really comfortable
+ Adjustable
+ Nice style
Why We Liked It - These headphones look exactly the way you expect them to. There's no surprises when you take them out of the box. When it comes to headphones, kids headphones should be comfortable. These deliver on that. Your child can keep them on for a longer period of time. Won't need to take them off due to them being too uncomfortable.
5. LilGadgets Kids Headphones
One of the coolest features with these headphones is the fact that you can connect two pairs to the same device without any extra cords. Two of your kids can watch the same movie without needing a cable splitter. They have a really simple design, making them great for any kid's favorite style. These headphones, unlike many others, come with an attached microphone.
If you want to call your kids and they're watching something, they don't even have to remove the headphones to take the call. The audio quality will impress many adults, but come with volume-limiting technology and a maximum volume of 93db. They're designed specifically for your kids' comfort, with padded earphones and headband. They're also adjustable for kids of any age over the age of 3.
Pros:
+ Good sound quality
+ Really comfortable
+ Sharing port
+ Good design
+ Foldable
Why We Liked It - They will fit your young one perfectly and will stay comfortable as long as you need them to. This makes them great if you're going on a plane or in the car. The sound is really impressive. They're a great pair of headphones - kids and adults alike will love them.
Unlike many other headphones on our list, these ones are connected by Bluetooth v4.0, giving your kids exceptional connectivity. The sound is really good and has a really great balance to it. These Bluetooth headphones have a really futuristic look to them, and your kids will love them. An LED screen on the outside of the earphones lights up based on the sound frequency in the headphones.
They have a really standout look to them. Your kids will easily have control over the songs with the external controls. They'll have control over skipping to the next song, previous song, volume controls, and taking calls when you want to get in touch. You have a wired option so that when all the hours of battery life have run out, they will still work with the wire. They are really durable and will stand up to any kids' active environment.
Pros:
+ Really cool look
+ Bluetooth connected
+ Balanced sound
+ LED feedback
+ On-ear volume control
Why We Liked It - The best thing about these Bluetooth headphones is their look. They simply stand out among the rest of the competition. Your kids will definitely have the coolest headphones on the block. That, mixed with audio quality makes these some of the best kids' headphones.
These headphones don't look much like they're designed for kids. However, some kids don't want products that are really cute. Sometimes a simple design fits their personality the best. These earphones have super comfortable ear cushions that are breathable. This cuts down on the amount of sweat that sits on the ears. The headband is adjustable and foldable, giving your kid more flexibility.
There is also a sweatproof coating on the ear cushions and headband. That will protect the material from becoming damaged with moisture. They come in a few different colors. A braided nylon cable makes it hard to tangle the cord - an untangled cord is always safer for kids. They will fit children from ages 3-16. The sound is exceptional with good bass quality and clear treble, making them one of the best kids headphones. They're good enough to stand up against well-known brands such as the Puro Sound Labs BT2200.
Pros:
+ Slick design
+ Sweatproof
+ Resonant Sound
+ Fits many ages
+ Breathable ear cushions
Why We Liked It - We like the headphones made by Ailihen because of their simplicity and quality - they match the quality of big-name brands, such as Puro Sound Labs BT2200. They don't look like typical kids headphones. If your kids like to have more of a grown-up look, which can happen as they get older, they'll prefer this style. That way you won't have to replace them as your child gets older.
8. LilGadgets Untangled Pro
Just like the previously mentioned Lilgadgets headphones, the Lilgadgets Untangled Pro ones come with a shared port so you can have two pairs of headphones connected to the same device. They are really durable and bendable and are designed for kids four and older, with a wide variety of different colors available. The headband and ear cushions have a soft, breathable mesh material. This will make them really comfortable and fight off unwanted sweat.
The cable is snug and secure in the earphones, but it will come out easily when it's stepped on, to avoid a tripping hazard. They are expandable for kids of different ages and have really good sound. They can also act as either wired or wireless headphones. The 12 hours of battery life is really convenient for long periods of time, such as when you're on flights, trains, or car rides. These are the best kids' earphones if you like to travel a lot, and know you'll need a long battery life.
Pros:
+ Bluetooth connectivity
+ 12 hours of battery life
+ Comfortable design
+ Good for all ages
+ Volume restriction
Why We Liked It - The Lilgadgets Untangled Pro are great wired or wireless headphones. They sound really great and have a strong noise-cancellation ability. They're perfect for kids who are traveling with the family often, thanks to the 12 hour battery life. They help drown out the sound of cars and airplanes without being too loud for your kids. These headphones are durable so you can count on them working through many tough situations - that's what makes them one of the best kids headphones.
9. Mpow 2-Pack Kids Headphones
First things first, you get two sets of kid-friendly headphones for the listed price. Already, they are great value for money. These are designed for much younger kids. The design will likely be outgrown as your kids reach the age of 5 or 6, depending on what they like. They have the necessary volume-limiting technology, which doesn't allow the headphones to play sound above the max volume, 85db.
It's possible for your kids to share these with a friend as they're able to connect up to another set. If they weren't comfortable, cute, and have a good sound, they wouldn't make it onto our list. So, of course, they will be suitable for your kids to wear for longer periods of time. They are very safe as they are made with food-grade material and anti-tangling technology.
Pros:
+ Cute design
+ Food grade safe material
+ Comfortable feel
+ Dual headphone connection capability
+ Volume limitation
Why We Liked It - These are some of the best kids headphones for younger kids who like a cute style. They are designed to fit kids that are a bit younger. The volume limitating technology is really handy and gives you peace of mind that the volume won't accidentally be turned up too loud.
10. BestGot Kids Headphones
These kid friendly headphones can also be worn by adults. They don't have a cute design so nobody will ever suspect they are meant for kids. They have a really powerful, crisp sound quality as well. They come with a cloth bag to protect them when setting them down or bringing them on journeys.
The really comfortable ear cushions and an adjustable headband make these headphones more versatile. They have an in-line microphone and button control to keep track of skipping audio, changing volume, and taking calls. They're one of the few designs that come with a microphone designed for kids. It's not just the audio that's important - they are compatible with many devices, and you can get a variety of different colors to suit your needs.
Pros:
+ Versatile design
+ Very comfortable
+ Suitable for older kids
+ High-Quality Sound
+ Highly compatible
Why We Liked It - The favorite feature about these headphones is that they are suited for all ages. They are designed to fit the ears of a young one or a teenager alike. They don't look like typical kids headphones and have a more modern style. They sound great and will keep you and your kids happy.
Headphones For Kids Buyers Guide
What to look for when buying kids Headphones?
You're not buying headphones for yourself, so it might be more difficult to figure out what is important. You want a pair that your kids are going to love, but you also want to make sure that the headphones meet your expectations. The sound quality should be good, so your kids can listen to any type of audio. They should be comfortable for long listening, and they should be durable with some extra safety features included.
The way kids use headphones is slightly different from the way adults do. They tend to be a little rougher on things and, as a result, tend to break them. Children listen to different music and audio and watch different movies. Maybe you don't need to have a product that focuses on rich enhancements and advanced innovation.
We have put together a short guide to answer some frequently asked questions. If you still have any uncertainties, read on so we can help clear things up.
Safety
It may actually seem a little unnatural to put headphones on a young child. Most of us didn't wear headphones when we were young, so it may be a little difficult to wrap our minds around it. Headphones that are designed specifically for kids are a little different from adult engineered versions. Many contain food-safe materials, tangle-proof cords, and adjustable headbands - all for easy listening.
Also, many come equipped with volume limitations to keep the volume under a safe level. You can rest assured that the volume will never be too loud. Many parents find headphones really useful when traveling to help keep the kids happy with a movie or a show. Many also have noise-cancellation technology, so loud droning sounds like plan engines won't be annoying or scary for kids.
Safety should be at the top of your list. Kids' headphones are designed a little differently; protecting their ears when listening is a high priority. The sound quality, comfort, and style are all add-ons when it comes to the features of a good set of kids' headphones. As long as the headphones are made with food-safe materials and the volume won't damage the eardrums, even when listening for a long time, you can be confident that they will meet your needs.
Ease of use
Kids' headphones are designed with ease in mind as well. Wireless headphones have easy connectivity and compatibility. A good wireless set will have a good Bluetooth connection. Bluetooth 5 is the best connectivity for wireless headphones, but you can go a little lower. Great wireless earphones won't skip or disconnect, no matter what you're listening to.
Kids headphones are as easy to use as any headphones designed for adults. Kids these days are very technologically intuitive. They will be able to figure out how to use their new headphones really quickly, wireless or not. The amount of time you'll need to spend helping out will be minimal.
Quality
Kids' headphones are built to the same standard as headphones for adults. In fact, kids tend to be a little bit harder on their products. As a result, companies have compensated by adding materials that will stand up to a little more abuse. Kids headphones tend to be stuffed in seatbacks and bags when traveling, so they have to be able to withstand the pressure.
No matter how old you are, good sound quality will make a difference. In the best kids' headphones, more important is the noise-cancellation technology. Anytime outside noise can be drowned out is a plus. That way, if they're wearing them on the road or listening while studying, outside distractions can be kept where they need to be.
Versatility
Most kid-friendly headphones are designed to fit children of many different sizes. Kids grow fast, so when making a purchase, versatility is important. You want to make sure that you're not going to be replacing the pair of headphones when they go through a growth period. Along with designs that are more modern and teenager friendly, the sound quality will become more important as kids get older and start listening to more music.
Many headphones for kids are made to be suitable for children as young as three up to age 16. Adjustable headphones mean that as your kids grow, the headphones will fit them at any stage of life - they'll never have to stop listening.
Conclusion
It ought to be pretty easy to find a pair of headphones that are suitable for your kids. All of the picks on our list would make a good fit, depending on what you're looking for. We have tried to cover all bases in terms of age, style, and use of the headphones. The best kids' headphones these days are really impressive. Your kids will love listening with them as much as you'll love the quiet.
Expert Tip
Going with wireless connectivity can be a huge advantage. As wireless earphones don't have wires, that's one less thing to trip over; it keeps the safety factor at a high. Most wireless earphones have battery lives that are really impressive. Whenever the battery dies, you can always reconnect your wireless headphones with a cable.
Did you know?
Kids eardrums don't mature until ages 6-8. Until this age, kids are more susceptible to infections. The volume is especially important. At age 6-8, most kids' eardrums have matured to the level that they will stay at for the rest of their life.
If you've enjoyed this review by Music Critic, please leave a positive rating:
[vc_separator