At a glance:

Our top 3 picks
Our team's top 3 recommendations
Best Overall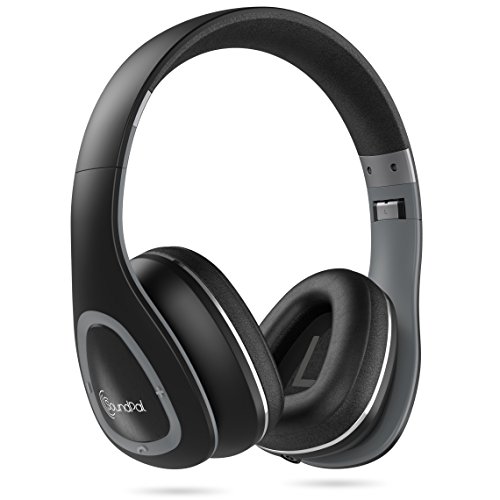 SoundPal SonoBass

Comfortable
Highly portable due to the foldable headband
Easy storage
Battery life of 20 hours
Premium Quality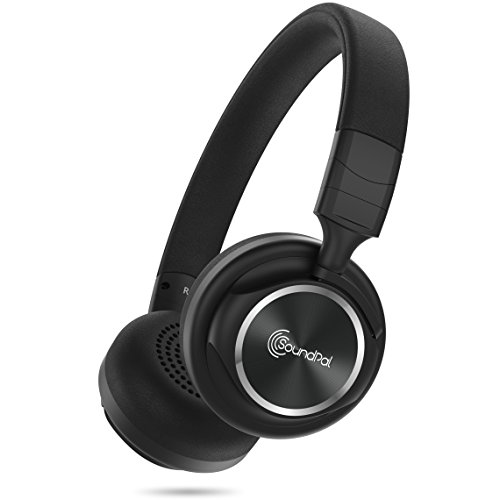 SoundPal SL50 Ultra-Light

Comfortable
Highly portable due to the foldable headband
Easy storage
Battery life of 20 hours
Great value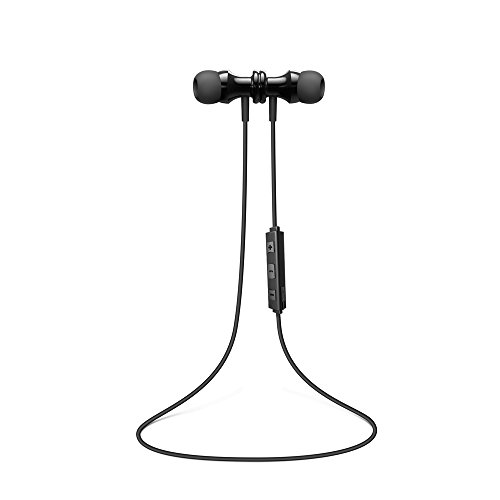 NMPB S2 Bluetooth Headphones

Comfortable
Highly portable due to the foldable headband
Easy storage
Battery life of 20 hours
The idea that quality comes with price is a common concept - and this is somewhat true. But if you're an audiophile who wants to get a quality pair of headphones on a budget, don't be disheartened. We've come up with a list of the best Bluetooth headphones for under $100. These will satisfy all your listening needs without costing a ton.
Before we give you the list, it's time to shed some light on the importance of Bluetooth headphones. Almost all of today's modern equipment is starting to take the wireless route.
Instruments that used to have long cords have gone completely wireless. Whether that's microphones, headphones, or amplifiers, you can bet there's a wireless solution for it. This is where the Bluetooth headphones come in handy, as they free you from the worries of wires.
Below is a list of the best Bluetooth headphones we've found under $100.
If you are a bass freak you could not find any better Bluetooth headphones than these at this price point. These headphones come in with a fairly large drivers' size giving you the expressive bass that you always wanted.
As these headphones are Bluetooth over the ear headphones for under $100 it means that now you can enjoy great sounds even on-the-go. They have the capability of connecting to any device because of the latest Bluetooth version they come equipped with.  The comfort level that you will experience with these headphones is also right up to the standards.
Pros:
+ Comfortable
+ Highly portable due to the foldable headband
+ Easy storage
+ Battery life of 20 hours
Why We Liked It - The SoundPal SonoBass Wireless Over-Ear Headphones are the perfect Bluetooth headphones for you if you are on a budget.
2. SoundPal SL50 Ultra-Light
If you want superior comfort and functionality from your Bluetooth headphones these are just the right headphones for you. The ergonomic design that these headphones have, makes them the best as far as the comfort is concerned. These headphones come in with a metal enhanced headband so you get all the durability that you always needed. These headphones are perfect for studio recording too.
The SoundPal SL50 is a complete blend of comfort and quality. It has the capability of connecting or pairing with any device since it comes in with the latest Bluetooth version. Switching between calls and music was never so easy, thanks to these headphones that have touch buttons for call dialing, skipping through the music library, etc.
Pros:
+ Amazingly rich and deep bass
+ Has the latest 4.1 Bluetooth
+ 20 hours of call/playtime.
Why We Liked It - The SoundPal SL50 wireless headphones are specially designed to give you the freedom and the sound quality that you always wanted from your headphones. If you are getting all this at such an amazingly low price why would you go for anything else?
3. NMPB S2 Bluetooth Headphones
We have witnessed a lot of people saying that the sound quality of the in-ear earbuds is way better than the on-the-ear ones. Since the in-ear earbuds are really close to your eardrum that is why you get this feeling. These headphones being in-ear bluetooth headphones are capable of providing you just that.
Another factor that is really impressive about the NMPB S2 Bluetooth Headphones is that they have a great noise-canceling capability for under $100. It is something that you will not find even with some of the most expensive models available out there.
Pros:
+ It comes with CVC6.0 and DSP techs
+ Stereo sound
+ Made of medical silicone
Why We Liked It - The NMPB S2 Bluetooth Headphones Wireless is an amazing Bluetooth headphone with an unbeatable price.
4. Mpow Bluetooth Headphones
Whether it is the best sound quality that you require in music or taking crystal clear calls with the utmost of ease, these headphones will just deliver all of it. These Bluetooth headphones come in with a CSR chip that gives this the ultimate stereo sound quality.
On the other hand, they have a great noise cancellation ability to provide you with crystal clear speech transmission even in the loudest of places. The noise cancellation technology helps in keeping the unwanted noise out of the headphone and giving you just the sound or speech that you want to hear.
Pros:
+ Tailor-made for use in sports
+ Weight of approx. 0.46 oz
+ CSR chip and the professionally tuned driver
Why We Liked It - The Mpow Bluetooth Headphones Wireless is a super light-weight headphone with some amazing features and all that at an extraordinary price point.
5. TaoTronics Bluetooth Headphones
There can be nothing better than getting a good sound quality from the pair of your portable Bluetooth headphones. These headphones are capable of giving you just that. When speaking of the sound quality that it has on offer it is the CD-like sound that you get from it and that is because of the Apt-X support for music that it comes with.
On the other hand, it has great noise cancellation ability and that is because it has CVC noise cancellation techno which makes it perfect for phone calls. These headphones come in with a built-in magnet so you can hang them around your neck while not in use.
Pros:
+ Specially designed to fit any sporting application, these headphones are pretty snug and secure at the same time.
+ On a complete charge, they give you a battery time of 5 hours so you can enjoy continuous music without any interruptions.
+ The microphone sound of these headphones is quite clear and that is due to the CVC noise isolation technology that these headphones have.
Why We Liked It - You will not be able to find a better pair of headphones than the TaoTronics Bluetooth Headphones as far as any sporting application is concerned.
6. Ghostek Wireless Bluetooth Headphones
When you speak of the best over the ear Bluetooth headphones on a budget there are literally no better headphones than these. These under $100 headphones will amaze you with the amazing sound quality and the number of features that they have on offer.
Whether you talk about the battery timing or the Bluetooth range, the comfort level or the enhanced portability, everything about these headphones is just perfect. Hence the Ghostek Wireless Bluetooth Headphones are one of the best Bluetooth headphones available in the market these days.
Pros:
+ Comes in with an HD sound and strong bass and also has enhanced noise reduction.
+ The design of these headphones is lightweight, slim and stylish at the same time adding to the comfort and portability of the headphones.
+ Has a Bluetooth range of approximately 30 feet which is well enough for any Bluetooth headphone.
Why We Liked It - The Ghostek Wireless Bluetooth Headphones might have some shortcomings but when you look at the price point at which they are available, it is certainly not a bad choice at all.
7. Zeus Bluetooth Headphones
These headphones are ideally designed to deliver the best when used in any spot application. Zeus is trusted worldwide as far as quality is concerned since it gives its consumers a complete refund if the satisfaction is not up to 100 percent without any questions asked.
These headphones are perfect to be used under all weather conditions since they are waterproof. The Zeus Bluetooth Headphones have noise isolation earphones and an HD sound making them one of the very best Bluetooth headphones at this price range.
Pros:
+ Comes in with over-ear hooks and silicone and foam ear tips to give you the secure fit that you require in any sporting condition.
+ These are noise-canceling earphones and that is because of the CVC 6.0 technology they come equipped with.
+  Once completely charge you can enjoy 8 hours of continuous music with these headphones.
Why We Liked It - Consider the price point and then the qualities that you get with the Zeus Bluetooth Headphones, it is certainly worth giving a go.
8. VOLTZ Bluetooth Wireless Headphones
With these headphones, you are entitled to get a great listening experience since they have a Hi-Fi stereo sound quality. It also comes in equipped with a microphone so you can enjoy hands-free calls with the utmost of clarity.
VOLTZ is a brand that is pretty confident about its products and these headphones are not an exception, they come in with a lifetime warranty telling you about the quality of the product.
Pros:
+ It comes in with over ear noise isolation pads that make it really good for noise reduction.
+ These headphones are lightweight and waterproof at the same time, therefore, can be used in different applications such as gaming and sports.
+ Available in two different colors that are rose-gold and white in order for you to select the one you like.
Why We Liked It - The VOLTZ Bluetooth Wireless Headphones may not be the most comfortable headphones in the world but have great sound quality and portability at the same time.
9. LEOPHILE EEL Wireless Neckband Headphones
Have you ever imagined yourself using a headphone while you are taking a bath, these headphones actually lets you do this. The extreme water and sweat proofing that you get with these headphones is just amazing.
You can use the LEOPHILE EEL Wireless Neckband Headphones in any extreme sport such as rock climbing or mountain biking since they come with a neckband including a wire clip design. The neckband has a weight of just 36g making it pretty lightweight and comfortable.
Pros:
+ The extreme water and sweat proofing of these headphones make them good with the most extreme applications.
+ It comes in with a healthy and soft silicone design to give you the utmost comfort.
+ Once charged completely can deliver up to 10 hours of battery time for prolonged listening.
Why We Liked It - The LEOPHILE EEL Wireless Neckband Headphones is your perfect music partner if you are looking to use a pair of headphones under extreme conditions.
10. AADDON Bluetooth Headphones
Everything about these headphones is just perfect. Whether you talk about the stereo sound quality or the comfortable design, water and sweat proofing or the passive noise cancellation, everything about it is of the best quality.
The AADDON Bluetooth Headphones comes in with a warranty of 12 months so you can be quite certain of the quality of the product. It has some very unique features that make it work extremely well for diverse applications.
Pros:
+ Comes in with Advanced APT-X tech giving it amazing sound quality.
+ It is all comfortable and secure since it has an ergonomic design with silicone ear hooks.
+ It can be connected to 2 Bluetooth devices at the same time.
Why We Liked It - If they can connect to your device, there are no better Bluetooth headphones than these ones at such an amazing price.
Bluetooth Headphones Under $100 Buyers Guide
Top Pick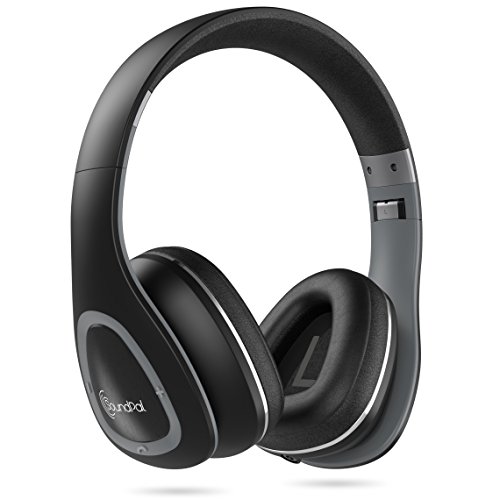 SoundPal SonoBass Wireless Over-Ear Headphones are without doubt one of the best headphones under $100. They have a very powerful audio which is rich in bass thanks to the 40 mm driver. It will pair with universally all Bluetooth devices with the 4.1 version.
With a range of 33 feet, you can easily use this headphone is a big room. With a whopping 20 hours of talk time/music playback, you have something that is worth every penny. And why it is our top pick? It is not only jam-packed with all the latest features; it is superbly comfortable as well. The headphone sits snuggly and can be adjusted to fit your head. The result is that you can listen to music for long periods of time without feeling uncomfortable.
See Also: Top 10 Best Headphones for DJ'ing within 2023
Premium Quality
SoundPal's SL50 Ultra Light Wireless On-Ear Headphones are truly high quality in every way. First of all, they pair with virtually every Bluetooth device and have a wide range of 33 feet. Secondly, they are one of the lightest headphones you can find anywhere.
They weigh just 9.6 ounces and with their foldable design are very portable too. And if sound defines quality for you, then too the SL50 will not disappoint. The 50 mm driver ensures you get the best well-balanced sound and even better bass. With mostly positive reviews, this brand and this model, in particular, is high quality in every which way even with its low price.
Great Value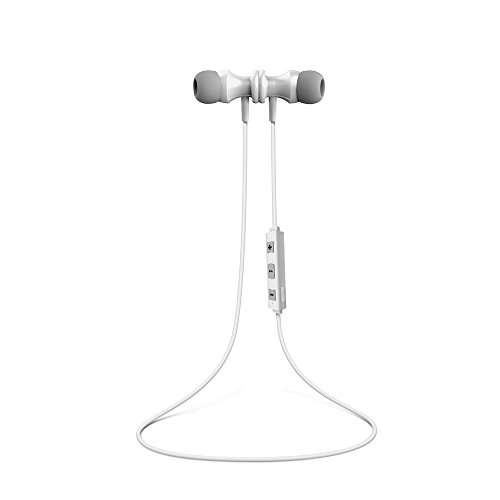 If you want something that offers a lot at a minimal price, then NMPB S2 Wireless Bluetooth Earbuds are the best pick for you. The best part is that you get noise cancellation too at the same price. This works out great for those who use earphones a hands-free calling device. You get clear sound no matter where you are; be it in a public place or even a party. It has a decent 5 hours of music playback time and a whopping 22 hours of standby time.
It is great in value because besides all these technical features you also get sweat-proof earbuds. The material used does not allow sweat to ruin your experience or leave you with unclean ears. Furthermore, the material is quite soft so you will not feel uncomfortable at all. There is a small wire that has all the basic controls you need. This product is suited for anyone looking for decent quality with convenience at a low price.
Headphones are an integral part of life for many of us out there. We listen to music while commuting or use them to watch movies and shows at night on our beds. Headphones are essential for two types: wired and wireless. The latter has Bluetooth technology that connects with audio devices and transmits the audio signal. Obviously, they tend to be a lot more convenient as compared with regular wired headphones. However, finding the best Bluetooth headphones is not all that simple because you need to know all the specifications. Here are the important details that will help you buy the best product.
Different types of Bluetooth Headphones
Bluetooth headphones come in various sizes, styles, and shapes. You have the standard headphones with ear cups and a headband, then you have the earbuds and you also have what is termed as the Bluetooth headset, which contains an earpiece, has an earbud and a microphone. This headset is best suited for conversation purposes. The headphones and earphones are obviously great for music. Basically, all the headphones let you listen to music or attend calls hands-free.
Headphones are bigger in size and even they come in various sizes. Some headphones may have very large cups with heavy padding that cover your ears entirely.  Then you have those with a sleek headband that sits on the back of your head. These are lightweight and inconspicuous so perfect for wearing outside. These usually have high-quality sound and are perfect for professional use. Earbuds and in-ear headphones are even lighter and more portable and sometimes have a loop that slides over the backside of the ear to provide support. Depending on your need you can go for either of these so long as they are comfortable for you.
Compatibility
Bluetooth headphones will work with devices that have Bluetooth technology and will play stereo sound when it is supported by the source device too. Phones that support A2DP Bluetooth profile will work seamlessly with this type of headphones. Even though most phones and smartphones, as well as many other audio devices, support Bluetooth, it is wise to make sure beforehand.
Range
The range is a very important consideration and is the only limitation in these headphones. Most headphones have a limited range only and the signal weakens if you go out of this range. The range varies from 30 feet to 300 feet which are what some of the most modern headphones are offering. You need to know the range you require before purchasing the headphones. They will only be able to provide you with quality sound in this range.
Battery and Charging
Bluetooth headphones require charging and usually have long-lasting batteries. However, battery time depends on your usage. Calls may consume more power as compared with audio playback. Nevertheless, it is good to buy a product that has a long battery life. The headphones consume less power as compared with a headset so the battery time is better for the former.
As for charging, some headphones use the same charging port as your cell phone while others can be charged with a USB port either directly from a power outlet or a computer. If you are going to use headphones with your phone a lot, find a headphone that uses the same charger as your phone. Now that most smartphones use the USB cable for charging too it becomes very convenient.
Multiple Point Headphones
Multipoint Bluetooth headphones can be connected to more than one device at a time. For example, your headphone can be connected to your phone and your home stereo system at the same time. This works out great when you need to multifunction like take calls while the music is playing from a stereo system. So when you call comes the headset or headphone will automatically pause the music to let you take the call.
Controls
The controls are pretty much the same as that on wired headphones. You can take calls and increase or decrease volume right from your headphone. The onboard controls make it convenient for you to do things while listening to music.
Quality
The sound quality and the overall quality of the headphone is an important consideration because many Bluetooth headphones do not provide the same quality of audio as would a wired headphone. The headphone should provide clear and uninterrupted sound within its stated range. Some headphones also have noise cancellation technology as well to improve the sound quality.
Weight
Headphones nowadays are pretty light but still, weight needs to be considered especially for those large over the ear headphones. A light headphone is obviously more comfortable and can easily be worn for longer periods of time. Most headphones will be between 10 g and 300 g with earphones being the lightest type.
FAQs
1. What are Bluetooth headphones?
Bluetooth headphones are wireless headphones that receive signals via Bluetooth technology. The headphones receive a signal from an audio source that has Bluetooth as well and is linked to it. They come in different sizes and types mainly over the ear headphones, earbuds and earpiece or headset. Some headphones have the headband over the head while others have it behind the head.
Bluetooth is wireless communication technology that is present in many devices like cell phones, car stereos, televisions, peripherals, etc. This is why Bluetooth headphones can easily be connected with almost all audio devices.
Bluetooth headphones work in a certain range only just like any other device that uses Bluetooth. In the beginning, these headphones had problems with the quality of sound, but as the technology improved and range increased the sound signal's quality improved as well. Now you can easily find wireless headphones that have a sound parallel with wired headphones from famous name brands.
2. Are Bluetooth headphones safe to use?
There is no hazard specifically related to a Bluetooth headphone or headset. We can say that Bluetooth headphones are safe to use. However, they are audio outlets at the end of the day and despite being wireless they produce the same kind of sound. So the precautions that are recommended for the use of regular headphones also apply to these wireless ones.
Bluetooth headphones too can have very loud sound especially those with big sized drivers. So if you listen to them for prolonged periods at very high volume, there is a risk of hearing damage. Wired or wireless, headphones should be used responsibly to enjoy music in your own company or while commuting. Some people have ears more sensitive than others and such people should listen to music at a moderate level of volume.
Otherwise, these headphones are completely safe to use. Even kids these days use such wireless Bluetooth headphones for their gaming. Since they have to move a lot, the wires can be a nuisance, therefore, Bluetooth headphones provide a good alternative.
3. Are Bluetooth headphones better than wired?
Bluetooth headphones are better than wired in terms of convenience and portability. These are essentially wireless so you can easily move around. Also when you put them in the bag or case you do not have to resolve tangled wire. In that sense, Bluetooth headphones have a clear advantage over wired ones.
In terms of quality, wired headphones usually take the cake. However, this is gradually changing as even wireless headphones provide great quality of sound in their respective ranges. So long you are within the range the signal remains intact and strong and subsequently the sound remains clear and loud.
Because of the range constraint, wireless headphones sound can be inconsistent at times. However, if you choose a good brand with proven quality standards you can be sure about consistent sound. For most headphones now the range is ample enough with some having as much as 35 feet range. This is enough to move in a room without weakening the signals.
4. Are Bluetooth headphones good for gaming?
Bluetooth headphones are very popular for gaming these days. These are in fact really good for gaming on account of them being wireless. Gamers need to maneuver and move a lot and having no wires is great for them. Moreover, the sound of the headphones is just as good as that of wired headphones so essentially you get the same quality but way more improved experience.
The controls on these headphones make it easy for gamers to multitask. They can take a call on their phone between the games without needing to move. Also, multiple point headphones can be connected with two devices at the same time. So they can connect with their phone as well as a PlayStation or an Xbox. Those that have microphone also allow them to communicate with other players. For their convenience, high portability and controls, Bluetooth headphones make a good choice for gaming.
Related; Headphones for Xbox One.
5. How do Bluetooth headphones work?
Bluetooth headphones utilize the Bluetooth technology which sends signals wirelessly. Any device that has Bluetooth in it has a tiny chip in it that has a Bluetooth radio. This chip basically connects with other devices and sends signals. It also has the software that governs this connection and makes it possible to connect to a particular device. These devices have to be close to one another to work as Bluetooth signal can only work in a close distance. One Bluetooth headphone can connect to multiple devices at a time too.
For connecting your Bluetooth headphones with a device, you simply need to turn on the headphones. Make sure they have ample charging before you use them. Now you can turn on Bluetooth on the source device, for instance, your phone. Once you turn it on it will show you all the devices that are in proximity including the headphones. You can select the headset and provide the pin number if asked for. The pin comes with the headset and you can find it on the casing.
Once you have entered this pin the connection will be active and you can play your music. Things such as volume and pause/stop can also be done on the headphones. You will not have to connect it again and again as every time you will turn your headphones and if the Bluetooth is active on your device they will connect automatically.
6. How long should I charge my Bluetooth headphones for?
The battery time, as well as charging time, depends directly on the model you are using. Most good quality Bluetooth headphones would easily give you a play time of 10 hours or above on charging for a full hour. Even charging them for a mere 15 minutes can give you an hour of talk time.
Again all of this depends on the quality of the headphones you are using. If they have high-quality rechargeable batteries then you are good for at least 10 hours of charging it for an hour. On average, a full charge should not take more than 2 hours. You can charge these headphones with a USB cable as most of them have these ports now.
The standby time is even higher for some with as much as 50 hours. You can find all these details in the specifications of the headphones. It is important to note that the sound quality may not be affected by the battery or charging time. A headset with a short battery time can have good quality sound.
7. How do I know my Bluetooth headphones have fully charged?
Most Bluetooth headphones have a light that indicates charging. Either this light would change color or will turn off indicating that the charging has been completed. It depends on your own specific model but it would not be hard to find out the indication. For instance on Motorolla Bluetooth headsets, the charging light turns off when it is fully charged. Overcharging is not really an issue with these headphones but it is still recommended to charge it until the lights indicate it is fully charged. This will keep the batteries intact and you will be able to use them for a longer period of time.
If you are confused about your particular headphone's charge time, you can always read it in the user manual accompanied in the packaging or find it online. Most headphones would not take longer than 2 hours to fully charge and give you a talk time of up to 10 hours. All these details are mentioned in the specifications when you are buying the headphones online.
If you liked this review, please leave a positive rating:
[vc_separator