We live in a world of wireless bliss. At least now we can. True wireless headphones have taken the market by storm beginning with the Apple Airpods. The sound quality has been greatly improved upon with advancements in Bluetooth technology.
The convenience of true wireless headphones is palpable. With absolutely no wires to speak of, there is now nothing dangling, swinging, or tangling up. Listening on the move has never been easier. The freedom that true wireless earbuds give you is really convenient and exciting.
In any tech market, there is always a wide variety of options available. The big players that have set the standard are still there but tend to come at a slightly higher price point. But what if you're looking for the added convenience without emptying your wallet? We've scoured the market looking for a pair of truly wireless headphones for under $100.
We've come up with 10 choices that we believe will give you the experience you crave at a price that satisfies. Here's our list of the 10 best true wireless earbuds under $100 in 2023.
Got a smaller budget? Consider these true-wireless earbuds under $50.
At a glance:

Our top 3 picks
Our team's top 3 recommendations
Best Overall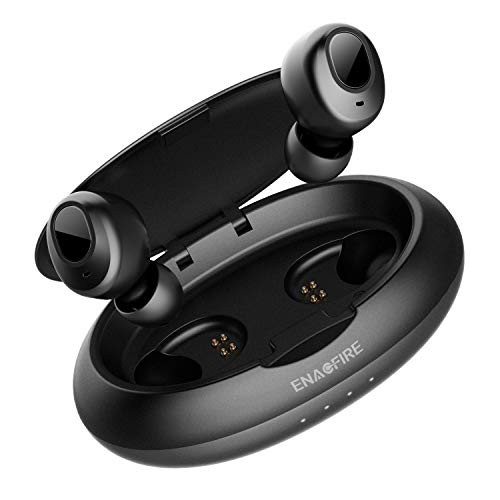 Enacfire E-19 Wireless Earbuds

Bluetooth 5.0
Slick design
HD sound
Great price
Easy pairing
Premium Quality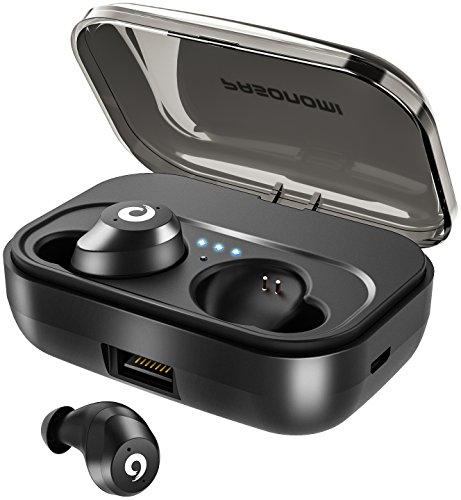 Panasomi Bluetooth Wireless Earbuds

Bluetooth 5.0
Slick design
HD sound
Great price
Easy pairing
Great value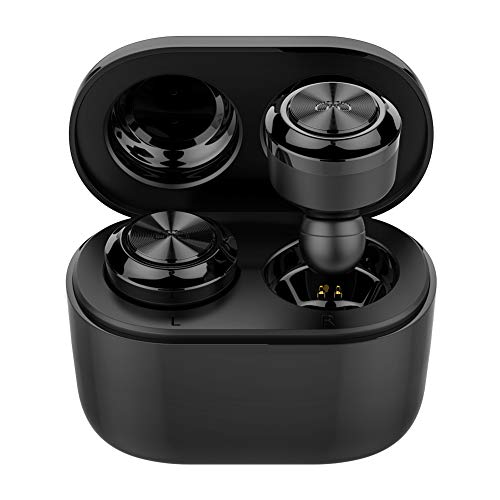 TNSO E-18 True Wireless Headphones

Bluetooth 5.0
Slick design
HD sound
Great price
Easy pairing
View The Best True Wireless Earbuds Under $100 Below
1. Enacfire E-19 Wireless Earbuds
No wires mean no limits with the Enacfire E-19's. They are really easy to pair up by just taking them out of the box and waiting a couple of seconds for the icon to appear on your phone. 3D stereo hi-fi outputs will boast some amazing bass tones and clear trebles. You won't want to put these headphones down with the HD sound quality.
Don't worry about dropped signals for up to 33ft away from your device with Bluetooth v5.0. In one fell swoop, you can have 3 hours of listening time with an additional 15 hours if you've got the charging case with you. A really small design will have the headphones blend right into your favorite style.
Pros:
+ Bluetooth 5.0
+ Slick design
+ HD sound
+ Great price
+ Easy pairing
Why We Liked It - These are a great pair of headphones that go inside your ears - all for an amazing price. Under $100 will give you the high-quality sound and versatility you crave. They are so easy to pair up that taking them out for the day is an absolute breeze.
Maintenance and care - Taking good care of your earbuds will keep them working better and longer. They tend to pick up dirt and dust from all around, and they must be kept inside the case when not being used. They should regularly be cleaned from all the skin cells, oils, and dust to avoid sound quality being affected.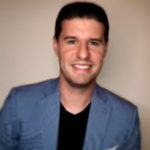 2. Panasomi Bluetooth Wireless Earbuds
Everything that you could want in a pair of true wireless earbuds will arrive for you in the Panasomi Bluetooth wireless earbuds. They have Bluetooth 5.0 and easy pairing. When you pull them out of the carry case they automatically pair to each other. Within seconds a notification comes onto your phone asking you to pair to the phone. It doesn't get much easier than that. The sound quality is formidable.
You get consistently satisfying bass with clear mids and highs. The carrying case allows you to have 15-18 full charges, and the true wireless earbuds will last for three hours on a single charge. A 15-minute charge will give you an hour of listening in case you forget to charge them and want to have a short time of music listening. They also have an IPX7 sweatproof rating and are a great pick for anyone who runs, hikes, bikes, or does any active embarkment.
Pros:
+ Easy connectivity
+ Good sound
+ Many in-case charges
+ Comfortable fit
+ IPX7 Sweatproof
Why We Liked It - Panasomi gives you what you want. For less than $100 dollars, you get superior sound quality even when things around you are loud. The ease of pairing up is really nice. Sometimes Bluetooth can be annoying and glitchy but with Bluetooth 5.0 the connectivity is really impressive and won't interrupt you.
3. TNSO E-18 True Wireless Headphones
With true wireless headphones, you are looking for extra subtlety and style. Not to mention convenience. TNSO E-18'S are just that, they give you everything you want out of wireless earbuds. They have a built-in mic for calls, a compact carrying case, one-touch button control on the outside, and decent battery life.
Your earbuds will stay charged for up to 4 hours after only 30 minutes of charging. You also get 3-4 charges out of the carrying case. 360-degree surround sound is a notable feature. Even in loud environments, the sound comes through clearly. They are very lightweight and comfortable. You'll barely even know they are there. Bluetooth v5.0 also gives you great connectivity.
Pros:
+ Bluetooth 5.0
+ Compact and lightweight
+ Stylish design
+ Convenient charging case
+ 360-degree sound
Why We Liked It - These headphones with surround sound work great. They are comfortable, look good and sound good. There are very few drops on Bluetooth so the sound just keeps on coming. It's a really convenient pair of earbuds for under $100.
The importance of fit - Without a doubt, you can get superb quality for an affordable price. Take into account how well the earbuds will fit your ears. If you go for a budget pair of earbuds, you can still get comfort, and it will largely depend on the ear tips you will be using.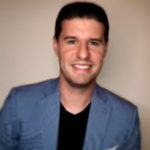 4. Ikanzi Wireless Earbuds
Another set of lightweight true wireless earbuds. A pair of headphones from Ikanzi will give you one of the best qualities of sound and convenience. Automatic pairing out of the case will have you immersed in the music as soon as you take them out. Once you're all finished, you just pop them back in and they turn off and unpair by themselves.
They come with noise-reduction technology which really enhances the listening experience. You can break a hard sweat with them in as they have an IPX7 sweatproof rating. The Bluetooth 5.0 connectivity is really strong as well. The charging case will repower your earbuds up to 18 times and you can listen continuously for about 4 hours.
Pros:
+ Many charges
+ IPX7 Sweatproof
+ Bluetooth 5.0
+ One-touch control
+ Great sound
Why We Liked It - The sound is the most notable thing on these earbuds. It can be hard to find headphones that match the big players for under $100. Ikanzi doesn't disappoint. The noise-reduction allow the sound to come through clearly with strength. They are really convenient, small, and worth trying out.
The FocusPower minis are a really small set of true wireless headphones. You may be the person who people think are talking to them because it will be hard to notice these earbuds in your ears. They come with all the standard features such as a microphone, carrying case, one-touch button control, and Bluetooth.
The Bluetooth is v.41 so it is not as strong as some of the other choices on our list. The battery life, however, is quite exceptional. You can consistently talk or listen for up to 7 hours on 30-40% volume. If you're on full volume you will still get 4.5 hours of listening time. It's really easy to charge them with a magnetic USB charging technology.
They have a good sound for a smaller pair of earbuds but not quite as good as some of the others on the list. The compact portability is the standout feature of these earbuds.
Pros:
+ Extremely tiny
+ Good battery life
+ Stylish look
+ Really comfortable
Why We Liked It - They are extremely small and compact. That makes them really comfortable since they don't have any extra bulk or weight to speak of. The extra listening time is really convenient. Not having to recharge often is really nice because you can just pick them up and go. The magnetic USB charge port is pretty cool too.
For under $100, it can be difficult to find quality. Tozo meets the quality expectations with good sound, compact portability, and ease of use with true wireless connection. They are really small and compact. They don't stand out when in your ears and will match well with your style. Designed with high-quality sound in mind, they have a well-balanced bass, strong treble, and pleasing mids.
The battery is a bit weaker with only 2-3 hours of listening after a 2-hour charge. The carrying case will give you an extra 3 charges. Bluetooth v4.1 is going to give you pretty reliable connectivity.
Pros:
+ Easy Pairing
+ Charging Case
+ Exceptional sound
+ Compact design
Why We Liked It - You save a lot of money with these headphones. They are great for running or working out with their compact design. The sound is also quite impressive for the price. They don't stack up to Bose or Apple but they are still quite good. Perfect for anyone who is consistently active and needs a pair of wireless earbuds.
7.Geekee True Wireless Earbuds
Sound quality stands out with the Geekee True wireless headphones. They have a fantastic sound with deep bass and clear trebles. Noise-cancellation technology adds to the sound power, not letting outside leakage in. They have a convenient charging case, a lightweight design, one-touch button control, and a mic built-in.
For less than $100 these true wireless earbuds are a great pick. Bluetooth v5.1 offers fantastic connectivity. You won't be plagued by dropped calls or skipping music. 3-3.5 hours of playing time are available with an extra 18 hours combined with charges from the charging case. They have ear-wings to help keep them in place. You won't have to fumble around with earbuds falling out. They are comfortable and versatile for any sized ears.
Pros:
+ Stay in place
+ Excellent sound
+ Noise Cancellation
+ Convenient battery life
+ One-touch control
Why We Liked It - They are truly one of the best pair of wireless earbuds you can find under $100. They are as comfortable as any other pair you will find and the sound is quite exceptional. The noise-cancellation technology in these headphones under $100 allows the music to come through perfectly without distraction. Obviously, they have no wires and are really convenient to take out with you.
8. JLab Audio Jbuds True Wireless
Take the Jbuds out of the case and they automatically pair up to each other. That'll add to the convenience factor. Bluetooth v5.0 will offer you seamless connectivity for fewer dropped calls and non-skipping music. The battery will allow you to listen or talk for up to 4 hours, with an additional 10 hours available from the charging case.
You have control over the sound with an EQ switch that will give you three different EQ settings. If you enjoy running, biking, hiking, or sitting in a sauna, the IPX5 sweatproof rating will keep your headphones working. It is not as strong as IPX7 but you can have some peace of mind as IPX5 is still quite strong. They are comfortable and lightweight. They look as good as any other pair of true wireless earbuds and will meet your expectations.
Pros:
+ EQ control
+ 4-hour battery life
+ IPX5 Sweatproof
+ Compact and comfortable
+ Easy pairing
Why We Liked It - True wireless headphones at their best. These headphones are really easy to use, they connect super quick and sound pretty good. The connectivity is reliable with less dropped calls and skips in the music. It's also nice to be able to control the EQ to change the sound to your desires.
9. Dudios 5.0 Bluetooth Wireless Earbuds
These are a really small and simply designed pair of true wireless headphones. They have 5.0 Bluetooth which is a fantastic connectivity option. The battery will give you 4 hours of listening and talk time with an extra 15 from the charging case. They are equipped with Hifi sound quality and an increased volume option.
They sound will come through loud and clear with no distractions. Also containing one-touch button control to easily pick up or ends calls, skip music and power off. When you pull them out of the case they automatically pair up. The carrying case makes them really convenient to have around and a little harder to lose.
Pros:
+ Hifi Sound
+ One-touch button control
+ Bluetooth 5.0
+ Good battery life
+ Easy Pairing
Why We Liked It - These headphones stack up really nicely to the other options on our list. They don't have a real standout feature but they will meet your expectations for under $100. Good sound, portability, charging case, and solid connectivity. You can't go wrong.
10. Tiamat Titan Bluetooth Earbuds
The design is quite unique with the Tiamat Titans. They have a thin carrying case which is great for extra portability. They have a super soft ergonomic silica gel on the ear pad which is really comfortable to wear. You almost forget they are there if not for the great sound. They are waterproof and you will be able to wear them for an extended period of time without worrying about ruining them with excess moisture.
The battery is quite exceptional for true wireless earbuds as they will like 8-10 hours per charge, with an additional 72 hours when accompanied by the charging case. They are great for business people with a slick design, or people who just want to add a touch of class to their daily listening experience.
Pros:
+ Sweatproof
+ Uniquely slick design
+ Exceptional battery life
+ Comfortable fit
+ Great sound
Why We Liked It - These are probably the best-looking set of earbuds on our list. They have a nice style to them that stands out in a really subtle but intriguing way. They are great for business use and workouts alike. Worth it for anyone looking for a great pair of true wireless headphones under $100.
Battery life - Even though it's not top quality, you can still get ones that will satisfy you. With the decent ones, the average durability of their life battery varies between 3 to 5 hours of constant playback, and some last longer. Over time batteries degrade, so make sure you take good care of your case and earbuds.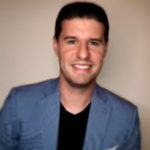 True Wireless Earbuds Under $100 Buyers Guide
What to look for when buying true wireless earbuds under $100
You're not going for a top of the line product when you are looking for wireless earbuds under $100. Nonetheless, you want to be sure you're going to have good enough quality to use your earbuds so you can rely on them daily. Whether you're an active user or prefer to have them in the car or around the office, things like reliable connectivity, sound quality, comfort, style, and durability will all come into play. So how do you find the right pair for you?
It doesn't matter if you're a total newcomer to the world of true wireless headphones, or if you have a little bit of experience and you're just looking for some more information. It can be tough to figure out what the best earbuds will be for you. We have put together a short guide based on things we believe you should keep your mind on.
Connectivity
Bluetooth in this modern day is quite good, but it is not perfect. Occasionally, dropped calls and music skips happen. It can be annoying to be interrupted during an activity or a call because of a poor connection. Bluetooth 5.0 is the newest version of Bluetooth at the time of writing. It will provide the strongest connection and clearest signal. If you settle for an inferior connection you will certainly notice a difference.
With better versions of Bluetooth, you can get further away from your device without losing connection. The standard range in 2023 is 10 meters or 33ft. Most of the time around the house you aren't much more than 10 meters away from your device. But that extra strength can add an element of convenience.
Sound
Sound quality will be more or less important to you depending on what your favorite earbud uses are. If you're an avid music listener, then you may want to go for a higher quality sound that will pulsate the music to you in a more robust fashion. For calls, podcasts, and e-books, you won't need the resounding bass, but noise-cancellation may be a little more important so you can keep your attention where you want it.
Do you like to have your music in your ears during a workout? Sound quality will certainly help when you're out in public with people and cars all around. Earbuds with better bass and treble capabilities will enhance your listening experience and your movie watching enjoyment. For other everyday uses, you may be able to sacrifice sound quality with less remorse.
Comfort
Of course, you want your headphones to be comfortable. Most earbuds these days are designed to outwit the competition in terms of comfortability. Some earbuds are designed to stay in place better than others with may be better for working out. If your earbuds have not been designed with specific purposes in mind, then they may be better suited for everyday use.
But pay attention to the comfort features that are involved in the earbuds you are picking out. Even though you're spending less than $100, you still want to enjoy blissful comfort when it comes to your true wireless headphones.
Style
How do you want your earbuds to look? We all have our own personal style that accents our personality. True wireless earbuds are generally very small, compact, and subtle. In most cases, they will not be incredibly noticeable the way that older over-ear headphones are. However, you still want them to look good right? Style will also play a part in how comfortable they are.
Sometimes in the pursuit of a better-looking pair of headphones, ease of use and comfort may be sacrificed. Ensure that The headphones that look, sound, and work the best, also have a good deal of comfort.
Durability
No two earbud users are the same. Some people like to have them around the laptop for easy listening while doing some work, others like to have them at the ready for every and any occasion. Durability will equate to peace of mind and possible avoided headaches. Do you need headphones that are waterproof? If you are a hard hitter, always wearing them during a workout, then you probably do.
If you're more of a stay at home user, then waterproofing will be more of an extra feature as opposed to a necessity. The last thing you want is to have an innocent drop on the ground and suddenly your headphones no longer work. You have to reorder and wait for them to show up, which can be very frustrating. Check that your headphones are made with durable materials that can stand up to a little bit up the pressure.
Warranty
Warranty is going to be important in the same way that durability is. Any time there is a problem with a product, it surely helps to have a reliable warranty. It will help you avoid any hassle if you need to replace your earbuds for any reason. Customer service can go a long way to ensure that you are satisfied with the product you are purchasing.
Conclusion
Going true wireless adds a ton of comfort and convenience to your life. With no wires dangling around, you truly have the freedom of movement we all crave. There are a lot of high-quality products available, including earbuds for a friendly budget. For under $100 you will be able to find a pair that will truly please your senses.
Expert Tip
Waterproof/sweatproof may be more important than you think. Since there is no wire to keep the earbuds in place in case of a drop, it would be much easier to have them fall into a sink, toilet, or ocean. If you have that extra little bit of protection, you could save yourself a replacement pair.
Did you know?
The first headphones were only a single ear device. Originating back in the 1880s. You probably would recognize the device since it was the staple design for telephones with the earpiece connected by a wire with a separate component to speak through. They used to weigh up to 11 pounds!
If you've enjoyed this review by Music Critic, please leave a positive rating:
[vc_separator