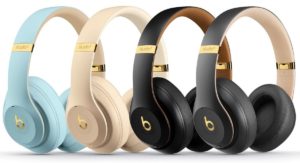 Review of the Beats Studio 3 Headphones
There are few manufacturers of headphones that have the same name recognition as Beats. This company was created by legendary producer Dr. Dre and Interscope Records founder Jimmy Iovine because of their belief that too many people were listening to music via low-quality headphones. 
Sound Quality
Sound quality was Dre and Iovine's main concern, and that led them to work with some of the world's most popular music artists during the design process of its first products. It could be said that Beats headphones allow their wearers to hear music exactly how artists and producers wanted the music to be heard. Of course, the popularity of this company has proven that Dre and Iovine have succeeded in their aim of designing headphones that can please both audiophiles and ordinary music fans.
Wireless Technology
The Studio 3 model from Beats is a set of high-end, premium headphones that are completely wireless. They connect to your device through Bluetooth technology, which helps to deliver lag-free playback. As they're wireless, then they need to be charged, but you get a whopping forty hours of battery life from a single charge, which should be more than enough for most users. The battery life is reduced to twenty-two hours if you have the ANC technology turned on, which is a feature that we'll return to shortly.
As we've mentioned, the key selling point for Beats headphones is the sound quality that they offer. The Studio 3 model offers that famous audio quality that the brand is famous for. It ticks the key box of clarity across the whole sound spectrum, which allows you to hear all the subtle details of a song. Audiophiles will be blown away by the richness of the sound that they offer.
Bass
It's often said that Beats headphones are best suited to the pop and hip-hop genres. This is because of their boosted low-end reproduction. In other words, the sound quality that Beats headphones offer is bass-heavy. This has led to criticism from some who have used Beats products. But it's important to remember that Beats headphones are not designed to be used inside recording studios for monitoring. They're for music fans, which is why the sound quality is optimized for giving you more power on the low end.
As one of Beats most advanced products, the Studio 3 model also features the powerful low end that other Beats headphones offer. It allows for an immersive listening experience that will also get your head nodding, in our opinion. Of course, pop and hip-hop fans will love the sound quality, but we also think that fans of other genres – especially EDM and other electronic dance music – will also adore the rich, full-bodied sound they deliver.
Noise-Canceling Technology
A key feature of these headphones is the active noise-canceling technology that's integrated into them. It's an intuitive form of ANC that manages to effectively eliminate external noise without impacting your listening experience. Like so many other elements of these headphones, it is also extremely simple to operate, thanks to the controls that are found on the outside of the earcups. You simply press the power button twice to turn on and off the ANC. 
Considering how impressive the sound quality is with these Beats headphones, there's a good chance that you'll want to wear them for a prolonged period. That's why they need to be comfortable. And while they might not be the most comfortable of headphones in this price bracket, we think that they will be more than fine for most users. 
Ergonomics
They feature earcups that have been designed with ergonomics in mind. The earcups are pivoted too, which means that you can move your head more freely, and this also reduces the chance of fatigue when they're worn for a long time. The earpads are substantial and extremely soft, as well as breathable, which is ideal for summer days. The whole unit is lightweight – it weighs just 0.58lbs – and this also helps to counteract any fatigue issues when worn for a long period. If you wear glasses, then we'd recommend trying on a set before deciding if they're for you, as some people who wear spectacles have complained of minor discomfort when wearing these headphones.
Although many people prefer to wear earbuds when working out, Beats Studio 3 is one of the few sets of headphones that can be worn comfortably during exercise too. This is because of the secure fit that they offer, as well as the breathable earpads. They might not be ideal for a long run in the summertime – as you could get overheated – but if you're looking for a set of headphones for a short workout, then this product will do the job. 
Price Point
No one wants to invest several hundred dollars into a set of headphones only for them to break after a month or so. This shouldn't be a worry with Beats Studio 3 headphones, in our opinion. The build quality is what you'd hope for from premium headphones. We were particularly impressed by the materials that they're composed of. The metal frame offers the optimal combination of flexibility and robustness. They come with a hard case to store them in when they're not being used. This is another high-grade product that's built to last. With dimensions of 4.8" by 6.7" by 3.2", the case is also a compact size that will easily fit inside your backpack.
Microphone
These days, people wear headphones for more than listening to music, which is why Beats has integrated a microphone into the Studio 3 model. It's one of the few features of these excellent headphones that is distinctly average. If you're simply looking to be able to make and receive normal phone calls – i.e., not for work reasons – then it should be up to your standard, though. 
Design
One area where these headphones can't be faulted is in terms of looks. This is, of course, a famous feature of Beats products with their cool aesthetics being a statement that many people are keen to show off. They come in a wide range of colors, allowing you to choose one that suits your style. You can choose white, matte black, cement, black and red, blue, gray, red, and midnight black. 
When it comes to extras, you get everything you might need with these headphones. There's a 3.5mm RemoteTalk cable, a USB charging cable, and a quick start guide so you can set them up with great ease. There's also a warranty, just in case you have any unlikely issues.
Overall, these are quite simply excellent headphones that should be considered by anyone who takes listening to music seriously. They offer substantial playtime from a single charge, premium comfort, and a durable construction that means they're built to last. The price tag might put some people off, but if you want quality then you have to pay for it, and quality is exactly what you'll get if you buy these Beats Studio 3 wireless headphones.
Summary
Beats Studio 3 headphones are a premium product that has been designed to deliver an immersive, enjoyable listening experience. The sound quality is flawless, offering you clarity across the whole sound spectrum. They're particularly recommended to fans of pop and hip-hop music because of the boosted low end that's a famous feature of Beats headphones.
They perform very well in all the important categories. Comfort is delivered due to ample, soft padding, as well as pivoted earcups, which have been designed ergonomically. The premium materials that they're constructed from ensure that they're durable, and that goes for the high-grade carry case that they come with too. The Bluetooth technology is cutting edge and ensures lag-free playback. They include highly effective noise-canceling technology that eliminates external noise so you can focus on your music. Furthermore, they offer a whopping forty hours of playback from a single charge or twenty-two hours, if you're using the ANC technology. On top of all these premium features, they're also some of the best-looking headphones currently in the market.
Pros
+ Exceptional audio quality across the sound spectrum
+ Ample battery life
+ Effective ANC technology
+ Awesome looks
+ Durable construction
+ Supreme comfort thanks to ergonomics and high-grade materials
+ Cutting edge Bluetooth technology
+ Perfect for fans of pop or hip-hop music
Cons
- They can be uncomfortable if you wear glasses
Conclusion
We're big fans of Beats Studio 3 wireless headphones because of the exceptional sound quality that they deliver. If you've never listened to music with premium headphones like these, then we think you'll be blown away by how different your favorite songs will sound when wearing this headset. They allow you to hear subtle details, as well as being powerful – especially on the low end – which can help you get lost in the music. On top of the flawless sound quality, these headphones tick the right boxes when it comes to battery life, comfort, and durability too.