Finding the perfect pair of affordable wireless headphones can make many activities in your life more convenient. If you're one to lead an active lifestyle and prefer to listen to music while you're doing it, you'll need a great pair of wireless headphones. There are a lot of affordable options in this category, which is very convenient. Sure, you could spend hundreds of dollars on a pair of headphones, but it's not necessary.
When you start to look at the different types of headphones, you'll need to make some decisions. Consider things like the style, features, and fit. The best wireless headphones are going to give you good battery life, a comfortable fit, and excellent sound quality.
At a glance:

Our top 3 picks
Our team's top 3 recommendations
Best Overall
iJoy Matte Finish

Micro SD Card Plug-In
6-Month Warranty
Multiple Color Options Available
Foldable Design
Premium Quality
Mpow 059 Bluetooth

Micro SD Card Plug-In
6-Month Warranty
Multiple Color Options Available
Foldable Design
Great value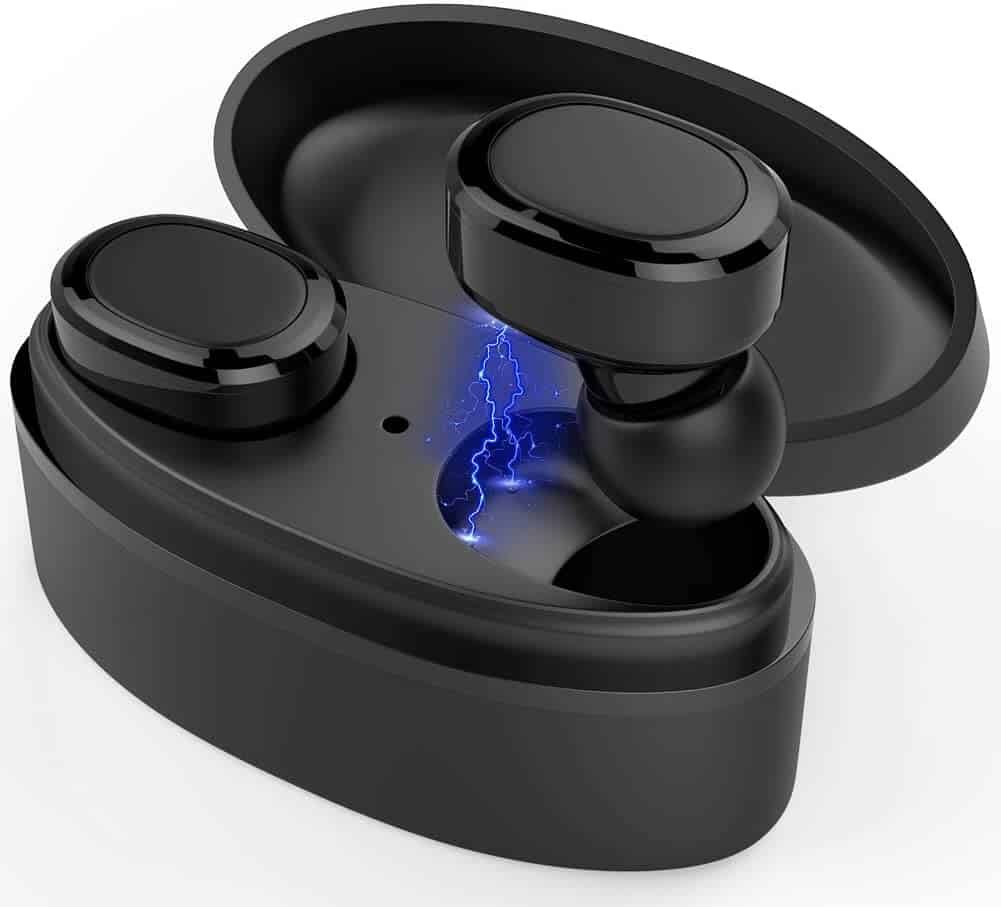 WSCSR E18 Wireless Earbuds

Micro SD Card Plug-In
6-Month Warranty
Multiple Color Options Available
Foldable Design
View The Best Affordable Wireless Headphones Below
These wireless headphones are an over-ear design. They have a broad frequency range and accurate bass responses. They are rechargeable, so you won't have to worry about batteries. Additionally, the five-button control system is simple and straightforward to use.
The ear cups fit around your ears, which helps with noise-canceling and isolation. This will give you improved sound. These wireless headphones also have a built-in radio receiver and a microphone so that you can use them for hands-free calling. They're incredibly affordable and can be easily worked into every budget.
Pros:
+ Micro SD Card Plug-In
+ 6-Month Warranty
+ Multiple Color Options Available
+ Foldable Design
Why We Liked It - These over-ear headphones are more comfortable than most others in their category. The ear cups will allow you to wear them for an extended amount of time without feeling any discomfort.
When you start to think about the features of the best wireless headphones, sound quality will be one of the most critical aspects. These Bluetooth headphones offer impressive sound. You'll get an immersive environment for your ears with the excellent closure of the ear cups.
Also, find that the ear cushions are insanely comfortable. You'll find the perfect fit for your head with the adjustable headband. Additionally, these wireless headphones have a built-in microphone for hands-free calling. The connection is quick and stable even when you're not right next to your phone.
Pros:
+ Foldable Design
+ Can Use Wired
+ Excellent Battery Life
Why We Liked It - We find it impressive that you can use these headphones wirelessly or wired. You will never need to worry about your battery dying in the middle of an excellent music session. Simply plug them in until you're done and then allow them to charge.
3. WSCSR E18 Wireless Earbuds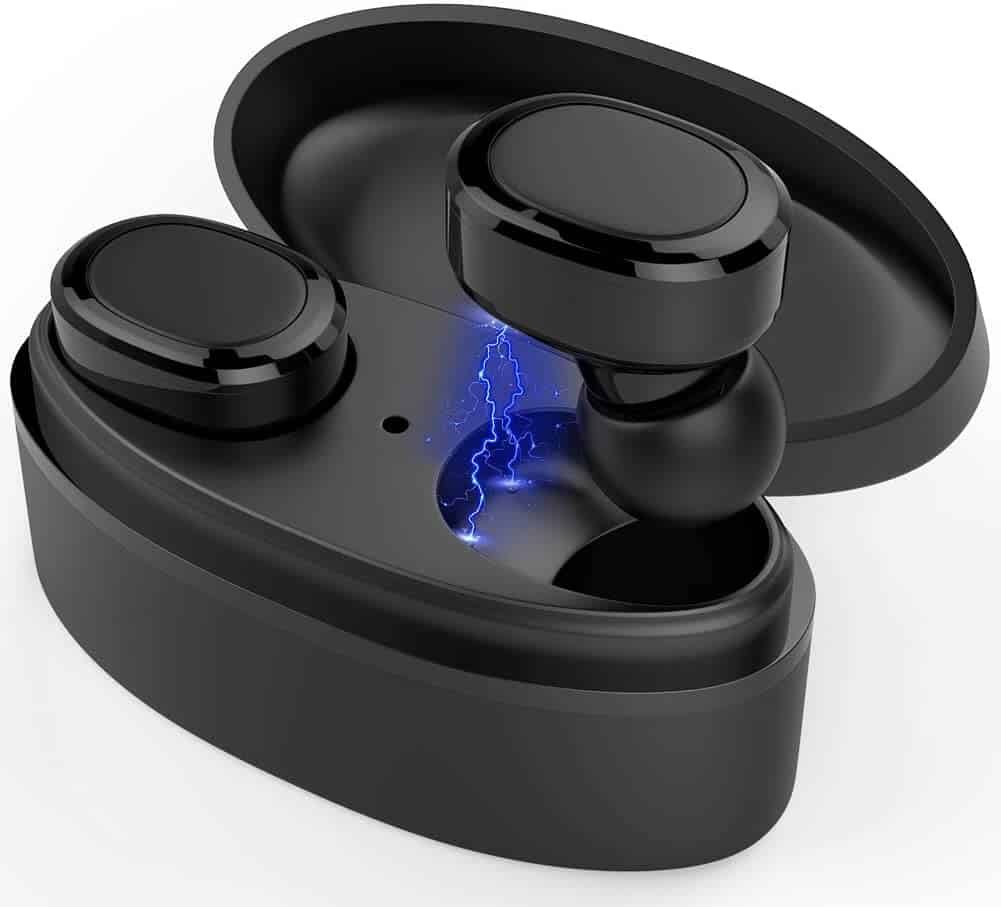 These wireless Bluetooth headphones offer clear sounds. They come in a charging box that can either be plugged in or set on a wireless charger. The charging box, when fully charged, will be able to recharge your wireless headphones three separate times.
The earbuds themselves don't have the best battery life but can be used consistently for roughly four hours. The Bluetooth connection is solid and will allow you to be almost 40 feet away from your phone. These wireless earbuds are also quite comfortable. They are lightweight and feature an ergonomic design. They will stay in place, regardless of the activity you're participating in.
Pros:
+ 24 Hour Customer Service
+ Satisfaction Guarantee
+ Quick Charging
Why We Liked It - The sleek design of these wireless headphones help to rank them among the best. They are styled with a low profile and are comfortable, even when wearing them for multiple hours at a time.
4. ENACFIRE E18 Wireless Earbuds
Consumers love these cheap wireless headphones. You will get about 8 hours of listening time from these headphones, which is a better battery life than many others. These in-ear wireless headphones carry a price that aims to please.
Additionally, the audio quality is quite fantastic. You will also find that they offer Superior noise cancellation. Whether you're making a call or listening to music, the audio quality is impressive. These budget headphones come with a wireless charging case. Altogether, you will get 40 hours of playtime when the case is fully charged.
Pros:
+ 18-Month Warranty
+ 90-Day No Questions Refund
+ Versatile Use
Why We Liked It - When it comes to in-ear headphones, wireless is the way to go. These are rated to take on pretty much all activities, including those that involve water. Regardless of the adventure, you'll find these are up for the challenge.
5. Newcos Bluetooth Headphones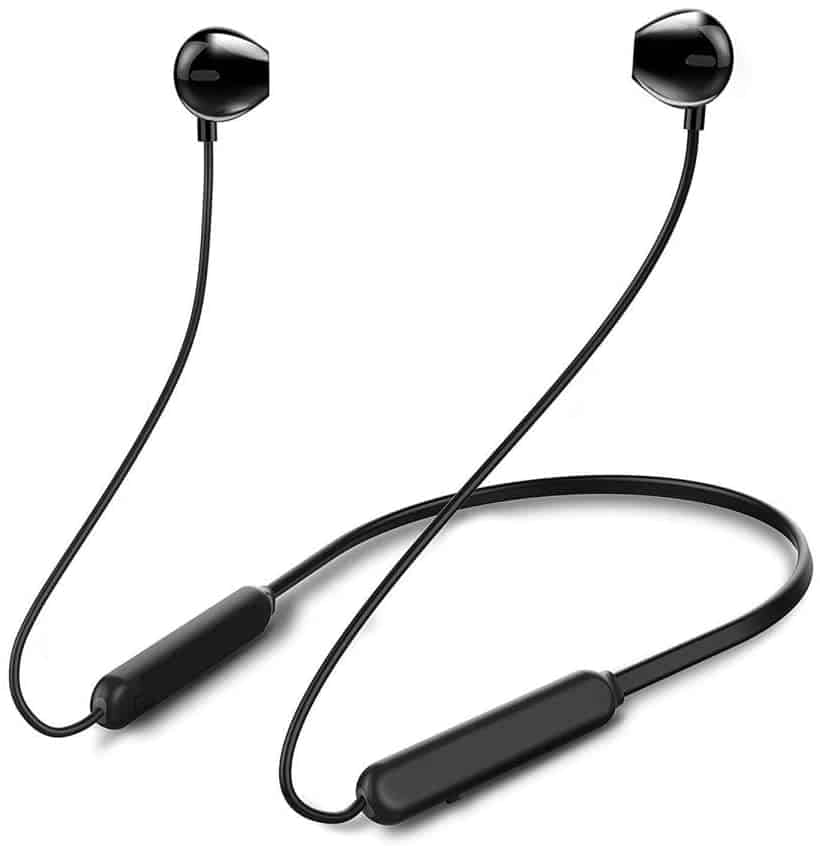 These headphones have an ergonomic design. They are neck mounted, so keeping them on you at all times is extremely convenient. They are comfortable to wear for long-term daily use. The silicone material is light and silky, and consumers find them extremely comfortable to wear.
They use a large diaphragm to improve audio quality. They are also straightforward to operate. There are only three inline buttons that you will have to deal with, and they will allow you to take control of your phone calls and the music that you're listening to. The battery life with these wireless headphones is quite impressive. You can get up to 30 hours of music playback or talk time from just one charge.
Pros:
+ Excellent Range
+ Sleek design
+ Easy To Use
Why We Liked It - Most wireless headphone options are not going to give you the type of listening time that this pair will provide. These earbuds will allow you to continuously listen to music or talk on the phone for a longer time than others in the same category.
These true wireless headphones come in at a fantastic price. One really cool feature about these wireless headphones is the fact that you can use each one singularly, or you can use them as a couple. You will get about 15 hours total between the charge of the headphones and what the carrying case can supply.
The ability to charge your headphones on the go is extremely convenient. You will be able to use does headphone wireless option with any device that supports Bluetooth version 4.0 or higher. The fit of these in-ear headphones will help reduce noise and allow you to focus on your tunes. This pair also has an excellent base feature.
Pros:
+ Stable Connection
+ 3.5-Hours of Playtime/Charge
+ Lightweight
+ Multiple Ear Tips Included
Why We Liked It - When you look at headphone type, in-ear products are some of the most sought-after. You do not have to worry over them becoming uncomfortable with extended wear. Additionally, these headphones offer multiple ear tips that are best when searching for the perfect fit.
7. Hussar Magicbuds Bluetooth Headphones
These noise cancelling cheap wireless headphones offer a secure fit. They utilize an ergonomic design and silicone ear hooks to make sure they stay in place, regardless of what activities you are participating in. The smooth silicone is also sweat-proof, so you don't have to worry about ruining your wireless headphone set.
The price aims to please. You will get some of the best sound when you invest in these. Additionally, they offer deep bass and clear treble. They also have noise-reducing technology that will allow you to focus on whatever you are listening to and avoid the distractions of the noisy outside world.
Pros:
+ Universal Connectivity
+ 9-Hours Battery Life
+ Voice Prompt Call Notification
Why We Liked It - We, as well as consumers, are very impressed with the amount of battery life that these wireless headphones feature. With up to 9 hours of uninterrupted listening time, they will be able to stay with you through every adventure.
One of the best wireless headphone options is the Mpow Flame. While we have provided you with a lot of budget headphones, this one is one of the best when it comes to price. They give you a powerful and rich bass sound. They offer a design that is perfect for getting you through your toughest workouts.
You'll no longer be focused on the music surrounding you because when you wear these, they offer excellent noise cancellation. You will get up to 9 hours of listening time on a single charge. When it's time to recharge this pair of headphones, it will only take an hour and a half.
Pros:
+ Secure Fit
+ Multiple Ear Tip Sizes Included
+ Noise Cancelling Microphone
Why We Liked It - Keeping background noise out of your music and away from your phone calls is a critical feature for products like this one. You won't have to worry about distractions while using these Bluetooth earbuds.
9. LETSCOM Bluetooth Headphones
These over-ear headphones are adjustable and comfortable. You'll get some of the best battery life that wireless headphones have to offer. Not only that, but they also provide excellent noise cancellation. There is a deep base function that provides exceptional depth and clarity.
With upgraded Bluetooth technology, you're sure to have a stable and fast connection. You will not have to worry about calls dropping or interruptions to your music. You can use these as true wireless headphones or as wired ones. This means there's no need to worry about being without your favorite pair of over-ear headphones.
Pros:
+ Up To 100-Hours Playback
+ Foldable Design
+ Includes Carrying Bag
Why We Liked It - Finding a set of wireless headphones that offer this type of battery life is almost impossible. The fact that you could potentially use them for an entire month without needing to charge them is rather impressive.
10. Otium Bluetooth Headphones
These wireless earbuds offer a silicone earloop, so they stay in place no matter what you're doing. They provide a comfortable position that helps to improve their noise cancelling ability. The wireless Bluetooth connection is secure. Additionally, you will have excellent audio quality when you go with these earbuds.
A full battery will give you up to eight hours of listening time, and they have a short charge time. You won't have to go for long without your earbuds if you go with this option. Additionally, the base which is usually lacking in earbuds in this price range is on point.
Pros:
+ Stereo Sound
+ Superior Bass
+ Easy To Use Buttons
Why We Liked It - We found it very impressive that you can connect to two devices simultaneously with these noise cancelling wireless earbuds. This makes switching between devices extremely easy, especially when compared with other earbuds at this price.
Affordable Wireless Headphones Buyers Guide
When you are buying the best and most affordable wireless headphones on the market, there are a variety of things to consider. Battery life plays a major role in people's happiness levels with their headphones.
Additionally, sound quality is imperative. Taking a product's features into consideration before you purchase will ensure that you're happy with your investment rather than disappointed and frustrated. Let us look at the different categories that encouraged us to choose these products as the top 10 in their class.
Price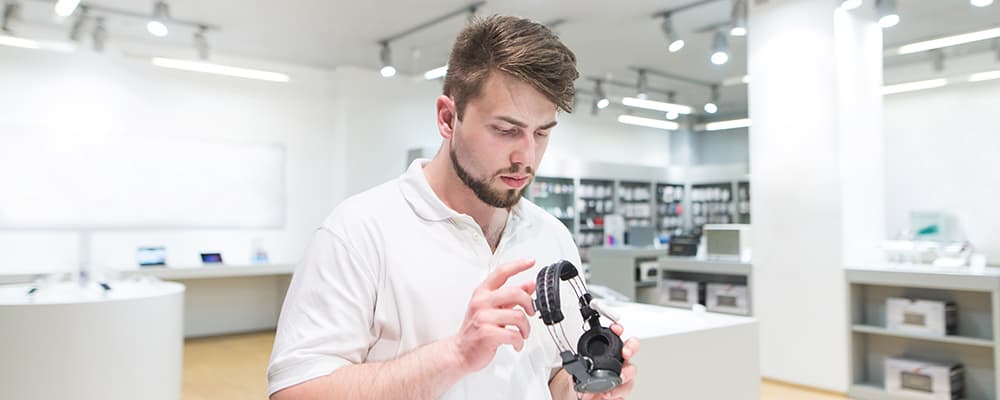 Price is one of the very first things that we looked at. You can spend hundreds of dollars on a pair of headphones, whether they're wireless or not. The best options are not always the most expensive ones. Paying attention to the features in lower price ranges will clue you in as to whether or not they're going to be some of the best or some of the worst headphones that you have used. As technology continues to advance, finding cost-effective options in the headphones category is becoming easier and easier.
Battery Life
The best wireless sets of headphones will provide you with extended battery life. You will find that the most inexpensive versions may only offer you three hours of listening time, whereas others can offer up to 100. These are pretty drastic differences in battery life.
Many of the earbud options will come with a charging case that can extend the life of your headphones. Additionally, many of the over-ear varieties will include a wire so that if the batteries do die, you still have a way to continue listening to music, audiobooks, podcasts, and more.
Bass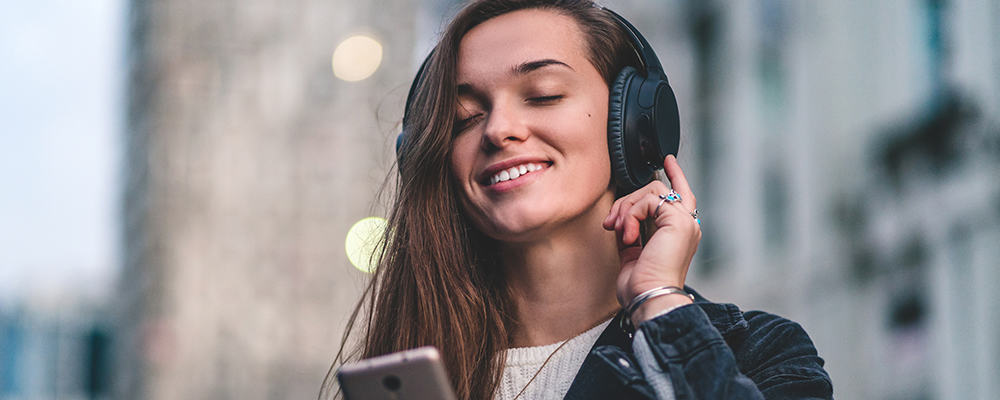 One significant problem when you invest in an inexpensive wireless set of headphones is the fact that the bass will be overpowering or not strong enough. All of the options listed in our guide have bass that rocks. You will want to search for a set that uses HiFi bass for the best in sound. The quality of the bass will be easily noticed, and you frequently even have control over how much bass you're hearing.
Noise Cancellation
Noise cancellation is one of the best features you can expect to see with a wireless set of headphones. Not only will the noise canceling feature improve your listening experience, but it will also enhance the sound quality.
It can be exponentially frustrating when you're in an area filled with noise, and you're trying to listen to something on your headphones. Using an over-ear or in-ear set of headphones can reduce noise significantly and make your listening time more pleasurable.
Truly Wireless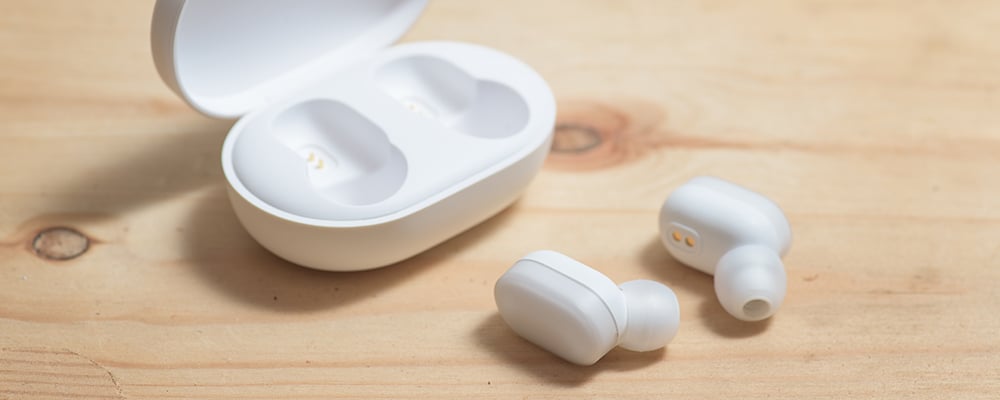 When you start to look at Wireless options, you'll realize that some of them are not entirely wireless. Many will have a small wire that runs from one headphone to the other. This can be the best when it comes to comfort. They tend to stay in place a little better as the wire is often structured to sit around your neck.
Additionally, consumers feel that this makes controlling your earpiece has more simplistic as they usually have on wire controls. If you participate in a variety of sports and activities, you may find it's best to use a truly wireless pair. This cuts out any wires and ensures they aren't getting tangled up while you're staying active.
Style
Style plays an important role in whether or not you will be truly happy with your wireless set of headphones. Some people like buds best. This is especially true if you wear glasses. Wearing headphones that go over the ears can push the arms of your glasses into your ears in the side of your head, making long-term wear extremely uncomfortable. Some buds come with over-ear straps to help keep them in place and promote better levels of comfort.
These can still interfere with those of you that wear glasses and cause unneeded pain. If you wear glasses, it may be advantageous to choose a pair of truly wireless earbuds that won't cause any extra pressure. If you don't like the feeling of buds, some take glasses into account and leave space to reduce pressure. Over-ear headphones do tend to have more cushioning, but they're also hotter when wearing them for long periods.
Adjustability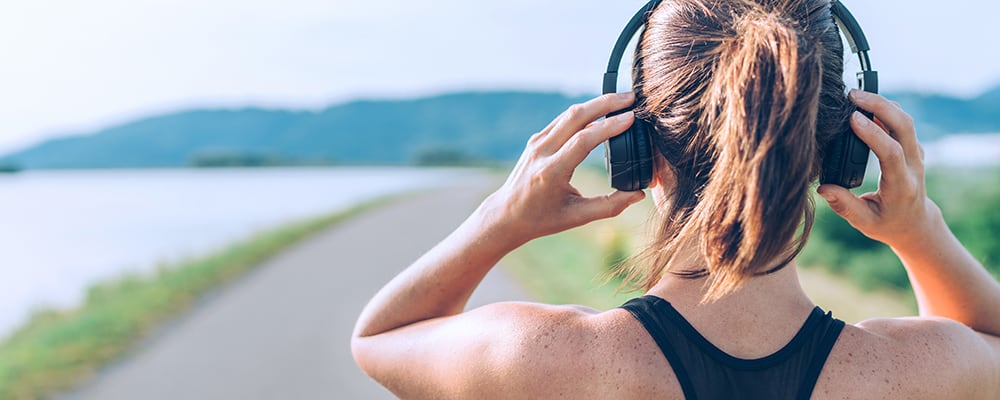 When you start to look at adjustability, wireless sets of headphones usually have a couple of different options. If you are wearing an over-ear variety, more likely than not, the headband is going to adjust to improve comfort levels. You need to double-check that the pair you are looking for is adjustable, or you may be left with an ill-fitting pair of headphones that end up never being used.
If you're more apt toward purchasing wireless buds, you should look for those that offer many different ear tip sizes. This is going to make sure that they reduce noise and stay put while you're wearing them. Perusing customer reviews can help give you insight into the true adjustability of the headphones you're contemplating purchasing. Knowing that they are adjustable will ensure that you don't have to deal with returns.
Connection
Using headphones that offer a solid connection is imperative when you're planning on making or receiving phone calls while wearing them. Most of the versions that are currently available will use Bluetooth 4.0 or higher. This means pretty much any current device is going to be able to connect with them, and that connection should be stable.
Checking the distance rating before the purchase can ensure that you will be able to be as far away from your phone as you need to be, whether you're working out or simply enjoying your music while cleaning the house. Being able to move away from your phone is a feature that consumers love as long as they're getting a stable and solid connection.
Conclusion
Trying to find a wireless headphone option doesn't have to be a major chore. With a small amount of research and paying attention to the features that are most important to you, you will be able to order the perfect set to work with your lifestyle. There are an enormous amount of options when it comes to budget headphones.
Not every one of them will be created equal. Knowing what to look when it comes to battery life, audio quality, and affordability will keep you on the right path towards picking the most stellar set of headphones you've ever had.
Many of the options above come with a satisfaction guarantee. Some of them are for 30 days, while others are up to a year-long. This will allow you to have some experience with your new set of headphones without completely committing to them.
Taking advantage of the manufacturer's warranty will ensure that you are more than pleased with your purchase. Even though all of the headphones in this guide budget-priced, you will still want to end up with a high-quality set. Knowing that you can return or exchange them is comforting and helps to build trust between you and the brand that you have chosen to invest your money into.
Many people find that purchasing a couple of pairs of headphones ensures that they don't have to worry about dead batteries or something going wrong. So, picking a couple from this guide will keep you listening to music whenever you want, without worrying about them not functioning as long as you would prefer.
If you've enjoyed this review by Music Critic, please leave a positive rating:
[vc_separator