Today's topic is one we have discussed in the past but with an increasing number of us searching for the right set, we thought it was time to re-address the 10 best headphones for TV in 2023.
Any night-owl with nightmare neighbors knows the perils of watching a movie at unsociable hours some of us resort to using our mobiles with a set of earbuds, but a better way to actually enjoy it is with a TV headphone set.
Strictly speaking a set TV headphones are going to better cater to your TV viewing pleasure but they can often be priced inaccessibly for the average user. Because of this, we have included a few alternatives which could suffice in a pinch.
At a glance:

Our top 3 picks
Our team's top 3 recommendations
Best Overall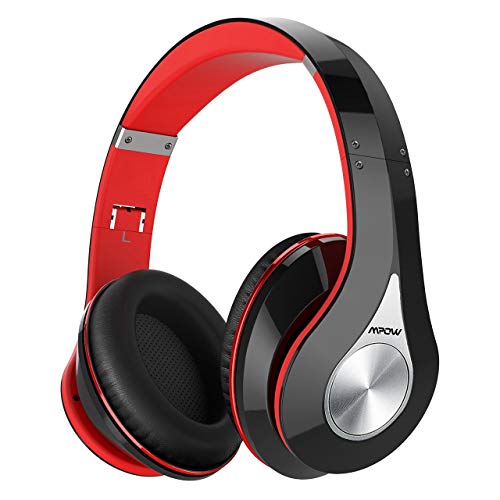 Mpow 059

Generously padded.
Skin-friendly materials.
Reliable connectivity.
Premium Quality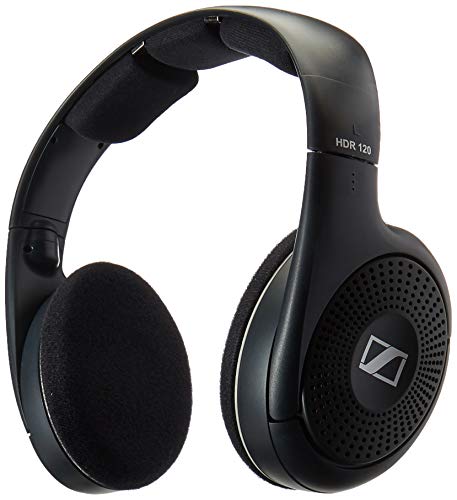 Sennheiser RS120

Generously padded.
Skin-friendly materials.
Reliable connectivity.
Great value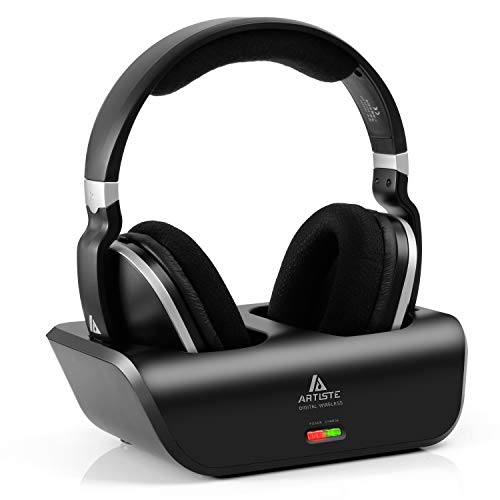 Artiste Over-Ear TV Headphone

Generously padded.
Skin-friendly materials.
Reliable connectivity.
View The Best Headphones for TV Below
We are opening with one such pair, the 059 upgraded model from Mpow. They are a great go-to budget-friendly over-ear option with reasonable audio capabilities that are suitably soft for slouching on the couch whilst you catch-up.
It has a headband and cups which are cushioned with a foam covered by a memory protein which is sweat-proof.
The audio has great balance for an inexpensive set and is packed with impressive dynamics. It works via neodymium magnets which drive the internal components. It is equipped with large responsive diaphragms that can detect a wide frequency range.
The ear-cup itself harbors the easy-reach user controls and the Bluetooth is very stable despite being a little older. They are easy to pair and have an ample battery which works for 20 hours playtime, though an optional plug-in cable is also provided.
They are a fold away set which makes for easier storage and a tidier room.
Pros:
+ Generously padded.
+ Skin-friendly materials.
+ Reliable connectivity.
Why We Liked It - The audio quality is very good and the Bluetooth is stable, though a little older with no noticeable lag.
This second set on the list makes for a shocking comparison as it is designed with home entertainment system use at the forefront of its functionality.
The RS120 set from Sennheiser is an incredibly well-made headphone option which is actually radio frequency operated. This is one of their more affordable pairs in their RF capable range and it a durable choice too.
Pros:
+ Radio frequency operation.
+ Lag-less.
+ Affordable model.
Why We Liked It - It provides a perfectly synced audio broadcast. They are comfy to wear and you can buy extra ones to hook together.
3. Artiste Over-Ear TV Headphone
Another fab low-cost genuine radio frequency operating pair which are decidedly comfy are this set of over-ear beauts from Artiste.
They feature a fully-adjusting, padded headband and plush, plump cups. They are closed back for privacy and immersion and serve-up superb sound quality.
They have good quality engineered drivers which pump out high-definition audio with a good frequency range. Transmission is clear stable and loss-less, it has strong penetrability and works from afar.
They come with a transmitter/recharge-dock which you can use multiple headphone sets with. It doesn't require any pairing because of its RF bandwidth operation.
It has an auto-standby mode that helps save the battery life if nothing is being broadcast to it. The battery incidentally can transmit for around 20 hours at a time.
Pros:
+ Comfortable model.
+ RF operation.
+ Long battery life.
+ Interference-free.
+ Multi-transmission.
Why We Liked It - It has a very attractive retail price and is very durably built. It undercuts the Sennheiser model and provides pretty decent audio with good distortion-free bass.
We are going back to budget Bluetooth market for a look at a bargain pair that provide a fair amount of comfort.
The COWIN E7 model is a set we have previously reviewed because they represent some of the must-have features in a bare essential model.
Now they came on to the market a fair while back and have since been superseded so the Bluetooth on-board is a little more dated but still widely compatible and reliably stable. They have some chip optimization to help keep streaming as instantaneous as possible which makes them a plausible telly option.
They serve up great audio with their large-aperture drivers that have an extended response and they can run for around 30 hours even with their active noise cancellation functioning, which by the way helps to drown out your surroundings.
Pros:
+ Durable model.
+ Great audio.
+ Bargain.
Why We Liked It - They are a commendable model, super-comfy to wear sufficiently durable and if you are trying to enjoy a bit of TV catch up in a noisy household then the ANC is a bonus plus they come in a fab range of colors so you can match them to your decor.
Next up another Bluetooth model that might just do the trick. The HS063 set from Avantree aren't just kitted out for comfort with their padded cups and flexible fold-away headband, they also have some quality components tucked away that gives them superb sound.
They are another large-diaphragm model driven by neodymium with great balance and dynamic detail.
They are well-designed and provide a steady Bluetooth connection that pairs almost instantaneously.
Their biggest advantage over other Bluetooth models which renders them a good TV-ready alternative is their ability to pair to a secondary set of headphones, much like the multi-link functionality of some of the RF sets we have examined.
Their battery is pretty generous too, allowing for a run-time of around 20 hours.
Pros:
+ Large diaphragm.
+ Reliable Bluetooth.
+ Dual link-up options.
+ Good battery life.
Why We Liked It - They are a good Bluetooth option which makes for a credible TV listening solution.
This next little on-ear set come with their own radio frequency transmitter that plugs into your television. It allows for multiple headphones to be connected and it is a lot less cumbersome than a bulkier over-ear option.
They have an extensive transmission range which is completely lag-free and aren't obstructed by interior walls. They are widely compatible and work with Dolby etc and are a doddle to set-up and use.
They are very well built, comfy to wear, and fully adjust as well as fold-away. They appear pretty durable and have a reasonable starting price with additional headphones pretty inexpensive.
They have a decent sound quality and provide a good clear mid-range ideal for spoken word commentaries and narration with great dynamics so you won't miss a whisper. The battery lasts up to 10 hours which granted is a little less but still plenty of time for movie night or a good binge-watch, they can also function directly connected if you aren't seated too far away.
Pros:
+ RF solution.
+ Lag-free.
+ Smaller size (on-ear).
Why We Liked It - They are an affordably priced set specifically designed for use with home entertainment systems, they are well designed and a little comfier should you fall asleep on the sofa watching an epic.
Another set designed ultimately for TV viewing is the J3 TV listener set they are again of a slightly smaller nature but for television listening you don't necessarily need the booming bass of a bigger diaphragm to project dialogue.
They are a comfy-enough over-ear option that features a skinny dual headband, ergonomically designed to sit comfortably on the curve of your head.
They are, of course, built from slightly less desirable materials but the sacrifice is probably well worth the attractively low price-tag.
They are a bargain pair of interference-free headphones which come with an independent transmitter that can be hooked to multiple sets to share your viewing.
The audio is reasonable in quality and whilst they won't impress the audiophiles out there, they present unbelievable value for money and provide a genuinely clear line of transmission.
They can capably handle around 15 hours between charges.
Pros:
+ Clear transmissions.
+ Multiple headset link-up possible.
+ Sufficient battery.
+ Cheap option.
Why We Liked It - They are a very impressive set for those on a more restrictive budget, they are easy to set-up and allow for multiple pairs to be connected via the transmitter.
Back to the Bluetooth choices for another few Avantree options now that could be just the ticket if you are looking for a versatile option and don't fancy a radio-frequency operating set solely for at home TV use.
This particular model has caught our eyes before for its very capable rechargeable battery as well as its durable nature at an affordable cost.
One of the attributes, it has that deems it telly suited is it's zero lag and supported Bluetooth streaming signal which benefits from Apt-X tech to help keep it in check.
It is very well-made very lightweight and has lush cushioning and skin-friendly coverings. The headband is adjustable and the cups are strongly swivel mounted.
The audio wipes the floor with many at this price-level as well, it has great detail and creates rich soundscapes.
Pros:
+ Well-manufactured.
+ AptX low-latency headphones.
+ Great audio drivers.
Why We Liked It - It is a great model which not only provides a lag-free signal for telly watching but can be used for other applications rending it far more versatile.
An alternative Avantree model to consider is the HT 4186, a well engineered Bluetooth earbud headphones.
They feature ergonomic tips with flexible wings help them maintain their placement in your ears allowing for a wider range of motion from the user as well as providing a comfortable fit.
They have their own self-contained Audikast optical support transmitter and operate a clear signal that is free of lag thanks to their Qualcomm chipset and FastStream codec support. They can operate via a dual-link so you can watch with friends.
Pros:
+ Earbud option.
+ Lag-free.
+ FastStream.
Why We Liked It - They are an earbud option which provides a lag-less stream, they are well-engineered and the audio quality is impressive to boot.
10. Stereo Over Ear Headphone
We are closing our review section with a final cheap and cheerful alternative. They are reasonably well-made, though you oughtn't expect too much from them as with any budget model.
They have a comfortable cushioned closed-back cup design which keeps listening private and immersive.
Their audio is reasonable it has fair balance and pretty good definition throughout the spectrum. They operate a high powered signal with a good transmission range of around.
They are easy to use with their simple scan and reset function keys that lock on to its emitter, and they feature a built-in mic for headset use. The batteries are rechargeable but it doesn't come with an adapter.
It has FM radio connection capabilities and some users have found it tricky to distinguish between the radio and TV settings so be sure you have it set-up correctly.
Pros:
+ Good definition.
+ Easy scan and reset the device.
+ FM radio option.
+ Very cheap.
Why We Liked It - They are an inexpensive set to test the water with, we don't consider these the highest of quality but they are one of the best bargain sets we could source.
TV Headphones Buyers Guide
In this week's buyers guide we will do our best to answer your FAQ's and hopefully, help give some unbiased info regarding Bluetooth and Radio Frequency sets.
Bluetooth vs RF
RF if you haven't been following us, stands for radio frequency. RF headphones function using an antenna which is filled with an alternating current to generate an electromagnetic field (RF field or radio wave) that can be used for wireless broadcasts.
Bluetooth uses UHF waves (ultra high frequency) it is better for the short-distance device to device communication. It uses radio signals 1000 times weaker than typical wireless. Its biggest benefit is it sends via secure signal transmissions.
Whilst Bluetooth is clearly superior for communicating privately person to person, radio frequency technology is arguably better for watching television.
This is because it provides a far quicker signal transmission with lower latency which is vital if you want your audio and pictures in sync. Some Bluetooth models just aren't as lag-free as they need to be.
Television is broadcast via electromagnetic radio waves and therefore your headphones receive the audio signal in real-time with the broadcast. Bluetooth headphones have to wait for the signal to be resent from the TV to the headphones separately from the broadcast.
Granted the wait can be nominal in better equipped Bluetooth sets but the delay, no matter how imperceptible, is cumulative and eventually can lead to stuttered audio as it catches up and skips or having to watch actors lips completely out of sync with the soundtrack, which is never fun.
Bluetooth TV headphones can be used for other purposes which can be a bonus depending on the kind of lifestyle you lead we are never going to settle the argument completely but from a technical point of view RF sets make for the best TV headphones.
What are the Benefits of Using Headphones for TV?
There are many different benefits to using a decent set of TV headphones. One of their most glaringly obvious abilities is for better comfort during a private TV listening session. Wired sets tend to restrict the movement of the user.
They can make TV viewing more immersive and intense, invoking more emotions. They do wonders for the Foley track drawing far more attention to the sound-effect details.
If you live in a shared apartment, or in a busy block in a built-up area they can be useful for keeping the neighbors on good terms or helping to hear over the ruckus outside.
As glossed over in our intro they enable those who work unsociable hours to listen to programs without irritating anyone. For this reason, they are a great idea for anyone who travels on business for use in hotels.
Lastly, they can be vital for those struggling to hear the TV, subtitles can often be poorly transcribed and if you are hard of hearing you might not fancy turning the volume up too loudly especially late at night when others may be trying to sleep.
What To Look For When Buying TV Headphones?
Once you have decided whether to go RF of Bluetooth you really only have quality, durability, comfort, and price to consider.
Comfort is paramount because watching television should ultimately be enjoyable and relaxing especially at the end of a hard day's work. The balance between comfort and durability can be a fine line and it is undoubtedly governed by your allocated budget so let's break it down a little.
Most of those we have looked at today have been closed-back over-head models which are either on-ear or over-ear options. This is because simply put they make for the best headphones for watching TV.
The nature of their larger stature allows for better audio drivers and also help to passively filter the outside world because they provide a physical barrier with their closed-backs.
This makes watching TV more private and ensures the background is blocked out, this allows the listener to really focus on the program or movie.
Over-head options are bulkier and so it is essential first and foremost that they are nice and lightweight. The headband needs to be flexible and fully adjusting or the cranial pressure could become uncomfortable.
The cups should be cushioned sufficiently and preferably with something breathable to prevent your ears from any overheating, helping to circulate the blood flow better during long periods of use. If your ears get hot then comfort is going to be sacrificed and it can cause excessive sweating which can eventually be damaging for the internal components.
On the subject of the internal parts, you should be looking for a large-aperture set with hardworking dynamic drivers. The better their frequency response the more accurately they will replicate a range of frequencies giving you a fuller picture.
The audio quality is important as the primary use is for listening after all. If you are unfortunate to be listening in a particularly loud environment then you might want to consider active noise cancellation in a Bluetooth set.
Having a swivel mounted ear-cup can be far more comfortable to wear as it adjusts to the circumference a little easier. It can also help prevent some of the long-term wear and tear from taking the headphones on and off. If the mounting isn't particularly reinforced or well-designed it can become a weak point.
If you find over-ear options unbearable then you will obviously be looking for a set like the Avantree HT4186 Wireless set which is ergonomically designed to stay in place.
Of course, budget is going to dictate the level of comfort to a degree as will it weigh in on the durability.
Even a budget model should ideally have a strong build and be fairly comfortable, even if it is comprised of less-costly resources in its composition.
In terms of the quality level found in a budget, product expectations should be kept realistic, but there are many which outperform similarly priced sets.
The lower budget sets we have sourced in our wireless headphones for television reviews section are pretty well-made and make for viable low-cost options, there are plenty more examples out there.
Conclusion
Dedicated wireless headphones for TV have a number of great benefits whether it is for more selfish reasons such as enriching your listening experience, blocking out the background so you can hear your favorite shows or more practical purposes like helping with the hard of hearing or allowing for nocturnal viewing.
They enhance sound details and importantly keep listening private, all the while allowing for freedom of movement.
There are plenty on the current market to choose between, as a consumer you really are spoiled for choice so there's no excuse not to have a pair of home-theater headphones.
Despite being very pricey in the past there are a number of accessibly priced radio frequency sets and we hope we have done a good job at exposing some savvy solutions in this article and detailing their capabilities in our buyer's guide.
Expert Tip
If you are looking for a dual set without buying separate headphone sets check out our other TV wireless headphone review articles. Sennheiser makes some awesome premium sets which we have previously reviewed, we really like the RS.
Did you Know
Sound waves travel at around 344m per second and electromagnetic waves travel at the speed of light, and a radio wave is a type of electromagnetic wave. So technically speaking your RF headphones can receive a transmission faster than your own ears listening to the television.
If you've enjoyed this review by Music Critic, please leave a positive rating:
[vc_separator