The world of headphones and hearing devices is big and varied, and there are different models to choose from. The on-ears wired and wireless headphones are a great option for those who want a comfortable fit and excellent performance, also when wearing the headphones for long periods.
There are many things to consider when shopping for headphones, such as sound, design and additional features, and you need a pair of on-ear headphones that will last for a long time, to avoid you having to spend money twice to purchase new ones. You also have the option of choosing wireless headphones or a wired product, depending on what you think would work best for you.
It can be overwhelming to start the search for the best Bluetooth product, but these are some of the best on-ear wireless Bluetooth headphones and wired headphones you can find in terms of performance, audio quality, and more.
At a glance:

Our top 3 picks
Our team's top 3 recommendations
Best Overall
Bose SoundLink On-Ear

Built-in quality microphone
Rechargeable lithium-ion battery
Wired or Wireless listening mode
Dynamic sound quality and great bass
Premium Quality
SteelSeries Arctis 7 Lag-Free Wireless

Built-in quality microphone
Rechargeable lithium-ion battery
Wired or Wireless listening mode
Dynamic sound quality and great bass
Great value
Plantronics BackBeat PRO 2

Built-in quality microphone
Rechargeable lithium-ion battery
Wired or Wireless listening mode
Dynamic sound quality and great bass
View The Best On Ear Wireless Headphones
These Bluetooth wireless headphones (can also be used with wire) have excellent sound quality and a comfortable and padded headband. They have a microphone with voice prompts. This has been enhanced to work well also in noisy and windy environments, which makes it a revolutionary design for a pair of wireless earphones.
Bose is a brand known for its quality products, so getting a pair of the best wireless Bose headphones is almost a guarantee for customer satisfaction, with deep bass, crisp audio, and up to 15 hours of battery life. Listening to music with these headphones is a real treat, and Bose has outdone itself with superb studio sound quality and frequency response.
Pros:
+ Built-in quality microphone
+ Rechargeable lithium-ion battery
+ Wired or Wireless listening mode
+ Dynamic sound quality and great bass
Why We Liked It - Bose has made a pair of comfortable and stylish wireless on-ear headphones with Bluetooth option. They have features like a high-quality microphone you aren't likely to find in most other products.
2. SteelSeries Arctis 7 Lag-Free Wireless
The headband of these quality sound wireless headphones have ski google suspension and AirWeave cushions. This provides you with the most comfortable listening experience possible, with excellent sound quality and dynamic bass that allows you to feel and hear every small sound.
The design is simple and sleek. It's ideal for someone who wants on-ear headphones that can stay on your head, regardless of whether you're at work, commuting to work, or using them in the comfort of your home. They look great, feel great, and surprise their users with great noise-isolation and studio-quality microphone. The price is reasonable, considering the unbeatable audio quality and overall performance.
Pros:
+ 2200 Ohm microphone impedance
+ 12-meter high-quality audio range
+ Studio quality voice and audio clarity
+ 20 to 20000-hertz frequency response
Why We Liked It - Whether you're looking for Bluetooth headphones to listen to music, play video games or take phone calls, these are some of the best headphones out there, and they're comfortable enough to be worn all day without experiencing discomfort.
3. Plantronics BackBeat PRO 2
If you're looking for the best design, 24-hour battery life, deep bass, a comfortable headband, and fantastic wireless sound quality, then you need to have a look at these gorgeous wireless headphones! They sit on the outside of the ears, as opposed to earbuds, and have received a high rating by Amazon, which is usually a guarantee for a quality product with desirable features.
The strong and solid Bluetooth signal makes sure you never have to worry about small interruptions. Charging has been made easy so that you will always have your wireless headphones ready to be used whenever you need them. ANC active noise cancelation keeps exterior noise out, and this is one of the features you can switch off as needed.
Pros:
+ 24-hour music streaming
+ Genuine and rich audio quality
+ With protective travel case
+ 100-meter Bluetooth range
Why We Liked It - The best thing about these wireless Bluetooth headphones is perhaps the active noise-cancelation, and while these are over-ears, they make a great alternative for someone who spends time in noisy environments.
The audio quality is perfectly balanced, no matter what volume you listen with when using these Bose headphones. They have some of the best active noise cancellation features, with 20 hours of battery life when used wirelessly, and up to an impressive 40 hours of battery life if connected with the included wire.
Bose have done here what Bose will normally do - they have created these wireless on-ear headphones with such excellent audio performance that they compare to few others, and they fit just right over most ears. The dual-microphone system is noise rejecting to give you the best possible sound, and the design is simple and straight-forward, where the focus lies mostly on a comfortable fit and excellent sound and bass performance.
Pros:
+ 20/40-hour battery life
+ NFC and Bluetooth pairing
+ Button controls on the headphones
+ Available in black and silver
Why We Liked It - These hassle-free wireless Bose headphones have that typical Bose design, with noise reduction to make sure you can hear your incoming phone calls and your favorite songs also when you are out and about.
What makes these wire-headphones the best is that they have volume control and was designed for kids, to prevent them from hurting their ears. A child's ears are very sensitive to sound, and with these, you won't have to worry about damaging the eardrum when your kids are watching a show on the iPad or listening to music.
These on-ear headphones come in bright colors, and the price is a price most can afford. They are comfortable for a child to wear when doing homework and for other purposes. Since they are connected with a wire, you won't have to worry about battery life or sound interruptions. It's a great product for someone who wants the best headphones for someone younger, and they fit most head sizes, as they're adjustable.
Pros:
+ 94 DB maximum volume
+ Fun color options
+ Design suitable for kids
+ AmazonBasics warranty
Why We Liked It - Both the design and sound level of these on-ear headphones makes them the best option for children and teenagers with sensitive ears.
Pick the color you like best and let the sound quality and flawless design surprise you! The design may be simple, but it has everything you need in a pair of wireless headphones. The option to pick out your favorite from a selection of eight makes this a product you can easily adapt to your likings and preferences.
When you charge these headphones for a modest 10 minutes, you get a total of 2 hours of additional listening time. This is perfect for the user who is always on the go and who always has their headphones on. When fully charged, you get approximately 20 hours of usage, with superb sound and additional features like comfortable memory protein cushions and the best sound quality.
Pros:
+ High quality and affordable price
+ Memory protein cushions
+ 20-hour reliable battery life
+ Use with wire or wireless
Why We Liked It - Choose the design you like best and discover the benefits of the comfortable memory protein and an adjustable headband on this wireless product.
If you frequently experience uncomfortable pressure around your head when wearing wireless headphones, this product offers a lightweight wireless option! The audio experience is enhanced with a 40-millimeter driver and CSR chips. The protein leather cushions are made with memory foam that adapts to the shape of your ears.
This both looks and feels good. It's a design that offers a variety of features like a microphone, buttons located directly on the headphones, and around eight hours of battery life. If battery life is one of the things you worry about, these won't disappoint.
They only take 2-3 hours to charge fully. You should never have to settle for anything but the best when shopping for wireless earphones, and these headphones have all those features you are after, without weighing a ton.
Pros:
+ CSR chip and 40mm driver
+ Lightweight and comfortable
+ Memory foam and protein leather
+ Fast pairing and stable connection
Why We Liked It - The battery life is shorter than what some other wireless products have to offer, but this is compensated with quick charging times and a lightweight and comfortable design. The price is also a plus.
8. Beats Solo3 Wireless On-Ear
The award-winning design of these wireless earphones sits comfortably around your head and your ears. It's one of the best sets of headphones you can get if you're looking for something that looks simple and sleek, but that has everything you need in terms of sound quality, battery life, and price.
These wireless earphones can be folded for optimized transportability. The sound coming out of each cup is clean, crisp, and has a strong bass. Excellent sound and acoustics make this a given choice for those professionally involved in music and those wanting the best of the best.
These are often listed as a favorite in customer reviews. The Apple W1 chip lets you do things like activating Siri directly from your headphones; they are compatible both with iOS and Android.
Pros:
+ Class 1 Bluetooth connectivity
+ 5-minute charge for 3 hours of battery life
+ With original Apple W1 chip
+ Quick-charge function for better battery life
Why We Liked It - This wireless product is extremely easy to pair with either an iOS device or an Android device, meaning you can use it with your iPhone, Sony, or any other device. The quick-charge function is very useful.
Cut straight to the chase with these stylish headphones! The price is great, considering what you get, and you can use them with any Sony device, iPhone, Samsung device, etc. as they are compatible with Android, iOS, Windows, and more. Similar to a pair of AKG n60nc wireless earphones, these give you the best of everything, with excellent battery life, sound, and with the best possible fit and comfort.
Choose between black, blue, white, green and red, and use them either with a cable or in the wireless mode. The mic also features the best incoming and outgoing sound, so you can use these when making important phone calls and recording voice messages. It isn't just the sound that impresses either; these are also lightweight and highly portable.
Pros:
+ Great sound with strong bass
+ Use wireless or with the cable
+ Modern and sleek design
+ Five different colors
Why We Liked It - The greatest thing about these is the sound - a sound quality usually found in much more expensive products. They can be used with the cable or paired via Bluetooth.
10. Sennheiser RS120 On-Ear Wireless RF
These on-ears use a 926 MegaHertz radiofrequency system that replaces the need for Bluetooth. They have a great range that allows the sound to travel through obstacles and walls. The sound reproduction is extremely detailed, and it gives you an impressive sound experience whenever you put these earphones over, making them great for all purposes, such as phone calls and watching TV.
If you're looking for a set of all-round earphones that lets you move around without being tethered to the device, these do not disappoint. It's a great way to gain more freedom while listening to something of your choice.
These earphones are lightweight for maximum comfort, and they charge up fast so that you'll never have to found yourself standing there without access to premium sound. The cushioned material sits comfortably on your ears without causing unpleasant rubbing or sweating, which is ideal for gamers or for someone who wears their headphones for many hours at a time.
Pros:
+ Improved obstacle safe range
+ 926 MegaHertz Radio Frequency
+ 65 dBA signal-to-noise ratio
+ Charges fully quickly
Why We Liked It - It isn't just the sound that makes these earphones such a great deal. The most impressive aspect is how easily the frequencies travel through obstacles like walls and floors.
On-Ear Wireless Headphones Buyers Guide
When purchasing headphones, Bluetooth is the one thing you'll want if you're someone requiring liberty of movement. A wireless set allows you to move around freely as long as you stay within a certain distance of the device you're using to listen to music, play video games, talk on the phone or watch TV, as opposed to headphones with a wire, where you are tethered to said device.
There is more to buying wireless headphones than just the design, and there are a few different features to consider, such as noise cancellation and overall sound performance. Are you looking for active or passive noise cancellation? This is the ultimate guide to help you find a pair of excellent on-ear wireless headphones.
True Wireless vs. Wireless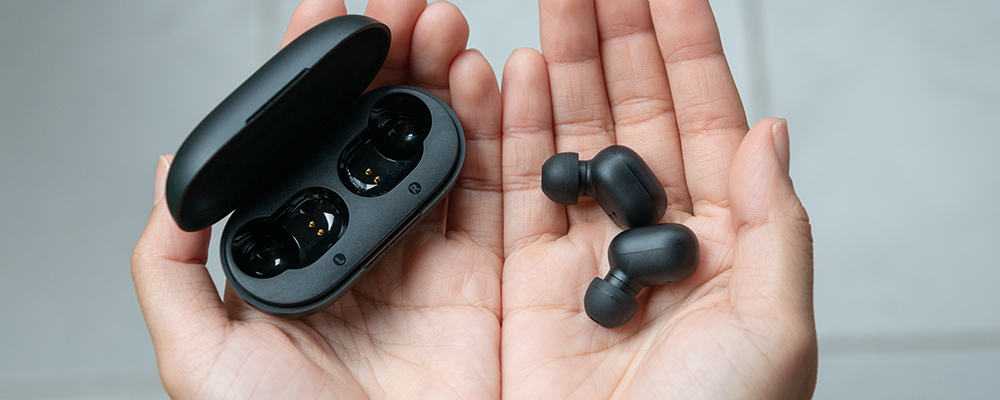 It is not uncommon to confuse the concept of wireless headphones and true wireless. While on-ear headphones are rarely "true wireless," we will still go over the concept to make sure there are no misunderstandings once you begin your search. A wireless product simply means that the earphones are not connected to the main device (a phone, laptop, or TV, for example) and that you can move around as long as you stay close.
True wireless is the same, only in this case - the earphones are not connected to one another. The Apple Airpods Pro is one of the best-known examples. True wireless earphones are usually in the ears. Still, you will occasionally come across cleverly designed true wireless on-ears too.
Open-Back vs. Closed Back
These two terms tend to come up whenever you're looking for headphones. They are different, which is why it's important to understand the difference. Headphones with active noise cancelation and passive noise cancelation are always closed back, as they need to go around the ear to keep noise out.
These are often preferred by gamers and those spending time in noisy environments, while many who work with music tend to be more interested in the open-back model. Open-back earphones have a slightly different acoustic, as they are open in the back or sit only on the ear.
It's the type of sound you're most likely to get when purchasing on-ear headphones (instead of over-ears). Neither is necessarily better than the other, and it's up to you to decide which type of earphone that would suit you best.
Battery Life
Logically, what makes a headphone wireless is that it's not wired to anything. This means it needs to be charged. The battery time varies from product to product, and if you plan to be using your wireless headphone product for many hours at the time, you need a battery that can keep up.
It isn't just how long the battery is likely to last; how fast the battery charges once it's empty is also relevant. Many wireless earphones will have a quick-charge function that lets you charge it for 10-15 minutes to gain a few hours of battery time, which is perfect for when your headphones run out of charge at the worst possible moment.
Noise Cancellation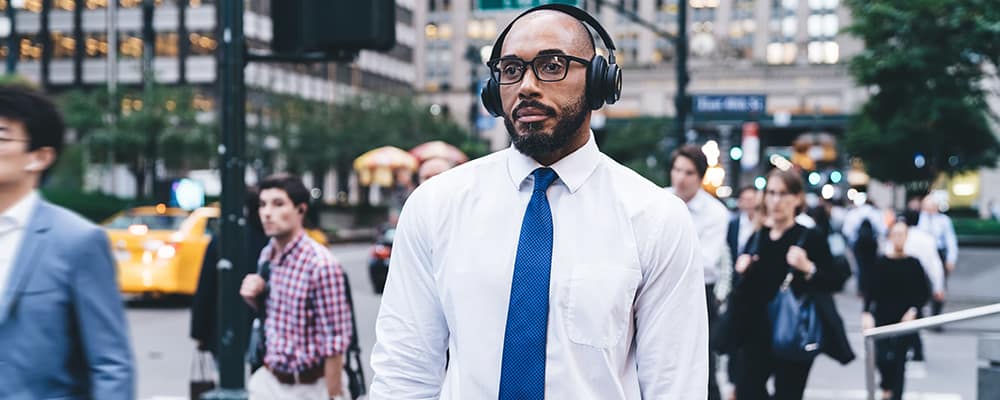 Noise cancellation is when exterior sound is shut out as much as possible, either through the construction of the headphone itself or through active noise cancellation. For a headphone to be noise-canceling it will usually need to be an over the ears construction, which is what we're reviewing here.
This is because on-ears only sit against the ear and don't cover it completely. On-ear headphones can, however, be noise reducing. The greatest benefit of noise cancelation and noise reduction isn't only that you won't be bothered by environmental noise, but also you're less likely to continue turning up the volume, which could hurt your eardrums.
On & Over-Ear - What Is the Difference?
While the two sound similar, they are two different headphone models, and each has its own perks. The on-ears sit lightly against the outside of the ears, which is one of the most comfortable models for wearing long-term.
It allows your ears to breathe. Over-ear headphones go all the way around the ears - covering them completely - and while it can provide a sound experience free from interruption (exterior noise), it can get a little sweaty and warm if you wear them for extended periods.
Making headphones wireless is a great way to provide the user with additional liberty. When it comes down to it, it's up to you whether you prefer on-ears or over-ears, as they are good for different things.
Conclusion
Many benefits come with using on-ear headphones instead of in-ears, and one is the comfort these products are likely to provide. You have been introduced to some of the best products you can find, along with a comprehensive info guide to lead you in the direction of the perfect wireless headphones for your individual needs.
There are hundreds of options right there at your fingertips, but unless you invest some time to research the most comfortable and high-performance headphones, you might not get value for your money.
If you've enjoyed this review by Music Critic, please leave a positive rating:
[vc_separator