The Sony MDR-7506 Closed-Back Professional Headphones are enjoyed by musicians, audio engineers, and music lovers around the world. They are a durable, reliable, and excellent sounding pair of headphones that offer listeners the level of quality necessary to fully enjoy their music. They have been a staple in the audio engineering world for decades due to their stability and comfort when listening for long periods.
Sony MDR-7506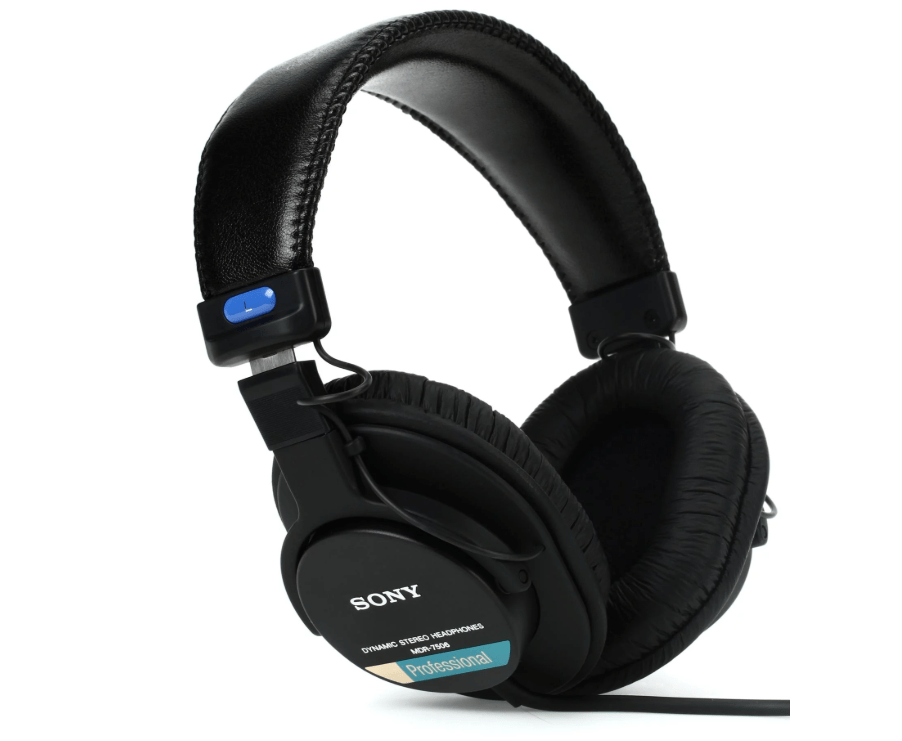 Summary
If you've ever stepped foot inside a professional studio in your life, you have likely come into contact with a pair of Sony MDR-7506s. They've been used by professional audio engineers for a long time and are considered one of the most reliable pairs of headphones on the market.
There are a few reasons why these headphones are so well appreciated in the music community. For starters, they are incredibly affordable for the quality you get out of them. The studio-level sound quality has the type of precision and accuracy that audio professionals need to create a perfect record.
Another reason for their popularity is their ability to withstand abuse. Studio headphones usually have a little rougher life than the typical podcast listening headphones you'll see around on many city streets. They can take a bit of a beating and keep on going without falling apart or losing sound quality.
The third reason why people love them so much is because they're affordable. Putting together a studio can quickly become expensive. With the cost of mixing boards, drums, microphones, and instruments, anytime you can save a couple of pennies is much appreciated. They sit well within the range of affordability. This also puts them in the category of headphones that are suitable for music lovers who are listening simply for enjoyment.
Finally, the Sony MDR-7506s are a very comfortable pair of headphones. The closed-back design and thick earcups sit comfortably. They are perfectly suitable to be worn for hours on end without causing discomfort. Also, this design acts to reduce outside noise and magnify the inside sound, helping to cut down on distractions from outside when you're trying to focus on the track at hand.
A foldable and flexible design allows listeners to pack the headphones up and store them neatly in any bag. This is a handy feature that makes them versatile enough to be used in virtually any capacity.
What makes these headphones stand out more than any other factor is their sound quality. They're tuned with 40mm drivers, oxygen-free copper, and gold connectors. It's hard to imagine a pair of headphones this affordable can sound as impressive as they do, and last as long as they can.
No matter what size of nugget you're working with, you can adjust these headphones to fit you perfectly. If you like to wear a hat, go bareheaded, or have a large head, then these headphones are designed to work with what you've got.
Pros
+ Long-lasting durability
+ Excellent sound quality
+ Exceptional comfort
+ Foldable and adjustable
+ Lightweight and comfortable
Cons
- Not the absolute best sound possible
- A little bulky
Why We Like It
Having a pair of headphones like the Sony MDR-7506s is a real blessing. They're packed with quality and versatility that many other headphones can't compete with. Their affordability puts them at the top of the rankings for headphones that pretty much anyone can enjoy. They have a level of sound quality that is comparable to that of headphones that cost much, much more.
They are comfortable as well. You can wear the MDR-7506s for hours on end, and you hardly know that they're on your ears. On top of that, the thick cushions help lock in the sound and give you exceptional listening experience. The fact that they fold and adjust to whatever size you need them to is a bonus. They fit nicely in your bag and are durable enough to handle everyday bumps and bruises.
For recording and mixing in the studio, they are precisely what you need. They help you isolate the sounds you need to pay attention to and tweak so you can get the absolute best mix in the end. They don't add a whole lot to the studio budget either, making them extra attractive.
Once you're done in the studio, they're perfectly suitable for listening on the go. Whether you're taking a train, the bus, or you're walking, they are lightweight and portable enough to give you the mobility you need. Also, blocking out some of the street noise can do wonders for stress levels.
The quality is high and sufficient enough that watching intricate dramas is super immersive, allowing you to enjoy it at the deepest level. The Sony MDR-7506 closed-back professional headphones are fabulous for professionals and amateur listeners alike. You can't go wrong with this choice.
If you liked the article, please leave your feedback.