Do you want to know what the best electric bass guitars under $500 are? Well, this is the right place for you. With so many quality bass guitars on the market, it's difficult to determine which one is better than the others. Unfortunately, as fun as it might be, it isn't really possible to go out and play a few licks on every bass at your local music shop until you find the right one. Well, unless you want to become very unpopular with the shop owner, that is.
The bassline is the key to every good song, and to do it justice, you need to invest in a quality bass. Fortunately, there are some amazing bass guitars available for under $500.
Let's have a look at ten of the best the internet has to offer...
At a glance:

Our top 3 picks
Our team's top 3 recommendations
Best Overall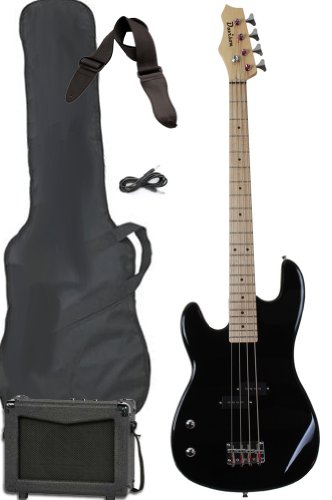 Davison Guitars Electric Bass Guitar

Simple, solid set-up
Durable maple neck
Great value for money
Neck has tension bar adjustment
Comfortable weight
Premium Quality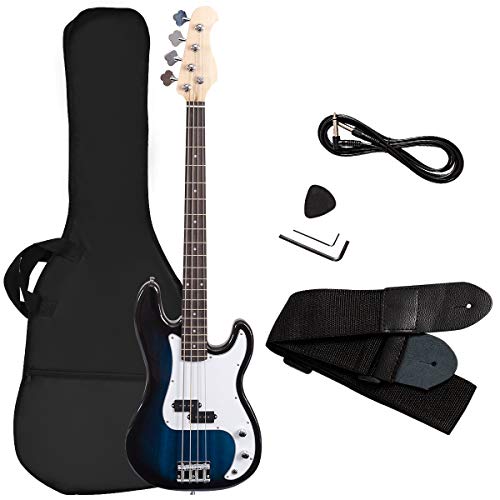 Goplus Electric Bass Guitar Full

Simple, solid set-up
Durable maple neck
Great value for money
Neck has tension bar adjustment
Comfortable weight
Great value

Squier by Fender Bronco Bass

Simple, solid set-up
Durable maple neck
Great value for money
Neck has tension bar adjustment
Comfortable weight
View The Best Bass Guitars Under $500 Below
1. Davison Guitars Electric Bass Guitar
This full-size bass guitar from Davison is ideal for any budding bassist. Despite being targeted at beginners, it really packs a punch. The maple neck offers ease of movement. Actually, the neck is similar to those found on more expensive Fender basses. The hardware is solid. It features a single split-coil pickup. A beginner bass guitar means simplicity. It's got just two controls for master volume and master tone. Being a budget, starter bass means that there is a bit of buzz, but if you're paying under $500 then there's always a risk of that. It's a solid product, which is what you expect from Davison.
Pros:
+Simple, solid set-up
+Durable maple neck
+Great value for money
+Neck has tension bar adjustment
+Comfortable weight
Why We Liked It - It's a solid beginner's bass that doesn't break the bank to buy. Because it is targeted at new bassists, then you can take it out of the box and start playing straight away. A great investment for under $500.
2. Goplus Electric Bass Guitar Full
If you're looking for a beautiful, stylish bass, then the Goplus Electric Bass is right for you. The wooden body has a shiny, polished surface, which gives it this fashionable look. But it doesn't just look good. The piezoelectric pickups give it a versatile tone. The rosewood fretboard is both light and comfortable to play on.
Considering the price is well under $500 it's a great bass to buy at the start of your journey to becoming the next John Entwistle. The durability of it is hard to beat too. It can withstand more than a few knocks and still work just fine.
Pros:
+ Beautiful design
+ Hard-wearing and durable
+ Clear tone
+ Light as a feather
+ Warm sound
Why We Liked It - It's light and durable, which are two elements that you don't find often with a starter bass. Whether you play rock-n-roll or the blues, you'll get great sound out of this bass, and you won't need to pay more than $500 too.
3. Squier by Fender Bronco Bass
Since 1946 Fender has been producing high-quality products appealing to musicians of all levels. The Squier series is aimed at beginners, but you still get that same high-quality that you expect from Fender. The maple fingerboard is an absolute dream to use. It features a single-coil pickup that gives great tone.
And the two controls – one for volume control and one for tone control – make it easy to set-up, so that you can get the sound that you want. Of course, you're not shelling out the same sort of money as you would for Fender's higher-end basses, but if you want to pay less than $500, then it's really one of the best basses available to you.
Pros:
+ Built to a very high-quality, as you'd expect from Fender
+ Excellent value-for-money
+ Stays in tune
+ Great, Fender sound
+ Lightweight
Why We Liked It - It's a Fender. And you can't go wrong with Fender. Considering it costs less than $500, you'll struggle to find another bass that has the quality of this one. You've got to love that Fender sound too.
Related Review: Best Cheap Bass Guitars.
Taking this bass out of the box, you'll be struck by its lightness. Then by how good it looks. There's no fret sprout at all. It's ready to go. Once you start playing, you'll notice that it is a little top-heavy. Once you plug it in, you'll find that the p-bass pickups give a good, warm tone. It's not the most powerful bass. It still sounds great.
You might want to crank the neck back or change the saddle height. It depends on what you want from your bass, but it's pretty much good to go out of the box. It's a steal for under $500 too, so you won't mind making the few alterations.
Pros:
+ No fret sprout
+ Great paint job
+ Lightweight body
+ Electronics function well
+ Very good sustain
Why We Liked It - The manufacturers clearly take pride in their products. If you take it out of the box and study it, you'll find very few imperfections, which can be rare when you buy a bass for under $500.
5. Crescent Electric Bass Guitar Starter
This four-string bass comes with twenty frets and a maple neck. The fretboard is made from rosewood. It uses magnetic single-coil pickups that give out a decent tone. It requires a tune, when you get it out of the box. But it seems to keep tune well. You might notice a buzz or rattle, but when you pay under $500 for a bass, then this is the risk you run. The neck isn't varnished, which means it's easily customizable. It's a beginner's bass, and for the combination of price and quality, it's a good place to start.
Pros:
+ Great rosewood fretboard
+ Very affordable
+ Ready-to-go one you open the box
+ Decent tone
+ Can customize it to look how you want
Why We Liked It - If you're buying your first bass guitar, then you want to know that it will be easy to use and offer great sound. The Crescent offers all you need for your first bass.
6. Ibanez 4 String Bass Guitar
The list of Ibanez bass players is almost endless. Chances are you've heard an Ibanez bass being played on one of your favorite band's albums. This one is a small-scale version, featuring only a 28.6" scale. This makes it easier to play than other models on this list, such as the Fender Squire.
It is mind-blowing that a quality bass like this Ibanez is available for under $500. Expert bassists happily let their fingers dance across the Jatoba fretboard. The sound, as you'd expect from Ibanez, is clear and crisp. And the magnetic-combination pickups might look basic, but they offer a sweet, killer sound.
Pros:
+ It's an Ibanez, which means great quality
+ Small-scale, so good for those with small hands
+ Easy-to-play
+ Sweet sound
+ Unbeatable value
Why We Liked It - It's an Ibanez and you get a professional quality bass for under $500. The sound is great. And the small-scale means it's easy to play.
7. Squier by Fender Vintage Modified
This is the second Fender on the list. Like the previous one, you get that high-quality Fender feel for under $500. This is a short-scale bass, like the Ibanez 4 String, however this one is 30". There's a volume control knob for each of the three single-coil pickups. So, you can get a lot of control of the sound.
It's versatile, and it will appeal to bassists of all levels. It offers superior tone and smooth playability too. The shorter frets make it really easy to play. It features a maple neck and a rosewood fretboard, which makes it both look and sound good.
Pros:
+ High-level performance on a budget
+ Small-scale makes it easy to play
+ Superior tone
+ Three volume controls
+ Fender's proven quality
Why We Liked It - It produces the best tone available on this list of best bass guitars for under $500. The small-scale makes it an absolute dream to play.
8. Ibanez Talman TMB100 MGR 2015
Another great product from Ibanez. The Talman has a passive P/J configuration, you're assured beautiful tone. And then, the classic, old-school design looks great. It's much bigger than the small-scale version, but it is still comfortable to play, even if you have medium sized hands.
The number one thing about this bass is its huge sound. That makes it a lot of fun to play loud. The DXP neck pickup and the DXJ bridge pickup combine perfectly to create this rich, classic sound. It even has a custom 2-band equalizer, so the options for tonality are endless.
Pros:
+ Powerful, rich sound
+ Vintage design
+ Amazing range of tone
+ Big bass for a low price
+ High-quality hardware
Why We Liked It - If you're looking for a bass for under $500 that offers the sound of a much more expensive bass guitar, then this is the one for you. Unbeatable range of tone too.
9. Best Choice Products 22-Fret Full Size Acoustic
This is an acoustic-electric bass with a 4-band EQ-7545R guitar preamp. This offers a lot of control over volume and tone. After fiddling around with the controls, you'll easily find the right sound for you. It's beautiful too. It's hard to believe it costs less than $500.
The mahogany has as much of a visual appeal as it does in terms of sound creation. It's got a flawless finish. But the sound is what matters. You can be assured that you'll knock out clear, crisp basslines playing this 22-fret acoustic bass. Perfect for an acoustic jam session with your band.
Pros:
+ Acoustic sound
+ Beautiful design
+ Ability to create ideal sound through the control system
+ Flawless finish
+ Suitable for beginners and pros
Why We Liked It - It's a five-star acoustic bass that costs well under $500, so it offers an easy alternative to your electric bass, which means you can join in when your lead guitarist picks up their acoustic too.
10. Ibanez 5 String Bass Guitar
The last bass on the list is another Ibanez. This one is a five-stringer though. It also features a short-scale of only 28.6". Don't worry, though. Even though it looks tiny, it gives out a massive sound. The tone that the bass gives out is comparable to more expensive versions made by Ibanez that aren't available for under $500 like this one.
The slim, maple neck means that you can play with speed. The size of it makes it really user-friendly and is especially good for smaller bassists, or for bassists who practice in limited spaces.
Pros:
+ Easy to transport
+ Lightweight
+ A five-stringer gives you more options
+ Ready to rock straight out the box
+ Great bridge pickup
Why We Liked It - It's tiny, but it has massive sound. It's ideal for anyone looking for a five-string bass that's not big or unwieldy. A great purchase for under $500!
Bass Guitar Under $500 Buyers Guide
There are a number of things that need to be considered prior to choosing a new bass guitar. Before you spend your money, you need to understand the various specifications that are available and what they mean. The bass guitar might appear to be a relatively simple instrument to look at. But the range of materials that a bass guitar can be made of is surprising. Every element of the bass matters, especially when it comes to the tone and power of the instrument.
Neck
There are three choices when it comes to bass necks. A bolt-on neck is the most common and offers great stability. But you will get better sustain from a set neck. The drawback to a set neck is that it can be very difficult to adjust. The third type of neck is the thru-body neck. As the name suggests, there's no joint, and it goes directly through the body. You'll find these on high-end basses, as they offer the best sustain and tone, but are pricier to make.
Body
The main choice when it comes to a bass body is between a solid or hollow body. The solid body is by far the most common. Although, the wood that they are constructed from could be anything from maple, to swamp ash, and to mahogany. The more money you pay, the better quality the wood, and this will make a profound difference to the tone you'll get out of your bass.
The other option is a hollow body. They are sometimes referred to as semi-acoustic bass guitars, as they have the hollow body of an acoustic, and the pickups of an electric. Hollow bodied bass blues guitars are preferred by jazz and blues musicians, whereas you need a solid body to rock.
Fretboard
You need solidity and durability out of your fretboard. The best woods available for this purpose are ebony, rosewood, and mahogany. This is where your fingertips will spend all their time, so you've got to make sure they're comfortable.
Pickups
Humbucker pickups or single-coil pickups are the two choices here. Humbuckers offer a cleaner sound, but you'll find that most bass guitars under $500 have single-coil pickups. These work very well, but they tend to be a bit noisier and might give you a rattle. Depending on the location of the pickups you'll either get a lower sound – if they're close to the fretboard – or a higher sound – if they are further away from the fretboard.
Weight
This will depend on the material and size of the bass guitar. Most bassists play with the bass strapped around your neck. That means you've got to be comfortable with the weight. If you choose a lighter bass, though, you could find that the tone isn't as deep and sustained as a heavier bass.
Bridge
There are three common types of bridges, which is the place where the strings terminate on the guitar. It is a matter of taste as to whether you prefer a through-bridge, a string-through body, or a bridge and tailpiece combination. Each tends to work well. It's more important that you choose a bridge that is bigger and weightier, as you'll get better sound out of your bass.
Truss Rod
This is a rod that is found in the neck of the bass guitar. It can become bowed or even twisted because of the tension of the thick bass strings. A good bass will have a truss rod that is easily adjustable.
Appearance
Let's not forget one of the most basic elements of a bass. That's the way it looks. You have to choose a body-type, color, and style that suits you. Especially if you have dreams of getting up on stage with your bass guitar. The best thing you can do here is to look around at what's available and work out what you think would look best strapped over your shoulders. But this is the least important specification. Sound and solidity are far more important.
Should you choose a four-string bass or a five-or-six-string bass?
The standard bass comes with four strings. It is recommended to begin with a four-stringer because it is easier to learn on and gives you all the versatility you need when first beginning to play. Obviously, the more strings you have, the more range you will be able to get out of the instrument. That's why advanced bassists like five-string or six-string bass guitar. It also means you have a wider neck, so your hand size must be considered.
What scale is best for me?
Short-scale bass guitars are, as the name suggests, much smaller. Choosing a model that is a short scale is ideal for smaller hands. That makes them ideal for younger bassists. If you're a child and a beginner, you would probably be best selecting a short-scale bass. If you are older or have large hands, then the regular scale would be a better choice.
Do I want an electric or an acoustic bass?
It entirely depends on what sort of music you want to play on your bass. The electric bass means it is amplified, so if you're playing with a band, then you need an electric bass. Well, that's unless you're a low-fi, acoustic band. Then it would be a much better idea to choose an acoustic bass guitar.
Expert Tip
A great bass doesn't have to be over-complicated with lots of knobs and extras. When choosing your first bass, go for simplicity and durability. Then you can have an instrument that you can learn on and will grow with you, as you get further down the road on your bass-playing journey.
Did you know?
The first bass guitar was created by the inventor and musician Paul Tutmarc in the 1930s. But it wasn't until the 1950s when the first mass-produced bass guitar was developed and sold by Leo Fender and George Fullerton. This was actually put up for auction on eBay!
Conclusion
There are countless bass guitars on the market, but you can find a real quality bass for under $500. The most important elements that you have to consider – besides cost – when choosing a bass guitar are size, the number of strings, the material of the body, fretboard, and neck.
These things all contribute to the weight too. Younger players have to make sure they go for a smaller model. There are some brilliant short-scale versions around, especially the ones featured in the list by Fender and Ibanez. But for the more experienced player, you must choose a bass that is made from quality materials.
It also has to have good pickups – preferably humbuckers – that won't produce a rattle. Only then can you be sure that you'll get a killer tone, a sustained sound, and be able to play the sort of licks you love.
If you've enjoyed this review by Music Critic, please leave a positive rating:
[vc_separator