The blues is one of the most expressive and emotionally satisfying styles of music. Spawning straight from the hearts and souls of musicians done wrong, the blues tell a story of sorrow the way many other genres come short. For guitarists, the blues offers an avenue to truly explore their musical capabilities in an authentically emotional way.
When you're playing the blues, you want to be able to let the music flow freely from your fingers without much difficulty or hindrance. The best blues guitar will offer players a satisfyingly smooth fretboard, with tones that truly capture the moment.
To help shed some light on what may be the best option for you, we have put together a list of the 6 best blues guitars in 2023.
At a glance:

Our top 3 picks
Our team's top 3 recommendations
Best Overall

Epiphone Les Paul STANDARD

Affordable
Legendary Les Paul shape
Humbucker pickups
Mahogany wood
Good tone and feel
Premium Quality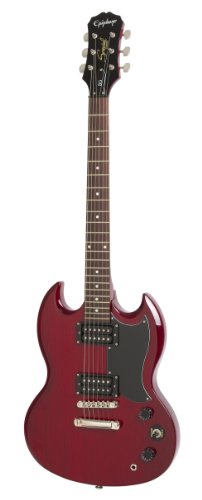 Epiphone SG-Special

Affordable
Legendary Les Paul shape
Humbucker pickups
Mahogany wood
Good tone and feel
Great value

Fender American Special Stratocaster

Affordable
Legendary Les Paul shape
Humbucker pickups
Mahogany wood
Good tone and feel
View The Best Blues Guitar Below
1. Epiphone Les Paul STANDARD
Epiphone guitars have sat around the top of the popularity spectrum for decades due to their affordability and quality. Epiphone was originally created by Gibson guitars as a way to make their superior quality available to budget seeking guitarists.
Epiphone guitars still offer a respectable sound and playability while being available at more reachable prices. This makes the Epiphone Les Paul Standard guitar one of the most sought after axes for guitarists everywhere.
The Epiphone Les Paul Standard has a mahogany body with a maple veneer and a mahogany fingerboard. Three-way humbucker pickups give you a reliably smooth tone and allow you to switch between the bright bridge and warm neck tones.
Nickel hardware and 22 jumbo frets make this a very pleasing guitar to play. 2 individual tone knobs for the bridge and neck pickups allow you to customize the tone specifically to the sound you're going for.
Pros:
+ Affordable
+ Legendary Les Paul shape
+ Humbucker pickups
+ Mahogany wood
+ Good tone and feel
Why We Liked It - The Les Paul guitar is one of the most iconic shapes in music history. This guitar plays well, has a really good tone, and is sturdy and durable. If you're looking for a guitar for live gigs or rehearsal, this guitar fits the bill.
The Epiphone SG model was made famous by guitar players such as Angus Young and Frank Zappa and has been highly sought after ever since. The Epiphone SG is a model of the original Gibson SG which was created in 1961.
The Epiphone SG was created with a double-cutaway body and offers a smooth tone and responsive feel for rock and blues guitarists everywhere. What makes it good for blues are the two humbucker pickups. One of the neck and one on the bridge.
It is made of mahogany on the body and okoume on the neck. Dot inlays help you find your way along the 12" radius fingerboard. This guitar weighs just over 7 pounds and tends to be a little bit body heavy. The tonality is simplified with only a single tone and volume knob for any of the three pickup positions.
Pros:
+ Iconic body shape
+ Humbucker pickups
+ Affordable
+ Easy playability
+ Simple tone and volume configuration
Why We Liked It - This is a fun guitar to play and really howls when you are ripping some blues riffs. It has a great tone and is a joy to play and you can really bend and squeal relentlessly to get the most soul out of the strings.
3. Fender American Special Stratocaster
The Fender Stratocaster is a staple in many guitar players collections. The historic shape and sound offered by the Stratocaster are recognizable even to people who have never touched a guitar before. Fender has been creating some of the most reliable and joyful guitars on the market since the '50s and never fail to disappoint.
The Fender American Special Strat is an extremely well-made guitar which is reliable and tough, offering tones that will scream and moan as you weave through the next 12-bars.
The Texas Special single-coil pickups offer a really raw and distinguished tone while an Atomic Humbucker handles the high gain tones. The contoured body is noticeably comfortable and you can play for hours without irritation.
5 pickup positions allow you to access a wide range of tonal abilities and volume and tone knobs let you customize your tone accordingly. A vintage-style tremolo set-up allows you to flutter the tone around in an amusing way when it is appropriate as well.
Pros:
+ Iconic shape
+ Single coil and humbucker pickups
+ Simple volume and tone configuration
+ American made
+ Versatile abilities
Why We Liked It - The Stratocaster is one of the most versatile guitars you can find. Whether you're playing country, rock, or the blues, the strat screams authenticity and power and cuts through the noise to allow your fingers to really do the talking.
4. Fender Standard Telecaster
Just as recognizable as the Strat, Fender's Standard Telecaster is an extremely recognizable shape and sound for many music lovers. the Telecaster plays very true to the ability of the guitar player and allows for just a little bit more room for maneuverability when bending and sliding through the notes of a blues song.
Dual single-coil telecaster pickups offer a beautiful tone that is pleasing and raw. If you turn the volume up on this guitar, you will get some seriously disgruntled tones coming naturally from the strings to the amplifier.
Alder wood has been used on Fender's most recognizable guitars since 1956 and offers a resonant and balanced tone for a wide range of music genres. The 6-saddle bridge gives players a solid base from which to tune and adjust for maximum comfort and intonation. The neck is smooth and pleasing to play, and the guitar is light but solid in the hands.
Pros:
+ Alder body
+ Single-coil pickups
+ Saddle bridge
+ Iconic shape
+ Simple tone and volume configuration
Why We Liked It - The Tele offers a raw and genuine sound and is a heck of a lot of fun to play. It will weave and bend with you as you let your soul cry out through the amplifier. It is truly responsive and reactive to all of the moves in a guitarists arsenal.
The Epiphone Dot is a take on the classic ES-335 model by Gibson. It is a hollow body design which gives the guitar a well rounded yet cutting tone which is very expressive and beautiful. These guitars are designed to give off a vintage look and sound while staying within the realm of affordability.
The body is made of laminated maple, and the neck is constructed of mahogany with a 12" radius. 2 Humbucker pickups and a three-way toggle switch give you tonal freedom and control with two sperate volume knobs and two master tone knobs. You can switch easily between the bright bridge and warm neck tones.
The Dot hollow body style is great for blues and rock music due to its vintage tone and expressibility. It also has a really elegant look to it which will help round out your collection.
Pros:
+ Vintage style body
+ Vintage tone
+ Humbucker pickups
+ Wide tonal capabilities
+ Affordable
Why We Liked It - The tone and feel of this guitar are fantastic. You get a lot of maneuverability and versatility with the clean crisp vintage tone that will really showcase your blues scales mastery.
The Epiphone ES-339 is a slightly smaller bodied guitar in the hollow body style. It is designed to give off tones that are resemblant to a ringing bell. This gives you the ability to cut through the music and stand out among the rhythm section to purely showcase your expression.
With a mahogany neck and laminated maple body, this guitar feels slick and smooth and offers resilient tones. A three-way pickup selector gives you the freedom and versatility with tones to adjust to blues, rock, country, and jazz as you wish. 22 medium jumbo frets keep things close to home but also allow you the room to move around on the fretboard without feeling too cramped.
This guitar is comfortable and fun to play, offering vintage tones without the large hollow body style available in many of the other ES series guitars.
Pros:
+ Reduced body size
+ Fun to play
+ Bell-like tones
+ Vintage style, look, and sound
+ Humbucker pickups
Why We Liked It - The smaller body makes this guitar a little more fun to play. You don't quite get those loud vintage tones, but somewhere in between a hollow and solid body style tones which let you cross genres fluently.
Blues Guitar Buyers Guide
What to look for in the Best Blues Guitar
Pickups
The style of the pickups on your guitar will essentially decide what your tone is going to sound like. Besides the differences that a hollow or solid body model will provide, the pickups are the main deciding ingredient for your tone.
Single coil pickups are much lighter, brighter, and raw than Humbucker pickups. If you're not playing high-gain music and you prefer to stick to cleaner tones, then single-coil pickups allow you to get the true tones of the wood and the body type more naturally.
Humbucker pickups are designed to provide a sustaining tone which can be cranked up volume and distortion wide without clearing the room due to feedback. If you're looking for a more overdriven sound, then Humbuckers are the way to go.
Body Style
A solid body guitar is going to give you clean, rounded tones that fit into basically any style of music. Whether you're playing rock, blues, jazz, country, or hip-hop, solid-body guitars don't stand out as much and let you blend in a little bit more. They are also smaller in size.
Hollow body guitars are designed to give a more hollow sound off. They go well with blues and jazz music when the tonal goal is to have a screaming open guitar sound. They can be really fun to play but you should consider the extra size and delicacy that comes with a hollow body guitar. They are slightly less versatile and therefore may fit into blues more appropriately.
Wood
The wood used to build the guitar is going to give it the baseline sound before it reaches the pickups and the pedalboard. Mahogany and maple wood are some of the most common types used and offer a reliable, sustainable sound.
Most of the best guitars are built out of mahogany or maple. If you can find a naturally finished wood instead of a laminated design, you will get a little more authenticity out of the guitar and it will have a little more pleasing tone and structural integrity.
However, laminated guitars are usually more inexpensive to build and could cut down on the cost of your acquisition.
Tonal Range
Many modern guitars are equipped with various tone and volume knobs for multiple pickup positions. This can give you a little more room to move around and create the tone you're really looking for.
It can be slightly more complicated and add to the margin of error if you haven't dialed in exactly how to use your specific tone knobs. However, having the versatility can be helpful for crossing genre boundaries.
A more simple tonal configuration like what you get on an SG model will give you less room to move around but possibly more accuracy from simplicity as there are less moving parts. Depending on your tonal diversity needs. A simple tonal configuration may be the way to go.
Affordability
Affordability is key with guitars and music gear. It can be a pricey hobby, but if you're savvy with your purchases, you will be better off. Epiphone and Fender are known for creating high-quality instruments at affordable prices.
Pay attention to where the guitar is constructed, as American made instruments are far and above instruments made in Mexico or Asia, most of the time. There are exceptions to the rule, however, but just pay attention to the value vs quality.
Sometimes, it can be useful to invest a little bit more to get a guitar that is built to last and to please.
Conclusion
With the best blues guitar, you will be ready to join the ranks of musicians who have sung their sorrows for generations. With any of the options above, you will have the quality and affordability you need to really let your voice be heard.
If you've enjoyed this review by Music Critic, please leave a positive rating:
[vc_separator