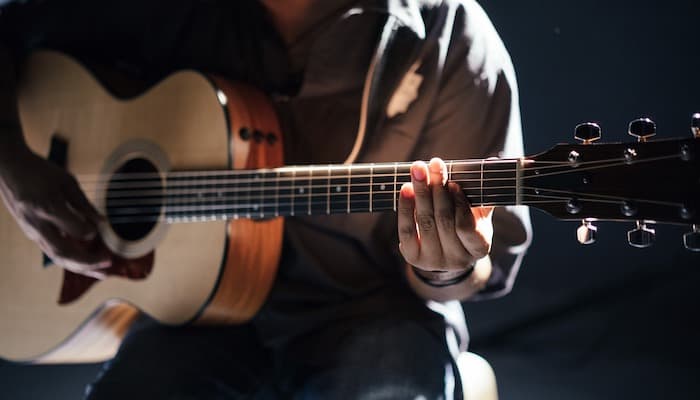 The importance of having a decent set of strings is crucial to getting the best possible sound from your guitar. There is a lot more to string types to consider that it may appear on the surface.
The different gauges winding methods, coating etc can have a dramatic effect on the performance of your musical instrument but with so many options it quickly becomes a bit of a minefield to navigate and discern which are best suited to your playing style as well as your complimenting the tonewood of your guitar.
This rings heavily true for novices so we have included an informative buying guide with some key questions to advise buyers on what to look for as well as some handy and rather vital info that covers all aspects related to string purchasing, such as how and when to change them and which types of string sets are best for what. So let's explore our recommended guitar strings.
Today we are going to look at a range of sets which we think makes for the 10 best strings in 2020.
At a glance: Our top 3 picks
Your shortcut to our team's top 3 recommendations
View The Best Guitar String Set Below
1. Ernie Ball Phosphor Bronze
These Phosphor Bronze strings are a lovely set from the Ernie ball Earthwood line they are for acoustic guitars they can be slow to settle in but the bronze gives them a warm tone and good tactile response. The Ernie Ball company are the one of the biggest string manufactures in the world with decades of production under their belts.
These Phosphor Bronze acoustic strings are hex design wires expertly wound and a beautiful orange color they bring a new lease of life to any acoustic.
The deeps are a little heavier gauge than their standard string set and the trebles a little lighter meaning your eq is extended. The Ernie Ball Phosphor Bronze strings produce a broader tone range. They aren't one of their best sets but they are inexpensive.
Ernie ball strings are competitively priced so you get good value for money they just about undercut most other top guitar string brands.
Pros:
+ .012,.016.024.032.044,.054 (G non-wound).
+ Affordable price and often available in packs of 3.
+ Copper and Phosphor.
Why We Liked It - These Ernie Ball Phosphor Bronze acoustic strings are awesome quick change (convenient ball ends) replacement strings that come in bumper packs so you will never be caught without a spare set. On of our favorite acoustic guitar string sets!
The 80/20 set are a copper/zinc alloy wrapped in bronze strings. They have an ultra-thin strings NANOWEB coating which is so understated they feel like regular uncoated strings. These Elixir NANOWEB strings are ideal for playing who want tone life extension and corrosion protection and easier sliding but dislike the tactile texture of some coated strings.
The Elixir NANOWEB strings come in a wide variety of gauges and the benefits of coating mean not only do they have extended tone life but they are smoother on the fingers, easier to play and have reduced squeaking.
Elix is a string company that people expect a lot from as their track record both coated strings and uncoated strings are superior to many. Elixir Strings actually offer 3 different coating NANOWEB (bright and smooth), Polyweb (warm, slick and fast) and Optiweb (crisp and natural). They are of high quality and long lasting guitar strings.
Pros:
+ Reasonably priced.
+ Extended tone life.
+ Enhanced playability.
Why We Liked It - These Elixir NANOWEB strings are a high quality guitar string set, they keep excellent performance consistency and don't deteriorate in tone, they are one the only string brand to coat the entire string and the smoothness eliminates squeaks making these Elixir strings ideal for recording.
The EJ16's are another set from D'Addarios go to Acoustic guitar string sets line which are of a Bronze strings/Phosphor alloy composition. The strings are made in house from start to finish they have high-carbon and plain steel wire hex cores and are laser measured and computer calibrated for absolute accuracy. This set are lock twist to prevent slippage and round wound strings.
The EJ16 strings for acoustic guitars are much lighter than standard gauge they have great fidelity and sustain in the treble strings. They are a popular set and reasonably priced. D'Addario makes 2 other sets even lighter than the EJ16 in this series.
They make for a great candidate for best acoustic string for beginners.
Pros:
+ Great acoustic guitar strings.
+ Well balanced.
+ Expertly produced.
Why We Liked It - D'Addario are a prestigious string maker and they offer a huge range of gauges tensions and alloys this light set give great treble string sound and revitalize any acoustic.
4. Ernie Ball Regular Slinky Nickel
Regular Slinky string sets sell lot hot cakes from Ernie Ball. These electric guitar strings make a range of slinky string and they have been used by legendary artists across the globe. The company itself played a part in setting the standardization of regular string gauges. This set are 10,13,17,26,36,46.
Ernie ball has the string's core to ratio wrap wire down pretty well and their strings have a distinguishable feel. They start with a high-carbon steel core which they tin-plate and wind with nickel they have lock twisted brass wire ball-ends for convenient string changing.
Pros:
+ Precision wound.
+ Nickel wound (popular choice).
+ Regular gauge set.
+ High carbon steel core
Why We Liked It - These Ernie Ball electric guitar strings provide balanced tones with great intonation and are consistent in quality. Slinky strings are a best seller for electric guitars they make a range and everyone from Jimmy Page and Slash to Billy Joe Armstrong have used Ernie Ball Slinky electric guitar strings.
The EXL line from D'Addario are their nickel-plated steel set for electric guitars. Nickel-plated is a music industry standard for electric guitars and they are much brighter than their mellower counterparts.
The EXL sets are snappier and sound great fresh on. They benefit from all of D'Addarios centuries of development and refinement and are perfectly fabricated using cutting-edge design techniques such as their computer-aided laser guidance for gauge perfection.
These sets are round wound (precisely) and regular gauge (standard 10-46) light set. Great for strumming their brighter sound rings with clarity. They are packaged in anti-corrosive bags and are available in sets of 3.
Pros:
+ Standard gauge ideal for most electric guitar playing.
+ Brighter spanking set.
+ Long-lasting.
Why We Liked It - These are a great choice if you want soft and supple strings with great response and intonation for your electric guitar.
6. Ernie Ball 2223 Nickel Super Slinky
Ernie Ball Super Slinky string sets are their thinner slinky set. They are also a worldwide best seller their gauges are 9,11,16,24,32,42. They too are precisely made to the Ernie ball specification for optimal performance. High-carbon Steel hex shaped cores and pure nickel wound winding methods all precision manufactured.
Ernie ball strings come in at the lower price end just about always undercutting strings of similar composition and are available in multi-pack options so you really get more bang for your bucks.
Thinner string sets are subject to greater risk of breaking (especially those treble strings) but thee are a top quality set and a typical go to for anyone wanting a lower tension to play with.
Pros:
+ Low tier tension strings.
+ Light gauge.
+ Nickel plated.
+ Affordable.
Why We Liked It - They are a music industry standard set and well loved by many professional guitarists they are as Super Slinky as their name suggests. Ernie Ball really do make some good cheap acoustic guitar strings.
7. D'Addario EJ45 Pro-Arte
Next up, a set of nylons for your classical guitar the EJ45's are pretty much a staple set of strings they are normal gauge and provide well balanced tone
The D'Addario company was founded over 300 years ago and have learned a lot from their wealth of experience which they have poured into their development of classical guitar string products.
The Pro-Arte line from D'Addario are their top-sellers. offering regular tension and comfortable resistance. Each classical guitar string is produced using laser assistance and the bass guitar sounds are wound precisely. These classical strings for acoustic guitars on the market are composed of multi-filament nylon bound with silver-plated copper for a warmer sound and glistening rings.
These D'Addario classical strings provide classical acoustic guitar tones and hold intonation. They are packaged in an anti-oxidant bag. Gauges;.028, .032, .040, .029, .035, .043.
Pros:
+ Normal tension strings, balanced playing.
+ Laser sorted.
+ Trusted brand.
Why We Liked It - Classical winding methods brings out the natural tonal characteristics of your instrument letting them resonate at their best. D'Addario classical strings are incredibly accurate because of laser measurement they can be slow to settle.
Next up are an extra light set from Martin & Co. This set are suitable for all skill levels and are easy to play have with a good tactile response. The trebles are very fine gauge however some feel they have a little too much drag. They have a lovely overall resonance and compared to other light sets won't carve your fingers too much if you are a novice guitar player. These are their bog-standard extra light set Martin also offer a range of different winding methods to explore.
The lighter sets are suitable for the smaller martin guitar range ¾, ½ size travel, and backpack. They feature thinner cores and are 80/20 phosphor bronze wrapped. They make a silk version if preferred.
They come individually packaged (airtight) and are also sold in a triple multi-pack for additional savings in the long run.
Pros:
+ Extra light.
+ Suitable for smaller musical instruments.
+ Increased flexibility.
+ Phosphor Bronze wrapped
Why We Liked It - Whilst not the best available they are easy on the fingers, competitively priced and ideal for beginners.
9. Ernie Ball 2220 Power Slinky
The Power Slinky set are a heavy 11-48 gauge set and they trebles are specially tempered. The basses strings are round-wound and have a high-carbon steel hex core and are pure nickel plated. They produce well-balanced tone are a little heavier and perfect for rhythm with fattened guitar tones. Great for blues as well as rock and roll.
All Ernie Ball products are precision string manufacturing and the company produces great quality string sets to a high consistency.
Their thicker gauges make them more powerful and the Power Slinky guitar string set is a go-to guitar string set for Metallica and Guns and Roses. These bass strings come as a 3-pack too.
Pros:
+ Nickel plated, round wound.
+ Thicker selection of gauges.
+ Ideal for heavier guitar players.
Why We Liked It - Power Slinky strings are robust and more durable they may be a little more resistant and hard on the fingers for those just starting out but are great for seasoned players who like to rock out.
Gibson Brite Wires are yet another excellent string choice also popular among many notorious professional players. Brite Wires are the stock wires on a number of popular Gibson electric guitar models and they provide, as the name suggests stunning bright treble guitar tones. The listing is for a standard 10-46 gauge string set.
They are Swedish hex cored steel wire which is traditionally wound with high-quality nickel-plating as most players find preferable.
They differ in price from other guitar string brands but it is only a nominal increase and online prices are always subject to fluctuations so you can grab them at the same price as other nickel plated sets quite often.
They have very impressive longevity holding up well even with extremely frequent and prolonged playing.
Pros:
+ Nickel-plated.
+ Trusted brand.
+ Durable.
Why We Liked It - Gibson Brite wires continue to impress, they have superior longevity and great warmth. They also keep good intonation and are long lasting strings.
Guitar String Buying Guide
With the many different tension strings available in a range of metal alloys, ends and some offering various coatings it can be difficult to filter out what is the important information.
String development is a constantly improving field though they a small they take some big though so we have gathered some of your frequently asked questions for our buying guide. Hopefully, it will help you decide what are good guitar strings for your instrument.
What to Look for When Buying Guitar Strings?
When buying strings it is crucial to buy the right type (Nylon/steel, acoustic/electric etc) and that they have ends fit for stringing on your instrument.
Other factors to think about are your playing ability learners will want a completely different tension and gauge string set to a pro.
Your playing style is also key here too as finger picking players, or lead players will favor different sets to rhythm players or chord strummers. The genre of music you prefer is relative to your playing style and with some genres heavier than others the wear and tear mean durability is imperative to check.
As with any purchase, we have to consider our budget. Strings, fortunately, start at very reasonable prices so you don't have to save up to replace a set urgently. The benefits of a more expensive set really do speak (or sing) for themselves.
How Often Should you Change Guitar Strings?
The general rule of thumb is to change your strings every 100 hours of playing which can be sooner for some than others. Unless one breaks before the 100-hour mark in which case it is a good idea to change your strings all to keep a balanced sound.
if you are playing a few times a week with a middle of the road set this will be somewhere between 3-6 months.
If you are an intense classical guitar player frantically fingering this might come about quicker, likewise if your a metal head with a standard set you may find yourself needing a steady supply.
Many of us are decidedly guilty of not changing our strings until one of them snaps on us. Strings do affect playing, some strings take a fair while to break in and while some musicians love the sound of a new set of strings but others prefer them worn and are reluctant to replace them.
It is good practice to keep an eye on general wear and tear. Heavy-handed fretting can cause underside indentations and wear down the winding until it starts unraveling. Bending, tuning, and down tuning frequently will also affect them, causing metal fatigue. Surface oxidization is another thing that will compromise your guitar string set over time. Exposure to air, moisture, skin oils and perspiration all has a corrosive effect on your strings.
How to Change Guitar Strings?
When you do need to change your strings it isn't an altogether difficult process, Though it varies from guitar to guitar.
How to change nylon strings we have covered previously in our Ten of the best Nylon Strings article.
Here is a decent video from Fender about changing electric guitar strings.
https://www.youtube.com/watch?v=4CtqfHmssx8
Where to Buy Guitar Strings?
You can buy guitar string online fairly easy and often in multiple packs like those we have reviewed her which are all available through Amazon it is important to note that if you are buying online it is worth checking the seller because some people are purchasing knock-off strings, unfortunately, so do your best to find a reputable source.
You can also buy a range of guitar strings in most musical instrument stores most of which we have reviewed are top string brands, best selling products and widely stocked and usually available through most retailers.
Which String Gauge to Choose?
Thicker strings need more tension to produce the same note a thinner string can produce at a lower tension.
Thicker gauge string sets reach their resonant frequency quicker (better response) because there is more metal to vibrate they also create a louder volume for the same reason. This can also mean less fret buzz but fret buzz can be down to your guitar itself.
Thicker strings are a little harder to pluck and you need stronger fingers with heavier commitment to hold notes when soloing.
Beginners will like to prefer a lighter gauge but lighter gauge trebles can be tough on fingertips. The looser the string is the easier it is to bend which is an advantage if you bend a lot of notes in your play but at the same time, they can be too lose for arduous chord strumming.
String preferences are a very personal thing so if you can try a few different sets. A regular/standard/typical gauge set is the middle ground and a great place to start(around 10-46). We hope this guide has helped you to choose the right strings!
Which Guitar Strings for Acoustic?
Most acoustic guitars are steel string (they are often called steel string acoustics). Some companies make Nylon acoustics usually junior models, travel models, or budget models designed to keep the price down as the neck woods need to be of good quality to withstand steel string tension so if you use cheaper woods to produce a low priced product sometimes nylon is the only option.
What Guitar Strings for Electric?
With electric guitar you need to consider the gauges, if you are a novice try different types you may prefer heavier strings/lighter 4th string. All electric strings are steel of some form different guitar string brands will use different metals incorporated. Nickel-plated steel is popular, some will tin-plate but the major differences in strings come down to their windings or sometimes their coatings if they have them. Some companies offer flat-wound variants on top of their various round wound options they are mellower and ideal for jazz or fingerpicking/slide-neck style.
Which Guitar Strings for Classical?
This question is truly debatable but ultimately boils down to individual preference and playing style.
They differ mainly in their stringing style (how you put them one) and their winding alloys. There are some amazing sets of strings out there to choose from you might want to reference our
10 of the best Nylon strings article to find the best type of guitar string if you are shopping for your classical guitar.
Best Guitar Strings for Metal?
If you are searching for good strings to play metal you definitely want to look for the reinforced string if you intend to thrash a lot. Dunlop heavy strings core make for an excellent set. From our reviews we suggest the Ernie Ball Power Slinky string set or maybe stretch to some Ernie Ball, not even Slinky could do the trick with their additional protective coatings. The coating helps fight corrosion and people who perform metal genres regularly under stage lights sweat a lot more profusely so they can begin to corrode before you break them. Ultimately you want to look for the strongest guitar strings possible that are comfortable to play and suit your level of ability.
Which Guitar Strings are Best for Beginners?
For beginners, we recommend a standard or light set to begin with. The lower tension strings make for easier to play action.
For acoustic guitar try the D'Addario EJ16 set they are a comfortable light gauge but don't lack too much tension.
For electric Ernie ball regular Slinky or Super Slinky, though the super slinky trebles can be a little cutting on tender fingers.
Conclusion
There are plenty of factors to think about before you purchase your next set of strings. A string upgrade is never a bad idea if you can accommodate it financially. The difference in the price is nominal for some guitar string brands and can mean a whole lot for your resonance and even improve your playing style if they provide a better tactile response.
It is very hard to compare strings side b side unless you have two identical guitars, any new string set will sound better compared to the previous set but top strings make much more of an impact than others. Some strings will do a guitar very little justice at all.
Be honest with yourself about your requirements especially concerning your ability don't jump ahead to the strings you want if you are a beginner as they may be unsuitable and that could be detrimental on your early progress.
As with any instrumental investment what you need on an individual level differs tremendously from what other people might need so understanding product descriptions is vital to making a well-informed choice. With a bit of luck, we have helped answer all your questions and provided a few products to peruse.
Expert Tip
If you are unsure about the real differences between strings you can buy a variety string one matching string from each to a spare guitar and tune them all to the same note the differences will be much clearer to you.
Did You Know?
The D'Addario company are responsible inventing the very first winding machine, which inspired all of the machines that modern string manufacturers use today.
If you've enjoyed this review by Music Critic, please leave a positive rating: