If you are here for a roundup of the 10 best travel guitars in 2023 then you are in for a treat. We have selected some pretty great products that meet the criteria for a range of different reasons, each one deserving of being a worthy candidate.
We live in an age where technology keeps us connected at our fingertips, the world wide web has made the world seem a whole lot smaller, more appealing and traveling the length and breadth of it a lot less of an impossibility.
The majority of guitarists away from home and wished they had an instrument with them, it is also fair to say that our musical instruments can hold a fair amount of value whether it is literal or sentimental. Taking them on the road inevitably means they could end up damaged.
What makes for the best traveling guitar is actually a little bit more complex than you might at first think. Along with durability issues and transportation safety measures, the size and components need to be considered.
We are going rifle through the best travel size acoustic guitar reviews to determine what makes each ideal for what, where, and whom to help make your purchase a sensible one.
As ever we have included a buyers guide in which we will attempt to answer your niggling questions. Read on to find 10 top travel guitars that don't suck!
At a glance:

Our top 3 picks
Our team's top 3 recommendations
Best Overall
Ibanez EWP14OPN

Piccolo Size
Gorgeous Looks
Low Price
Unique Voice
Durable Build
Premium Quality
Washburn Rover

Piccolo Size
Gorgeous Looks
Low Price
Unique Voice
Durable Build
Great value
Traveler Guitar EC1 VBKM

Piccolo Size
Gorgeous Looks
Low Price
Unique Voice
Durable Build
Find The Best Travel Guitar Below
Ibanez is a much-loved company in the guitarist community as its products tend to be reasonably priced while also performing like much more expensive instruments. That's also the case with this travel guitar, which also lives up to Ibanez's reputation for creating cool-looking axes.
The piccolo size makes this guitar ideal for taking on the road with you. It has a shorter scale length, at 17", and can be compared in size to a ukulele. This smaller size gives it a unique voice. It is a little higher pitched than a standard acoustic while it also has something of a mandolin about its tone too. It has to be heard to be appreciated.
Also surprising for such a little instrument is the amount of volume it produces. It could easily be used to entertain a small group at a campfire or in the park.
Pros:
+ Piccolo Size
+ Gorgeous Looks
+ Low Price
+ Unique Voice
+ Durable Build
Why We Liked It - It's a gorgeous little guitar that has a truly unique voice. It also provides an impressive amount of volume for a piccolo.
Fretboard size - Some travel guitars feature a small body so that they can still include a full-sized fretboard, meaning the guitar's layout will feel familiar. This is a great space-saver, but you sacrifice some of the "roundness" of sound produced by a regular-sized body, especially on travel acoustics. If sound is more important to you than portability, look at models with a full-sized body.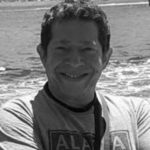 Diff brand & model - change content
Next up is a fantastic product from Washburn. This guitar has been designed with travel in mind. For that reason, it features a sleek, slim-bodied aesthetic that lends itself to easy portability.
Washburn has compromised on the body of the instrument to make it easier to carry around, but it hasn't shortened the scale length. It's got a full scale of 23.75". That means that you can play it in the same manner as your standard acoustic.
As you'd expect for the price, this product features high-grade materials. It's got a spruce top and body, as well as a mahogany neck and back. These materials don't just enhance the durability of the instrument, they also contribute to a surprisingly rich, warm tone. This sound is made even better by the D'Addario strings that come as standard.
To make traveling with this lightweight product easier, Washburn provides you with a high-quality gig bag.
Pros:
+ Sleek Design
+ Perfect for Traveling
+ Includes Gig Bag
+ D'Addario Strings
+ Superb Sound and Tone
Why We Liked It - It's a lightweight, sleek guitar that's been designed for traveling. On top of that, it offers a beautiful tone, which is typical of Washburn.
3. Traveler Guitar EC1 VBKM
If you're looking for a premium, high-quality electric guitar for traveling, then you'll likely be impressed by this awesome Traveler ax.
It's a solid-body electric that weighs a little over 5lbs. This low weight allows for easy portability while you're on the road. One of the reasons why it weighs so little is because it doesn't have a headstock. Tuning is done within the body of the guitar. This unique design keeps the guitar shorter – therefore more portable – without having to reduce the scale length.
As this ax has been designed for traveling, it also includes lots of handy features for you to be able to play it while out and about. First, it has an in-built amp that allows you to plug your earphones in and add effects to the guitar, such as overdrive or reverb. You can also plug in your smartphone and play along to tunes on it.
Pros:
+ Exceptional Solid Body Guitar
+ Lightweight
+ Shorter Length
+ No Headstock
+ Includes Gig Bag
Why We Liked It - It's simply the best electric guitar around for traveling. It's lightweight, shorter in length, while also loaded with lots of handy features.
Travel Amps - If you're considering a electric travel guitar, then you'll need to carry a small amp around with you as well. Size and weight are the prime factors here, but you still don't want to scrimp on sound quality. A very popular choice is the tiny battery-powered Marshall MS2, which offers switchable clean and overdrive channels plus a headphone out for silent practice. And it looks SO cute!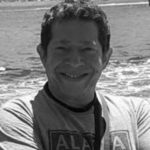 4. Traveler Guitar EG1C BLK V2
This next travel guitar is an electric guitar option and the company has really thought about its travel abilities every step of the way throughout its design. The traditional tuning mechanism has been replaced with an entirely different more forward-thinking one. The tuning is facilitated on board within the super lightweight body itself tuning pegs are subjected to a lot especially when we travel so this is a great idea as far as we are concerned.
This steel string silent guitar is substantially shorter than a standard electronic sized guitar the lack of headstock contributes largely to this and it is around half the typical weight as well.
The built-in shadow e-tuner is integrated into the pickup offering onboard chromatic tuning which can only be beneficial. Other notable features include the V2 headphone amplifier which allows for silent guitar practice great for a late night strum in a hotel and the Jack plate auxiliary input enabling players to plug in other devices to play along to their MP3 tracks.
The sounds are pretty good, the custom tap pot allows you to cycle through clean, boost, overdrive and distortion tones, and its gold Humbucker and cream pickups stand out visually against its dark mahogany body.
Pros:
+ Full size scale length but smaller overall size due to head stock sacrifice.
+ Super Lightweight.
+ Great on-board features
Why We Liked It - This one makes for a fantastic choice of electronic travel guitar the range of tones are awesome and you can get away with a cheap mini-amp that doesn't need any tone abilities. We like the silent guitar playing option also all in all it is one of their original series and a contender for best traveler guitar.
5. Taylor Guitars Baby Taylor BT1
Next up in our travel guitar review is the Baby Taylor BT1 the predecessor to the Mahogany body BT2 we we have already listed. This little baby was the one that kick-started the popularity among seasoned musicians looking for a small knockabout ideal for their travels that rose from a humble product aimed at children starting to learn guitar.
This Taylor guitar is a solid Sitka spruce guitar and we have included it in our review because it actually provides the rich and deep altogether fuller sound than the newer refined model. The level of volume from this ¾ sized instrument is amazing although we dare say the higher frets on the treble string are a little tinnier than would be truly desirable and this is probably the reason for the second model development.
As previously mentioned the BT2 Taylor guitar doesn't have much bass reverb, the two are equally priced o the decision between them boils down to how you prefer your overall tone.
Pros:
+ Powerfully naturally loud.
+ Best seller
+ Great grab and go guitar.
Why We Liked It - This Taylor guitar is a great candidate for the ultimate guitar travel companion the tonal qualities are top-notch, which is how it earned its popularity among adult players despite its initial concept being aimed at young beginners.
6. Martin LX1 Little Martin
The Martin LX 1 makes for a vastly superior travel guitar. It is almost twice the price of the LXK2 (the Koa we reviewed) but the differences go way beyond cosmetics. The Martin guitar features a solid spruce top which will make it a little bit more fragile in terms of dents and dings but ultimately the sound is everything you get with a traditional Martin.
This Martin guitar has a Rut-stratabond neck which features Martin'sortise joint construction, Micarta bridge, Tusq saddle and rosewood fingerboard which feature 20 frets (14 clear of the body) and the whole thing is hand-finished.
The LXK2 tones are just completely outshone by this one it is full rich and deep and a perfect starter guitar, as well as a great choice for travel but it, as we said, set you back more and you may not want to take it on particularly adventurous travels.
Pros:
+ Padded gig bag seems better quality than standard free gig bags.
+ Fullest tone.
+ Compact and affordable high quality.
Why We Liked It - This Martin traveler guitar is a wholesome toned compact guitar that makes it a perfect choice of travel without a 'travel guitar sound', not to mention the padded gig bag you get with it!
7. Luna Safari Series Muse Mahogany
This Luna Safari Series Muse Mahogany
 is an attractive ¾ size travel guitar with an equally appealing price range. The production doesn't come from a top brand and however, the manufacturer seems great. The Luna Safari Series Muse Mahogany
 travel guitar is a typical dreadnought body it features a Celtic laser etched henna design and is a fairly eye-catching little beauty. It was constructed mainly from mahogany (neck back sides and top, it is non-specific when listed but the top is probably HPL considering the dramatically lower price range, it has a rosewood fingerboard.
This backpacker travel guitar has an adjustable truss rod and the overall construction good there is no tell-tale sign of substandard construction (like extra glue etc. On the whole, its pretty sturdy with its high-pressure laminate top although this doesn't give the beautiful reverberations that are expected in a great acoustic travel guitar it does mean it has good durability.
Pros:
+ ¾ size.
+ Ideal travel buddy & great backpacking guitar.
+ Low priced.
Why We Liked It - This Luna Safari Series Muse Mahogany
 guitar makes for a great cheap and cheerful option, the sound is pretty sweet and would be the best option for any trips where your guitar is going to face some extreme exposure. Perfect for round a campfire out into the wild style gatherings. Half the price of the Baby Taylor and hold it's own among them in terms of it's sound capabilities.
8. Traveler Guitar Mark III MK3 MHG
Another travel acoustic electric guitar model here from Traveler guitar, a company which formed 20 years ago with the sole purpose of providing full-size travel guitars and have been innovative front-runners from the get-go. Like the EG V2 we reviewed, it features their genius in-body tuning function eliminating head-stock from the guitar length and thus providing a full-scale length guitar that is smaller, to begin with. Overall this acoustic-electric travel guitar is 26% shorter and 47% thinner than a typical electric but the frets have not been scaled back.
Again this acoustic-electric travel guitar features the built-in shadow headphone amplifier and auxiliary input. The under-saddle pickup is super sensitive and gives an acoustic style sound without the need for bigger body resonance. It has standard EQ controls to shape your tone.
The Traveller acoustic-electric travel guitar is constructed from mahogany and has a cutaway for better access to higher frets.
Pros:
+ Headphones for silent guitar practice.
+ Aux in for jamming with tracks.
+ On-board tuner.
+ Mahogany body.
Why We Liked It - The Traveler Guitar brand are dedicated to the travel guitar niche and tailor their products to specifically cater for travel playing needs, they also come with a lifetime warranty, they are beautiful in appearance and have some nifty on-board conveniences.
Cordoba produces some amazing classical guitars in their many ranges The Cordoba Mini M is a solid spruce topped travel instrument. The classic guitar alternative has a lighter weight and can be purchased in different side and back options to suit different tonality preferences. Find some classical guitar strings here.
It has the same feel and playability as a full-size guitar as the neck is of a typical width as is the fret spacing. It comes with acoustic guitar strings tuned up a fourth from standard tuning ADGCEa. This is the recommended optimal tuning for the best vibrancy but you can replace them with a standard E set.
It sounds very bright and is surprisingly loud for a miniature musical instrument, the basses are very strong, we recommend adhering to the A tuning as the E guitar strings change it dramatically into a somewhat lackluster instrument and they hold far less tension.
Pros:
+ Miniature sized.
+ A-A tuning.
+ Great volume level.
Why We Liked It - It is a great deal for the dollars spent, it has good bracing and is finely constructed and is genuinely mini making it another good backpacking option.
Our last option is an excellent contribution from Fender noteworthy acoustic travel guitar lines, it also has the lowest price of all our product listings. The CT features a brand new modified body size and shape, which they aptly name "Travel" it also has a shortened scale length this is what makes it so fitting for travel pursuits.
It is a solid spruce topped instrument at 23.5" scale length, it makes for a quintessential travel buddy with it's compact size and portability. It plays better than some of Fenders other smaller model which are aimed at junior players.
This acoustic travel guitar has scalloped X bracing for added durability required when you are on the move. If you know your Fender acoustics this one is essentially the CD60S but tailored to backpacker travel needs. This acoustic travel guitar has great across board tones and plays straight out of the box and keeps good intonation.
Pros:
+ Affordable price.
+ Incredibly lightweight small travel guitar.
+ Solid topped.
+ Great portable travel guitar.
Why We Liked It - It is a great affordable entry from a leading brand, which they have developed exclusively for optimized travel abilities. Perhaps one to fit in the overhead compartment of a plane?!
Where's the headstock? A lot of electric travel guitars appear to have been in an accident, as the headstock is completely missing. Instead, the tuning is has been relocated to inside the body. Specialist manufacturers like Traveler Guitar boast rock-solid tuning. And not having a headstock allows these guitars to use a full fretboard, yet still be up to 30% shorter.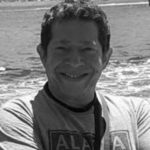 Travel Guitar Buying Guide
So you've seen our reviews now let's resolve some of your queries in our buying guide.
What is a travel guitar?
A travel guitar is an instrument which has been created to tackle some of the drawbacks of taking a guitar out and about whether that is for an outdoor retreat or abroad, for a long weekend or an arduous adventure. When we travel and how we travel will affect the toll taken on your musical instruments. Many guitarists feel lost without something to strum when the mood takes them and quite often when we are on holiday and relaxed or meeting new people we can find our selves wishing we hadn't left our guitar at home.
On the other hand, we also know the logistics of carrying our pride and joy into the unknown territory of travel can put it at risk of damage or even getting lost altogether. Ideally, we want a lower priced and probably even smaller sized (and weighted) travel companion as a solution especially if you intend to lug it about for long period of time. The most essential thing is that it is an easily portable guitar for travel.
Where to buy a travel guitar?
There are many places to buy a backpacker travel guitar, many outlets will cater for travel options in modern times. It is, however, a huge market and in this day and age, it is easier to sift through your options online. All of the above products we have reviewed are available through Amazon. The majority can also be bought online via their brands own websites.
Which travel electric guitar?
We have only listed 2 of the best travel electric guitars and they are both by Traveler Guitars we feel they represent the most cutting-edge electric guitars specifically designed for traveling purposes. Usually, we see instrument companies creating travel instrument models in this case travel instrument models have created a company, this speaks volumes for the quality goods which they are producing. Their electric travel guitar features and design concepts are, undeniably, "State-of-the-art". Grab some great electric guitar strings here.
Best backpacker guitar?
If you are planning on backpacking you are going to want to streamline everything you typically take traveling so size here is key depending on how hardcore your backpacking will get you will probably want the smallest backpacker travel guitar you can get your hands on. Martin's backpacker is a great option although some have found its unique shaping awkward to get along with. In which case you could try going with the Little Martin Koa or the Taylor backpacker models.
You will likely be carrying your instrument for lengthy periods backpacking, the Cordoba Mini M is incredibly small and super lightweight if you can embrace it's higher tuning it might be another superb choice for you.
Best sounding travel guitar?
In terms of sound and strictly talking about best travel acoustic guitars for the road, the Martin LX1 is the pinnacle of our product reviews. If you want an electric option the Traveler Guitars EG1C has unbelievable onboard features and effects.
Best cheap travel guitar?
From our acoustic travel guitar reviews the Luna makes a pretty great budget travel guitar its is priced at the same region as the Fender CT-60S so either make a good low priced option it just boils down to your individual sound preference The CT60S acoustic travel guitar has a great overall tone but we feel the Luna's low might just give it the edge here in terms of sound despite Fender being the more notorious brand.
Conclusion
We are optimistic that our traveling guitar reviews will have made for a good selection of top travel guitars for the road to choose from and think about.
Initially, you will have to determine if you want acoustic or electric abilities there are some companies making pickups for smaller musical instruments so that can be something you could change at a later date.
The key things to remember when searching for a good travel guitar are how you intend to travel (modes of transport etc), whether you want a cheap knockabout option that you aren't too invested in or prefer something as exquisite as it is roadworthy. Is it going to sit in a hotel room and be pulled out for the local jam night at the club at the end of the strip or are you going to hitchhike your way across Europe?
Lastly, your budget is really what sets your limitations, if it is on the smaller side you ought not to expect too much from cheap travel-size guitars for the road.
Once you know what you want from a travel guitar you can make a better thought out decision and find the most practical solution for your needs.
Expert Tip
If your heart is set on dragging around your pride and joy to show it off in all it's beauty on a worldwide scale you will want to seriously invest in some high-end flight cases for the overhead compartment.
Did You Know?
Several leading brands and their discount competitors are manufacturing fold away, collapsible or sliding guitars with some pretty advanced mechanisms, which in terms of compact guitar design solutions is pretty ground breaking so we are excited to see where guitar development goes from here as they will likely make for another great guitar for travel choice.
If you've enjoyed this review by Music Critic, please leave a positive rating:
[vc_separator