Are you a guitarist? Are you looking for the best acoustic electric guitar under $700? You're in luck! We realize that it can be tricky to buy musical instruments, especially if you buy them online, and therefore we thought we'd help you out a bit. We have narrowed the selection down for you and have searched the internet far and wide to find the top 10 guitars we think you should take a closer look at! Got more cash to splash? Check out the top acoustic electric guitars for under 1000 bucks.
Brew a cup of coffee and sit back and relax. Take your time to read the reviews through carefully, and watch any YouTube videos we've linked to. Make sure that you make notes of the guitars you like the most, and also what their pros and cons are according to you, so that you can compare them easily. Choosing a musical instrument should take its time, because you want to get it right the first time! If you are a beginner, choosing a budget friendly acoustic electric guitar may be your best option to start with.
Let's dive in to the wonderful world of acoustic-electric guitars! We really hope that the right guitar for you is among these ten beauties! Looking for an all-electric? Try these electric guitars below $1000.
At a glance:

Our top 3 picks
Our team's top 3 recommendations
Best Overall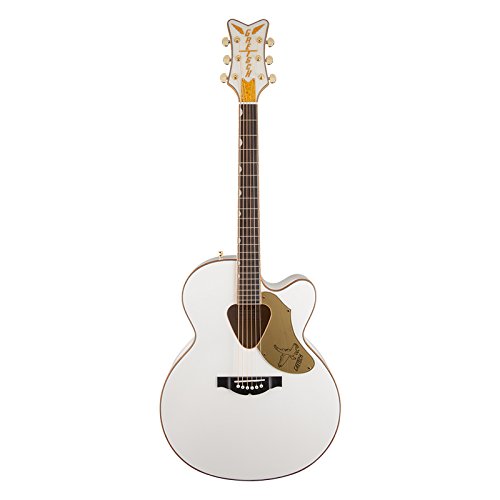 Gretsch 5022CWFE Rancher Falcon

White with gold sparkle appointments
Full, warm tone
Gold sparkle binding
Premium Quality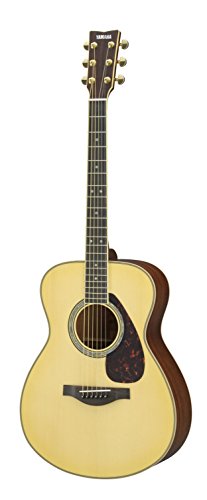 Yamaha L-Series LS16M

White with gold sparkle appointments
Full, warm tone
Gold sparkle binding
Great value

Epiphone DOVE PRO

White with gold sparkle appointments
Full, warm tone
Gold sparkle binding
Review of the Top 10 Best Acoustic-Electric Guitars in 2023:
1. Gretsch 5022CWFE Rancher Falcon
The most important thing when it comes to guitars is of course the sound. So listen to the guitar being played on the link below. Notice the fullness of the guitar tone and the luscious bass guitar tone. A steel string guitar with lots of potential!
Demo Gretsch Rancher G5022 Falcon
As you can tell this guitar is really handsome. It has a solid spruce top with laminated maple back and sides and mahogany neck. The fingerboard is made from rosewood, which is a nice, naturally oily tree that allows your fingers to slide without too much friction, and it has a gorgeous gold sparkle binding. The guitar has a glossy polyester finish and is white with gold sparkle appointments.
Pros:
+ White with gold sparkle appointments
+ Full, warm tone
+ Gold sparkle binding
Why We Liked It - The main reason anybody would buy this guitar is probably the way it looks. It has an exclusive look to it, and will make any guitar player feel like a million bucks when you play it. But that doesn't mean that the sound isn't good, it really gives a guitar player's music soul and fills it with all the right overtones.
You know the person in the shop that you ask to find out more about the product and he tells you all this stuff that you would never find out on your own? We found that guy, and he's very helpfully explaining why this guitar is so good. Just click on the link below and he'll not only tell you about the guitar, but will play it for you too! When you listen, pay attention to the brightness and clarity of this guitar, it's perfect for country music but works great for pop and other genres as well!
Yamaha has developed guitars that feature what they call A.R.E, which is short for acoustic resonance enhancement, which is an original wood reforming technology. The guitars also have SRT Zero Impact guitar Pickups, that are suppose to affect guitar tone as little as possible.
Yamaha L Series Acoustic Guitars
This is a guitar with a classic look with a twist. It's available in black, natural, brown sunburst and dark tinted, and all the colors look great in their own way. LS16M has solid mahogany back and sides, but LL16R is the same guitar with rosewood instead, if you prefer that instead. The neck is 5-ply and looks amazing.
Pros:
+ Great, bright and clear guitar tone
+ SRT Zero Impact Guitar Pickup System
+ Hard case included
Why We Liked It - This is a great guitar for the customer that wants to find something that is classic, but still feels modern and updated. The sound is great and the design is familiar and timeless. The SRT Zero Impact Guitar Pickups won't change your guitar tone, and the guitar is built with A.R.E. (Acoustic resonance enhancement). Check out the Yamaha apx500iii thinline as an alternative.
If you want a guitar that sounds really cool, almost like a hybrid between an electric guitar and an acoustic (oh, wait, that's kind of what it is!) sound wise, with both fullness as well as brightness and punch to the tone, then this Epiphone DOVE PRO guitar is worth checking out. It's kind of hard to describe this guitar's sound, but fortunately you can listen to it so that you don't have to guess what we mean!
The first thing you notice when you see the Epiphone DOVE PRO guitar is the dove. And if you don't like doves, this is probably not the guitar for you. The second thing you notice is the little wing-shaped pearl inlays. The thing is that it kind of looks like a mustache, which we don't think is the purpose of it, but if you like mustaches and birds, then this Epiphone DOVE PRO guitar is as good as sold!
The Epiphone DOVE PRO guitar has a solid spruce top and maple back and sides and a rosewood fingerboard with pearloid parallelogram inlays that look amazing. The whole guitar has a hippie vibe to it that will suit singer-songwriters and professional buskers perfect.
Pros:
+ Cool dove-design
+ Pearloid parallelogram inlays
+ Fishman Electronics Sonicore Pickup System
Why We Liked It - This Epiphone DOVE PRO is a good guitar, but we don't think that anybody would buy it if they don't love the design. Sure, it sounds good, but not good enough to buy it only for the sound. But if you like the dove-design, then go for it! You may be interested in considering the Epiphone Hummingbird PRO and Epiphone DR500MCE guitars, also.
This is a beautifully sounding guitar that would work wonderfully for pop songs especially, there is something about it that just goes straight to the heart! Here is a video so you can hear for yourself!
This guitar is available in brown sunburst, natural or ruby red, which is really cool. It comes with a hard case to keep it safe. FSX830 is the brown sunburst one, with a solid sitka spruce top and the back, sides, fretboard and bridge is made from rosewood. The two other colors have sides and back made from nato.
Pros:
+ Beautiful sound
+ Hard case
+ Three different colors
+ Affordable
+ Solid Sitka Spruce Top
Why We Liked It - If you are going to play pop music, we definitely recommend this guitar, it both sounds and looks the part for a very low price when you consider the average price range. It's amazing that you can get such a good guitar for so little money! Alternatively, you could check out the Seagull S6 original acoustic electric.
The first thing we noticed when we started researching this Martin acoustic electric guitar was that all the reviews said the same thing- it sounds great! Many claims that they've had a few guitars before, but this one beats them all. Many are also astounded that this Martin acoustic guitar so cheap but still sounds so good.
The second thing you learn as you read more about the Martin acoustic electric is that it's the same guitar that Ed Sheeran uses, so if you're a fan (of course you are!), you should check this Martin guitar out! Here is a video review where you can both learn more about the guitar and listen to it.
Martin LX1E Little Martin Electro Acoustic Demo
This guitar is also called 'Little Martin'. Why is that? Because it's small and super cute! The Little Martin smaller than a regular guitar, which is great if you have little fingers, want a certain sound or need a small guitar that is easy to bring with you when you travel and you can keep in the overhead locker when flying.
Pros:
+ Ed Sheeran's guitar of choice
+ Small, known as the Little Martin
+ Built-in tuner
+ Padded gig bag
+ Great as travel guitars
Why We Liked It - Just the fact that Ed Sheeran uses this little Martin guitar is reason enough for many to buy it, but that's not the only reason why you should consider it. This Martin acoustic electric guitar is small, which is handy if you tend to require travel guitars or electric guitars for smaller sized hands, and the sound is actually great. It's really nice that the Little Martin features an built-in tuner as well, no need to look for your tuner every time you're going to play! Check out the Martin DRS2 or other Martin Road Series DRS1, the Martin DRS 2 and onwards guitars for great Martin acoustics and electrics.
If you love blues and rock n' roll, you're going to like this guitar! It has the perfect sound for the job with clear highs and balanced bass, thanks to its unusual multi sound hole design. Here is a link to a good video review to watch if you're curious about this guitar, you have to hear it!
Ovation Celebrity Elite CE44-5 Acoustic-electric Guitar Demo - Sweetwater Sound
The multi sound hole design not only gives the guitar a unique sound, but it looks really cool as well. It's available in black, 2-tone sunburst, natural and ruby red, and all of them look unique and cool in their own special way.
Pros:
+ Unique multi sound hole design
+ Great for blues and rock
+ Four different, nice colors
Why We Liked It - This is the perfect guitar for blues and rock. It sounds really good thanks to the unusual holes, and they make it look great too. We believe that this is the kind of musical instrument that you either like or dislike instantly, and most often that feeling is correct. So if you like it- go for it, you're going to love it!
7. Epiphone EEPUNACH1 PRO-1 ULTRA
Here is a video with this guitar that you can listen to while you read through this review. The text in the video is in Polish, so you don't have to watch it, just listen to the music to see what this guitar is all about!
As you can hear, this guitar has a classic sound that could suit most genres, depending on what strings you use i.e. nylon, steel or classical guitar strings. This means that it's great for beginners buying their first guitar, it's good enough but still very affordable.
This guitar looks like most other guitars, nothing special really, but in a good way, it's definitely not ugly! It has a spruce top and dreadnought cutaway acoustic-electric guitar body as well as a laminated solid mahogany body and neck.
Pros:
+ Affordable
+ Good for beginners
+ Gig bag
+ Award winning eMedia online guitar lessons included
+ Humidifier included
+ Solid mahogany neck
Why We Liked It - This is a perfect guitar for beginners. It's cheap and you get free online guitar lesson courses that can help you to start out. A gig bag is included too, as well as a guitar humidifier that helps you take care of your guitar. It's high-quality and all in all a really good guitar. Check out the Seagull S6 original acoustic electric as an alternative.
Perhaps you're a classical guitarist and you just want to be able to plug your guitar in to be heard for once? This is a great guitar for that purpose. It comes with nylon strings that are good for classical music, but works for most other genres as well. It's refreshing to have a guitar with nylon strings, since many acoustic-electric guitars have steel strings.
Here is a video with a guy that probably is over the moon, he has just gotten his Takamine GC5CE-NAT and is trying it out. He's pretty good too!
This guitar features deluxe appointments, a solid spruce top and rosewood back and sides. The neck is slim and made from solid mahogany and the fingerboard is also made from rosewood.
To make this guitar extra beautiful, they have added a dovetail neck joint, an inlaid mosaic rosette, and gold tuners with white pearl buttons. As icing on the cake there's a luxurious gloss finish. Shiny!
Pros:
+ Great for classical music
+ Nylon strings
+ Warm, rich guitar tone
+ Versatile
Why We Liked It - If you like to play beautiful classical music but would like to be able to turn the volume up a bit once in a while, you're in luck. This guitar sounds great and will enhance whatever you're playing. It's really good to have if you play with other people and need to make yourself heard or are playing at a big venue.
You probably know the routine by now, start learning more about this Fender Sonoran SCE guitar by listening to it! Here is a video that can help you out! You will hear that this guitar is very bright, crisp and clear.
Fender Sonoran SCE Electro Acoustic Guitar Demo - Richie Stopforth @ PMT
This Fender Sonoran SCE is a fun guitar that is available in many different colors. How about black, natural or Olympic white? Too boring and ordinary for you? Then maybe surf green, candy apple red or blue will suit you better! No matter what kind of color you like you can be sure to find a Sonoran SCE that you love!
The Fender Sonoran SCE has a solid spruce top with laminated solid mahogany back and sides along with a maple neck and rosewood fingerboard.
Pros:
+ High-quality
+ Many different colors available
+ Bright, crisp guitar tone
Why We Liked It - This Fender Sonoran SCE is a good all-round guitar for the musician that likes to play many different genres. It's available in many cool colors so that you can really find one that suits your personal style. Fender is a well-renowned brand so you can be sure that you'll get a really good guitar for your money. Try the Fender TBucket 300CE Cutaway guitar as an alternative.
Let's finish off this list with another great guitar from Yamaha! Here is a link so that you can listen to it!
Yamaha FGX830C : bluebird
The guitar tone is full of overtones and very rich and full, which is nice. It's a very versatile sound that can suit most genres.
This black guitar has a solid sitka spruce top and rosewood back and sides. The fingerboard and bridge are also made form rosewood. The abalone inlay around the sound hole looks really cool and makes the whole guitar look more expensive than it really is.
Pros:
+ Good-looking
+ Full, warm tone
+ Abalone inlay around the sound hole
+ Solid Sitka Spruce top
Why We Liked It - This is a guitar that really shines, both when it comes to the sound and the looks. The guitar tone is warm and full and allows some nice overtones to make your music sparkle a little extra. We really like this guitar! Alternatively, the Tim Armstrong Hellcat guitar, the Yamaha a3r, or the Yamaha apx500iii thinline are popular alternatives.
Acoustic-Electrics Under $700 Buyers Guide
What to Look for When Buying Acoustic-Electric Guitars Under $700
There are two main things to keep in mind as you go about picking your new guitar. The first thing to note in this buyers guide is of course the sound. You need to decide what kind of sound you're after. Which genre do you play the most, or do you need a guitar that is versatile and can be used for many styles of music?
What kinds of strings the guitar has will change the way the music sounds. Nylon strings are best suited for classical music or soft playing, but if you are going to play blues and rock you're going to want to buy a steel string guitar.
How the guitar is built will also affect the sound, different woods will change the guitar tone as well as the cut of the guitar and where the sound hole is.
Don't worry too much though, the general rule is that if you like the way it sounds, then it sounds good. There is really no reason to go into detail as to what it is that makes the guitars sound different, just use your ears! Fortunately, we managed to find YouTube videos featuring all the guitars on our list so that you can listen to them and compare them!
The second most important thing is the way the guitar looks and feels. While it's tricky to tell what a certain guitar feels like in text (it's such a personal experience), finding out if you like the look of a guitar is very easy. Decide if you want a guitar that looks classic, for example, a black or natural guitar or if you want some fun color, like blue for example. If you want to make sure that you like what the guitar feels like you'll have to go to a music shop to try it out.
Another, less important thing is your budget. Ok, maybe it's pretty important too! Decide in advance how much you're willing to spend, but remember that the more you pay, the better your guitar will be. This is not always true, but most often. Even though there are bargains to be made it can be tricky and if you pick a guitar from good guitar brands that cost a little bit more you can expect it to be good, and that way avoids disappointment.
What is an acoustic-electric guitar?
An acoustic-electric guitar is what it sounds like! Imagine a normal acoustic guitar, but you're able to plug it in so that you can turn the sound up and down. As opposed to a regular electric guitar, that doesn't sound much at all if you don't connect it to an amplifier, an acoustic-electric guitar doesn't have to be plugged in for it to be played.
There are many times when it's good to be able to amplify your guitar, for example when you play in a band or perform at a big venue and you need to be heard. A regular acoustic guitar doesn't sound much compared to other musical instruments, so it's great to be able to get some extra power. It can also be very helpful in recording situations. An acoustic-electric guitar will allow you to be freer, as you don't have to be positioned in front of a microphone when you want to make yourself heard.
Can you get a left-handed acoustic-electric guitar?
Yes, we have chosen to focus on regular, right handed guitars for this list. Just search for left handed acoustic-electric guitars at amazon.com and you'll find plenty to choose from!
What are the best acoustic electric guitar brands?
Yamaha is a good brand that produces musical instruments that are affordable, yet high-quality. Fender is another brand that many guitarists love. However, there are many amazing Guitar Brands. What is most important, is that the guitar suits you!
Conclusion
What have we learned from a quick look at these ten guitars? That there is an acoustic-electric guitar for everybody! No matter if you want steel strings or nylon strings, a black guitar or a green one, or a cool or classic design, there is a guitar that is perfect for you! So don't just go with any guitar, take the time to think through which guitar suits you the best!
Expert Tip:
New strings stretch, so be prepared to retune your guitar often in the beginning! Read more about tuning your guitar here.
Did you know?
Wooden instruments actually sound better and better the more you play them!
If you've enjoyed this review by Music Critic, please leave a positive rating:
[vc_separator