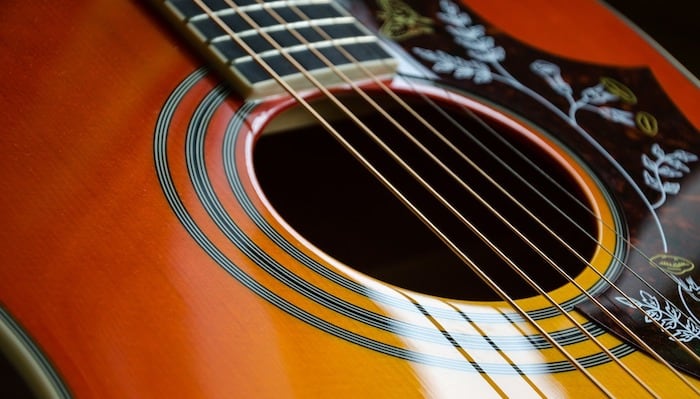 Whether you dream of performing on a stage or simply would like to be able to strum a few chords beside a campfire, having the best beginner acoustic guitar will make sure that you can achieve your aims. This is a beautiful instrument that is a pleasure to learn and play, but it's always important to spend your money wisely, as you'll find yourself more likely to learn and practice if you've got a better quality product in your arms.
The problem that a novice has is that it can be difficult to know what features distinguish a good acoustic from a bad one. And, even if you are willing to spend the big bucks, it won't necessarily be the right instrument to learn on. In fact, it might be better for a beginner to start with a decent $500 acoustic guitar that's designed to be playable for someone at the start of their journey with this instrument.
Our team has spent a lot of time researching and testing acoustic guitars that are suited to novices. We have found ten excellent products that we've reviewed here. We've also provided you with a very useful buyer's guide so that by the end of this article you'll be ready to invest your money wisely. We can imagine that you're keen to get one of these instruments in your arms, so let's get on with the article, and you can take a step closer to becoming the next Eric Clapton.
Want a premium instrument? We've also reviewed the best acoustic guitars under 1000 bucks.
At a glance:
Our top 3 picks
Our team's top 3 recommendations
Fender FA-100 Dreadnought Acoustic Guitar

Epiphone DR-100 Acoustic Guitar

 Yamaha FS800 Solid Top Small Body Acoustic Guitar

No need to go out and buy everything separately. Save money and time by buying this kit!
Beautiful rosewood bridge
Large, easy to play dreadnought body

Vintage design with understated, eye-catching looks
14-degree headstock for easier chord playing and less confusion when transitioning
High-grade materials that enhance the sound and durability of this product

Many different styles to choose from
Smaller body for smaller fingers and arms, which is also good for teaching children
Everything is included in the kit to get you started with this instrument
View The Best Beginner Acoustic Guitar Below
1. Fender FA-100 Dreadnought Acoustic Guitar
If you're looking at new acoustic guitars, and you're a little overwhelmed by the accessories that you'll need to buy to accompany your new instrument, then it can be a good idea to buy a bundle. This guitar comes with lots of handy extras, such as a guitar strap, pick, and a digital tuner. A tuner can be a very useful accessory, as new acoustic guitar strings tend to take a while to settle, so often go out of tune during the first few weeks. Anyway, let's move onto the guitar itself.
Dreadnought Body
As you'll find out from this article, there is a range of shapes and styles when it comes to the body of an acoustic. The dreadnought is one of the largest. It makes it much easier for beginners to learn, as the frets are further apart, so you're less likely to hit the wrong note or chord. This larger body shape also creates more volume, which is handy for live performances.
Everything is Included
That's right. This product comes with everything a beginner would need. You get picks, a tuner, a case, and a strap. You can get started without needing to visit your local musical instrument store to buy all these extras. The fact that you get everything in a single bundle also means that this product offers excellent value for money.
Pros:
+ No need to go out and buy everything separately. Save money and time by buying this kit!
+ Beautiful rosewood bridge
+ Large, easy to play dreadnought body
Why We Liked It - We can't overstate just how much more cost effective it is to buy a bundle. And while that's an important reason why we rate this product so highly, it's the guitar itself that we loved the most. The beautiful bridge and large body produce a vibrant, deep sound that is a pleasure to listen to. It's also suitable for live performances, once you're at the level for a little gig.
Beginners - When you're just starting out, you don't have to worry too much about the sound quality. Find a guitar that's comfortable enough to learn the basics on and stick with it. Once you have more technical knowledge, you'll be better prepared to pick out a more expensive pick that's well suited to your individual instrumental needs.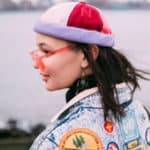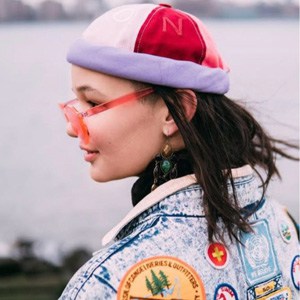 2. Epiphone DR-100 Acoustic Guitar
With a gorgeous, unique sunburst design, this product from Epiphone is a lovely looking instrument. It doesn't just catch your attention from it's beautiful looks, though. It also offers a bold, powerful sound that's typical from Epiphone. For beginners, this is a great instrument to build up your skills on.
Tightened Headstock
The headstock plays a much more important role than many musicians think. The degree of the headstock dramatically affects the tightness of the strings, which impacts on the tone and playability of the instrument. The 14-degree angle of this headstock is perfect for beginners as it offers a decent amount of give that can help with smooth chord transitions.
Fantastic Design
The DR-100 comes in a 'vintage sunburst' design that gives it a professional-level appearance. The rosewood fingerboard combined with the spruce top and mahogany body produces a well-balanced, full-bodied sound. The tone is versatile enough to be used for a wide variety of musical genres, in our opinion.
Pros:
+ Vintage design with understated, eye-catching looks
+ 14-degree headstock for easier chord playing and less confusion when transitioning
+ High-grade materials that enhance the sound and durability of this product
Why We Liked It - With looks, easy playability, and gorgeous sound, this guitar is an excellent first instrument for a beginner to learn on. The quality that it offers far outwieghs the affordable price tag. And, as it is made by Epiphone, then you can be ensured good build quality and long-lasting performance.
3. Yamaha FS800 Solid Top Small Body Acoustic Guitar
This acoustic is perfect for budding guitarists who have small hands or short arms, as it isn't a full-sized model. Having a product that suits your stature will make learning far easier. Even though it is a smaller guitar, it still delivers full-bodied, powerful sound, and is ideal to learn with.
Small Body Style
The small body offers a host of benefits. For smaller adults or for children, then it allows for a user-friendly experience that makes learning far more fun than it would be with a dreadnought to deal with. Of course, as it is smaller, then it is also lighter and more portable, so it's ideal for taking with your traveling too.
The Whole Kit
It comes with everything you need. You don't need to worry about buying lots of extras, as this product includes them. This adds to the value for money that the product offers. And, as it is made by Yamaha, then you're ensured a quality instrument too.
Pros:
+ Many different styles to choose from
+ Smaller body for smaller fingers and arms, which is also good for teaching children
+ Everything is included in the kit to get you started with this instrument
Why We Liked It - We think it is the perfect guitar for smaller learners, whether that's a child or a petite adult. The build quality is high level too. Yamaha has always been trusted for entry-level, beginner instruments, and that's why we can highly recommend this reliable product.
Electrifying - Consider whether or not you'd like your acoustic guitar to have an electric pickup. This opens the door to recording your acoustic guitar directly or plugging it into amplifiers for performance. These options may cost a bit more, but they may be worth it depending on your needs.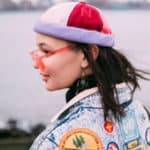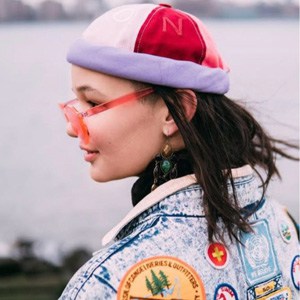 4. Yamaha FGX800C Solid Top Folk Acoustic-Electric Guitar
For a modern take on a classical guitar, the Yamaha FGX800C is definitely worth a look. It's got the classic body and style while having the functionality of many modern electric-acoustic guitars.
It's Electric
That's right. Unlike many other beginner guitars on our list, this one can be hooked up to an amplifier. Usually, the hardware required to make it electric pushes the price up. That's not the case with this cheap model that hooks up to an amp. When it's not plugged in, then it delivers a gorgeous, well-balanced sound, and this translates very well when amplified too. Not looking for an acoustic? See fully electric guitars for beginners here.
Perfect Beginner Bundle

This bundle includes the guitar, strings, a digital tuner, a soft cleaning cloth, straps, a hard case, and even more! All of the extras would usually cost well over $100, so this bundle is certainly a bargain.
Pros:
+ Play electric or unplugged, which is rare for a beginner product
+ Bundle includes everything you need to get started
+ Natural wood appearance to give your guitar that 'vintage'look
Why We Liked It -  It's a quality guitar that has the added bonus of being able to be amplified. The accessories are also high-grade, which makes it a good bargain choice. We're also big fans of Yamaha and can highly recommend its products to beginners.
5. Fender CD-60SCE Dreadnought Acoustic-Electric Guitar
Another cheap and high-quality electric-acoustic option is the Fender CD-60SCE. It's got a large, dreadnought body that delivers a lot of power even when it's not amplified. As you'd expect from Fender, the build quality is faultless, and it is very affordably priced too.
Mahogany Body Build
Mahogany is a wood that's commonly used for affordable acoustic guitars. Why? Firstly, it's highly durable. Secondly, it contributes to a vibrant, bold tone, which is exactly what this instrument offers. There is nothing dull or lifeless about the sound offered by this exceptional, cheap product. Even though it will appeal to a beginner, it still offers enough quality for an intermediate. So, if you're looking for a guitar that you can grow with and use for a long time, then this one is a good choice.
But Wait, There's More
That's right. It's got everything a beginner guitar player needs. The bundle includes a shoulder strap, case, strings, picks, and a chromatic tuner. It makes for a good gift for a budding guitarist because of these accessories, in our opinion.
Pros:
+ Kit includes all of the essentials and more
+ Beautiful natural mahogany appearance
+ Works for beginner through expert playing levels
Why We Liked It - It's a high-quality product that can be used unplugged or amplified. It's good enough to be used by an intermediate too, so it makes for a solid long-term investment. Lots of experienced guitarists started off with a Fender, so you can be sure that it's a safe choice.
6. Donner 36'' Dreadnought Acoustic Guitar Package
This dreadnought acoustic from Donner is available in a wide range of color options, from light to dark tones. Regardless of the style you choose, you can be sure that it will still look natural. This shape is popular with guitarists of all levels because it creates bold, powerful sound. This instrument also features high-grade mahogany, which we thought contributed to the excellent sound quality.
The Kit Includes…
Just like a lot of the products on our list, this one is also part of a bundle. It includes all the essentials, as well as a capo. This is a great little piece of equipment that clamps onto the fretboard so that you can play higher octaves without needing to bar the fret with your fingers. It's a lovely extra that an acoustic guitarist will come to appreciate very quickly.
Spruce and Mahogany
This product is made from some of the finest materials available in the budget price range. The spruce and mahogany combination is an effective one, in our opinion, and it contributes to the awesome sound quality that this instrument offers.
Pros:
+ Includes a capo, which is a very hand accessory to have
+ Bundle comes with everything a beginner needs
+ Made of spruce and mahogany
Why We Liked It -  It's a no-frills guitar that's well-suited to beginners. We were particularly impressed by the extras that it comes with. Few other products on our list included a capo and extra string set. It's an affordable option that will do the job for a novice.
7. Jasmine S34C NEX Acoustic Guitar Bundle
This is a minimalist product that delivers a lot of quality despite lacking all the frills of a more advanced instrument. If you simply want a workhorse to learn on that offers great value, then we think this one is a superb choice.
Amazing Beginner Bundle
With a set of strings, several picks, a tuner, and a guitar case, you've got all the basics covered so you can start playing. Another plus with this bundle is that it comes with a set of instructions so that you don't need any prior knowledge at all about the accessories to use them.
Laminated Spruce
Spruce is a high-grade material that lots of budget and premium guitars are made from. The laminated layer adds further protection, so you don't need to worry about scratches or dents. Also, it enhances the appearance of this lovely product.
Pros:
+ Includes all the essentials for starting out, which saves you money upfront
+ Laminated spruce for durability while also contributing to a visually pleasing appearance
+ Dreadnought body for a deep, bold sound
Why We Liked It - We love the simplicity of this product. It offers solid performance, a deep, powerful sound, and it comes with all the extras a beginner will need. It's a basic product that is a low-risk choice to learn on. The laminated layer also helps to make it more durable than other budget products too.
8. Yamaha FG820 Solid Top Acoustic Guitar
Once again, we have an excellent Yamaha, entry-level guitar. It offers the reliable quality that we expect from Yamaha, making it a solid choice for novices. As always, the build standard is high, so you can be sure that it will continue to offer top-level performance for a long time.
Spruce and Mahogany
It's made from two high-grade materials that used to be featured only on premium instruments. Now, Yamaha can produce a budget-priced instrument with the features of an advanced product. These materials contribute to a lovely sound quality that is well-suited to a wide range of musical genres.
Angled Headstock
An angled headstock directly impacts the tightness of the strings. The tightness or looseness of strings can make it a little bit easier to navigate the strings and change chords. It also reduces the possibility of fret buzz. That means that the angled headstock makes this product more playable from a beginner while enhancing the clarity of tone it offers.
Pros:
+ Multiple colors and designs, which gives you a much wide range of choices in terms of appearance
+ Made with mahogany and spruce, the two best woods for acoustic guitars
+ Tightened headstock, which helps with chord transitions and eliminates fret buzz
Why We Liked It - It's available in lots of different colors, so you can pick one that suits your style, which we think is a big plus. The headstock is also a great feature, and it eliminates annoying fret buzz. It's a superb all-rounder that delivers Yamaha reliability.
9. Donner DAG-1C Beginner Acoustic Guitar
The dreadnought body and 41" scale make this product an excellent choice for larger learners. It's certainly a big guitar, but for a big person, then this is ideal, as a small guitar can be a bit trickier to maneuver for larger people. The sound is very powerful too, so if you want to have a loud guitar, then it's also a good choice.
The Kit Includes it All
This kit includes everything you need to begin your guitar learning process. You get a capo, some picks, a case, strings, a tuner, the guitar, and more. The key to this bundle is the impressive guitar at the heart of it. The well-balanced, full-bodied sound has to be heard to be appreciated.
Large Cut Away Body
Cut-away bodies add a little bit of a design flair to an acoustic. They're a unique look, which gives some dimension to an otherwise classic appearance. The large dreadnought frame is great because it boasts a high volume with a deep, resonating sound.
Pros:
+ Larger body for easier chord changes
+ Comprehensive bundle with everything you need and more
+ Cut-away appearance that makes it look unique
Why We Liked It - It's a big, powerful guitar that features an eye-catching, cut-away body that we love the look of. If you want your guitar to be a little different, then this is ideal for you. It's also a must for any larger, budding guitarist.
This is another excellent 42" guitar. It's made by Gibson, which is one of the most admired and well-respected manufacturers when it comes to guitars. It's got a full, dreadnought body, which guarantees a bold, vibrant tone, and a huge amount of volume too. It's a comfortable shape to rest on your lap, and it also aids playability.
Spruce and Kauri
Kauri is a unique wood that produces a warm yet powerful sound. It offers more resonance than mahogany, as well as contributing to more clarity. This product also features laminated spruce, which aids the durability of the instrument. Overall, these are high-grade materials that produce a gorgeous tone that make this a great instrument to listen to and learn on.
The Bundle Includes…
The bundle includes guitar picks, straps for your acoustic, strings, and the guitar itself. You don't really need much more, and for the low price point, it's a steal, in our opinion. Buying these items individually can put a dent in your wallet, but bought together they hardly add anything to the pre-existing price.
Pros:
+ Kauri and spruce wood
+ The bundle includes everything you need to get started
+ A solid, user-friendly instrument, which is perfect for beginners
Why We Liked It - We love the simplicity and size of this acoustic guitar. There's nothing fancy about it, but it has all that you need to get started on your musical career.
Strings - Bundles can be a great way for you to save time and money on the basics. If your guitar comes with a pack of strings, try to change and tune them on your own the first time around. There are hundreds of free tutorials available online and it's an essential skill every guitarist should know.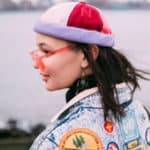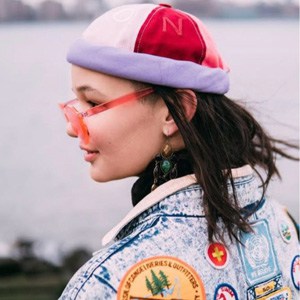 Beginner Acoustic Guitar Buyers Guide
The best place for any novice to start before picking a new guitar is to decide what body style, size, design, and bundle you're looking for. After reading our reviews, then you should know better which of these options are right for you. For example, a dreadnought body will be fine for a larger guitarist but for a child or smaller adult then you'll probably want to pick a scaled-down model.
It can also be useful to know what it is from a bundle that will be important for you. You'll likely save a lot of money by buying a product that's part of a bundle, but if you've already got some accessories then you can just focus on the instrument itself.
Overall, it's always important to get the best value for money. The products on our list all tick this essential box.
Now that you've seen some awesome instruments, let's move onto the important FAQs that you might be asking.
How much does a beginner acoustic guitar cost?
There is a wide range in prices when it comes to a beginner acoustic guitar. You'll likely find the most basic options available for $100 and these no-frills products can also cost as much as $400, depending on the brand and whether or not you want a bundle.
We recommend purchasing a bundle if you're a complete novice, as it will offer you better value. It will also provide you with all the accessories that you'll require to get up and running. Always check the reviews for bundles, though, as some manufacturers will throw in some low-quality products knowing that buyers will be attracted by the number of extras rather than their quality.
How to buy a beginner acoustic guitar?
Finding the right acoustic guitar might seem like a bit of a challenge if you're a complete novice. Don't worry though, we've got you covered!
The three key things to know when buying an acoustic guitar are:
1) What size are you most comfortable with?
2) What wood are you looking for?
3) What design do you want?
Each question has many answers, and those answers will point you straight to the best acoustic guitar for you!
Which guitar strings for beginner acoustic?
The question of what strings are the best for beginners is a widely debated topic. There are many great brands that offer a huge range of options when it comes to strings. D'Addario is the most popular strings for beginners because they're easy to change chords on. They don't stretch too much either. When strings stretch, they have to be re-tuned. Thus, having strings that don't stretch often means you don't have to tune your guitar all the time!
What is a good cheap acoustic guitar for a beginner?
The Epiphone DR-100 is a great cheap acoustic guitar for a beginner because it offers a lot of volume, a bold tone, and it's a user-friendly, playable size. It's a great option for a wide range of budding guitarists, as it allows for easy chord transitions. It's also very reasonably priced when the quality is taken into account. It might not come as part of a bundle, but that doesn't matter, as this is one excellent product.
Best acoustic guitar for beginner adults?
The Yamaha FG820 provides the best overall quality for beginners. It delivers the famous reliability that's associated with Yamaha. This manufacturer has a superb reputation for its entry-level instruments, and this one is no exception. You can't go wrong with this product at all.
Best acoustic guitar for beginner children?
For a child, then the most important aspect of the instrument is its size. You want to make sure it's right for the child, otherwise, they might be reluctant to practice because of how uncomfortable they are. We think that the Yamaha FS800 Solid Top Small Body Acoustic Guitar is the perfect size for a child. It's also large enough for mum or dad to have a practice too.
Expert Tip
When you first start learning to play the acoustic guitar, try learning chords separate from strumming. Mute the strings by placing your palm flat over them, and just transition from chord to chord with your left hand. This will help you to get to grips with the chord shapes without needing to worry about your right hand at the same time.
Did You Know?
The sound from an acoustic guitar is made by the strings' vibrations resonating in the body of the instrument, then coming out of the sound hole. This is why the choice of wood is so important when you're selecting your instrument. The most popular woods are mahogany and spruce, but plenty of guitars feature other woods with different properties.
If you've enjoyed this review by Music Critic, please leave a positive rating: