The piano is a revered instrument to learn but not always the most accessible for home practice. In this article, we're going to take a quick look at other options that make for the 5 best pianos for beginners in 2023.
Purchasing a piano can end up a rather large investment both financially and in terms of its actual physicality. Budget and space are not the only constraints either; sometimes digital is the only feasible way to go.
So before you dive headfirst into your new hobby, here's our beginner's piano review and a handy buyer's guide to shed a little insight into what's available.
There are plenty of options out there, each suitable for different purposes. We've reviewed five that we believe cover all the basics a beginner might be looking for, from the more authentic, to cheap and cheerful choices.
At a glance:

Our top 3 picks
Our team's top 3 recommendations
Best Overall
Alesis Recital | 88 Key Beginner Digital Piano

Five voices
Lesson Mode
88 semi-weighted, full-size keys
20-watt speakers
Headphone output
Premium Quality
Alesis Melody 61 Key

Five voices
Lesson Mode
88 semi-weighted, full-size keys
20-watt speakers
Headphone output
Great value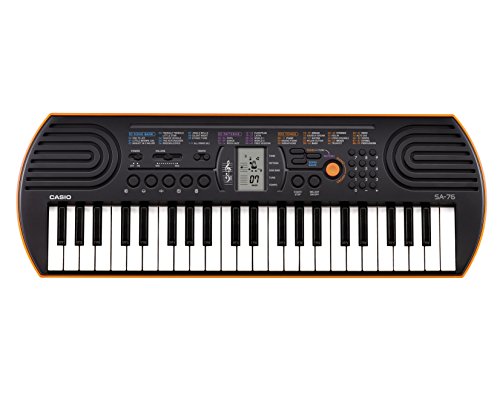 Casio SA76

Five voices
Lesson Mode
88 semi-weighted, full-size keys
20-watt speakers
Headphone output
View The Best Piano for Beginners Below
1. Alesis Recital | 88 Key Beginner Digital Piano
This piano has been designed with beginners in mind, which means that it comes loaded with handy features that will help you to quickly improve your piano playing. Lesson Mode is an innovative program that will help you learn the right keys.
There is more to this piano for beginners than functions. It has five different voices – acoustic piano, electric piano, organ, synth, and bass – so that you can experiment with tone. There are 88 semi-weighted, full-size keys for you to play, and they feel as natural as if you were playing on a grand piano.
Pros:
+ Five voices
+ Lesson Mode
+ 88 semi-weighted, full-size keys
+ 20-watt speakers
+ Headphone output
Why We Liked It - The Alesis Recital is undoubtedly one of the best pianos for beginners because it has been designed specifically with beginners in mind and therefore offers lots of handy functions to improve your playing.
Tonality - When finding the right piano to learn on, it may be best to find one that you can easily plug in headphones or a speaker into. This way, you can practice your material in the privacy of your own ears but still have the flexibility to amp up your sound for performance. If you're looking for a more classical piano sound, you may not need to prioritize having a wide variety of different keys or tone modes that some of these keyboards have.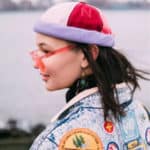 If you're looking for a complete package, including an excellent 61-key piano, to begin your journey as a pianist, then this product from Alesis has to be considered. This bundle contains the Melody piano, a comfy bench, a stand, headphones, a microphone, and a note stand. All for a very reasonable price.
The key element of this bundle is, of course, the piano. It's an electronic keyboard that includes 300 voices to choose from. The sound it delivers is crisp, rich, and natural, whether you listen to it through the in-built speakers or the included headphones.
The keys have been designed to provide you with an authentic experience, with them being weighted similarly to an acoustic piano.
As you're a beginner, then you'll also find one extra to be very appealing. The piano comes with a free, three-month membership to Skoove, which is an online learning resource that can help you quickly improve your skills.
Pros:
+ 61 Weighted Keys
+ Lots of Extras
+ Skoove Membership
+ Great Sound
+ Ideal for Newbies
Why We Liked It - It provides beginners with everything they need, including a fantastic, electric piano, a comfy bench, and much more.
Next up is another low budget option with a miniature size to match its minimalist price tag.
Now practicing on a 44 key scale sized keyboard isn't an ideal for everyone, but we get a lot of readers who are parents purchasing for young instrumental learners. Smaller hands need relatively sized keys and not every parent is willing to commit to a brand new piano, in case of interests fade into nothing but a phase.
The Casio SA76 makes for a cheap and cheerful starter option that a child can progress from to something better in the future. It has a super-small footprint which hides 100 built-in sounds, 50 drum beats as well as 5 drum pads and comes with 10 songs to teach yourself.
Notes are shown on the display which helps users to learn notation.
Pros:
+ Cheap choice.
+ Built in songbook.
+ Ideal for smaller hands.
Why We Liked It - It is an affordably priced option, and one top contender for best keyboard to learn piano on. The size make it perfect for junior beginners to harness their skills with.
Built-in Learning Tools - Some of these electric pianos have built-in learning tools like embedded sound books that may be helpful for beginners. Even if your piano doesn't have these features available, keep in mind that there are plenty of piano learning resources available for free online. Scour the internet for tutorial videos, sheet music, and more.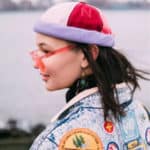 The Lagrima makes for a superb solution to piano practice requirements. It is a desirable digital piano with 88 keys akin to the Yamaha. It comes with a stand which gives it a more traditional acoustic appearance.
Its multi-track function allows for easier learning. The teaching function teaches left or right hand play both separately as well as together. It also features chord function for fingering practice. It has DSP effects including reverb chorus chord and dual tones. It contains over 80 demo songs as well as 960 tones which is exceptionally impressive.
If you use the touch switch the playing expression will vary the volume dependent on the strength the keys are played with. It also has 3 pedals Soft, sustains and sostenuto to mimic acoustic piano damper effects.
Other features include USB/MIDI terminal.
Pros:
+ Relatively realistic digital piano.
+ Pedals.
+ Teaching mode.
Why We Liked It - It is a shining example of one off the best beginner pianos out there and it has an affordable price-tag too.
Last on our list is another top choice of digital piano for a learner. This time a small 54 key option., each key is sturdy and full sized it is just a shorter scale. This gives it the advantage of being easily portable.
It is a great choice for a learner because of its multiple teaching modes. Chords and notes which are clearly displayed on the user-friendly LCD screen. It features 8 demo songs 100 keyboard tones and rhythms.
The user gets access to the piano maestro android App for additional song library content which covers many genres from pop and rock to soundtracks and classical pieces.
Pros:
+ Low Cost option.
+ Teaching mode.
+ Additional app learning content.
Why We Liked It - It is a decent compact option and an ideal choice of digital piano for beginners who want something space saving that comes with adult suitable, full sized keys, without a heavy investment.
Pianos For Beginners Buying Guide
So what features make for the best keyboard piano for beginners let's take a look at your FAQs.
What to look for in a piano for beginners?
If you're buying a piano for beginners, firstly you need to think about age as a factor adults are going to want something with full scale sized keys whereas juniors might get along better with something smaller. There is, however, a school of thought that goes against this stating it can slow down progress as they transition and suggests that young learners should just jump straight in, on a full sized instrument.
Circumstances weigh in on the decision to, for example, if you intend to have or already have lessons from a tutor or in an educational setting you will want something with weighted keys and pedals so that practicing at home is as realistic. Alternatively, if you have a budget that won't stretch to a digital piano or lessons a full-size keyboard may be a sufficient choice.
Many of those we have reviewed come with nifty teaching features for DIY styled instrumental learning.
Best budget piano for beginners?
For best budget piano for beginners, we would recommend the Lagrima, though it's price tag isn't low it is without a doubt the most affordable choice which effectively emulates a traditional piano.
If your budget is considerably lower we would suggest the RockJam 54 key, it has a shorter scale and the keys are not weighted but they are full size and the price is nice and low. Overall they are a good beginner keyboard.
Best 88 key piano for beginners?
Once again we are torn as to whether to go with the Lagrima on this one or the Yamaha.
The Yamaha is truly exceptional, the key response is amazing and it is astoundingly realistic with its weight system but the Lagrimas price tag is much more affordable. It has pedals for effective emulation of acoustic piano practice and it offers a built-in learning system as well as an extensive repertoire of songs in its bank. If you are probably going to be self-taught the Lagrima is a top contender but the Yamaha is a good digital piano solution if you are having lessons. Each is fantastic and it is too close to call.
Best 61-key piano for beginners?
From our top 5 reviews, the only clear winner is the Hamzer, it is a great piece of equipment and serves up 61 keys to practice with.
Best small piano for beginners?
The bet small is the RockJam 54, which offers a great adult sized compact option. If you are shopping for smaller hands or just ant something tinier to tote around on your travels the Casio may be your best choice.
Conclusion
You may have noticed we have only suggested digital solutions, it is never ideal to practice piano on a keyboard but it is also not wise to buy a piano until you are sure about your playing progressing. No one wants to see an unloved piano gathering dust. There are many suitable digital options out there whatever your budget. With a buyers market comes a tougher time narrowing down choices. So we hope our article will be of some help before you make your purchase.
Expert Tip
If you are genuinely looking to play the piano but can't afford one, we stress the importance of looking at a model with weighted keys for more accurate representation.
Did You Know?
You know digital pianos and keyboards make good piano for beginners as they can be operated with headphones... Who knows how many renditions of chopsticks your family can cope with? Interestingly
If you've enjoyed this review by Music Critic, please leave a positive rating:
[vc_separator