The Seagull Guitars S6 Cedar Original is a 6-string acoustic guitar with a dreadnought body shape. It has 21 frets and a solid cedar top. The back and sides are made from wild cherry wood.
Seagull Guitars S6 Cedar Original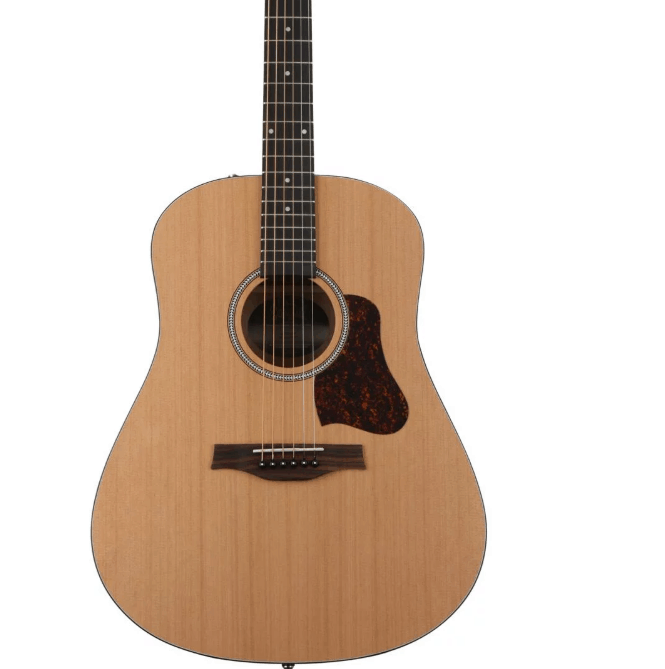 Summary
Seagull is a newcomer on the guitar-making scene, having been founded in a little town in Quebec in 1982 by Robert Godin and his friends. Of course, Robert Godin had already been in the guitar game since 1972. Seagull was a small company when it was set-up, but it has since become a huge name around the world.
The reason for its fame has a lot to do with the Seagull Guitars S6. This excellent 6-string acoustic guitar has quite a reputation these days. It's even become the guitar of choice for some world-famous musicians, including James Blunt and Emm Gryner.
What's so good about it? Well, the first thing that stands out is the cedar top, which has been pressure-tested to ensure stability and reliability. This means you're assured of getting an exceptional tone whenever you pick up the Seagull S6. Not only is the tone superior to other acoustic guitars in its price range, but it also promises outstanding projection and response.
Laminated wild cherry wood is used for both the back and sides, which only helps the superior tone. The great thing about this guitar is how warm the tone remains, even when being played loudly. It's a smooth-sounding acoustic guitar that lends itself to many different genres.
The neck is made from silver leaf maple wood, and on top of it sits a beautiful rosewood fingerboard containing 21 frets. The dreadnought body can be restrictive for some players, as it makes access to the frets at the bottom of the fingerboard more difficult.
But the dreadnought body shape provides you with a lot more advantages than disadvantages, though. The huge projection you get when playing the Seagull Guitar S6 has a lot to do with this large body-type. The neck is set into the dreadnought body, which offers a significant advantage in terms of tuning stability too.
At the top of the guitar, we have a tapered headstock. It's an original design you won't find on a lot of other acoustic guitars. So, why did Seagull choose to build its headstock in this way? It means that the strings are pulled in a straighter direction, which not only leads to consistent tuning, but it also reduces the stress the strings are under. It works well and makes playability easier.
There's always a worry of warping, or of needing to adjust the truss rod constantly with an acoustic guitar. Fortunately, neither of these things are an issue with the Seagull Guitars S6 Cedar Original. The dual-function truss rod is exceptionally secure and stable. As the neck is set inside the dreadnought body, it means that warping is very unlikely.
Overall, this is a fantastic sounding guitar with lots of resonance and projection, making it a dream to play.
Pros
+ The cedar top contributes to the exceptional tone, as well as a lot of resonance and projection.
+ The tapered headstock is an innovative design, which means the Seagull Guitars S6 Cedar Original stays in tune, and the stress of the strings is reduced.
+ This guitar is very unlikely to warp or twist. It has been designed thoughtfully, constructed from high-grade materials, and each of the cedar tops has been pressure tested to ensure quality. It's simply a reliable, stable acoustic guitar that will work perfectly for a long time.
+ The price is a huge plus. There aren't many acoustic guitars in this price range that offer equivalent quality. You could pay more for a bigger name, but you wouldn't get as good a guitar like this one from Seagull.
Cons
- The dreadnought body is a love or hate thing. You'll find it on countless acoustic guitars, but it's a matter of taste. If you like dreadnought guitars, though, then you'll love the Seagull S6.
 Why We Like It
This is an excellent acoustic guitar. The pressure-tested cedar top offers players outstanding projection, as well as a lovely tone. The silver leaf maple neck, wild cherry wood back and sides, and cedar top, are all high-grade materials that will ensure the guitar stays in tune, warp-free, offering superior tone for a very long time. Considering the price that you can purchase the Seagull Guitars S6 Cedar Original for, then it's a no-brainer. This is a quality guitar for an affordable price.
If you liked the article, please leave your feedback.