The Fender Acoustasonic Telecaster is a guitar player's versatility dream. Entirely acoustic and yet fully electric, this guitar that holds the traditional Telecaster design with up to 10 distinct guitar tones. The top is made from Lutz spruce, with a mahogany backing and neck. There is rosewood on the fingerboard and bridge. It houses a rechargeable battery that can play for up to 20 hours. This hybrid guitar allows players to switch from various acoustic guitar tones straight to the electric world.
Fender Acoustasonic Telecaster - Matte Black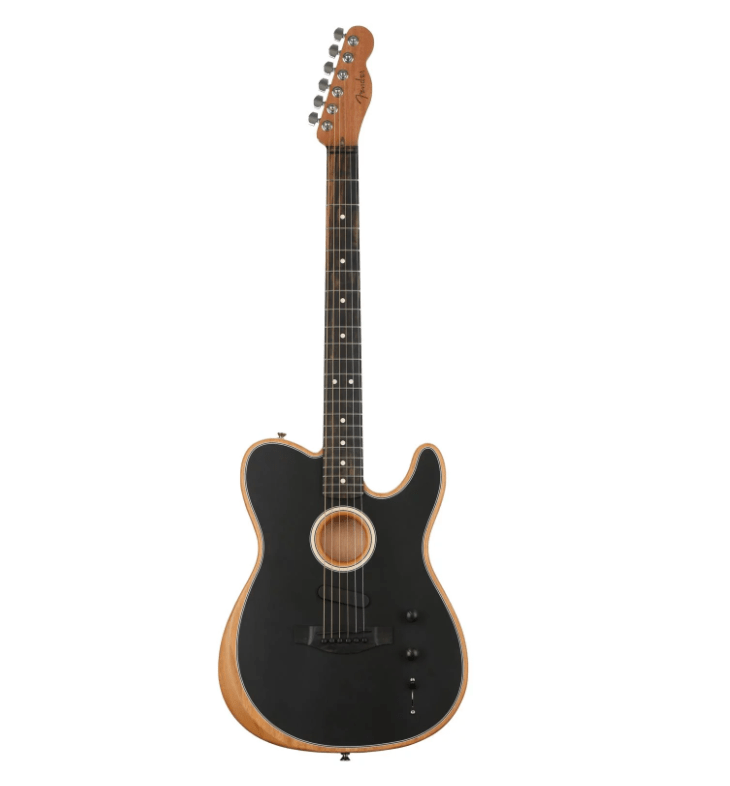 Summary
For players who don't want to be confined to the limitations of only having an acoustic or an electric guitar, the Fender Acoustasonic Telecaster may be one of the most useful and versatile instruments to date.
The soundhole is entirely acoustic, giving players the authentic acoustic sound they need. It can also transition to a fully electric sound with the twang and shrill that you'll need to play gut-busting solos.
The Fender Acoustasonic Telecaster has ten different tone modes, eight of which are primarily acoustic sounds, and 2 of which are distinctly electric. The guitar has five toggle positions with a mode knob, which can be turned to tune any of the 5 locations and tweak the tone to your liking.
You can navigate through different tones, ranging from acoustic grand auditorium and dreadnaught, all the way to the traditional Telecaster electric twang. Switching between tones is seamless through a quick switch and a turn of a knob — no need to change guitars mid-set.
It is a beautifully finished matte black guitar using Luts spruce wood. The backing, neck, and headstock are all constructed using durable mahogany. Rosewood is used on the fingerboard and the bridge.
There are three pickups, although only one is visible; the traditional bridge pickup, a Pieza Pickup located underneath the bridge, and the third one for acoustic tones found toward the tail of the guitar. All of which produce the different sounds you hear when you switch between the modes.
Instead of using a 9-volt battery, the electronics are rechargeable using a USB hookup. The battery can last for up to 20 hours before it needs to be charged again. This guitar can be played as an acoustic, whether it's plugged in or not. Without an amp plugged in, it will still resonate nicely, providing enough volume and tone for you to hear everything concisely.
Even though the guitar itself packs a ton of tones and sounds right into its construction, it works well with pedals and effects, as well. You can hook up any distortion, wah, reverb, fuzz, and anything else you might fancy to experience the kind of tone you would typically get from a traditional Tele.
The Acoustasonic Telecaster is not the cheapest guitar you'll find, but it's well worth the price tag. Hybrid guitars are a relatively new innovation. Having the ability to switch so easily between acoustic and electric effortlessly is convenient. It saves you from buying two guitars when you have such an incredible tone coming through the both of them.
Pros
+ Wide variety of tonal capabilities
+ Lightweight
+ Slick and stylish design
+ Spruce top, rosewood fingerboard, mahogany body, and neck
+ Rechargeable battery
Cons
- Slightly pricey
- Not an entirely authentic live acoustic sound
Why We Like It
The Acoustasonic Telecaster is an excellent guitar for live performers who want to switch back and forth between acoustic and electric sounds easily. This hybrid Acoustasonic Telecaster is a pub musicians' dream. You can swing back and forth between rhythm and lead tones effortlessly. The acoustic tones are relatively versatile, too, allowing you to choose between bright and full sounds too laid back and soothing ones.
The finish on the guitar is beautiful; it stands out from many of the other guitars you'll see on the stage. The matte black finish is slick and secure, while the mahogany backing is made from a block of durable and robust wood.
It plays strongly when you're looking for acoustic capabilities, and still has the fast action playability that you want when its time to pluck or bend. It's a suitable guitar for the studio as well. The electronics are high-tech and reliable, offering seamless plugins and amps, as well as boards. It can be plugged directly into a PA system, instead of always needing to go through a mic.
For one of the most versatile and fun guitars you'll ever come across, we like the Fender Acoustasonic Telecaster for all genres of music. If you're a player who doesn't want to be confined, then this may be the last guitar you'll ever need to buy.
If you liked the article, please leave your feedback.