Full Review of the Michael Kelly Guitars

Michael Kelly Guitars has been around since 1999 when the company was founded by Tracy Hoeft. Ever since then, it's become a hugely popular brand with the likes of Duff McKagan and Shavo Odadjian using its products on stage and in the studio. Michael Kelly doesn't just create awesome guitars. It also makes bass guitars and mandolins. For each type of stringed instrument that Michael Kelly sells, there are acoustic and electric models.
Before we get onto the reason why Michael Kelly has become so popular in recent years, let's deal with the issue of the name. It's a common misconception that the company was created by a guy called Michael Kelly. It's an easy mistake to make. But as we've already mentioned, it was Tracy Hoeft who set the company up at the end of the 90s. He decided that his name wouldn't be the coolest on a headstock, so he instead took the first names of his two small children – six-year-old Michael and three-year-old Kelly – and put them together.
Now that we've dealt with the issue of the name, let's move on to the more important topic of the products that Michael Kelly sells. As we've mentioned, Michael Kelly specializes in guitars – both acoustic and electric – as well as bass guitars. Originally, the company just sold acoustic bass guitars and mandolins, but after a few years of business, in 2001, it branched out into the guitars and basses that have made it famous around the world.
Categories
Currently, Michael Kelly's electric guitars fall into five categories, which are 1950s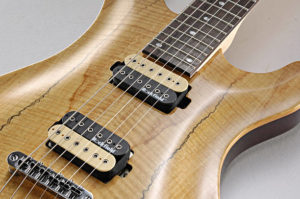 guitars, 1960s guitars, Patriot guitars, hybrid guitars, and guitars for left-handers. Many of the standout guitars in each of these series are its 'Mod Shop' models. For these guitars, Michael Kelly takes a classic shape or style of guitar but then modifies it by using new pickups, which then creates a hybrid of classic and contemporary. This leads to tonal possibilities that have to be heard to be believed. Let's have a look more closely at one of these modified guitars.
Mod Shop 67 Duncan Model
The Mod Shop 67 Duncan is an eye-catching electric guitar that comes in either aged cherry burst or black wash. It's got a quilt maple top, a swamp ash body, and flame maple binding. The bolt-on neck is made from roasted maple, which the 22-fret fingerboard is also composed of. It's a guitar that has boutique looks and a vintage feel to it. But the key to its quality is the tone it delivers. The tone is down to Seymour Duncan pickups that the guitar has been designed around. The pickups are a combo of a 59/custom hybrid humbucker and two Classic Stack Plus pickups for the neck and mid. These pickups combine perfectly to deliver a stunning tone. You also get a huge amount of tonal possibilities due to Michael Kelly's 'Epic Eleven' electronics. Instead of being limited to five tones, the innovative toggle system offers you eleven possibilities instead.
The Patriot Series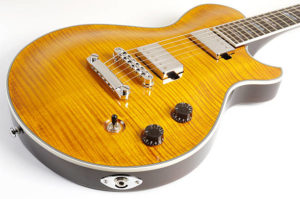 The Patriot series is another popular Michael Kelly collection that has several quality models available. These guitars feature an archtop, cutaway design that will remind you of a Les Paul. We're big fans of the Mod Shop Patriot Instinct Bare Knuckle model. This guitar is quite something. It features British-made pickups from Bare Knuckle that are reminiscent of vintage P.A.F. pickups, which were the original humbuckers, for those not in the know. These pickups are integral to creating a tone that's also similar to the original Gibson Les Paul Standards from the late 1950s. With a mahogany neck and body, as well as a Pau Ferro fretboard, this Patriot guitar has a similar feel to a classic Les Paul too. Another alternative to this model that has a slightly lower price tag but offers an equally stunning tone is the Patriot Decree electric guitar.
MK Acoustic Guitars
Michael Kelly Guitars is also known for its innovative acoustic guitars that have an alternative soundhole placement to usual. The unique looks of these products work in unison with designs that focus on tone and playability, which is all that matters when it comes to a guitar, in our opinion. These acoustics come in a few different price ranges with the materials used is the key determiner for the cost of the instrument. Let's have a look more closely at one of Michael Kelly Guitars' acoustics.
Featuring Michael Kelly's Port design with an offset soundhole, the Forte Port Acoustic is an affordable choice for anyone seeking a unique guitar that sounds great. The off-set sound hole is reliant upon an innovative bracing design that's been created with port technology. This model can be amplified thanks to Fishman's Presys electronic system which is integrated into it. The reason for the low price tag is that more affordable materials are used for this acoustic. It's got a solid spruce top, Sapele back and sides, and a mahogany neck. Still, the tone is natural, rich, and crisp, making this guitar sound like a much more expensive model. If you do, however, want a more premium alternative, then we can recommend Michael Kelly's Forte Port X.
Duff McKagan was one of the first rock superstars to be converted to Michael Kelly Guitars. He was noted for playing the Dragonfly 2 acoustic-electric bass, which has now been discontinued. Michael Kelly has created a more advanced version of this instrument, with its Dragonfly 4 and Dragonfly 5 models. Let's have a look at the Dragonfly 4, which is a lovely instrument.
It's important to note that there are several variations on the Dragonfly 4, with one having an offset soundhole, as well as two fretless models. We're focusing on the standard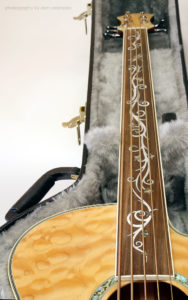 model, which has a regular soundhole. It's made from high-grade materials despite its mid-range price. Quilt maple is used for the top, back, and sides, and it has a 6-ply binding. The neck is made from mahogany, while the fretboard – which has 22 frets and a 12" radius – is constructed from Ovangkol. As we've mentioned, this acoustic bass can be amplified, and that's down to Fishman Presys electronics and a Fishman Sonicore pickup. Acoustic basses that fall in the mid-range price area are hard to find. They tend to be either cheap or expensive, while this model is right in the middle, although the tone, playability, and durability of this model suggest that it should fall into the premium price category.
Now that we've had a look at some of Michael Kelly Guitars' models, we can understand why this company has become increasingly popular over the past few years. Innovative designs and thoughtful modification of classic models are key to this company. We're big fans of its Mod Shop products, which deliver seriously good tone, as well as a huge range of tonal possibilities.
Summary
 Michael Kelly Guitars is a designer and manufacturer of electric and acoustic guitars, bass guitars, and mandolins. Its products feature innovative, unique designs, such as an offset soundhole on many of its acoustic models. Some of its products combine the classic and the contemporary by featuring vintage looks with modified pickups or electronics.
Key to this company is its focus on sound and tone. This is evident with its Mod Shop products, which combine classic designs with alternative electronics and pickups. Technology such as Michael Kelly's Epic Eleven Electronics offers you more tonal possibilities than standard electric guitars are capable of providing. Despite its focus on innovation, Michael Kelly's products remain affordable, and they can be used by guitarists of all levels.
Pros:
+ Affordable prices
+ Innovative, unique designs
+ Awesome tone thanks to modification
+ Great looking instruments
+ Passionate company
Cons:
- Some customers have complained about poor quality control for some of its products
Why We Like It:
Michael Kelly Guitars offers cool-looking, awesome-sounding instruments that are affordably priced. The company is clearly as passionate about music as we are. It produces unique, innovative instruments that deliver in terms of tone.
We're particularly fond of the Mod Shop models, which offer a lovely balance of vintage and modern. We also like that Michael Kelly is willing to take risks, such as by creating a ported design for its acoustic models, which will turn off as many people as it will turn on.
Overall, we can recommend this company to anyone who is serious about tone and who wants to pay a fair price for a new instrument.
If you liked the article, please leave your feedback.