The Taylor GS Mini Acoustic guitar carries the grand symphony design of Taylor Guitars in a compact model. It's a six-string, mahogany bodied guitar with a 23.5" scale radius and a 36" length. It features layered Sapele on the back and sides and also has an ebony fretboard. This is a 3/4 sized guitar that boasts a big and rich sound.
Taylor GS Mini Mahogany - Natural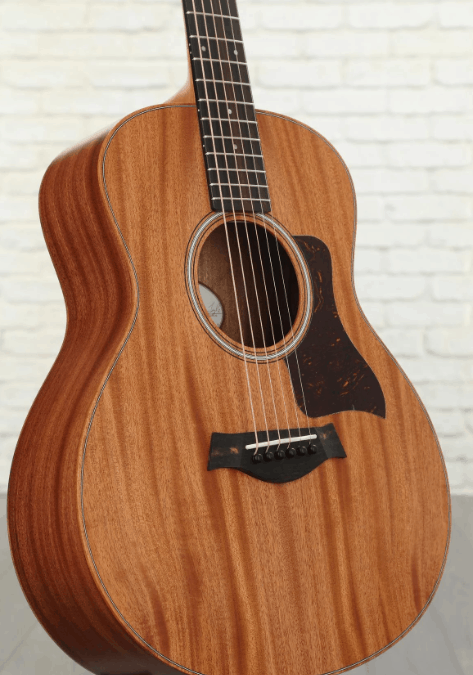 Summary
The Taylor GS Mini Mahogany acoustic guitar may be the perfect fit for players who want to have a decent and impressive sound on the go. Not all guitars are suited for travel. Taking full-sized guitars on planes, trains, and cars can sometimes be a little bit inconvenient. That is where a mini acoustic guitar can come in handy.
Mini acoustics like the Taylor GS Mini is shorter, thinner, and lighter, making them easier to take anywhere with you. They tend to be more suitable for backpacking trips, festivals, camping trips, and anywhere else you want to have some live tunes.
One of the drawbacks of mini acoustic guitars can be the lack of high-quality sound that comes out of them. The Taylor GS Mini still has a reasonably impressive tone coming forth. It has the grand auditorium design that many of Taylor's most influential and noteworthy guitars have - just a little smaller.
The natural mahogany wood on the top is unfinished and is not quite as bright as a spruce top guitar would be. However, it still helps this guitar produce a balanced tone that showcases your chords beautifully. The Sapele sides and back offers extra stability, as well as resonance to the sound.
An Ebony fretboard is slick and comfortable to play. Some of the best guitars in history carry an ebony fretboard. The scale length of the guitar is 23.5", which is approximately two inches shorter than many standard sized acoustic guitars. The full length of the guitar from tail to head is 36", also about 2 inches shorter than traditional acoustics.
Overall, this is a guitar that has a surprisingly big sound for its size. The construction is sturdy and durable, and it's lightweight enough that you can take it practically anywhere. It would be a ton of fun to play and may even have sufficient tone to use on recordings if that's what you're looking for.
It does not have a cutaway design on the body, so soloing may not be the best style for this guitar. However, if you're into some lower note blues riffing, then this guitar should be suitable for you.
Having a guitar like this on the road is convenient. If you're someone who takes guitar playing seriously, you want to have an acoustic that can travel well, play nicely, and sound just right. It ticks the boxes in all three categories, and even sounds good enough that you can lay down some reasonably impressive recordings on the go.
Even if you're not looking for a guitar for travel purposes, it's still highly respectable to play around with at home. It's quite affordable for the level of quality in construction that you get out of it. This could be a suitable option for someone who is interested in learning but doesn't quite have the convenience of larger hands.
It's a fun guitar to play and doesn't take up much room in the house or the car. This may be one of the best mini acoustic guitars available these days. Any long-time guitar player would be happy to have on in their arsenal.
Pros
+ Big, full sound
+ Grand Auditorium design
+ Mahogany Top
+ Durable and stable
+ Lightweight and portable
Cons
- Not a full-sized fretboard
- No electric capabilities
Why We Like It
For a portable acoustic, this one sounds terrific. It is small and light, and the finish on the body is gorgeous. The fretboard plays nicely, and the scale length doesn't negatively come into play. This is an excellent guitar for backpackers or people who need a reliable ax while they're traveling.
It has better sound than many other guitars in its category. Taylor has always been a renowned guitar manufacturer, and they don't disappoint with the GS Mini. The Grand Auditorium design gives this guitar a type of presence that you don't expect from such a little guy. Any guitar player would be happy to strum along on this mini beauty, and it could be a high-end starter guitar for someone a little younger and smaller.
The price is reasonable, as many guitars of this caliber are usually a little more pricey. You get the level of quality and reliability that you want with the GS Mini without paying over the top for it. If you're in the market for a high-end travel guitar, this may be one of the best options for you.
If you liked the article, please leave your feedback.