Something as small as your machine heads is often easy to forget in the grand scheme of things. Given that they have an essential job, we are taking a look at some of the best locking tuners on the market.
Responsible for keeping your strings in check, these tiny-tuners have evolved more than you might think. Most agree that locking tuners need some consideration, which is why we have chosen to highlight a few.
We are going to compare a selection of six suitable candidates in our locking tuner reviews, and we'll explain everything you need to know in our buyers' guide, so stick around!
At a glance:

Our top 3 picks
Our team's top 3 recommendations
Best Overall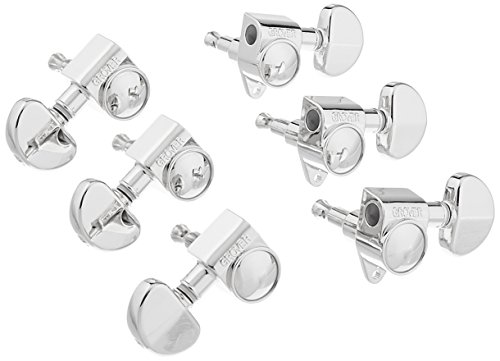 Grover 102-18N Rotomatic 18:1 3-per Side Tuners

High ratio.
High-quality.
Mounting instrument accessories included.
Premium Quality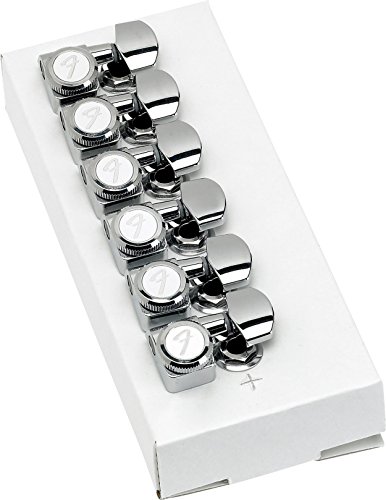 Fender Locking Tuners Chrome

High ratio.
High-quality.
Mounting instrument accessories included.
Great value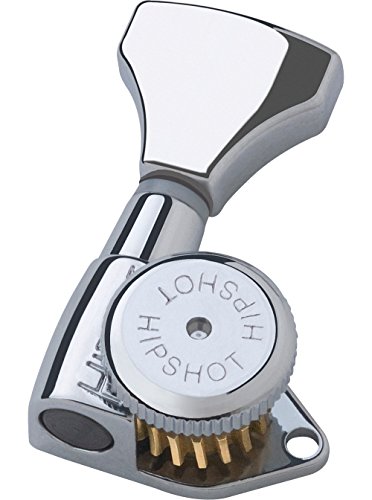 Hipshot 6GLO Grip-Lock Locking Guitar Tuning

High ratio.
High-quality.
Mounting instrument accessories included.
View The Best Locking Tuners Below
1. Grover 102-18N Rotomatic 18:1 3-per Side Tuners
First up, we have a set of 6 Grover Rotomatic tuners with a precision ratio of 18:1. They are designed to be mounted with 3 in the top and 3 in bottom (equal) positioning.
This set of tuners for your guitar is modeled on the original Rotomatic heads, with matching housing and a machined nickel. They have a 10mm tuning shaft. The gears have been updated to provide the finer (higher) ratio, which gives you more precise control over your tuning.
These Grover Rotomatic tuners wind very smoothly, thanks to the accuracy of the moving parts, and they come with washers and wood screws, making them easy to install.
Pros:
+ High ratio.
+ High-quality.
+ Mounting instrument accessories included.
Why We Liked It - Grover played a considerable part in the development of all guitar tuning heads over the years, setting and surpassing the bar intermittently. The Rotomatic tuners are top-notch. The 18:1 ratio provides very smooth, incremental fine-tuning.
Tuning - Though many guitar players might blame a faulty or malfunctioning set of locking tuners for their guitar frequently falling out of tune, the issue is likely not caused by the locking tuners. It's far more likely that the bridge, the nut, and your style of playing are working in conjunction with the locking tuners to flatten your guitar.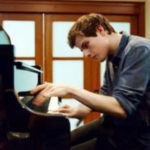 2. Fender Locking Tuners Chrome
Now onto the best competition from Fender. These are a high-quality set of locking, in-line tuners on the market, which are, again, very well-manufactured.
These Fender chrome locking tuners are made from chrome, with a smooth-motion design. They come with standard or vintage aesthetics to choose between.
These in-line guitar locking tuners benefit from dual guide pin-mounting and are based on the American Deluxe and American Elite Series guitars, with three long and three short pins for staggered positioning.
These Fender locking tuners, too, have a higher ratio of 18:1 for precise tuning, and come with all the hardware you need to mount them.
Pros:
+ 18:1 ratio.
+ Well-manufactured.
+ Durable chrome.
+ Based on American Deluxe and Elite Series guitars
Why We Liked It - These Fender chrome locking tuners are another excellent locking tuner head option to go with. These Fender staggered locking tuner sets move smoothly with just the right resistance and allow for precise-winding.
3. Hipshot 6GLO Grip-Lock Locking Guitar Tuning
The third set we are highlighting are another hardy option from Hipshot that have a grip-lock gearing system.
These Hipshot 6GLO guitar locking tuners, like the Grovers' we opened with, are designed for a headstock with three gears each side (top/bottom) and have a precision ratio of 18:1, to ensure accurate control over your strings.
The gears of Hipshots Grip-Lock tuners for your guitar are well-made and move very fluidly. They also grip your strings very well, with gear-teeth locking into place to keep the tension.
The Hipshot 6GLO set of locking tuners are made from quality metals; they require a 10mm pin-shaft and are easy to install, but do not come with a universal mount plate.
Pros:
+ High-quality.
+ Grip lock gears.
+ Easy to install.
Why We Liked It - Hipshot is another front-running brand which makes high-quality machine heads. They compete admirably with the best on the market. These 6GLO Griplock locking guitar tuning machines are easy to install and are very high-quality.
Configuration - The vast majority of locking tuner models will have a three per side configuration, though some will have a six in-line configuration. Both configurations will work well with most guitars, though some guitars have a four plus two configuration that only works on specific guitars, so it's best to confirm the configuration before your purchase.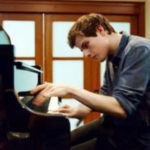 4. Grover 406C6 Rotomatic Mini 6 in Line Self Locking Machine Heads
This next set is a patented in-line, enclosed set of Rotomatics from Grover, that is just as well-made as the 3+3 set we already examined.
The Grover 406C self-locking machine heads are made of chrome instead of nickel like the 102-18N. but they still feature the company's gears, which accurately move and lock your strings firmly into place.
These Grover 406C6 Rotomatic mini guitar locking tuners have a ratio of 18:1 to allow users to finely gauge the notes of their strings until they are entirely in tune.
These Grover 406C self-locking machine heads have an 8oclock mounting position, and their in-line design makes them ideal for Fenders and Ibanez guitar models.
These Rotomatic mini guitar locking tuners are completely enclosed with no external mechanics. They, again, come with all the relative bits and bobs to make fitting them a breeze.
Pros:
+ In-line option.
+ Chrome finishes.
+ Enclosed mechanisms.
Why We Liked It - The Grover 406C self-locking machine heads are incredibly well-designed, accurately constructed, and have very fluent motion and excellent resistance for holding your strings where you set them.
5. Sperzel 3x3 Satin Chrome Locking Machine Heads
So far, those we have chosen have been tight-toothed machine heads with higher ratios, but this next option from Sperzel offers a 12:1 solution.
A lower ratio gives you a more relaxed time turning to find the note, but may not be as precise as the 18:1 set.
They are well-made from chrome with an aesthetically pleasing satin finish that makes them a little softer-looking than the rest.
They are competitively priced and, again, feature sealed mechanisms for steady and effortless wind.
These guitar locking tuners are staggered and arranged for a three by three configuration, with a 10mm hole and install without any hassle.
Pros:
+ Lower ratio.
+ Sealed gears.
+ Satin finish.
Why We Liked It - They are an excellent high-quality set of 3x3 standard tuning ratio machine heads, which are entirely enclosed and operate with fluent, winding action.
6. Planet Waves Auto-Trim Tuning Machines
Our final choice is a set of Auto-trim tuners from Planet Waves (part of D'Addario) which, again, provide a savvy in-line set.
These guitar locking tuners are a drop-in style option, similar to Schaller locking guitar tuning machines. They have a tuning ratio of 18:1 to provide fine-tuning and guarantee sufficient wiggle-room to hit your note accurately.
The biggest selling point of these Planet Waves Auto-Trim locking guitar tuning machines is their Auto-trim feature, which makes guitar string replacement a doddle. They cut the string as you wind on, which makes it a much faster process in general.
Pros:
+ Precision tuning ratio.
+ Well-constructed.
+ Auto-trim feature.
Why We Liked It - These Planet Waves Auto-Trim tuning machines retail at a similar price as the others we have looked at and offer an innovative design.
Locking Tuners Buyers Guide
What is a locking tuner?
A tuner can be one of two things but, in this case, we are referring to the tuning machines of your headstock, those of which you turn to tighten or loosen your guitar strings.
They are technically called guitar tuning machine heads and can go by various pseudonyms, such as gear-heads, tuning-mechanisms, tuning-keys or solely by peg holes, gears, machines, tighteners and a whole host of other slang terms as well.
These guitar locking tuners began life as non-geared friction tuning pegs to hold guitar string tension in place. This didn't always stay put and so developed as time went by, into the geared sets we typically see today.
Modern designs vary, but most employ a worm and gear system whereby a cylindrical capstan, with a hole at one end to thread your guitar string through, is mounted to the center of a pinion gear and linked to a worm-gear with a knob or key to turn the lot.
As with early tuning pegs, early worm and gear sets were subject to backlash, meaning that the guitar string tension could force the guitar locking tuner to be tempted to unwind by itself.
This was especially true in the case of guitarists who played with a lot of vibrato, tremolo or pitch-bends in their lead-styles, as it created extra tension and the gears of the era would give in too easily.
The search for an anti-backlash solution brought about locking tuners from A.D Grover but, today, the term guitar locking tuner is used as a catch-all to describe any machine head with a cam or screw or any other mechanism to help prevent guitar string slippage employed.
As mentioned, there are a few styles to tackle the problem. One way around it was to cut the teeth of the gears accurately enough to better-fit into the gears of the worm, regardless of the tension created by the strings so that they self-lock.
This is a double-edged sword of sorts because tighter gears cause more wear and tear on the strings themselves, which can make them prone to a shorter lifespan.
If you are a guitarist who down-tunes and re-tunes to standard throughout a set regularly, then they probably aren't for you.
What to Look For in a Guitar Locking Tuner?
If you buy a set of locking tuners for your guitar, there are a few things you need to adhere to if you don't want to modify your ax.
Firstly, you need a set with the correct layout configuration, usually 3 by 3 or 6 in a line. Secondly, you need to know the shaft hole size (often 10mm but not always) and, lastly, decide whether you want open or sealed gears.
Open gears usually have to be mounted to a mounting plate, in which case you need to get the right heads for the existing plating or replace the plating as well. There are universal mounting plates available.
Sealed sets can typically be mounted straight-on, but not always.
We won't drivel on about the ratios of the gears, as we've been fairly explanatory within our reviews, but we will just clarify that the number refers to how many times you need to turn the actual tuner manually for it to turn the capstan one full-rotation.
Conclusion
The majority of heads we have reviewed here may not appear to be all that different, and there is some truth to that sentiment.
For many, the brand will over-rule when they choose their machine heads. If you don't have much knowledge on the subject, it's probably best to replace your tuners with the same brand set or an upgrade from the same brand your shredder previously sported.
Hopefully, our guide will have clued you in a little as to the functionality, and why higher tuning ratios give a more significant deal of control over your string tuning.
Don't be afraid to try something different. A locking tuning head substitution is a painless modification, and if you know your configuration and the type you're after, it's fairly effortless to achieve.
Expert Tip
If you are a stickler for perfection, then the machine head tuners on your guitar should be tailored to the different string gauges as it makes a nominal-difference. There are some refined mixed-ratio sets you can get, which are explicitly designed to account for the thickness.
Did you Know
The Grover Musical company holds a ton of musical accessory patents. For this article, their machine-heads feature a metal-cast shell to house their refined locking gear mechanisms within.
If you've enjoyed this review by Music Critic, please leave a positive rating:
[vc_separator