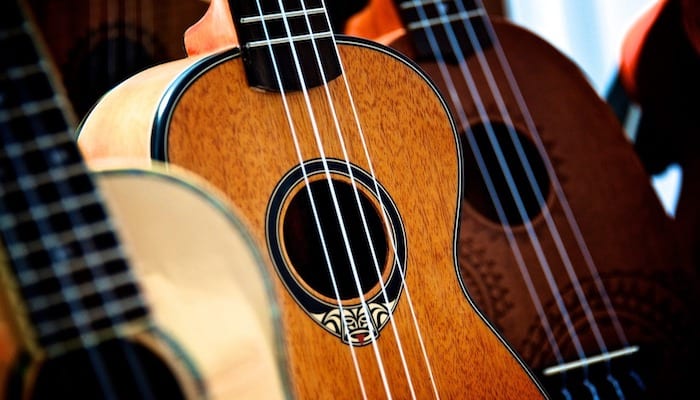 Whether you're buying a new instrument and need to choose a set of the best ukulele strings to go along with it, or if for some reason some of your ukulele strings broke, due to the usual wear and tear or an unexpected accident. It's no secret that you will need to look into the world of ukulele strings to help you choose a worthy substitute.
The ukulele has become an increasingly more popular instrument as the times advance; it's only natural that you would want to supply your prized possession with only the best type of strings. This will not only depend on the appearance of the ukulele strings, but the type of sound, tone and material you will end up purchasing. Looking for something bigger? See our review on the best acoustic guitars here. Perhaps you want strings that are specifically for classical guitars.
Each of the strings will give out a different sound, whether it's warm or cold, and it's important for the player to take that into account and decide what kind of tone you would like to prevail in your practice and recording sessions.
To help you easier navigate through this confusing world strings (click here for acoustic strings), we compiled a series of reviews of the best contestants on the market now, as well as answering a few frequently asked questions to ease your curiosity.
At a glance: Our top 3 picks
Your shortcut to our team's top 3 recommendations
View The Best Ukulele Strings Below
1. D'Addario EJ53C Pro-Arté
D'Addario has to be one of the most popular brands when it comes to musical instruments, and they have spent a long time making a good name for themselves and their ukulele strings. Whichever kind of ukulele strings you may desire, you can be sure they have it ready and in stock to supply you with the best sounds available out there. This set of strings is definitely the more sought after, thanks to the good price range and the sound they offer you.
Available at the standard GCEA tuning, you will be able to perform all of your songs with great accuracy and tune accordingly to suit your needs. Thanks to the nylon surrounding the string, you will be able to make tunes sound with great accuracy and without any unwanted alternations. These are the kinds of strings that will give you a warm and long-lasting tone that is preferred with ukulele's, since they are usually by default associated with happy and melancholy induced sounds.
They are best both for home and concert use, and price in at just 9$. You will receive a small pocket shaped envelope embellished with pastel purple undertones. Either way, you will be happy to have a brand in your hands like D'Addario, that makes their designs and appearance just as important as the ukulele strings themselves.
Pros:
+ warm and long-lasting sound
+ standard GCEA tuning
+ nylon coated strings
Why We Liked It - D'Addario is one of the leading brands to look up to when it comes to musical gear, even ukulele strings, and they made it their goal to help you reach new heights with your ukulele practice sessions. The ukulele strings will give you a warm and long-lasting glow to go hand in hand with all the skill you have to offer. They come at a very affordable price and are packed in away to attract just about anyone's eyes!
Related: Best Bass Ukuleles.
2. D'Addario EJ87S Titanium
After the extensive praise of the previous D'Addario ukulele strings, it's easy to see why another packet of their ukulele strings makes their way onto our list. These titanium ukulele strings not only boast 5-star reviews from almost each customer, but they have a huge amount of variety when it comes to customizing the ukulele strings to your needs and your needs only, too.
They come in four sizes: baritone, soprano, concernt, hawaiian-concert- hawaiian-tenor and tenor. This will allow you to truly mix and match and find something that fits you and your style of play specifically.
This set of strings also offers a variety of choice when it comes to the style, the are available in: nylon, nyltech, titanium and pro-arte. Whichever size and style you prefer, you can mix and match all these options to create something truly unique to you and your practice and concert session.
There is no doubt that with such a variety at hand, many eyes will be turning to find the source of the original sounds that you will be playing.Made to be used with a GCEA tuning you will be able to adjust these strings to any playing session you desire.
Pros:
+ huge variety of mix and match options
+ modern and warm sounding strings
+ projecting, appealing design
Why We Liked It - Once more, D'Addario doesn't cease to surprise its market with a fantastic and original pair of ukulele strings that are made to both look and sound good. These strings will have you shine for miles and grab all of the attention thanks to the shiny and projecting ukulele strings. If you are looking for a good-looking and modern sounding set of strings, D'Addario has you covered here!
As we move on to explore other brands of ukulele strings, there is no choice but to stumble upon Mudder's strings. This is yet another set of strings that is praised with 5-star reviews wherever you may look, which calls for an explanation as to why they are so much sought after.
They are crafted specifically for soprano ukuleles and therefore come pre-made with they key of C instilled within them. They come in a pack of 4 and are labeled for easy recognition upon arrival; you won't be having any trouble with trying to recognize which strings are which thanks to Mudder's foresight!
In the regular key C, you will get the GCEA strings that are made with nylon. It's important to mention that Mudder's ukulele strings also owns a proud spot on the best 3 of Amazon's ukulele strings tab! You will also get a small set of instructions that will help you install the strings onto your ukulele without much trouble. Many people are able to testify to the great sound of these strings, and they are also praised for being a durable set of ukulele strings that won't need to be replaced anytime soon.
Pros:
+ strong and durable
+ nylon-made strings
+ labeled ukulele strings for easy recognition
Why We Liked It - Mudder is a great choice when it comes to choosing ukulele strings; not only are they sturdy and won't break easily, but they have the warm tone of the key C which is well-sought after when it comes to ukulele sounds. One thing is sure, these strings didn't make it to the top of the Amazon list for no reason! They are truly some of the best.
4. Aquila Soprano Regular
Aquila's ukulele strings are ready to impress without even being taken out of their pocket envelope; they come in a vintage looking pocket that illustrates an eagle soaring over snow-capped mountains. Noticing this and the 5-star reviews right next to it, it's easy to see that Aquila are not only here to impress with their sound, but with the thought that they put into their packaging, too.
These ukulele strings are the number one best-seller on Amazon, and have done a lot of good to earn themselves such a hefty reputation. Coming in the key of C once again, these GCEA strings are made specifically to accompany a soprano ukulele. They have a polished and smooth surface that won't restrain your movements or have your fingers ache from the grit that some ukulele strings tend to have.
The strings are specifically made to have a heightened resistance to the daily wear and tear, comparing to other ukulele strings, these are definitely the best of the game so far. Earning themselves a place as the nr.1 selling set of ukulele strings on Amazon, it's easy to see from the get-go as to why they are up so high. They are able to stay in tune even after a week of regular use, too!
Pros:
+ nr.1 strings
+ remain in tune with no problem
+ highly resistant to wear and tear
Why We Liked It - Aquila has surpassed many of its rivals with this set of ukulele strings; not only do they look appealing even in their package, but outside of it too. They provide you with the best sound, have a high-resistance to the tribulations they encounter during daily use and they are a nr.1! If you are hesitating on choosing a pair of ukulele strings, Aquila won't make you regret your choice if you end up going with their ukulele strings!
GHS has went a step further with their ukulele strings and decided to break away from the generic mould that other brands have set. They do not come coated in the common translucent or metal material that seems to be prevalent on the market; instead they decided to go with a unique, black coating that can fit the fantasies of many people who were wishing for a break in the mould!
The ukulele strings will fit best for someone who also has black tuners and would prefer to compliment them with the same color to bring out some character with their instrument. They are best for both a standard and concert ukulele and remain as versatile as ever; many people praise them for not only looking good, but sounding just as good as they look.
These ukulele strings also come in a standard C tuning, which will ensure you will have a crisp and mellow tone that is very sought after in the world of ukulele tunes. The ukulele strings have a smooth, pristine finish and won't disappoint you; they quickly adjust when you set them up and the tuning won't be wavering for too long after the set-up.
Pros:

+ original, black coated design
+ mellow and crisp sound
+ adjust quickly to ukulele
Why We Liked It - GHS has made it their goal to supply the market with a set of good-looking, black ukulele strings that have a sound that fits best to the ukulele world. Whether you are looking for a concert or studio set of ukulele strings, these are the best strings to help you achieve the sound you want!
It should come to no surprise that we are not finished with reviewing D'Addario's varied arsenal of ukulele strings just yet. Their variety live up to their predecessors, and whichever ukulele you have and whichever style you prefer to play, there is a choice that will first your needs and satisfy your customer angst. These strings are available in 5 different styles: baritone, concert, soprano, tenor and tenor low-G.
These strings are specifically engineered to be of a low-G tuning that will encourage deep and melancholic sounds to emerge from your ukulele that you may have never heard before. The nylon here is modified to have highly accurate and sensitive treble strings. They are environment friendly and the packaging is crafted in a way to allow resistance to corrosion. This ensure that you will always get a set of fresh, brand new strings that won't be altered by their surroundings.
Since these D'Addario strings are made for a low G tuning, they are most eligible to be fitted with tenor ukuleles. The strings in this set are laser measured to make sure you have a consistent performance all around, wherever you go.
Pros:
+ laser measured strings
+ warm, projecting tone
+ non-ball end design to encourage universal use
Why We Liked It - If you are looking for a good and sturdy pair of ukulele strings to use for your tenor ukulele, these low G tuned strings will do its job best. They are made to encourage a sound of high-accuracy and will give you a warm and deep tone that will help you capture the hearts of all of your audiences!
Martin's ukulele strings are known to be some of the most affordable best sounding strings on the market. You can get these for a mere 5$ and enjoy all of the perks of good strings at your fingertips. Many customers who are appalled by the default strings that come with a standard ukulele set turn to Martin to get a good and worthy upgrade, and rightly so. Martin is known for their flurocarbon strings that are able to hold their tuning for a good amount of time, leaving not much frustration behind to deal with.
These strings are praised for a sound that is more full and much louder than many other sets of strings on the market. This makes them a worthy contestant on the market, not only because of the features the strings bring, but because of the fantastic price they come at, too.
The flurocarbon makes the strings rather thin and hard, which makes for easier plucking since there is more room to maneuver around. They are known to sound especially good when combined with a soprano ukulele; the best scenario is to let these perform side by side for the best sound experience!
Pros:
+ thin, sturdy strings
+ hold tuning well
+ mellow and sweet ukulele sound
Why We Liked It - Martin is one of the few brands out there that provide their customers with not only reliable strings that will give a good performance, but also at an affordable price. If you have a tight budget or if you are looking to try out Martin's ukulele strings as a replacement for other strings, you will definitely enjoy the mellow and sweet sound that these ukulele strings give off!
LaBella will attract anyone from the get-go with the floral and lively colored design that can be seen on the package. You can get this set of ukulele strings for 8$-10$ depending on the source, and it's a sure thing that you will experience only the quality sounds with these. They are made with rectified nylon strings that ensure you will get only the best intonation.
The packaging itself, beneath the already fascinating and enchanting design, you will find a MAP technology developed to ensure that your strings will not be tarnished or affected by corrosion. You will only be getting the fresh and ready-made strings that came right out of the producer and stayed that way. After years of serving Hawaii's most renown ukulele players, LaBella is ready to serve both the professional and beginner alike with their optimally developed strings.
Over the years, LaBella had a lot of time to craft the most suitable strings that satisfy even the fussiest of players. They will allow you to play all along the fretboard without losing tune; something that other sets of strings struggle with doing. This will open a new gate for you where you will not have to be scared anymore of attempting any types of solos you wanted to try before!
Pros:
+ MAP technology to encourage untarnished strings
+ made with rectified nylon to ensure the best intonation
+ made for professionals and beginners alike
Why We Liked It - LaBella will grab your attention from the second you lay your eyes on the lively design that covers the front of the package. The craftsmanship of the strings is is one of the best and thanks to them retaining tune all along the fretboard, you won't have to worry about having any restrictions whatsoever when it comes to playing your ukulele!
9. Aquila Soprano by Aurora
If you are looking to add a bit of a style flare to your ukulele and to exchange your old strings for something bold and engaging, Aquila has you covered on this one. Although the color variation of these ukulele strings knocks up the price to 11$ for a pack of 4, it's easy to see why.
When you take a look at the customer images, you will be able to see how the originality seeps through by just adding a few exotic colors. In the pack of 4 you will get an orange, purple, green and salmon color to help you customize your ukulele accordingly. These strings are able to hold their notes even after two days of constant playing, which makes them a reliable and durable piece of gear that you surely be able to depend on in time of need.
If you are a beginner and you have trouble remembering the strings sound, the colors may also help you with associating the tone with the colors. These strings are of high-quality thanks to Aquila's well-organized craftsmanship; they also have some of the most appealing sound qualities out there for your soprano ukulele. One thing is sure, you will be able to enjoy these strings for a long time thanks to the durability and reliable aspect of this brand!
Pros:
+ multicolored variation of strings
+ fit for a soprano ukulele
+ holds tone for days
Why We Liked It - Aquila has been on the market for a long time, and they never cease to surprise their customers with a unique take and design on something that by all accounts should be a boring looking, simple ukulele strings that should do its job. Aquila makes sure that you both get only the best performance and a good modern appearance when playing these colorful, engaging and fun strings!
Aquila is making its away onto our list once more with their ukulele lava strings, which have a very attractive and well-designed packaging that is a black and white, vintage alternation of the eagle flying over the mountains. They come in a low G tuning that is best when combined with a tenor ukulele, and to add to that they are also made from Aquila's signature supernylgut material. The color of the strings are a gray-black that was inspired by the volcanic rocks surrounding Hawaii.
For diversity, Aquila made the lowest G string coated in silver plated copper, which best accompany the deep, low and timber sound of the rich G tuning. They are definitely a refreshing pack of strings that come in an uncommon color that undoubtedly well fits both the history and modern take of the ukulele and its Hawaiian surroundings. For the study on the ukulele in hawwai - click here.
If you are looking for a unique and alternative take on ukulele strings, Aquila will provide you with such. Not only are they rich in their deep, powdery dark gray appearance but also in their deep but also sweet and melancholic sound. If you are looking for a good set of strings to experiment with, this G tuned set will give you some of the most original sounds you can ask for!
Pros:
+ deep, dark, lava gray color
+ strings made of supernylgut material
+ rich and sweet ukulele sound
Why We Liked It - Aquila has proven to be one of the most reliable brands that has a leading diversity in design when it comes to ukulele strings. The sound that they incorporate into their ukulele strings is simply phenomenal, and when we combine that with the overall design of the strings and the lava appeal, there is no reason you shouldn't invest in these beautiful ukulele strings!
Ukulele Strings Buyers Guide
Top Pick- D'Addario's Ukulele Strings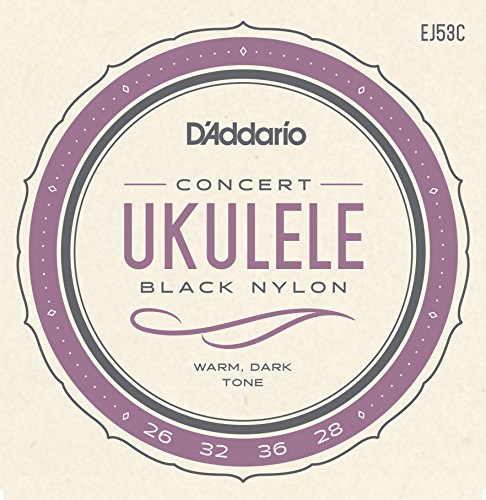 Our Top Pick has to go to one of D'Addario's ukulele strings, the Pro-Arte rectified nylon strings. They are not only affordable and available to be picked up by anyone, beginner or professional, but they give you a way to enrich the sounds that come out of your ukulele. It's widely appreciated that a good ukulele with bad strings just won't do the job it's supposed to do, and D'Addario knows this well. This brand acts on customer reviews to make their ukulele strings as good and as accessible as possible, this makes D'Addario one of the market's leading brands.
D'Addario ensures that you will have full control over your strings and crafts them in a way to let you appreciate both their sound and their craftsmanship. These ukulele strings are made to encourage precision when playing, and they allow you to have full control and power over what sounds you want to make. They are known for the way they are able to produce a warm and long-lasting sound; something that is very welcome in the world of ukulele players who usually go for a happy and melancholic type of music.
Premium Choice- D'Addario's Ukulele Strings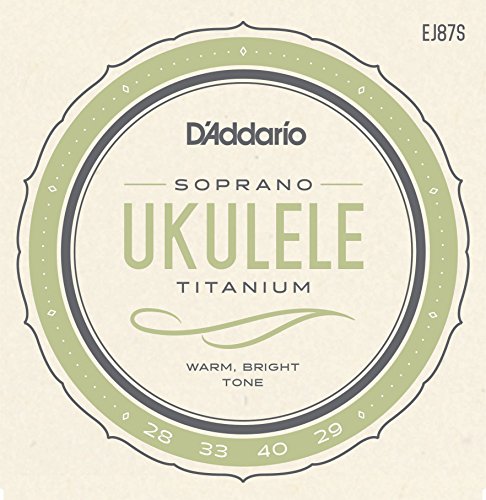 Our Premium Choice also has to go to one of D'Addario's ukulele strings, this time the titanium ukulele strings take the spotlight. Although these are a bit more expensive than the previous pair, it will all depend which features you pick to be included with your purchase.
These titanium ukulele strings have a superior variety when it comes to mixing and matching features to create the best kind of combination for a particular customer. This gives everyone a chance to be heard and to find something for themselves, D'Addario knows that making their customers feel heard is the sure-fire way to improve their ukulele strings both in sales and in quality.
These are specifically optimized to be used for soprano ukuleles and help with making a standard GCEA tuning stand out. They are a modern take on ukulele strings and have no problem projecting their sounds with great effectiveness, whether you are intending to impress the audience at a concert or trying to get just the right tones in a recording studio environment.
D'Addario strings earn their place as our Premium Choice thanks to the thought they put in their ukulele strings. They are not afraid to show that they know that variety and choices that allow a customer to mix and match their strings styling and sizes is the best way to have a happy market!
Great Value- Mudder's Ukulele Strings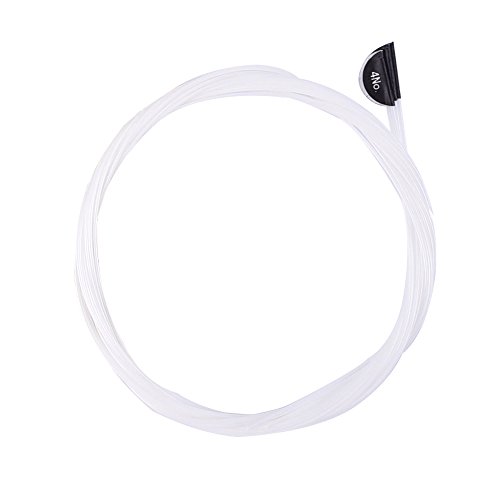 As was probably predicted, our Great Value spot is taken by none other than Mudder's ukulele strings. They are the best replacement for when you buy a ukulele set that includes bad, cheap and out of tune strings or if you were unfortunate enough to have some of your beloved ukulele strings break. Pricing in at just below 5$, there is no way to go wrong with these strings. Even if you will just end up being them to test the waters on the ukulele strings itself or different ukulele strings in general, you can rest assured that your budget will be safe.
The strings are labeled for the ultimate convenience of when you try and install them onto your instrument; they are made specifically to be used with soprano ukulele's and will perform at their best when put in such an environment. They are best for beginners that want to check the ropes or people who in general just want a good quality ukulele string for a reasonable amount of money.
Mudder is definitely our Great Value choice thanks to the way they combined quality ukulele strings with an affordable price! You cannot go wrong with this leading brand and can rest assured that your ukulele will sound much better with these installed!

How Do You Change Your Ukulele Strings?
Any beginner that is just starting out may come to encounter a lot of trouble regarding changing and tuning ukulele strings, especially if they have never done it before. Even though there are only four strings (as opposed to 12 string guitars) and four knobs it may be a very tricky business to try and make those match without tangling the strings together, having them break if you tune them too much or even putting the ukulele strings in the wrong places; after all, the do mostly look alike.
Like with any endeavor, the best practices will make you perfect, and if you follow this small guide of tips carefully, you will certainly avoid common mistakes and won't break your new replacements by stretching them too much!
Changing Ukulele Strings
First of all, unwind the already existing strings from the knobs if you haven't already. Do this by gently turning the knobs in a way that you feel the strings loosening up and not tightening, this will ensure you're not turning the wrong way. When you are able to see the string let go of the pressure, you can gently slide it through and outside of the bridge hole. As you undo the knot, you can put the string to the side and repeat this action with the remaining three strings.
If you are a bit more adventurous you can simply grab scissors or clippers and cut off the strings while it's still attached to the bridge, though that may cause quite a lot of backlash and maybe even injuries due to the pressure the strings are sustained to.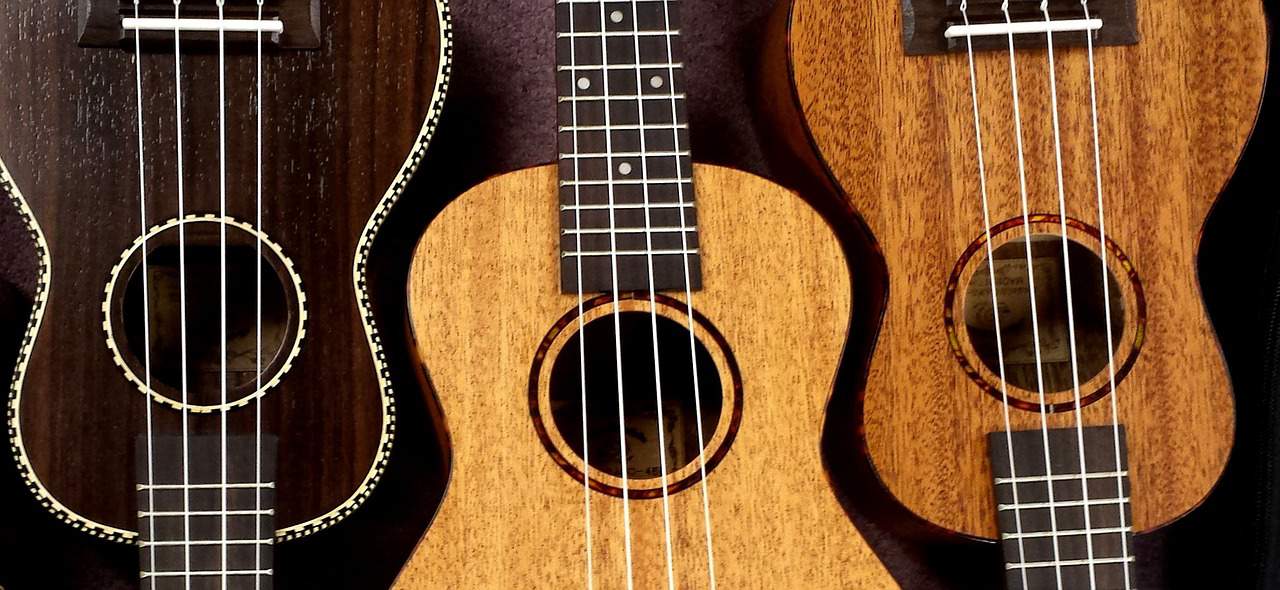 Now, with all the old ukulele strings removed you are ready to grab your new purchased ones and lay them out in order. In the package, you should have four thinner packages that are labeled with letter GCEA. If you take your ukulele and give it good luck, you can see each of the strings was attached to an accompanying knob. From the left to the right, the ukulele strings are G C E and A. Now, try and imagine the head as a rectangle. The accompanying strings to the knobs are as follows: 

+ the G string goes to the tuning head near the lower left corner
+ the C string goes above the G tuning head, which is the top left corner
+ the E string goes to tuning head in the bottom right corner
+ the A string goes above the E tuning head, which is the top right corner
Knowing this, take the G string and attach it to the tuning head in the lower left corner of the head by putting the string through the bridge hole. Now leave the longest part of the string hanging near the head, and not the bottom, since we will have to tie it. Take the end of the string near the head and wrap it around itself twice, like wrapping a piece of cloth around a cylinder. Now pull the long part of the string firmly to put the knot in place.
That's all there is to it! It may sound a bit confusing at first, but with a few ghosting actions at first, you will surely get it right.
Check out the interesting study on the popularity of Ukulele's here.
If you liked this review by Music Critic, please leave a positive rating: