If you are looking to purchase the best nylon strings for your acoustic or favorite classical guitar there are a few things to consider, especially if you are new to changing them. The majority of guitar players will have a brand bias to some degree. In essence they don't differ too much, with the guitar being a a relatively simply functioning musical instrument, unchanged for many years. Whilst this is true there are manufacturing processes that differ which make the composition more or less resistant and finding that perfect tension can really make all the difference to your overall sound.
The designs of some sets are a little more distinctive than others making the more individually suited for different playing styles. Whilst typically the gauge string will be of a standardized size, there are other options to explore. So whether you're a complete nylon newbie or just looking to substitute the string set you already have, we think our top ten best review and guide will serve as assistance.
At a glance:

Our top 3 picks
Our team's top 3 recommendations
Best Overall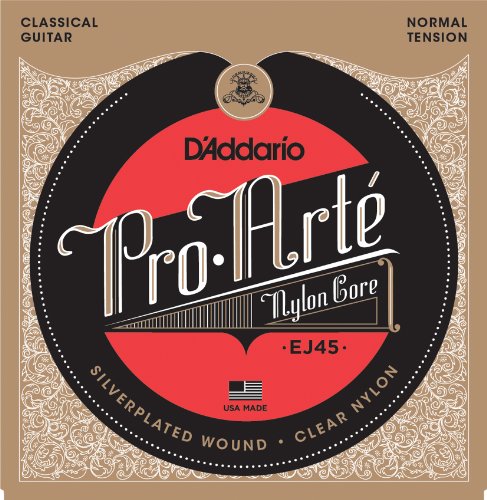 D'Addario EJ45 Pro-Arte

Normal tension, balanced playing.
Laser sorted.
Trusted brand.
Premium Quality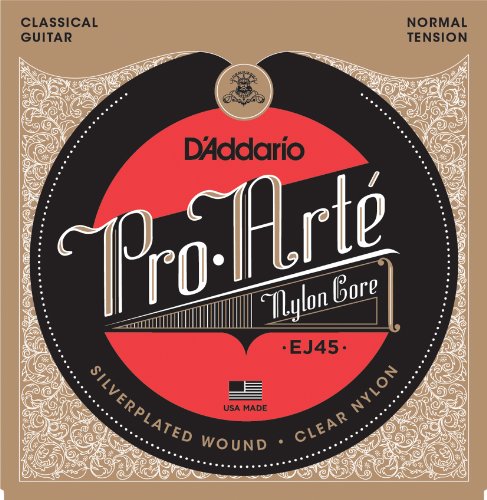 D'Addario EJ46C Pro-Arte Composite

Normal tension, balanced playing.
Laser sorted.
Trusted brand.
Great value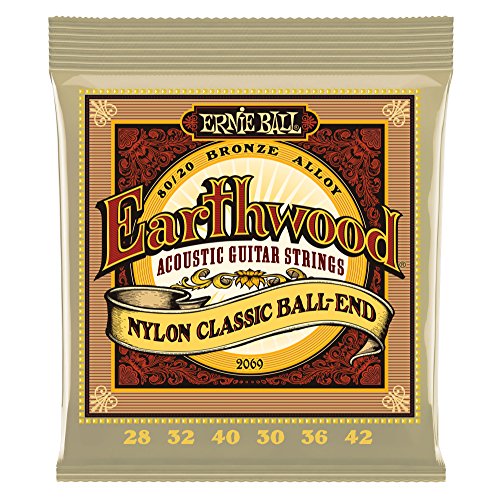 Ernie Ball Earthwood Folk

Normal tension, balanced playing.
Laser sorted.
Trusted brand.
View The Best Nylon String Set Below
1. D'Addario EJ45 Pro-Arte
Every single set of D'Addario strings benefit from more than 300 years of experience, since their humble Italian roots. The D'Addario brand are actually responsible for designing the very first, innovative winding machine, which inspired all of the machines that modern manufacturers use to make strings today.
The Pro-Arte line is one of the string brands top-selling classical string set, offering regular tension and comfortable resistance. Each string is produced using a laser assisted measuring process and the basses are precisely wound to a high level of quality control. The basses are composed of multi-filament nylon which is bound with silver-plated copper which give them a warmer blended sound when they ring.
These D'addario EJ45 Pro-Arte nylon classical strings provide classical acoustic tones and hold their intonation well, providing a full-ranged well-balanced tone and feel. They arrive packaged in an anti-oxidant bag. Gauges;.028,.032,. 040,.029,.035,.043.
Pros:
+ Normal tension, balanced playing.
+ Laser sorted.
+ Trusted brand.
Why We Liked It - The D'addario EJ45 Pro-Arte nylon classical strings are a typical go to set of strings for the majority of musicans that want classical winding, they provide pristine projection and really bring out the natural beauty of your string instrument.
For Beginners - Nylon strings are perfect for beginners since they are easy on the hands and fingertips. Keep in mind that you'll only want to use fingerstyle playing on nylon strings as guitar picks easily break down nylon over time. These are great strings for adding expression, vibrato, and tremolo to your music.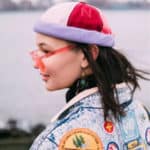 2. D'Addario EJ46C Pro-Arte Composite
The D'Addario EJ46 Pro-Arte are an innovative harder tension option from the above series. Like the basic Pro-Arte reviewed above these are made with all the familiar features of the D'Addario family heritage. Laser balanced by machine as we have come to expect from their products. The D'Addario EJ46 Pro-Arte differ with their bass strings composite polymer cores which are as usual silver plated.
In the set you will find two G string options, one traditional Pro-Arte and another optional one made from the same core composite as the bass strings use which gives a much brighter sound so notably different that they included the originals string for those who prefer the traditional sound. The decision to offer a wound 3rd string helps to bridge the gap between the 4th and second giving chords a much more balanced blended sound.
The basses settle their pitches very quickly and keep a very consistent intonation. The harder tension this set provides not only gives a stronger projection playing but is generally considered a poplar choice for resistance. Corrosion resistant packaging as standard for freshness.
Pros:
+ Richer tones than normal tension.
+ G-string options.
+ Laser measured accuracy.
Why We Liked It - The D'Addario EJ46 Pro-Arte strings are a good option for string longevity, a longer time between string changes, and louder classical performance from a company that has 3 centuries worth of experience.
3. Ernie Ball Earthwood Folk
These are one of Ernie Ball's more classic set of strings, they offer a typical tone and feel but can be slow to settle in they are a medium tension offering a great middle ground option for comfy playing without being too soft. The Ernie Ball company are the one of the biggest string manufactures in the world with decades of production under their belts.
The G-string can feel a little dull especially in comparison to D'Addarios we have reviewed. However they do offer a range of Nylon options that genuinely provide a range of desirable tones. The Earthwood Folk Nylon guitar strings are the bare bones version if you'd like of some of their more interesting options. These Ernie Ball Earthwood Folk nylon strings are Ball-end so are more convenient to string, ideal if you break one on stage and don't have a spare guitar 'tut tut'.
The basses are composed of a 80% Bronze 20% Zinc alloy and meticulously inspected for quality. They have 3 traditional nylon treble strings for your guitar. Some reviews are a little harsh considering this product is actually a best seller, one reason for this could be mounting on a non classical guitar...
Classical guitars tend to have a lighter sound board than a regular acoustic. these classical strings do a classical guitar real justice, they provide crisp rings which are long-sustained and warm tone.
Pros:
+ Medium Tension.
+ Nuance clarity.
+ Easier to string.
Why We Liked It - The Ernie Ball Earthwood Folk nylon strings provide a good steel string sound but are much softer on fingers from a reputable brand.
Tuning Trouble - Keep in mind that the first couple of sessions after changing your strings, your guitar might have a tricky time holding a tune. This is completely normal and should not warrant any adjustments. Strings naturally have a tricky time holding key until they're properly "stretched". Just know that your strings will eventually hold key in time.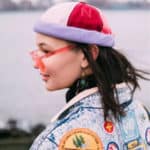 4. D'Addario EJ27N ¾ Student
If you are shopping for a set of strings for a ¾ size classical guitar then these D'Addario EJ27N strings are the perfect pack for you as a smaller guitar player. Specifically made, with smaller guitars in mind these are D'Addarios student friendly selection. They feature normal tension and the typical 3 nylon treble strings with 3 wound, silver plated basses.
Ideal for entry-level guitar players with comfortable resistance. These student nylon classical guitar strings give the same fantastic balance and projection that D'Addario nylon classical guitar strings are renowned for. The D'Addario EJ27N strings are manufactured with all the same sophisticated proprietary advantages of the string brands' age-old perfections, only this time they have been optimized for junior classical guitars. The student nylon classical guitar strings come with the anti-oxide packaging as standard and are the perfect choice for beginners.
Pros:
+ Traditional D'Addario reliability because of cutting edge production methods.
+ Warm long lasting tone.
+ ¾ optimized size.
Why We Liked It - These student nylon classical guitar strings are great for a ¾ size guitar. Plenty of guitar players actually prefer to stick to their ¾ sizes instead of upgrading to a full-size, ideal for those with small hands but not limited to children or beginners.
5. Albert Augustine AUGREGALBLUSET Regal Blue
An elegant set of high tension strings from the company that kick started the nylon revolution and moved musicians away from intestinal intonation and silk sounds. The Albert Augustine product range encompasses a tri-factor of string options to choose from (Classic, Imperial, and Regal) each with their own subtle variations.
These Regal Blue classical guitar strings hard tension offer a mix of trebles from their exclusively from their classic regal set and basses from the Blue set (color code for their hardest tension). This produces a mix of full bodied soft tones.
The basses (as with most high tension strings) can take a while to settle but once broken in hold impeccable intonation with a rich warm tone, theses Hard tension classical guitar strings have a pretty good life span too. The trebles have a shining brilliance to their tones and tolerate heavy playing well.
Pros:
+ Bright projection.
+ Regal sets are new and made using a modern manufacturing process for better consistency.
+ Extra Hard tension classical guitar strings
Why We Liked It - These Extremely high tension strings by Albert Augustine provide a really urgent attack, whilst they need some breaking in they are retain true intonation and offer great high end frequency representation.
These are D'Addarios versatile guitar string set of nylons which suitable for use on a range of acoustic guitars. They feature non traditional Ball ends to accommodate effortless installation. Manufactured to a high degree from a company at the forefront of popular nylon strings. The basses are expertly wound by computer-controlled laser fitted machines with an 80/20 bronze alloy. You get black nylon treble strings for a wholesome bodied mid-range tones. Packaged in the string brands typical corrosion resistant slips for high quality freshness and longevity. These nylon classical guitar strings perform with superb sound and there are a number of video reviews which demonstrate their brilliance.
Pros:
+ Normal tension.
+ Non- Classical.
+ Easy install.
Why We Liked It - This Folksy option is the solid selection to mate for easy strumming. Whilst they will typically stretch and need regular changing from time to time as with most Normal tension nylons they are a great example of the best nylon strings for acoustic guitars because they aren't limited ot classical models.
7. D'Addario EJ25B Pro-Arte Flamenco
Another excellent option from one of the worlds oldest string brands Given the product name there is probably no need to discuss the brief that D'Addario had in mind for these.
The dense bass strings have been manufactured with a variation in the composite of their usual unique multi-filament materials. This provides that desirable snappy attack response. With flexible black nylon treble strings that provide a complimentary bright contrast to their hardier bass notes.
With the top-quality level of production, we have come to trust from the D'Addario brand with is laser aided machinery and thorough inspection process. Your Flamenco string will arrive in anti-oxidant Eco-friendly packaging.
Pros:
+ Brash percussive bass sounds for emotional flamenco expression.
+ Gut-like trebles.
+ State of the art fabrication.
Why We Liked It - There are lots of nylon classical guitar strings on the market that claim to have an individual tone and feel, but these a are a cut above the rest where their basses are concerned they are the crispiest going and give outstanding projection without muddy buzz.
The Fender 100's are finely produced using cutting edge machinery that rivals D'Addario and are compose of high grade nylon. The Bass strings are proudly wound in pure silver which gives even the dullest of guitars a new lease of life. Newly sporting ball ends which caused a little controversy but they are still available with tie ends if that is the guitar players' preference.
The ball end option is, however, better for simplified stringing process, they are painless to install and ideal for inexperienced users. The trebles are smooth and super easy to pluck again a comfortable choice for less seasoned players. The basses are wound with a good strong timbre.
Their mixed reviews are largely due to complaints about the top E string having a short life-span with one buyer claiming it never made it through the first tuning process. This may be down to a number of things, room temperature for one but in general, this is because people keep trying to string their acoustic guitars with classical strings. The guitar strings are of typical classical string gauges: 028 - 029 - 032 - 035 - 040 - 043.
Pros:
+ Strong bass, clear treble.
+ Easy ball-end installation.
+ Esteemed Fender quality.
Why We Liked It - These nylon classical guitar strings are a high-quality choice for your classical guitar, fairly low tension for smooth strumming. Not the most faithful to holding tune but better than expected from lower tensions.
This set of strings form the D'Addario line are a very popular set of strings for the most part they are a bronze alloy wound version of their silver-plated best selling Pro-Arte line. Using brass winding gives the bass notes a deeper tone than their crystal clear companions.
Fabricated with their highly prized digitally-controlled machines to an exemplary standard. These nylon classical guitar strings deliver bright acoustic resonance that flatters the body and shape of your guitar. Laser measured as normal tension they will be comfortable to play without requiring well-developed finger pressure.
The gauges are .0280, .0322, .0403, .029, .035, and .043. A mellower edged option than the well-loved EJ45's with smoother bass notes that strum subtly on your classical guitar.
Pros:
+ Deeper bass feel.
+ Traditional Tie-Ends.
+ Laser assisted manufacturing for consistently reliable strings.
Why We Liked It - They are a premium classical guitar string set which haven't changed much over the last few decades but why mess with perfection?
10. GHS Hawaiian D-Tuning Ukulele
It would be reckless of us to write this nylon guitar string review and neglect to mention any ukulele options with the musical instruments' steady rise in popularity. Whilst there are array on the market in recent years, we feel the GHS string set are a very strong contender for best nylon ukulele strings.
For starters, they are manufactured in a climate control facility that individually packages each string in a nitrogen-filled environment for unbeatable oxidization protection. They are high quality and long-lasting and provide a sustained bright tone with great mini-intonation.
Some ukes can sound a little 'toy' like without a decent set of strings. They ring out really well giving your tiny string instrument a little bit more welly. They are low tension meaning they are ideal for beginners. Ukulele is typically high pitched producing high frequencies the low tension really allows for an 'as bassy as uke can get' tone which makes for a great balance overall.
Although advertised as Hawaiian D-tuning these work fine on GCEA tuning also but they are only for standard or soprano ukes you will need HT's for a tenor.
Pros:
+ High quality Nylon.
+ Medium-light string gauge.
+ Air-tight Fresh Pack & NitroPack singles.
Why We Liked It - They have taken quality control to the next level and the individual packages allows for individual string replacement on an as required basis. GHS are a reputable string specialist with more than 5 decades experience.
Building Your Skillset - If you're a beginner player, resist the urge to hand over your guitar to a professional whenever it needs to be tuned or have its string changed. These are skills that you can easily learn from home that will help you in the long run if you master them now. If you don't know where to start, there are plenty of free resources available online.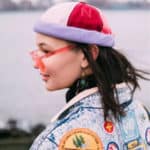 Nylon String Buyers Guide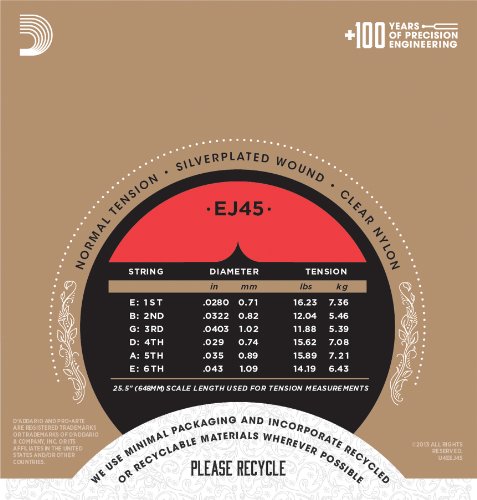 Obviously the first thing to check is whether you have a classical or an acoustic guitar, because the string sets differ greatly and shouldn't be interchanged as you risk severe neck damage.
Next, you want to consider your skill level higher tensions should be avoided if guitar playing is a new territory or your fingers are going to be too worn to swipe your smartphone before you have begun to break them in!
You have probably noticed our reviews above heavily feature D'Addario products.
This is primarily because unlike their steel string amigos there is not a lot of information available regarding Nylon strings in any depth. There also tends to be a lot of jargon thrown around when talking about their tonality (which is really down to the acoustics of your string instrument itself).
We felt that by looking into the differences between several products from the same line that is around the same price, we could really help clue in the readers about what sets each apart and what benefits they are getting with each. So we hope each guitar player will understand this thought process and forgive us for no mention of Martin, Hannabach or Savarez Corum.
When we settled for the main line we thought; Why not go with one of the oldest and most innovative?
How To Change Nylon Guitar Strings?
First you are going to need to remove the old strings from the pegs and bridge ends, there are two schools of thought on this one taking them all off and give it a well-earned polish, another is removed them one at a time and change them one at a time to keep the tension on the neck from changing drastically.
If you bought a bargain acoustic in a thrift store and you don't know how long it had the strings, it's recommended you replace them all. However, some musical instruments (especially old or cheap classical guitars) might not handle the emancipation of having all their acoustic guitar strings removed after such a long time under strain and tension.
There are different ways to change acoustic guitar strings according to their bridge styles and whether or not they need to be tied. (which we will further explain in our next section)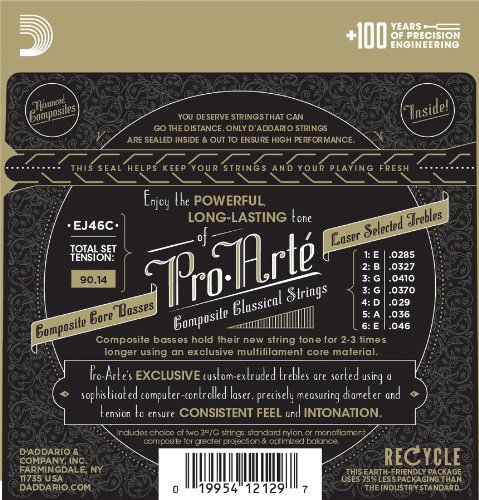 let's suppose for now you have opted for ball end style strings. These are simply fed through the bridge hole from the backside and fed straight down in one fail swoop to the peghead. Here we pull most of the slack and we need to wrap around the string at the peg-hole and provide a little support for the tension as we twist the string on into tune.
They typically only need a few wraps to get a great tone. Some classical guitarists prefer to leave their long loose ends for a good few days as the pitch settles and the strings stretch into submission.
How To Tie Nylon Guitar Strings?
Traditional tie end strings are not as tricky as some people make out. Feed a good inch or so of the string through the sound-hole side of the bridge loop back around the rest of it and pull. Then repeat to create a double knot (triple for the treble strings). Be sure to pull downwards so it sits neatly against the backside of the bridge. Leave enough of a loose end (a little longer than the distance to the next string hole) to tuck it under the next string
Next, feed some of the other ends through your tuning peg hole and once again loop around the string itself. Then holding the tension with your finger or thumb you can begin to twist it on into tune.
A useful tip is to use a piece of card placing it on the soundboard so you cant scratch it with the wound bass strings.
There are other ways to tie them none are really better than the other but there are plenty of how to guides online to help illustrate the different ways.
Here is a pretty decent video demonstration of our method;
How Often Should You Change Nylon Strings?
Many classical guitarists are guilty of only changing their strings when they break them this is poor practice. That being said some we prefer the tactile response and terrific tone of a broken in string others prefer the brand new brightness.
It is pretty much an accepted rule of thumb that once every 100 hours of playing they will benefit from a complete re-string, of course, you aren't expected to keep count, but you ought to keep an eye on their wear and tear. There are a number of factors that cause deterioration fro exampled heavy handed fretting which can cause underside indentations to the trebles and wear down the winding on the basses until they begin to unravel.
For the middle of the road playing once every 3-6 months is probably adequate unless you are particularly frantic with your fingering.
How To Clean Nylon Guitar Strings?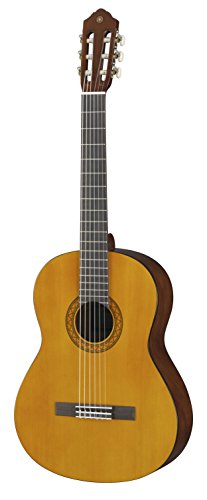 Treble strings can be cleaned with simple water and a microfiber cloth, the metal wound it is better to use an alcohol solution. I personally prefer a dry wiping method so as not to damage the wood.
It is recommended you remove all the strings to clean grime or lubricated but if you are going to follow good practice and change your strings on a regular basis and dry wipe they shouldn't build up enough grime to warrant a full removal.
The act of string removal can do damage to the string tension resulting in requiring new ones anyway.. opinion aside if you are pre-cleaning with a solution try a branded conditioner from a reputable company and make sure it is suitable for use with the composites of your wound bass strings.
Best Nylon Strings For Classical Guitar?
This question is truly debatable but ultimately boils down to individual preference and playing style.
From our review list, the D'Addario Pro-Arte Composites come at as one of the best nylon string options because of their additional 3rd string option which gives the buyer the choice between two different string types in one guitar string set.
Best Nylon Strings For Acoustic Guitar?
The D'Addario Folk strings are our review choice for best nylon strings for acoustic guitar but as an interesting side note, The Nylon Folk silver/ black option get the celebrity seal of approval being the go-to strings for Jason Mraz. There are of course plenty of other options on the market and our reviews feature mainly strings for classical guitar.
What Nylon Strings For Ukulele?
The GHS Hawaiian D tuning Ukulele strings are clearly where our loyalties lie.
The companies products are consumer-created as the team behind their designs are avid ukulele players.
It serves up some lovely low tension timbres an is suitable for all abilities as well. They also offer some fluorocarbon options if you are set on nylon.
Conclusion
Finding the best nylon guitar strings really amounts to three things, your playing skills, your preference and your desired tone which can be colored by the genre you play or listen to.
If you are fairly new to the guitar you want to stick to a normal tension. If you are seasoned and looking for longevity go with a silver-plated, denser bass string set. Nylon strings are flexible and have the advantage of being easier to play than steel but this flexibility comes at the price of needing to be re-tuned regularly particularly when they are fresh on. So it is wise to pick a set that has great intonation.
The strings you use undoubtedly affect the sound and amplification in the music you play so it's important to pick strings that are a good fit for your guitar and playing style. Hopefully, our nylon guitar string review will have shed some light on the subject and give you some useful insight into the best nylon strings for you and your guitar.
Expert Tip
If you find your self confused about tension/ string gauge most branded products offer tension charts which you can usually view on their websites it can be tricky with some string brands color-coding, naming or numbering others giving literal dimensions.
Did You Know?
Before the revolutionary introduction of nylon strings, most guitars relied on catgut string. These strings were not made from cat guts, but rather material found in the intestinal lining of goats and sheep. On occasion early on, they were sourced from cattle, this is the origin of their misleading name.
If you've enjoyed this review by Music Critic, please leave a positive rating:
[vc_separator