This Epiphone solid-body electric guitar is a tribute to the world-famous Les Paul. It has a vintage sunburst paint job reminiscent of the famous Les Pauls played by Slash, Jimmy Page, and Zakk Wilde.
Epiphone Les Paul Tribute Plus Vintage Sunburst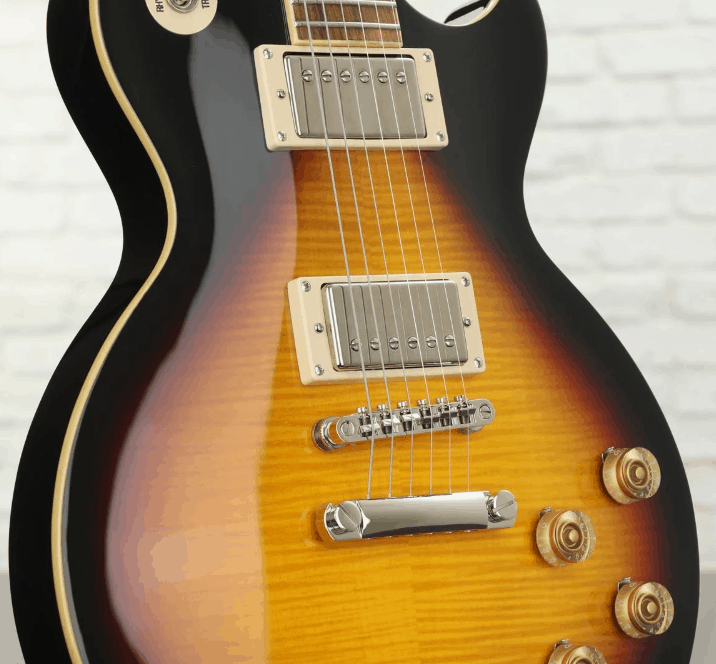 Summary
Les Paul is one of the most famous guitars in rock history. It has been slung over the shoulders of some of the coolest, most talented axemen of the last fifty years. Why? Because it's a guitar that offers a sweet, clean tone that comes with an incredible amount of sustain. It's a heavy guitar you can knock about, safe in the knowledge that it'll be more than fine afterward.
This guitar is a tribute to the Gibson Les Paul. It's made by Epiphone, which is a subsidiary of Gibson. That means it's the closest to a Gibson Les Paul you can buy without needing to shell out the top-dollar required for the genuine article.
This is instantly a Les Paul to look at. A vintage starburst paint job covers the solid, mahogany body, which is cut into the Les Paul shape we all know and love. There are 22 frets on its fingerboard, set into a gorgeous mahogany neck. They're a dream to play. The carved maple top – like everything in this Les Paul – is durable, hard-wearing, and aesthetically pleasing.
A guitar has to look good, but if it sounds terrible, then it doesn't matter how gorgeous it is. The key to the sustain and tone of the Gibson Les Paul is the two pickups. This Epiphone Les Paul features a Gibson USA '57 Classic Humbucker as its neck pickup and a Gibson USA '57 Classic Humbucker Plus as its bridge pickup.
They sound as sweet as you'd hope. The sustain sings. If you hook it up to the right amp, then you'll be knocking out authentic Slash solos in no time. If you close your eyes, you'll even think you're playing Slash's, Gibson Les Paul.
Another feature that guitarists love about Les Pauls is their SlimTaper neck, which offers easy playability. The mahogany neck on this Les Paul has been finished to a very high standard, which means that you can smoothly make your way through the frets without any difficulty at all.
The two volume controls, and two-tone controls on the guitar itself, are handy for adjustments mid-performance or during practice. A hard-shell carry case comes with the guitar, so you're ready to hit the road straight away. It certainly is a good enough electric guitar to be used for live performances or for touring on the road.
Pros
+ It looks and sounds just like a genuine Gibson Les Paul, but it is available at a much lower price.
+ Tone is the most important thing about any tribute to a Les Paul. This one manages to perfectly replicate the original, which is thanks to the two Gibson USA '57 Classic Humbucker pickups. But you don't just have to play with the Les Paul tone that we all know and love - it's a versatile guitar that can be used for many different musical genres.
+ A mahogany body and neck, as well as a maple top, make this one of the most durable solid-body electric guitars around. You don't need to treat it as a fragile object – although it looks so good, you might be tempted to. It's a sturdy guitar that will keep performing, even after a few knocks.
+ It is a very stable electric guitar, unlikely to be knocked out of tune easily, which is thanks to the excellent Grover locking tuners.
Cons
- Considering how good and how affordably priced his Les Paul is, it's difficult to offer a drawback. The only negative is that it's not the original Gibson Les Paul, but a tribute to it. If you're looking for a more affordable Les Paul than the original, then this is the best choice.
 Why We Like It
There is so much to like about the Epiphone Les Paul Tribute Plus Vintage Sunburst. It looks just like a Gibson Les Paul, and it feels just like a Gibson Les Paul when you play it. But the most important thing about this electric guitar is that it sounds just like a Gibson Les Paul too. Everyone loves that instantly recognizable Les Paul tone that's been recorded by the best guitarists in rock history. And this Epiphone certainly offers that authentic Les Paul tone.
If you liked the article, please leave your feedback.