The Epiphone Casino is a hollow-body, 'thin-line' archtop electric guitar that has a natural finish.
Epiphone Casino Natural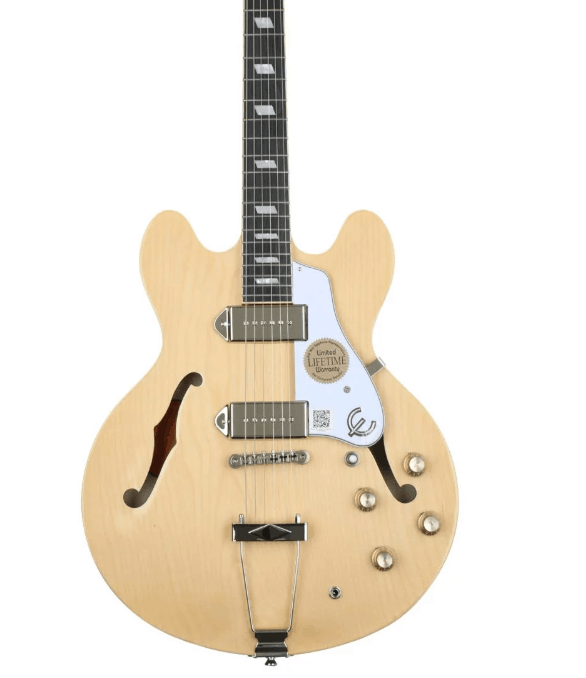 Summary
Epiphone has been making this amazing hollow-body, archtop ever since 1961. It has been one of its bestselling guitars ever since then. Why? It might have something to do with the fact that John Lennon, George Harrison, Keith Richards, and countless other world-famous guitarists have played it on some of their most famous recordings. Of course, if a guitar has a stamp of approval from the finest musicians in history, then you can be almost certain that it is a good ax.
The key to the Casino sound is its pickups. This version features two P-90T Dog-ear Classic single-coil electric pickups. These pickups are made by Gibson, and they have featured on the Epiphone Casino ever since the 1960s. They work perfectly as part of a hollow-body setup, giving you a good variety of tone so that you can take advantage of both the electric and acoustic features of the guitar.
Epiphone has an excellent reputation for its quality of construction. Its guitars always feature high-grade components and materials. That's the same with the Epiphone Casino Natural. The neck is made from lovely, hard-wearing mahogany, that is finished well so that it is smooth and easy to play.
The fingerboard is made from Pau Ferro – as you'll often find with Epiphone guitars – and it also has a lovely Pearloid inlay, that looks beautiful. The body has two f-holes, and it is made from maple that has then been laminated, and the top is also made from a 5-ply maple that has been laminated. It truly is a gorgeous guitar to look at. It's easy to see why John Lennon was so happy to have it slung over his shoulders at the height of his fame in The Beatles.
It is also a lovely guitar to play. The 22 frets are easily accessible thanks to the slim-taper "D" profile that you get from the neck. It arrives strung with D'Addario 0.10-0.46 strings which are ideal for this guitar and perfectly complement the natural tone that it offers. You can control tone and volume on the guitar itself, as it has two volume knobs and two tone knobs.
Pros
+ The clean, pristine tone produced by a combination of the arch-top, hollow-body design and the impeccable P90T Dog-Ear pickups is an enormous plus for the Epiphone Casino natural. It allows the guitar to be used to play many different genres. When you consider that it has been played by Dave Grohl, Howlin' Wolf, and George Harrison, then you can tell just how versatile it is, and how much variety of tone you can get out of it.
+ It must be said that it is a beautiful guitar to look at. The substantial, arch-top shaped body, combined with a gorgeous, slim, mahogany neck, as well as the distinctive f-holes, and the natural finish, make it a thing of beauty to be admired.
+ The smooth mahogany neck, and the Pau Ferro fingerboard don't just improve the looks of the guitar. They also enhance playability and the way the guitar feels. It is a comfortable guitar to play, with the fretboard easy to maneuver.
+ The price is a huge advantage. It's rare to find such a high-quality guitar that is for sale at such a low price. But that is the reason why guitarists adore Epiphone. It always strives to sell its beautiful, great-sounding guitars at affordable prices, so that more people can have access to its instruments.
Cons
- Since the Epiphone Casino Natural is an arch-top with a hollow body, then it means there are certain restrictions over its use. For example, it cannot be used in the same way a solid-body Les Paul or Fender Stratocaster might be used for hard rock or heavy metal.
But the Epiphone Casino Natural does offer a lot of tonal range, and it will suit a lot of genres, so as long as you're not looking for a guitar to recreate your favorite Pantera song, then this is the ideal guitar for you.
 Why We Like It
Any guitar that is good enough for John Lennon is good enough for us. But the Epiphone Casino wasn't just loved by The Beatles' co-songwriter. It has been adored by countless top guitarists over the years.
That's because of the versatility that it offers in terms of tone, with the archtop, hollow-body design allowing for the guitarist to easily switch between a clean, pristine tone, into something more laden with distortion. Besides tonal versatility, it is also a beautiful-looking guitar that has been constructed from top-quality materials, making it a dream to play.
If you liked the article, please leave your feedback.