The Epiphone Les Paul Standard Plustop Pro is a solid body electric guitar that comes with serious tonal versatility. It sounds as good as it looks, and is a smooth playing guitar that any axman would enjoy.
It comes with lots of features like Humbuckers, as well as single-coil pickups that use some of the latest innovations. This guitar will give players a vintage look and feel with a modern tone that works well in a wide variety of music genres.
Epiphone Les Paul Standard Plustop Pro - Honey Burst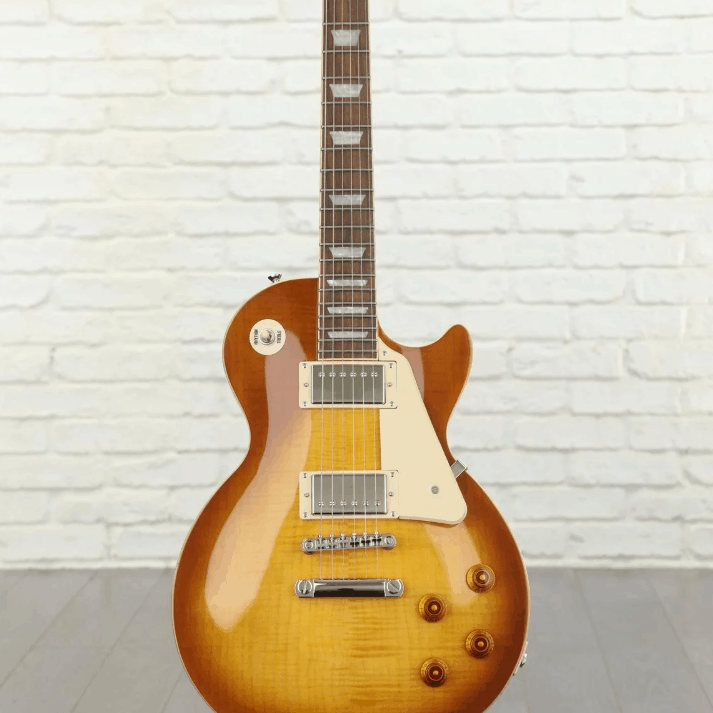 Summary
Every long-time guitar player dreams about playing a Les Paul from time to time. These guitars have been used by some of the biggest names in music for decades. Guitar players like Slash, Jimmy Page, and Zakk Wylde come to mind, with many more on the list.
Les Paul's design was invented by the innovative guitar player from which it was named. It spawned from a design dubbed "The Log" back in the early 1940s. Les Paul was in search of a guitar that could provide more impressive sustain than any guitar on the market at the time.
Using a simple 4/4 piece of wood, Paul added two wings of an Epiphone hollow-body onto the lumber to construct the prototype of the modern Les Paul design we know and love today. That would give the guitar player a little more comfort when playing, a more pleasing aesthetic, and satisfy the goal of adding more sustain into the tone.
Since the prototype of the Les Paul guitars, they have evolved in a fairly impressive way. Now, it is one of the most recognized guitar shapes in the world and comes in a variety of colors and price ranges.
The Plustop Pro is a guitar that fits into the affordability range while still delivering that covetable tone that the Les Paul design offers. It's the type of guitar that can be used in a variety of genres. Whether you're a rock, blues, country, or hip-hop fanatic, the Les Paul Standard Plustop Pro will fit the bill.
The Sunburst top gives you the same look that some of the biggest legends have sported on stage. It's a classic and beautiful design that has stood the test of time and still glows.
The pickups on this guitar offer a wide variety of tone options that make it suitable for pretty much any genre. It comes with Humbuckers on the bridge pickup, which offers resounding lead tones, and the single-coil neck pickup allows you to work with nuanced rhythms alongside any other type of players you're with.
The low-end frequencies are satisfying, and the highs offer a shimmer that cuts through and allows lead players to shine. Also, push-pull volume pots give you masterful control over the types of volumes and tapping rhythms you can add while playing.
As far as a reliable and beautiful guitar that sounds as amazing as this one does, it's hard to find one that's as affordable. Overall, this guitar gives very few reasons to allow you to ignore it. The look, sound, and style are all impressive, and they satisfy at every angle.
Pros
+ Excellent sustain
+ Serious tonal versatility
+ Epiphone backed guarantee
+ Classic Style
+ Affordable price point
Cons
- Not a starter guitar
- Not perfect studio-quality tone
Why We Like It
This guitar feels fantastic to play. It has a gorgeous Mahogany neck, which allows your hands to slide seamlessly along the length. The body is also made of mahogany, which offers a level of sustain and tone that's hard to come by. The solid-body make-up is sturdy and durable and feels solid in your hands. It looks incredible with the sunburst design, too.
The level of versatility you get with the tone is quite impressive. Jamming, along with a variety of genres, is a breeze. Whether you're a lead player or hanging back on the rhythm, you'll fit right in. The low ends and rhythm tones are quite pleasing, and you can scream through to the top of the mix with the single-coil pick up on the neck. It makes for a fascinating cocktail of possibility.
Thar is an excellent guitar for anyone who's looking to take their playing to the next level. It is a little more expensive if you're looking for a starter guitar, and maybe a little under your desired level of quality if you're in the market for a new family heirloom.
However, for a mid-range solid-body electric, it is perfect for helping you get your chops up. If you're jamming with some friends in the basement or putting together some demo recordings, it has the type of tone that you'll need. This guitar covers all your bases and will be the right one for anyone who is looking for a long time, versatile guitar.
If you liked the article, please leave your feedback.